I love overnight oats – they're an easy, healthy, grab-able breakfast, but I have a tendency to get into an oat rut, reaching for the same 'ol toppings every time. If you feel the same way, here are 4 ideas that will hopefully add some inspiration to your breakfast routine!
Here are the toppings I started with to create these 4 combinations – how pretty are all of these healthy ingredients!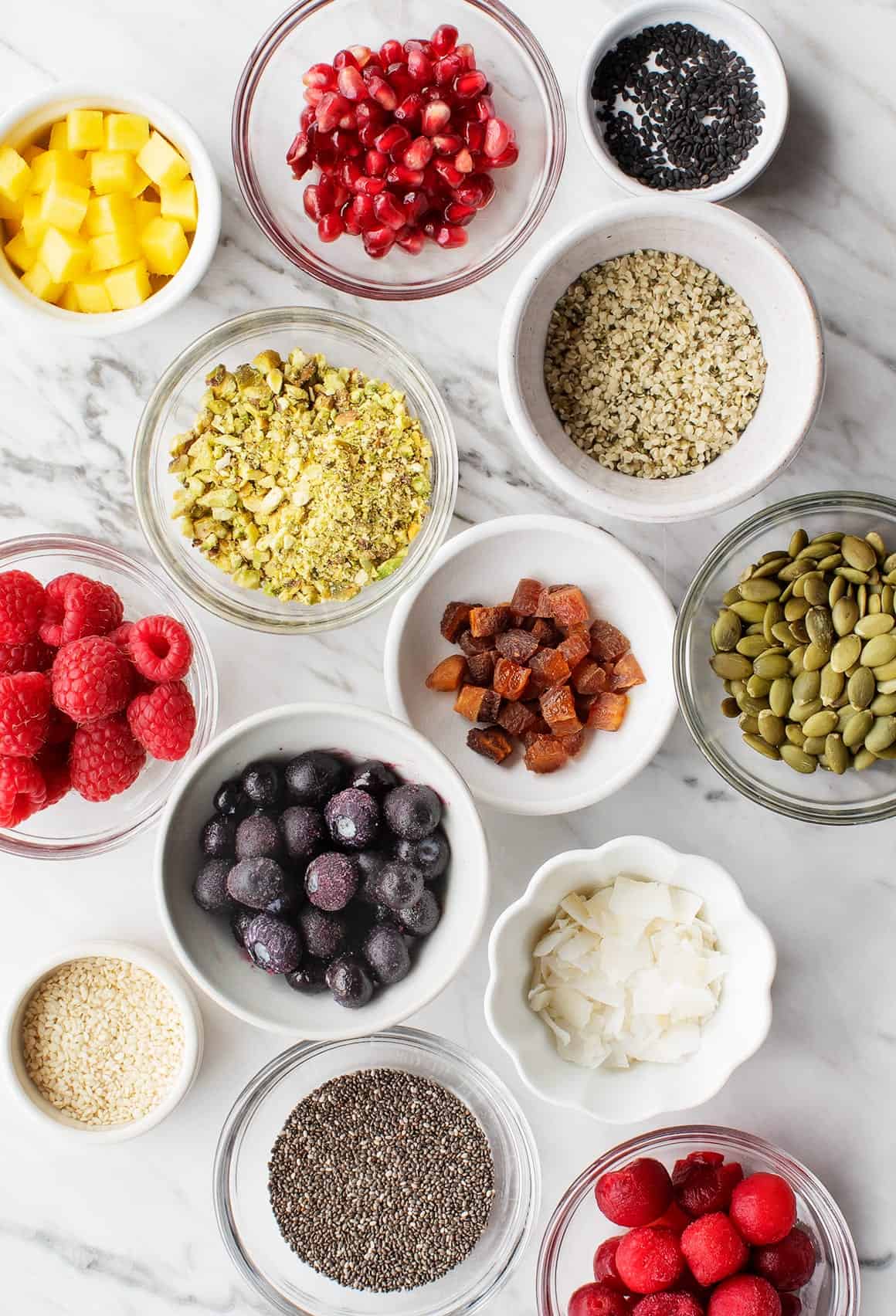 Below, you'll find my base overnight oat recipe that can be applied to each of these bowls. The toppings can also be assembled in jars if you are taking your breakfast to go.




Cherry Berry with Chia & Yogurt Oats
A classic antioxidant-filled combo. Since it's wintertime, I used frozen fruit (tart cherries and blueberries) in my bowls. Top them with yogurt, chia seeds, and a drizzle of maple syrup.




Coconut Turmeric Oats
An unexpected breakfast bowl filled with anti-inflammatory spices. I stirred turmeric, cinnamon, and coconut milk into the base of the oat bowl and topped it with mango, dried currants, hemp seeds, and coconut flakes.




Sweet Sesame Tahini Oats
I love tahini so much that now I'm eating it for breakfast! This bowl looks so pretty, and it couldn't be more simple to put together. Just drizzle tahini on top of the oats and top with pistachios, dried apricots, pomegranates, sesame seeds, and a drizzle of honey (or maple syrup, if you're vegan).




Chocolate Chip Cookie Oats
If you're trying to get your kids (or husband) to eat oats, this one is for you :). Who can resist that big swirl of almond butter with chocolate chips?
Want more make-ahead breakfast ideas? Try these cookies, these muffins, or these little frittatas.
Overnight Oats, Many Ways
Author: Jeanine Donofrio
Recipe type: Breakfast
½ cup whole rolled oats
½ cup almond milk or light coconut milk
½ teaspoon maple syrup
pinch of sea salt
make base recipe using light coconut milk, ⅛ to ¼ teaspoon ground turmeric, and ¼ teaspoon cinnamon
toppings: hemp seeds, diced mango, currants, coconut flakes, honey drizzle
make base recipe with coconut or almond milk
toppings: scoop of yogurt or coconut yogurt, berries, chia seeds, maple drizzle
make base recipe with coconut or almond milk
toppings: tahini, pistachios, pomegranates, dried apricots, honey drizzle, sesame seeds
make base recipe with almond milk and ¼ teaspoon vanilla
toppings: almond butter, chocolate chips, chopped almonds
In a small jar, combine the oats, almond or coconut milk, maple syrup, and salt. Stir and chill overnight.
In the morning, scoop the oats into a bowl, stir in more almond or coconut milk, if desired, for consistency. Top with desired toppings.
Alternatively, for a grab-and-go breakfast, you can assemble the overnight oats in jars with the toppings the night before.
Make these vegan by using maple syrup in place of the honey.
3.4.3177