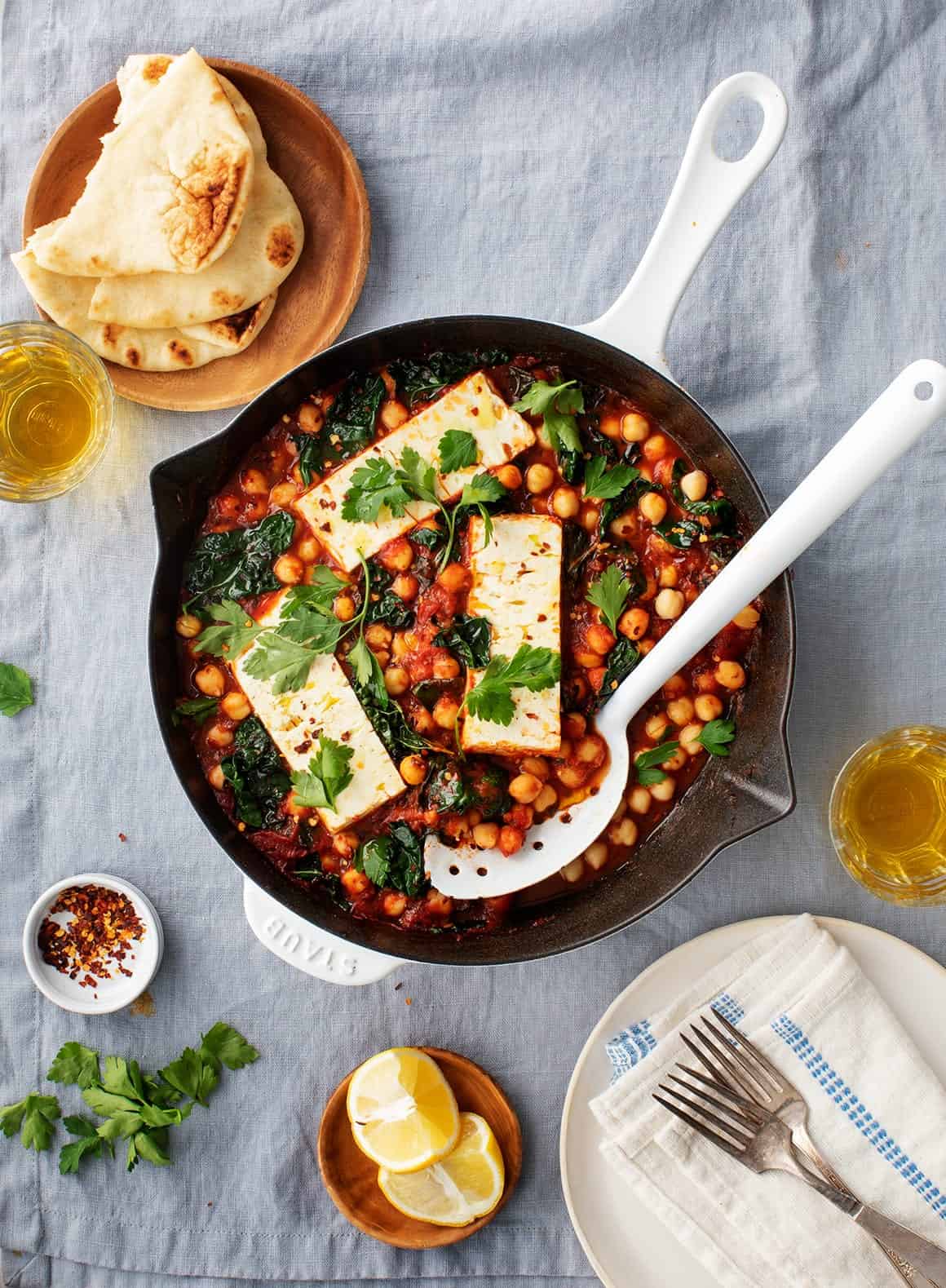 It's Saturday…if you have friends coming over for dinner but you don't feel like spending all day in the kitchen, I've got just the thing for you.
This baked feta recipe comes from the book Cook90 by David Tamarkin, the editor and digital director of Epicurious. It's a great book that's full of accessible, easy-to-prepare dishes. Cook90 is essentially a guide to help you get in the habit of cooking by cooking for 90 days in a row. It isn't a diet plan or a cleanse or anything like that. The idea is that if you're someone who wants to cook more, this is sort of a jump start plan to get into the habit.
I love the message of this book, especially this section from the intro: "When you COOK90, your days become healthier because cooking is an inherently healthy behavior. Cooking becomes faster, because daily cooking is a cycle in which each meal naturally connects to the next. And your food simply gets better, because you're practicing cooking three times a day."
If you're someone that eats a little bit of everything, this plan would be a great one to follow (the recipes are not all vegetarian). For everyone else (me included), there are a bunch of produce-forward recipes that are fun and fast to make, like this baked feta!
I was drawn to this recipe because I am a huge fan of feta cheese. I also love chickpeas and kale, so I couldn't resist trying this out. This recipe has only a handful of ingredients, and we all loved it – even Jack, who said, "what are those weird rectangles" before digging in and devouring his plate. (And then going back for more.)
If you're a fan of simple, comforting, and healthy food, give this recipe a try, and get more inspiration to stay in the habit of cooking from our recipe index!

Baked Feta with Chickpeas & Kale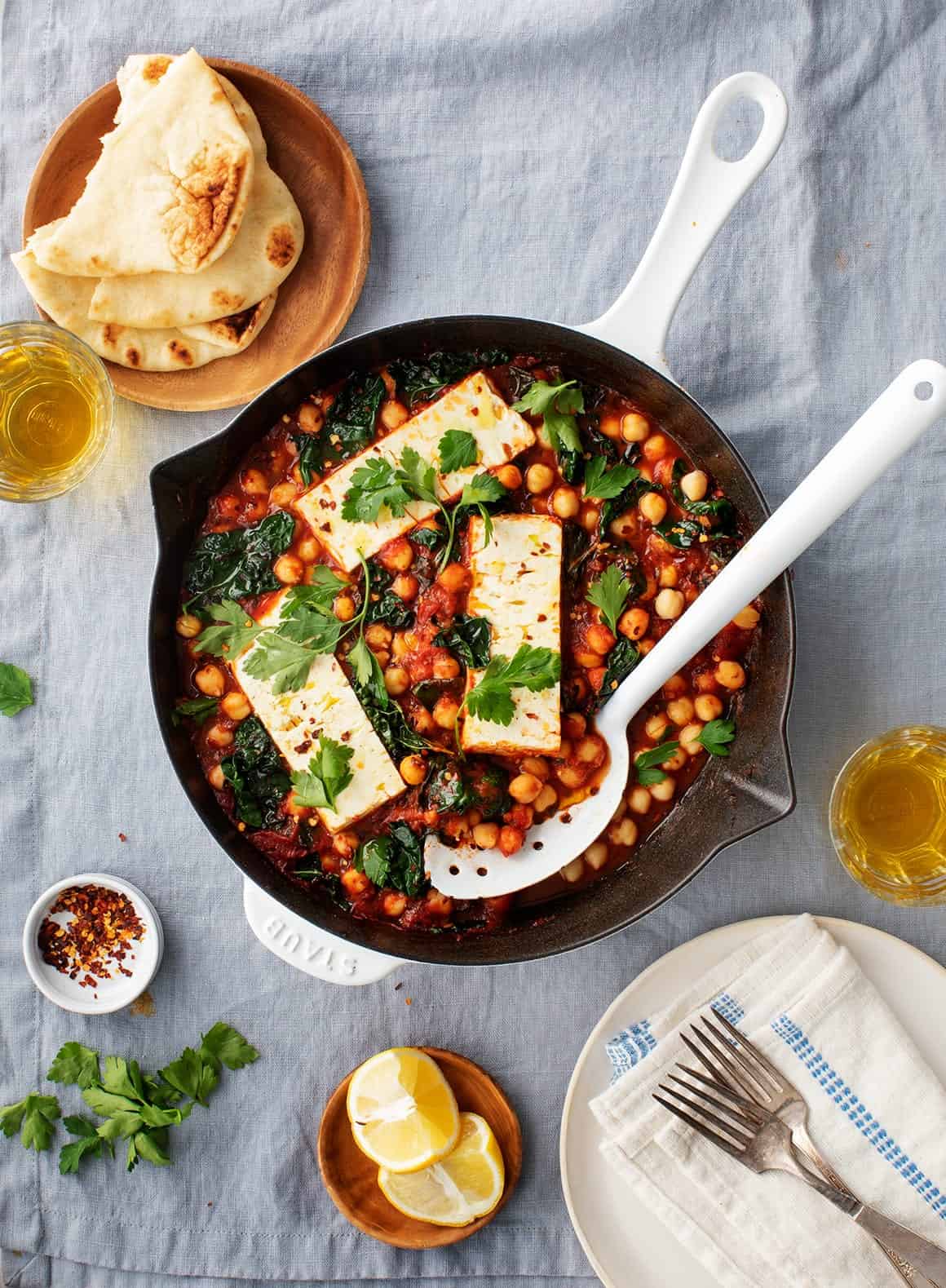 2 tablespoons extra-virgin olive oil, more for drizzling
1 teaspoon cumin seeds
1 bunch lacinato kale, stems removed and torn into bite sized pieces
2 cups tomato sauce (this recipe is in the book)
1½ cups cooked chickpeas, drained and rinsed
1 tablespoon fresh lemon juice, plus wedges for serving
1 (12-ounce) block of feta, cut into ½-inch planks
freshly ground black pepper
pinch of red pepper flakes
warm pita or baguette, for serving
Preheat the oven to 350°F.
Heat a 10 or 12-inch oven-safe skillet over medium heat and add the oil. Add the cumin seeds and let them sizzle gently for a minute or two. Add the kale in batches, letting each handful shrink and wilt before adding the next.
When the last of the kale has wilted, add the tomato sauce, chickpeas, lemon juice, and ½ cup water. Stir and let it come to a simmer.
Nestle the feta slices into the sauce and sprinkle with freshly ground black pepper. Slide the skillet into the oven and bake until the feta has softened, about 15 minutes. Drizzle with olive oil and a pinch of red pepper flakes and serve with warm pita and lemon wedges.
Note: the original recipe called for 3 cups tomato sauce, which I thought was too saucy, so I ended up using 2 in my final version.
3.4.3177