This Spicy Frito Corn Salad is a simple summer salad recipe loaded with sweet corn, crisp veggies, chili heat and zesty, creamy dressing. Finished off with the generous crunch of cheesy, spicy Fritos! Brace your taste buds for a flavor bomb of epic proportions.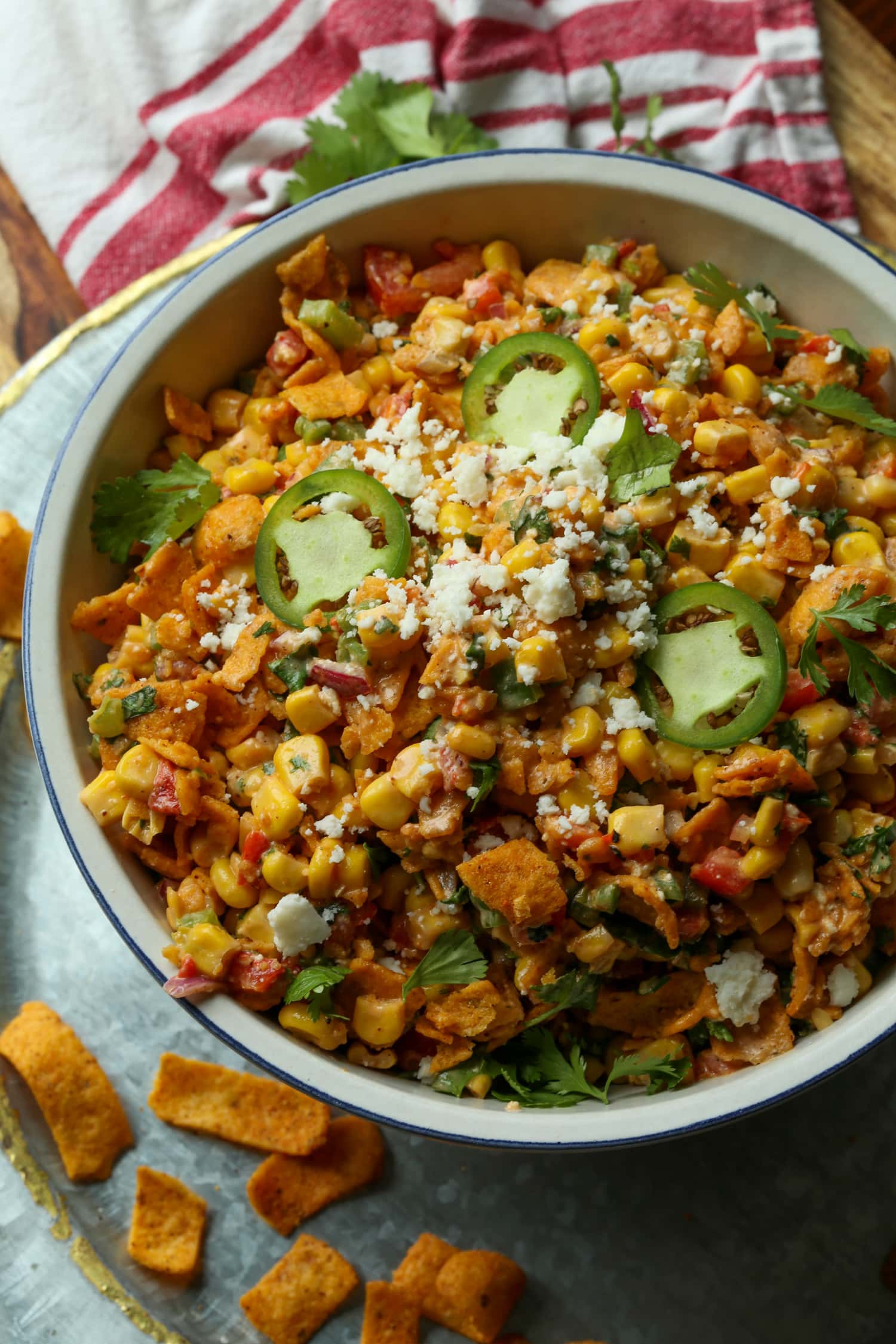 Super Simple Corn Salad Recipe
We're big fans of Southwestern flavors in my house. From Spicy Chipotle Lime Chicken Soup, to Skillet Frachos, there's never a dull moment. And come summertime when the weather is warm, no Mexican night or cookout is complete without this simple and spicy Frito corn salad.
I say simple, yet the flavors of this summer corn salad are just out-of-this-world yum. If you love Tex Mex recipes, and easy salads, then you're gonna love this creamy Southwest-style salad topped with crunchy spicy Fritos just as much as I do.
This corn salad recipe is a definitive flavor bomb that you can serve next to tacos, as a BBQ side, or all on its own for a fresh and light weekday meal.
What You'll Need
Ok, ok. The list might look a bit long, but I promise the ingredients for this Mexican corn salad are super easy to come by! And the flavor payoff is next level. Here's the overview of what you'll need (refer to the recipe card for detailed amounts):
Corn: I use canned corn for convenience. Don't forget to drain it!
Tomatoes: Ripe Roma tomatoes, seeded and diced.
Roasted Red Peppers: I love the depth of flavor that comes from roasting the peppers beforehand.
Green Bell Peppers: For their crisp texture and juicy flavor.
Jalapeños: In true Southwestern style, I include diced jalapeños for a nice kick.
Red Onion: Diced. You could also use another variety of onion, like white or yellow.
Salt and Pepper
Cilantro: Fresh chopped cilantro. You can substitute another herb like basil or parsley, if cilantro isn't your cup of tea.
Adobo Sauce: I use the sauce from a can of chipotles in adobo. Use any leftover chilies and sauce for Slow Cooker Taco Truck Chili! 
Lime Juice: Freshly squeezed.
Mayonnaise: Adds creaminess and flavor to the dressing. You can also sub in Miracle Whip, sour cream, or ranch dressing if you prefer.
Cotija Cheese: I toss crumbled cotija cheese in the salad, with extra for garnish. You can 
Chili Cheese Fritos: Coarsely crushed. 
Can I Use Fresh Corn?
You can definitely use fresh corn in place of canned corn in this recipe. Shave the corn kernels from the cob, or make this salad with grilled corn.