Crispy sweet and tangy chicken wings baked to finger-licking delicousness with a simple honey mustard glaze and sauce for dipping. So great for game day!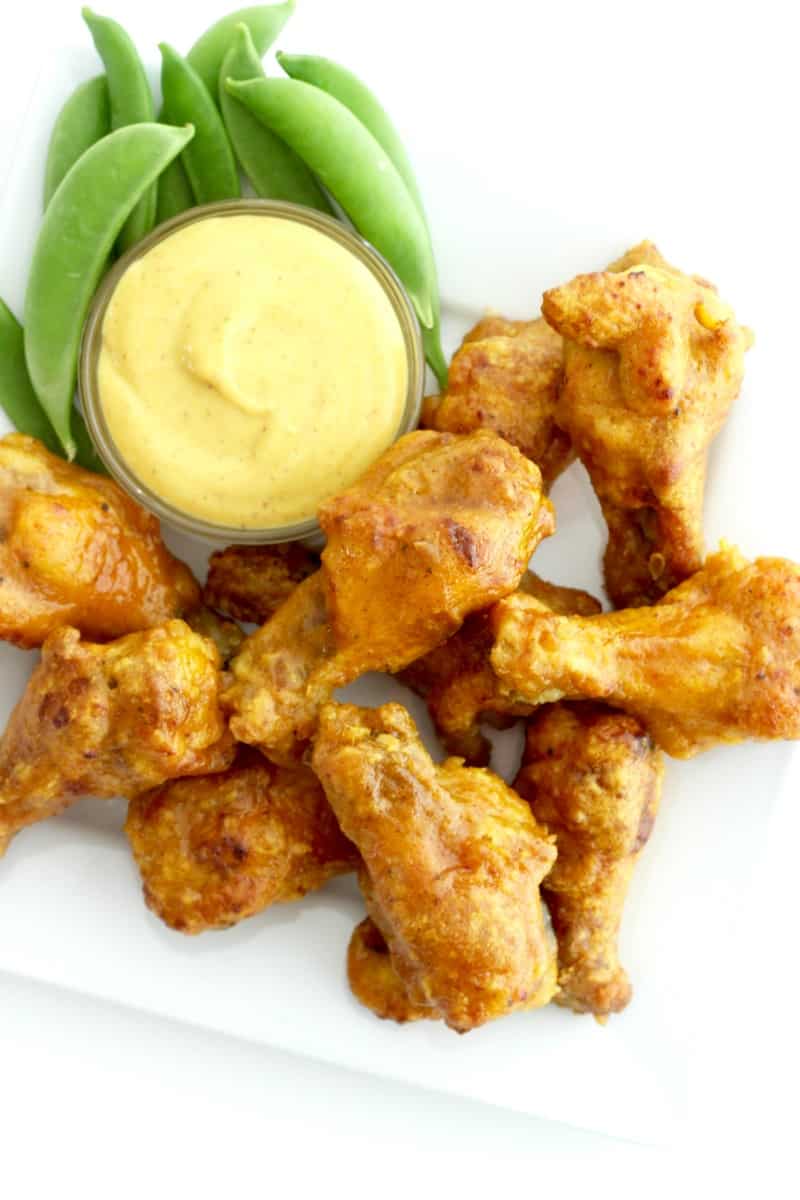 I love chicken wings! Crispy on the outside and juicy on the inside with endless flavor opportunities.
My favorite way to make chicken wings is to bake them with a crispy coating on the outside. They're easy to make and they turn out so great!
This honey mustard version I'm sharing with you today is one of our absolute faves! They're always such a huge hit when I make them for a hungry football watching crowd.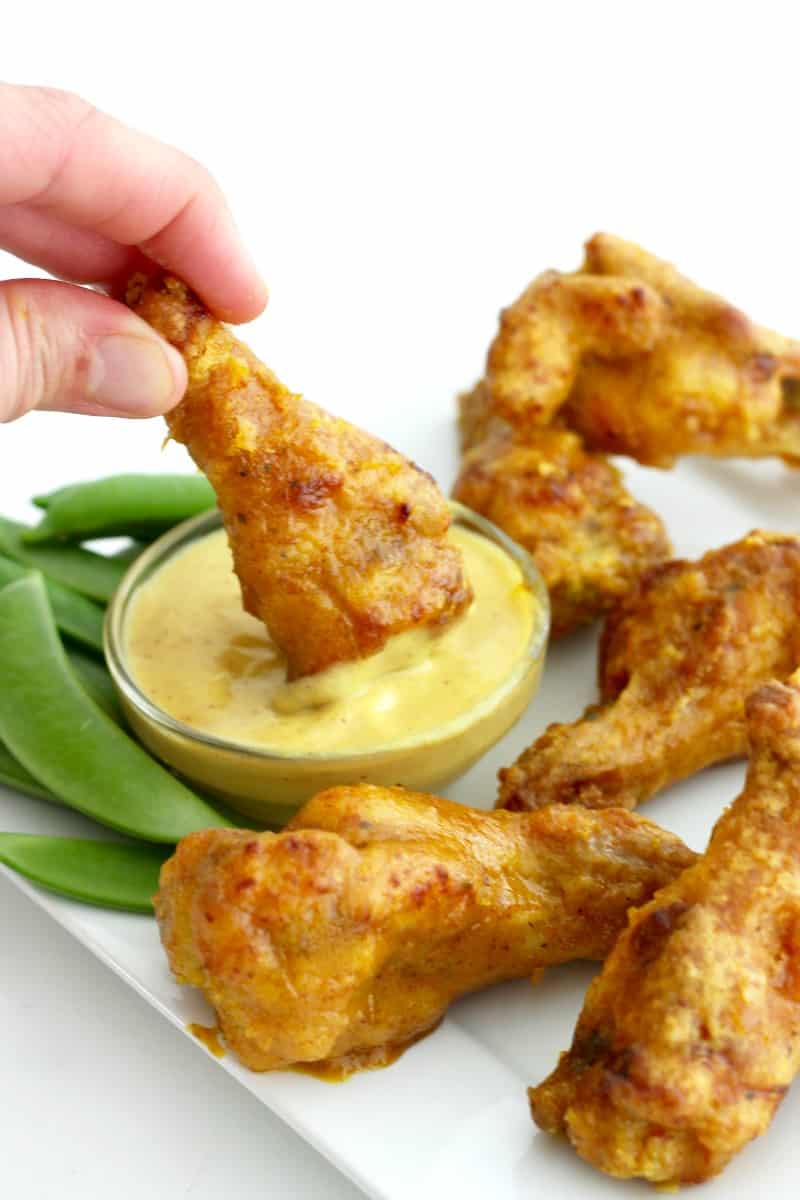 They're sweet and tangy with a slight slight spice from the spicy brown mustard in the glaze. Both adults and kids love them!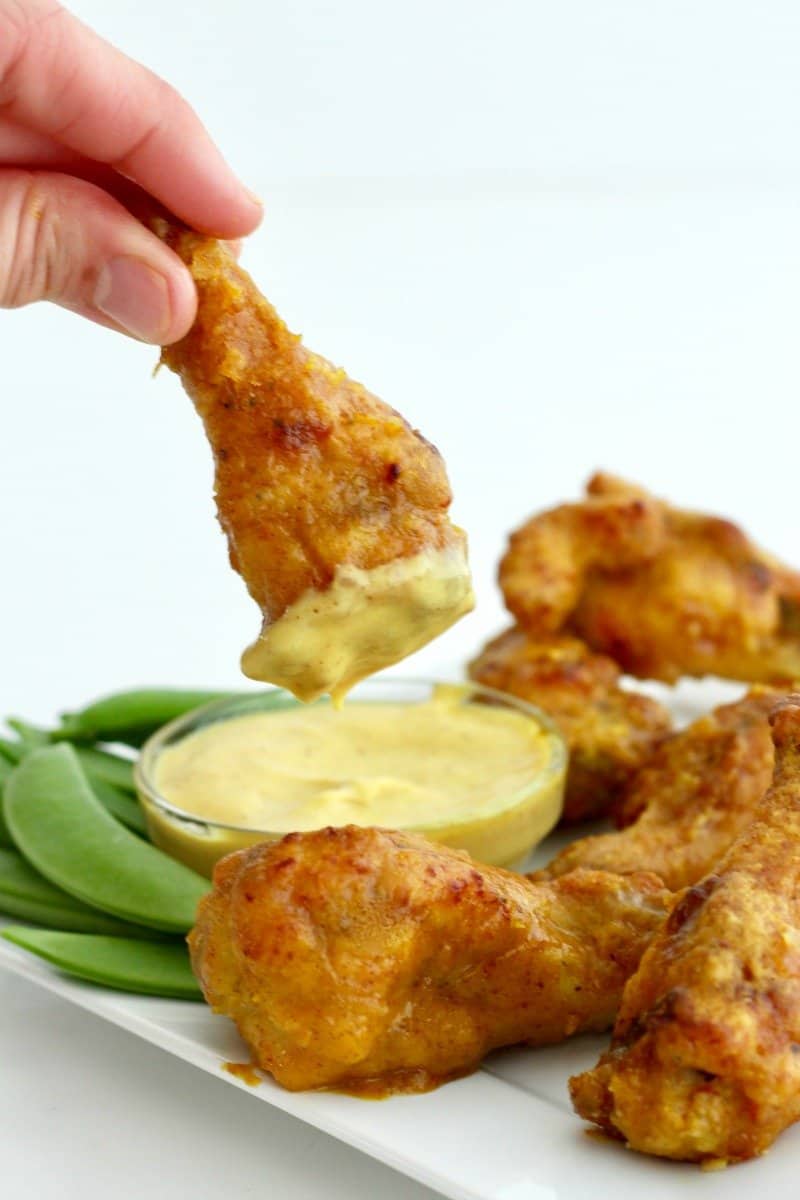 The whole chicken wing experience is just so exciting! You get to eat with your fingers. You get to dip them in sauce (I love dipping!). You get that crispy crunch when you first bite in and then you get to the juicy meat that you are determined to get every last piece of off of that bone. And then you get to do it all over again because nobody ever eats just one chicken wing…yum yum yum!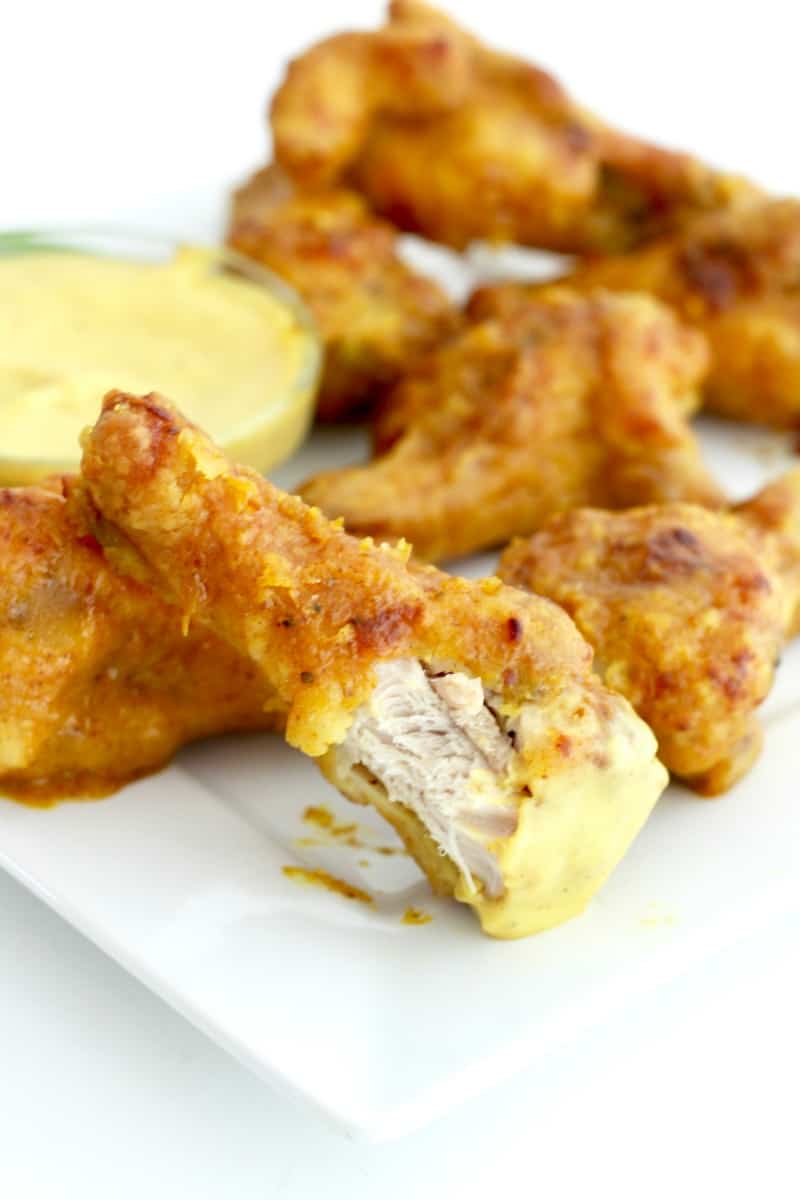 An easy recipe that anyone can make! Here we go…
First you'll coat the chicken wings in a mixture made of flour, garlic salt and black pepper and place them on a baking rack set over a foil-lined rimmed baking sheet.
You'll want to refrigerate the wings for at least 30 minutes at this point to allow the flour mixture some time to stick to the wings before you dip them in melted butter and bake them to crispy perfection…

They'll bake at 400°F for an hour. Toward the end of the baking time, you'll prepare the honey mustard glaze which is just honey, yellow mustard and spicy brown mustard whisked together until smooth.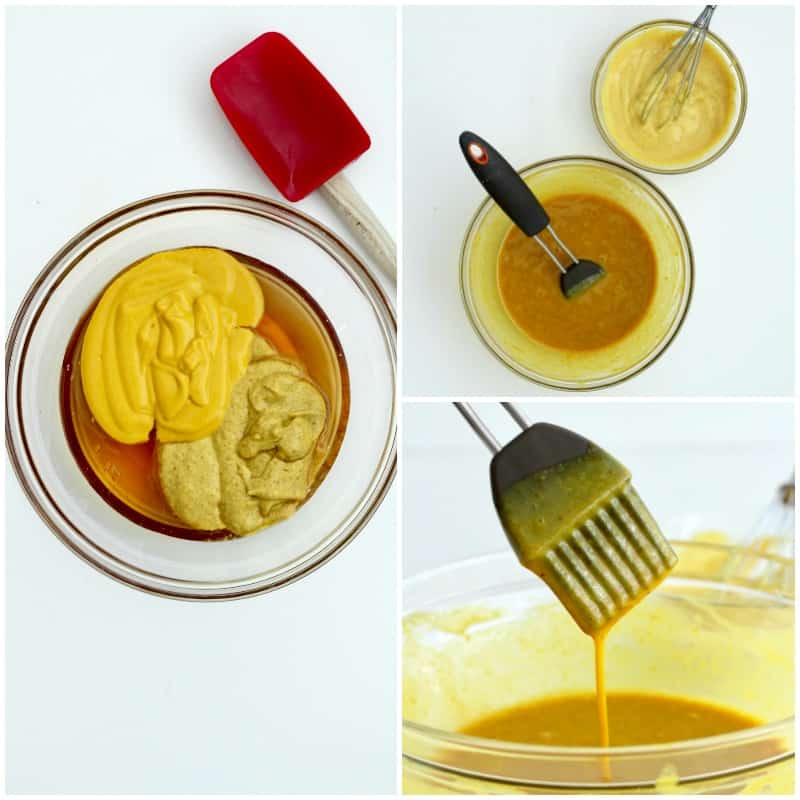 You'll reserve 1/2 cup of the glaze to be combined with mayo for the dipping sauce and the remaining glaze will be used to coat the baked wings…

You'll return the wings to the oven for 10 more minutes to caramelize the glaze onto the wings and then they're done. Oh my yum!!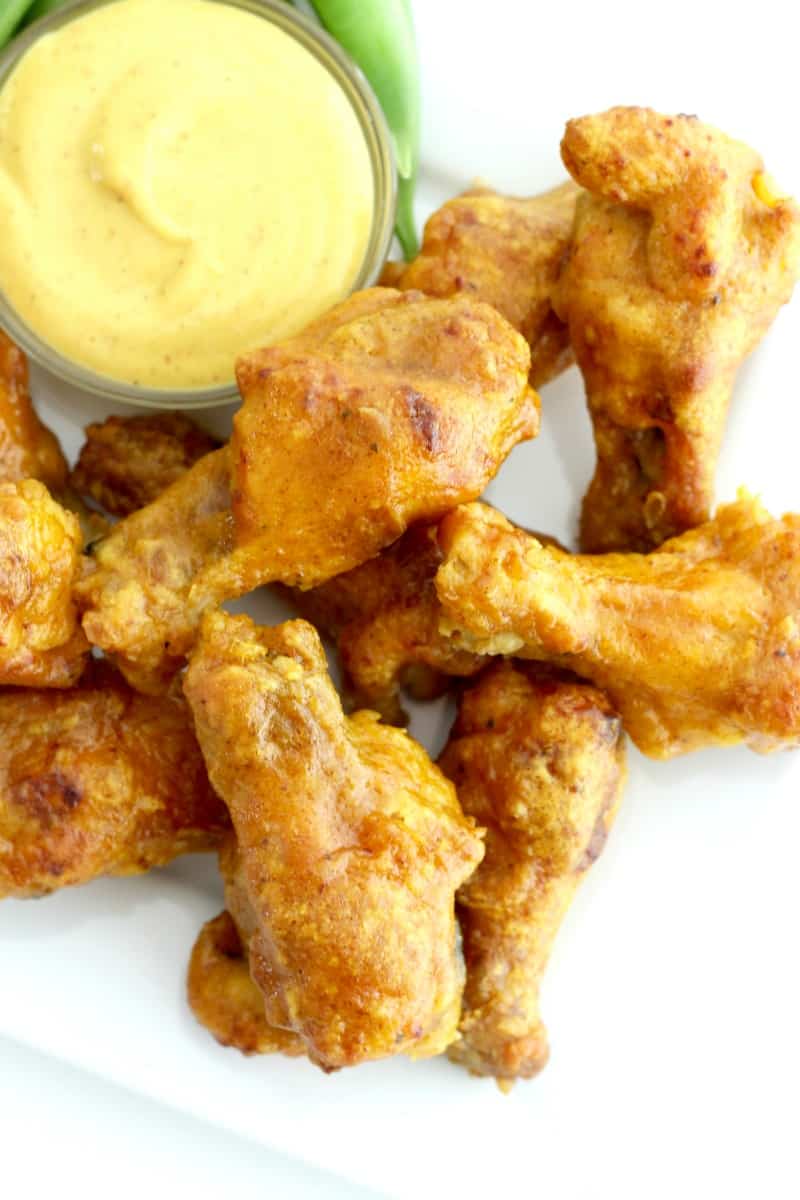 Serve them warm with the honey mustard dipping sauce and watch them quickly dissapear. They're one of the most craveable wings you'll ever eat. So dang delicious!
Enjoy!
xoxo,
Maegan
This recipe was created as part of my partnership with Gold Medal Flour however thoughts and opinions are certainly my own!
Baked Honey Mustard Chicken Wings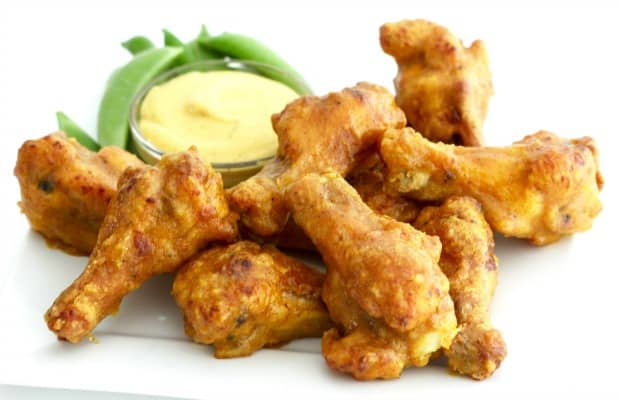 Author: Maegan – The BakerMama
Recipe type: Appetizer
1.5 pounds chicken wing drumettes (about 12 drumettes)
¾ cup Gold Medal™ all-purpose flour
1 teaspoon garlic salt
½ teaspoon ground black pepper
½ cup (1 stick) unsalted butter, melted
Honey Mustard Glaze & Sauce:
½ cup honey
½ cup yellow mustard
½ cup spicy brown mustard
⅓ cup mayonnaise
Line a rimmed baking sheet with foil. Set a wire rack on the baking sheet and coat it with cooking spray.
Combine flour, garlic salt and black pepper in a resealable gallon-sized plastic bag and shake to mix. Add chicken wings, seal and toss until well coated in the flour mixture. Place the wings onto the prepared baking sheet rack and place in the refrigerator for at least 30 minutes.
Preheat oven to 400°F.
Melt the butter in a medium microwave safe bowl. Dip the wings into the butter mixture one at a time and place back on the baking sheet rack. Bake in the preheated oven until the chicken is no longer pink in the center and they're crispy on the outside, about 1 hour.
Meanwhile, make the honey mustard glaze. In a medium mixing bowl, whisk together the honey, yellow mustard and spicy brown mustard until smooth and of drizzling consistency. Remove ½ cup of the glaze mixture to a separate small mixing bowl and whisk it with ⅓ cup mayonnaise to make the dipping sauce. Place the dipping sauce in the refrigerator until ready to serve.
Remove the baked wings from the oven and let cool for about 5 minutes before dipping each one in the glaze and coating it completely. Place wings back on the baking sheet rack. Return wings to the oven for 10 minutes to let the glaze caramelize onto the coating of the wings.
Serve with the honey mustard dipping sauce.
3.5.3226