Easy and healthy baked sweet & sour cauliflower is a delicious twist on classic sweet & sour chicken or pork and it's baked instead of fried. You won't miss meat in this lightened up classic!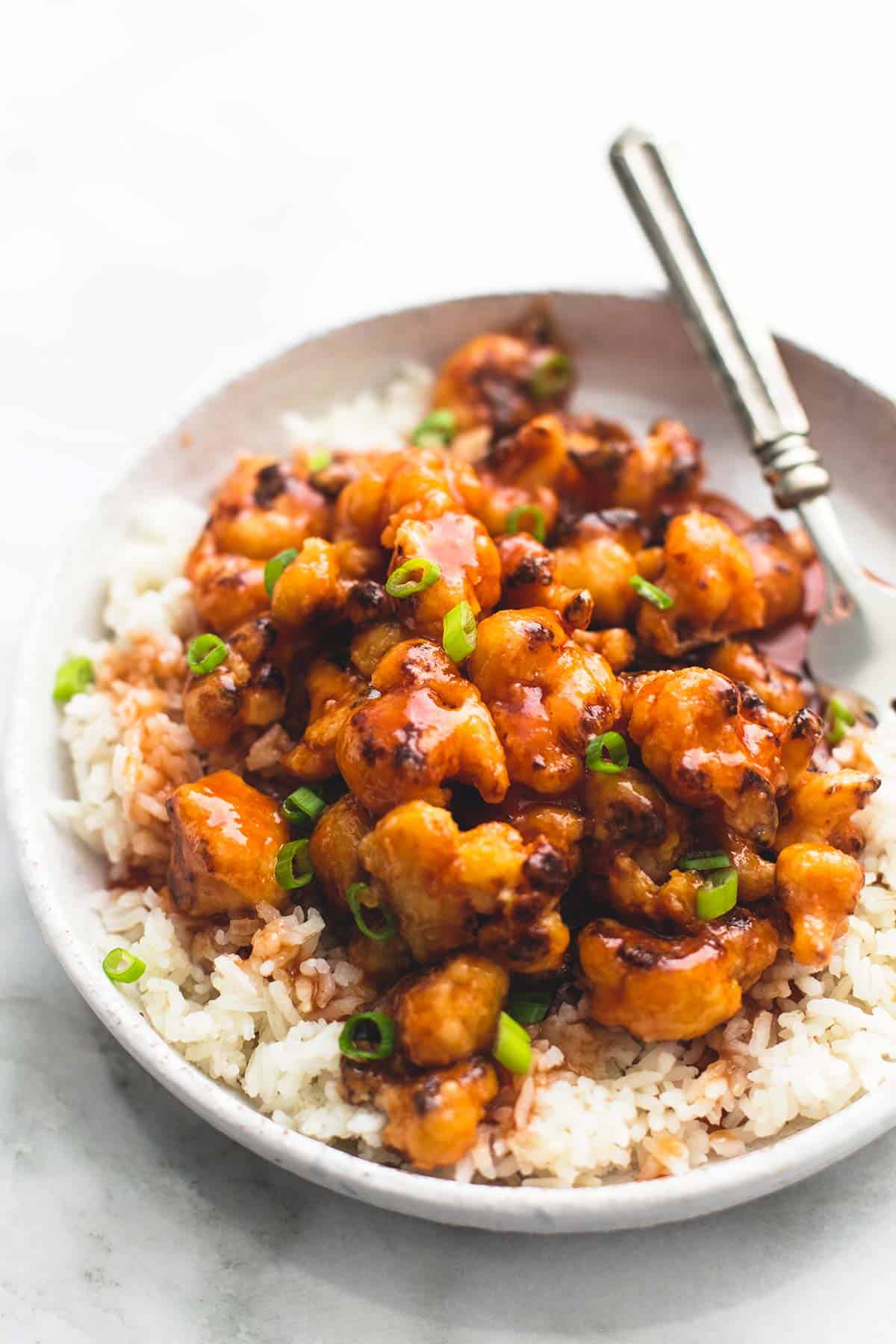 Let's get the most important thing out on the table here: anything that is meatless and still pleases my husband is a WINNER WINNER chicken dinner. Minus the chicken part….. for obvious reasons…. okay just a winner dinner.
So what is this exactly? It's cauliflower florets, tossed in a bit of oil and coated in corn starch and then baked to perfection. Crispy on the outside, tender on the inside. A lot like chicken, only more cauliflower-y. And all of that faux-fried cauliflower goodness is then tossed in a the best sweet and sour sauce. You will want to put this sauce on e-ver-y-thing. It's incredibly easy to make and the flavor is spot-on.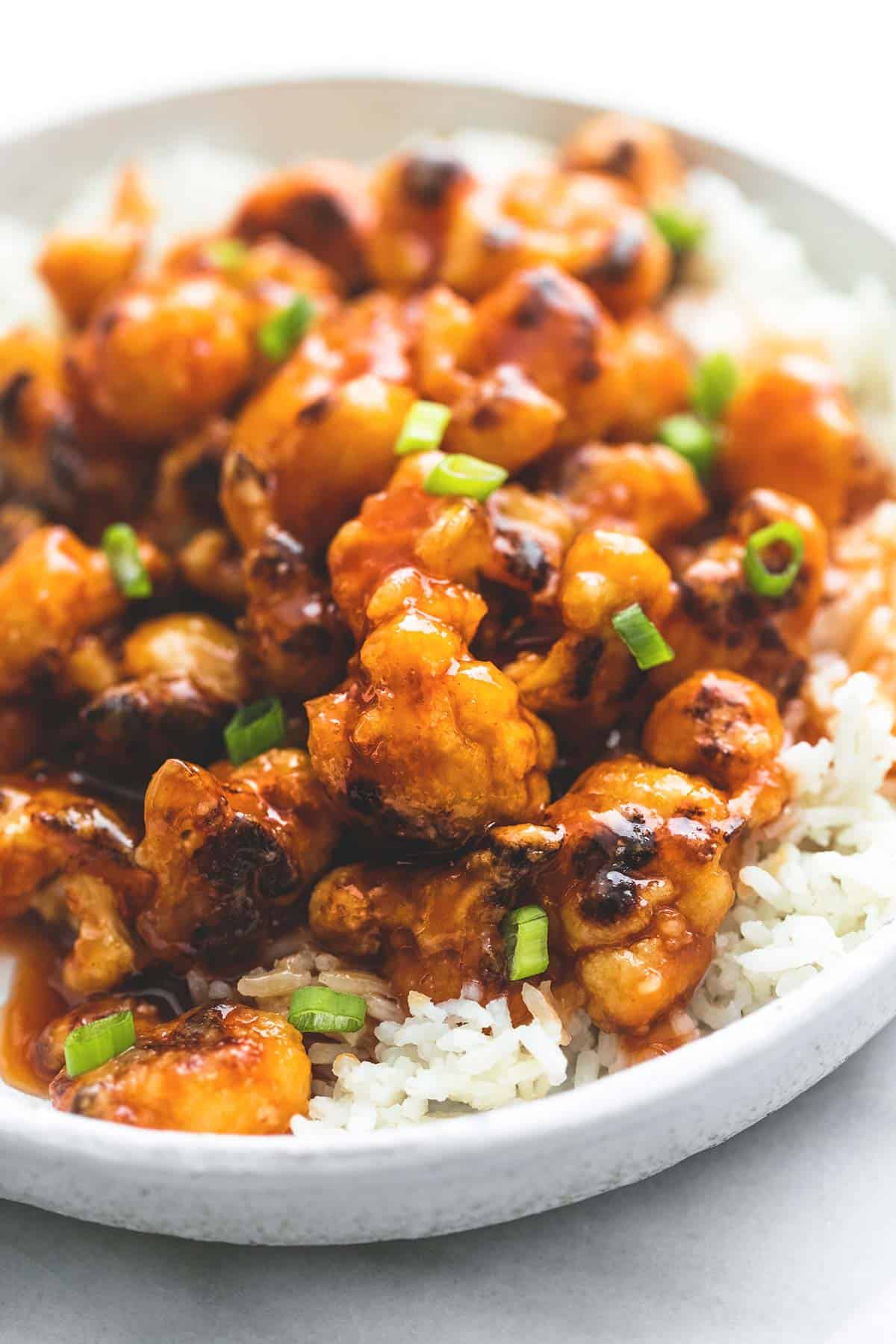 With New Years Resolutions commencing in a few days, this meatless dish is the perfect place to start your healthier eating goals. Or maybe your resolution is to try your hand at homemade takeout dishes, or even to try being okay with the idea of eating cauliflower where chicken and pork usually take the stage. Whatever your plans for 2017, I'm positive this baked sweet & sour cauliflower thing will fit in there somewhere.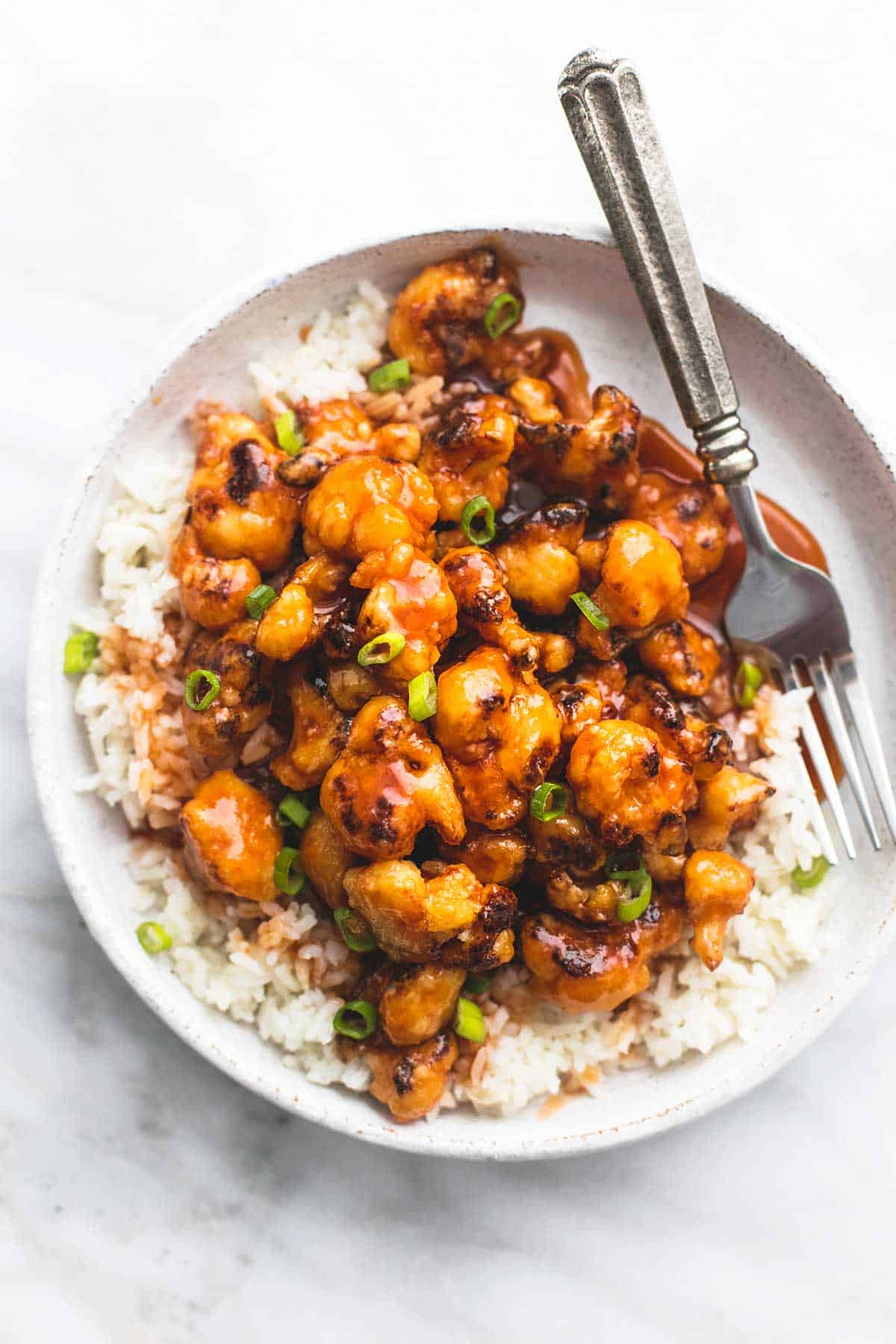 Baked Sweet & Sour Cauliflower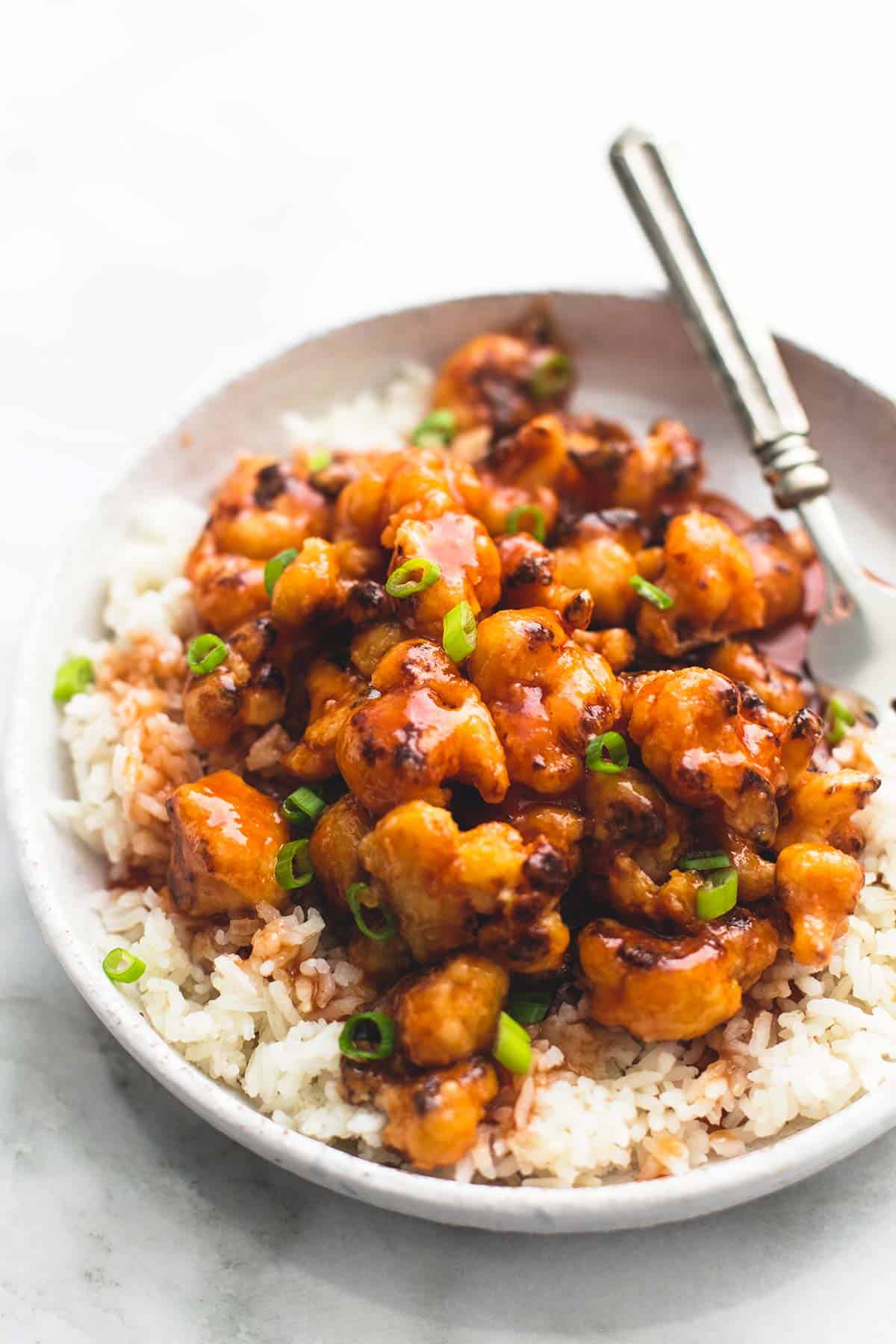 Author: Tiffany
Recipe type: Main Dish
Cuisine: Asian
Serves: 4
Ingredients
5-6 cups cauliflower florets
3 tablespoons vegetable oil
⅓ cup corn starch
3-4 cups steamed rice, for serving
thinly sliced green onions for garnish
sauce
¾ cup sugar
½ cup apple cider vinegar (may sub white vinegar)
2 tablespoons soy sauce
1 teaspoon garlic powder
½ teaspoon onion salt*
¼ cup ketchup
1 tablespoon cornstarch + 2 tablespoon cold water
Instructions
Preheat oven to 425 degrees and grease a baking sheet. Combine cauliflower and oil in a large ziplock bag. Seal and shake to coat cauliflower in the oil. Open the bag, add corn starch, seal bag and toss to coat again.
Transfer coated cauliflower to greased pan. Bake for 15-20 minutes until cauliflower starts to brown on the bottoms. Switch oven to broil and cook on high for 3-4 minutes just until tops start to brown. (watch carefully so the cauliflower doesn't burn!)
While cauliflower is cooking, prepare the sauce: Add sugar, vinegar, soy sauce, garlic powder, onion salt, and ketchup to a medium sauce pan. Stir and bring to a boil. In a small bowl whisk together the 1 tablespoon corn starch and cold water until dissolved. Add to sauce pan and stir until thickened, then reduce to low heat.
In a large heat-safe bowl combine roasted cauliflower and sauce. Serve with steamed rice and top with sliced green onions.
3.4.3177
If you like this Baked Sweet & Sour Cauliflower, you'll love these…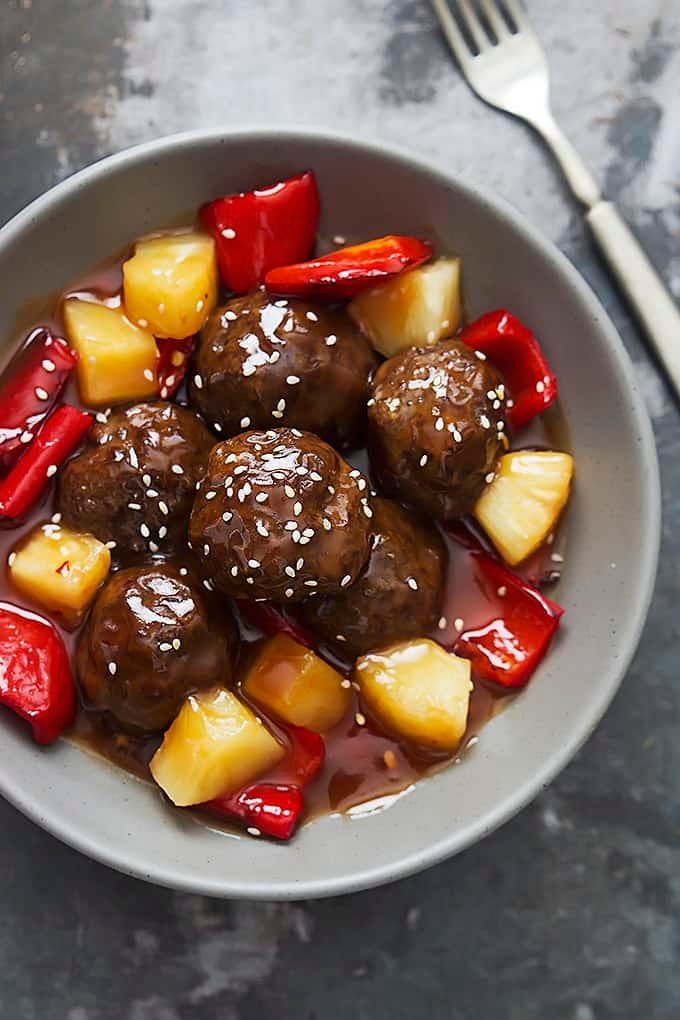 Slow Cooker Sweet & Sour Meatballs
Related