Banana Pudding Cheesecake is a combo of my two most favorite classic desserts! Real bananas and vanilla cookies fill the cheesecake, which all sits on a vanilla cookie crust and topped with fluffy whipped cream, more cookies and caramel! A total signature dessert!
I have partnered on with Nellie's Free Range Eggs on this fun campaign.  All opinions expressed are my own.
Remember last week when I teased the Nellie's Baking Bash where I've teamed up with Nellie's Free Range Eggs to bake along with season 5 of The Great British Baking Show?! WELL today's the day and we're starting with "The Signature Challenge"! If you've been following me for any length of time, you KNOW how much I love cheesecake. Like, SO much. Last year I even shared my Perfect Cheesecake Recipe with you guys. And not only that, I happen to make the BEST Banana Pudding. Tall claims, I know…but they are both actually recipes that I make on the regular when I'm having company over.

MY OTHER RECIPES
Which brings me to today's recipe…this Banana Pudding Cheesecake is the ULTIMATE signature dessert, because it combines my two most beloved dessert recipes into one. And I'm not gonna lie…it is pretty freaking fantastic.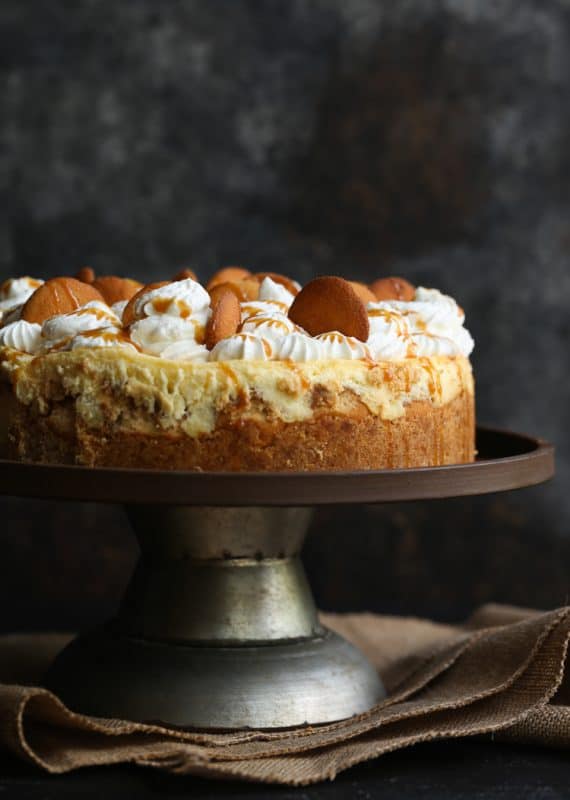 You start this recipe with an integral part of banana pudding…the vanilla cookies! I crushed these up and used them in the crust. I didn't stop there, though…I pressed more cookies up against the side of the pan!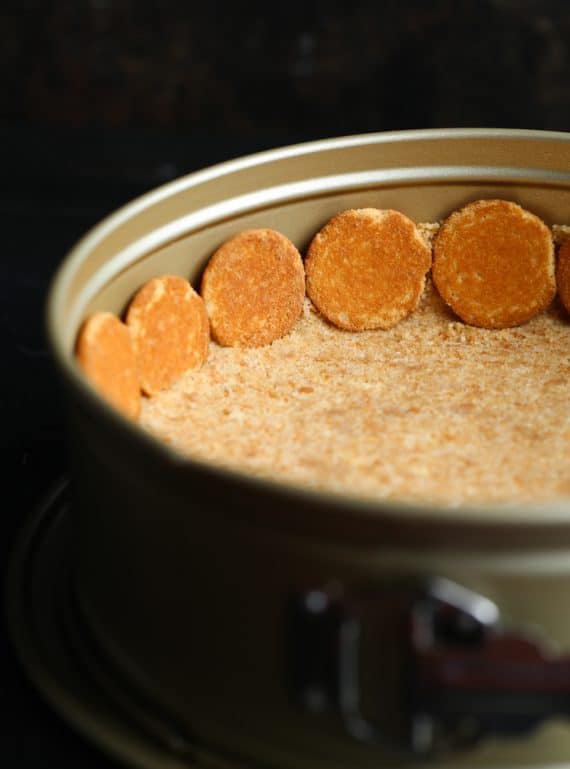 You bake the crust for just a few minutes, until it's lightly golden. While the crust is baking, you prepare your cheesecake filling. It's a very simple process, that produces a cheesecake that is not overly sweet and very creamy. I LOVE using Nellie's Free Range Eggs in my cheesecake because the quality of the eggs correlate with both the taste and texture. Nellie's Free Range Eggs are produced without antibiotics, hormones, pesticides, or animal byproducts.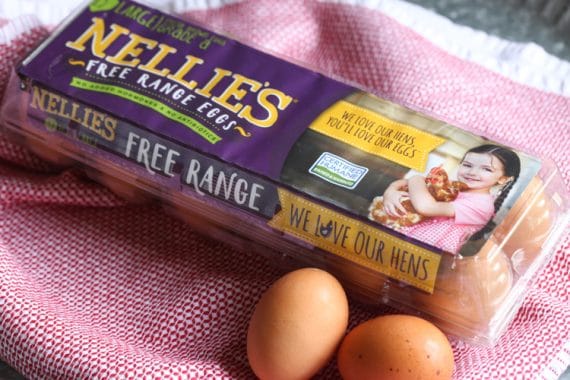 To assemble the cheesecake, you spread half of the cheesecake mixture into the baked crust. Then chop up some more vanilla cookies, and slice up a banana and spread those on top of the filling.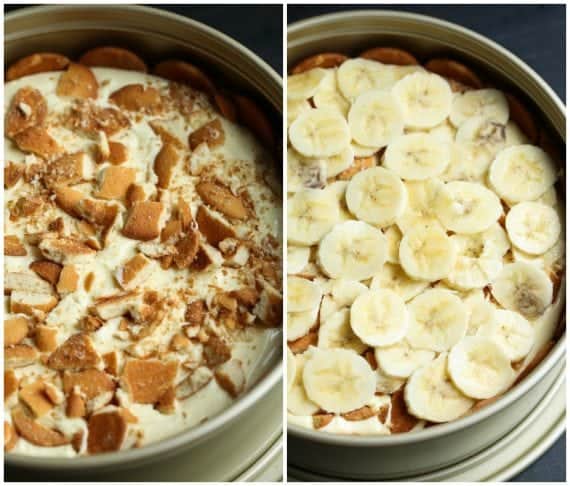 Finally spread the remaining cheesecake on top. To bake the cheesecake, you will wrap the bottom of your pan in foil and place the springform pan into a larger pan filled with about an inch of hot water. This is called a water bath, and it helps stem the cheesecake in the oven as it bakes. It will help the cheesecake bake evenly, and prevent cracking. I have lots of tips about baking cheesecake in my Perfect Cheesecake Recipe, which is a great reference!
Once it's baked, you will need to let it cool completely, and then chill it for at least 3 hours, or overnight. Cheesecake is a perfect dessert when you're entertaining because not only CAN you make it ahead, you actually SHOULD!
When you're ready to serve your cheesecake, run a butter knife around the edge of the pan and remove the sides of the springform pan.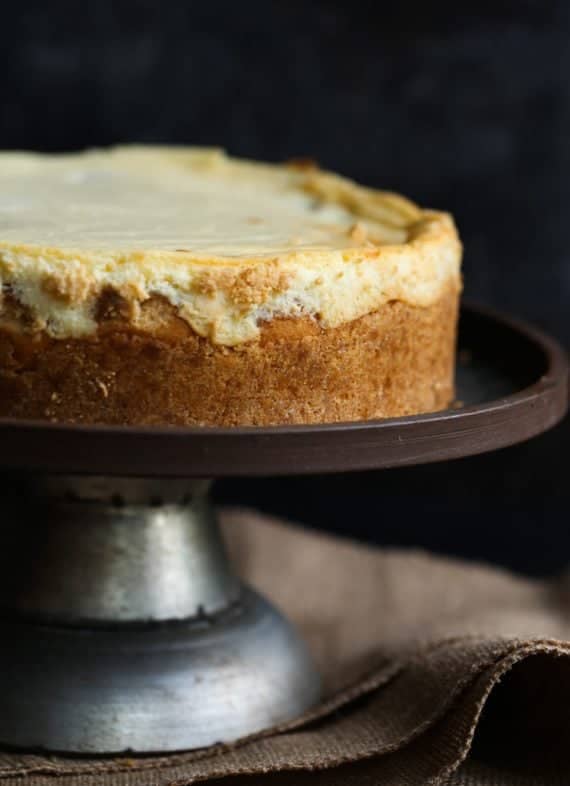 Now's the fun part. The extra few steps that will really impress people.
I made some homemade whipped cream and filled a piping bag fitted with a large star tip. I just piped on all different sized swirls on top. You can easily spread the whipped cream, or even pipe it on with a zip-top bag with the corner snipped off.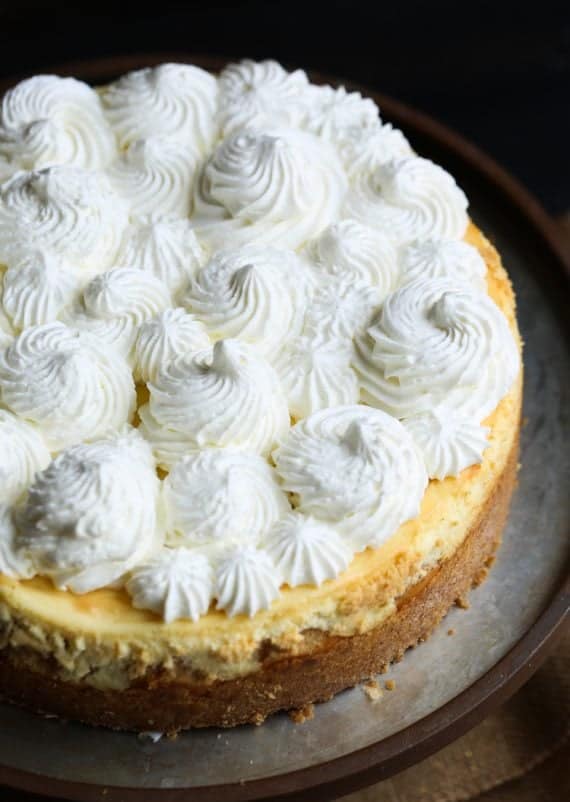 Next garnish it with some extra vanilla cookies, and give it a pretty drizzle of caramel!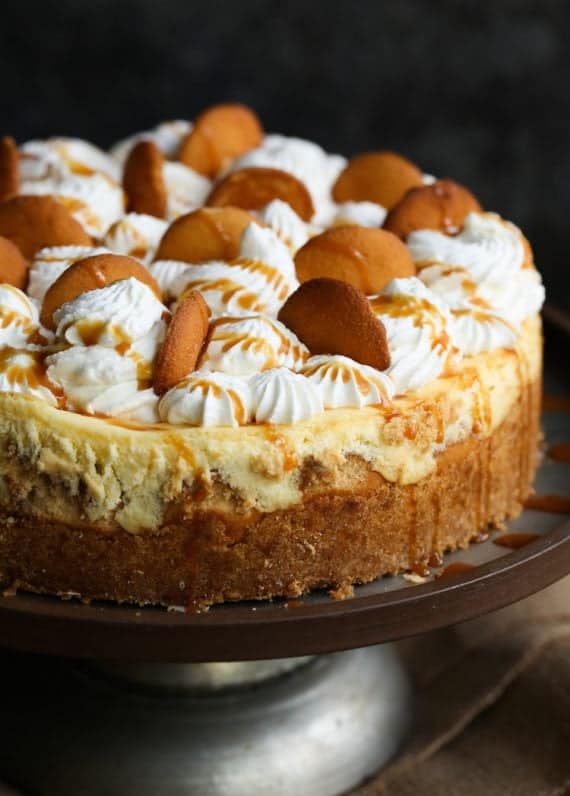 Wait until you're ready to serve the cheesecake before you top it with whipped cream. The longer the whipped cream sits, the softer it gets.
And of course cut yourself a slice. Or two.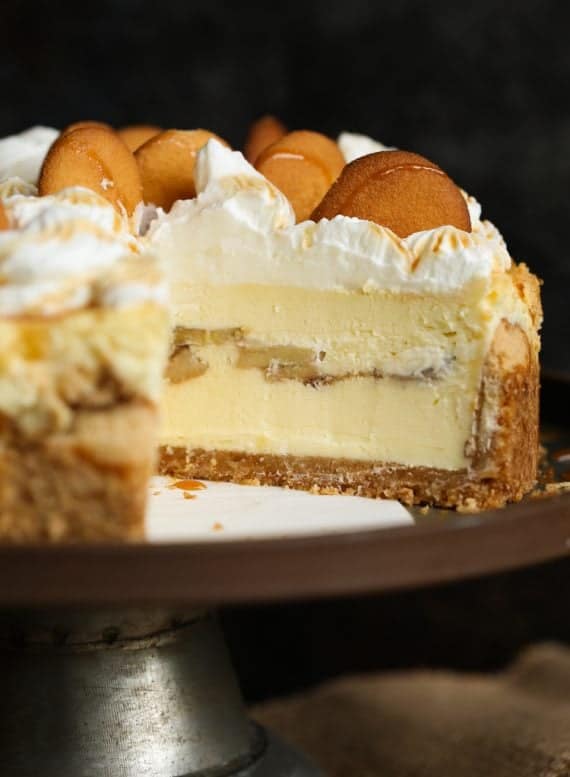 This is one dessert no one will able to resist.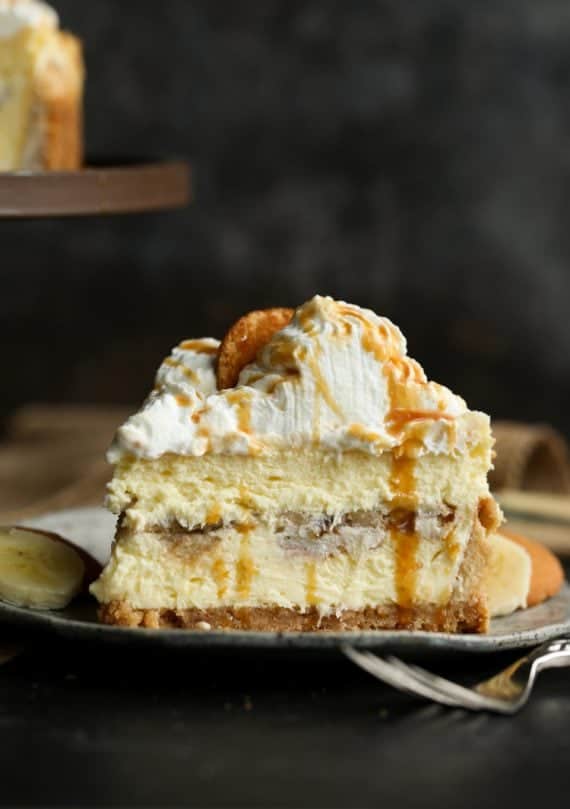 I KNOW you will love this Banana Pudding Cheesecake just as much as we do at my house. I can't wait for you to make it!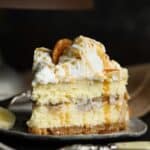 Banana Pudding Cheesecake
---
Description
Banana Pudding Cheesecake is a combo of two of my favorite classic desserts!
---
Ingredients
Crust:
2 cups crushed vanilla wafer cookies (approximately 60), plus 17 more to rim the pan
5 tablespoons butter, melted
¼ cup granulated sugar
1/8 teaspoon kosher salt
Cheesecake
4 (8- ounce) blocks cream cheese, room temperature
1 cup granulated sugar
½ cup sour cream, room temperature
2 teaspoons vanilla
3 eggs, room temperature
12 coarsely chopped vanilla wafer cookies
1 large, or 2 small bananas thinly sliced
Topping
1 cup heavy cream
¼ cup powdered sugar
10 vanilla wafer cookies to decorate
¼ cup caramel sauce to drizzle
---
Instructions
Crust:
Preheat oven to 350° F.
In a large bowl combine the crushed vanilla wafer cookies, melted butter, sugar, and salt. Stir to combine.
Press the mixture evenly into the bottom of a 9- inch springform pan. Press the 17 whole vanilla wafer cookies around the sides of the pan.
Bake for 8-10 minutes until lightly golden, and set aside while you make your cheesecake.
Cheesecake:
In the bowl of your stand mixer fitted with the paddle attachment, mix the cream cheese and sugar on medium speed, until smooth, scraping the sides of the bowl as necessary.
Turn the mixer to low and add the sour cream and vanilla; mix well, scraping sides of the bowl as necessary. Add the eggs, 1 at a time, mixing on low speed after each addition just until mixed. Don't over mix. Pour half of the cheesecake over crust and spread evenly.
Sprinkle the coarsely chopped vanilla wafer cookies evenly on top of the cheesecake, and top with the sliced bananas. Spread the remaining cheesecake on top, and spread evenly.
Double wrap the bottom of the springform pan with foil, sealing it tightly to prevent water from getting into the pan.
Place the springform pan into a larger pan and pour very hot water into the pan, until it's 3/4- inch deep, careful to make sure the water level doesn't come up higher than the foil.
Bake for 60-70 minutes or until the center is almost set. The center will still jiggle while the edges will be set.
Carefully run a knife around the rim of pan to loosen cake. Allow the cheesecake to cool at room temperature for at least an hour, then cover and transfer into the refrigerator for 6 hours or overnight.
Topping and Assembly
When you're ready to serve the cheesecake, pour heavy cream into the bowl of your stand mixer fitted with the whisk attachment.
Add the powdered sugar and mix on medium-high speed for approximately 2 minutes, until cream is thickened and stiff peaks form.
Release the sides of the springform pan, and pat dry with a paper towel if any condensation has built up.
Fill a piping bag fitted with a large tip with the whipped cream. Artfully pipe the whipped cream on top of the cheesecake. Alternately, you can simply spread the whipped cream on with a spoon or offset spatula.
Place the remaining 10 vanilla wafer cookies into the whipped cream and drizzle with caramel sauce, if desired.
---
Notes
Cheesecake can be stored airtight before topping with whipped cream for up to 5 days in the refrigerator.
If storing with the whipped cream on top, cover tightly and refrigerate. Please note the whipped cream will deflate, and become soft the longer it is stored.
Related