The ULTIMATE Crumb Cake Recipe!! Brown Sugar Crumb Cake is a brown sugar twist on your usual coffee cake! It's a rich and soft brown sugar cake topped with a thick layer of brown sugar crumbs AND a brown sugar icing!
Looking for a tradition spin on breakfast cake? Try my Coffee Cake Recipe…it's THE BEST!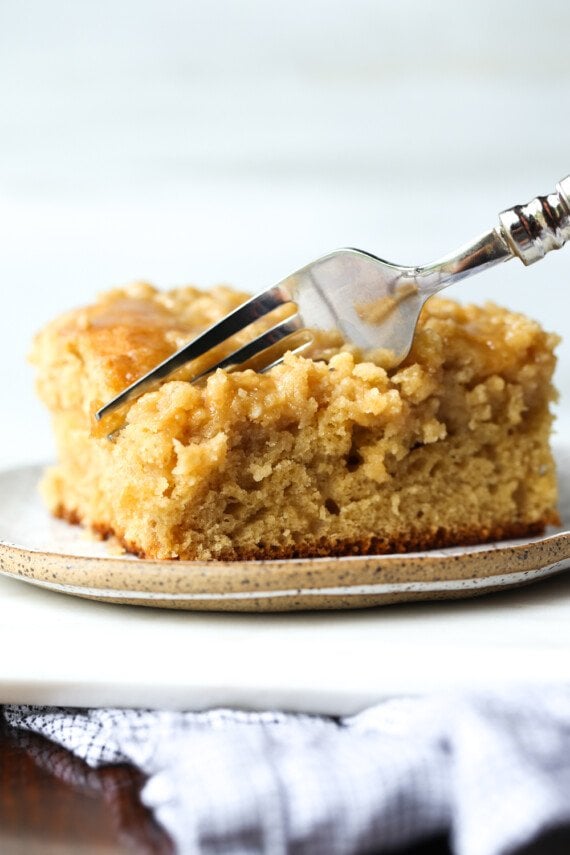 Brown Sugar Crumb Cake Is the Ultimate Twist On A Classic!
If you are a regular around here you know my affection for brown sugar. Essentially I will replace granulated sugar for brown sugar whenever I can get away with it. And today, we're going all the way with my Brown Sugar Crumb Cake…from the cake, to the crumb topping, and the brown sugar icing that adorns the top.
What's the Difference Between Crumb Cake and Coffee Cake?
Essentially not much. Crumb Cake typically has more "crumb topping" than coffee cake does, but really it seems in this day and age they two cakes are fairly interchangeable. Coffee cake is a more general term and doesn't always HAVE to have crumbs on top…but you can't really have a crumb cake without crumb topping…so…
I get MANY comments on my Coffee Cake recipe asking "Where is the coffee in this recipe?" And in the US coffee cake doesn't HAVE coffee in it, but is meant to be enjoyed along side of a cup of coffee? I don't make the rules here.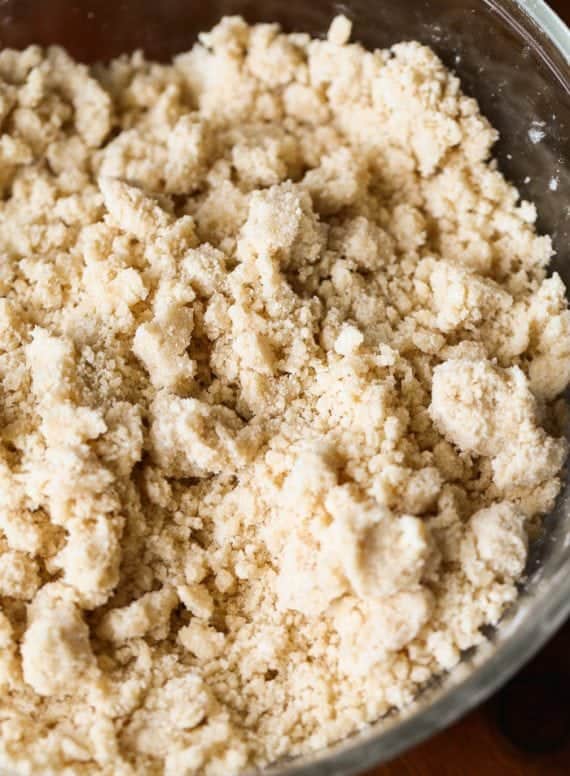 Ingredients:
Crumb Topping:
Brown sugar. You can use either dark brown sugar OR light brown sugar in the crumb topping!
Salt
Butter. Use cold butter for the crumb topping, and a pastry cutter or your hands to form the crumbs!
All-purpose flour
Cake
Room temperature butter.
Brown sugar. Again, you can use either light or dark.
Large eggs. The size of the eggs definitely matters when baking so make sure you use large.
Vanilla extract
Baking soda
Kosher salt
Greek yogurt. You can also sub in sour cream if you have that on-hand.
All-purpose flour
Icing
Brown sugar…and for the last time use light or dark!
Milk
Butter. You will be melting this, so it can be either cold or room temperature. It won't matter.
Vanilla extract
Powdered sugar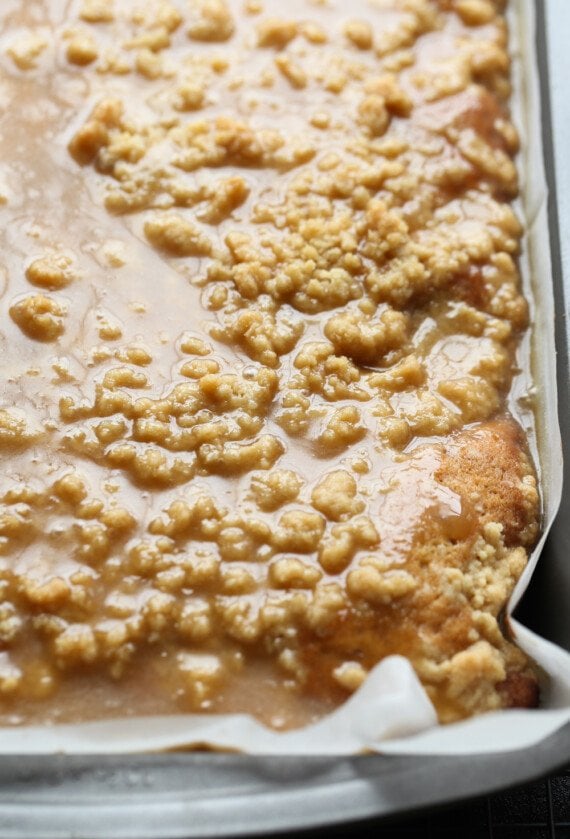 Is the Icing Necessary?
Well, the answer here is no. But yes. Make sense? The icing is absolutely delicious and adds another layer of brown sugar flavor and sweetness.
BUT you can skip the icing if you run out of time, or are looking for a less sweet option. You can also dust it with powdered sugar as another option!
How To Store:
I am all about a warm cake along with a cup of coffee, but this cake is just as good at room temperature as it is warm. And certainly this cake can be enjoyed for multiple days if stored properly! Just make sure it is airtight and you can keep it at room temperature for up to 3 days.
And you can certainly freeze this cake to enjoy at a later time too! Just cover it airtight. I recommend using plastic wrap to cover the pan, and then aluminum foil as an extra layer of protection in your freezer for up to 30 days.
You can thaw it out at room temperature and reheat each slice in the microwave! You can also reheat the cake in the oven. Just pop it in a 350°F preheated oven for 5 – 10 minutes until warmed through!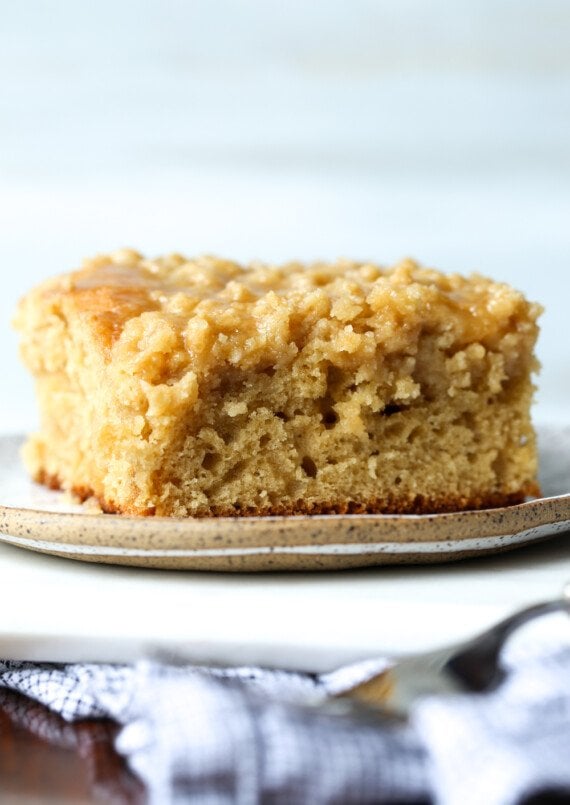 Looking For More Crumb Cake Recipes? Try These: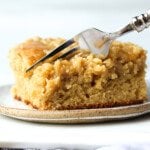 ---
Description:
My breakfast dreams came true when I made this Brown Sugar Crumb Cake. It's a rich and soft brown sugar cake topped with a thick layer of brown sugar crumbs AND a brown sugar icing!
---
Ingredients:
Crumb
1 1/4 cups

light brown sugar

1/2 teaspoon

kosher salt

1 cup

butter, cold and cut into cubes

2 1/2 cups

all-purpose flour
Cake
1/2 cup

butter, room temperature

1 1/4 cups

brown sugar (I use dark but you can use either dark or light brown sugar)

2

large eggs

2 teaspoon

vanilla extract

1 teaspoon

baking soda

1/2 teaspoon

salt

1 cup

Greek yogurt

2 cups

all-purpose flour
Icing
3/4 cup

brown sugar (you can use either dark or light, I used dark)

1/3 cup

milk

1/4 cup

butter

1 teaspoon

vanilla

1 cup

powdered sugar
---
Instructions
Preheat oven to 350°F. Lightly coat a 9×13 baking pan with nonstick spray. Set aside.
Crumb
In a large bowl combine all the crumb ingredients and using a pastry cutter or your hands combine the mixture until crumbs form. I usually start with my pastry cutter and then finish with my hands to form larger crumbs. Set aside.
Cake
In the bowl of your stand mixer fitted with the paddle attachment mix the butter and sugar together for 2 minutes. Add the eggs, vanilla, baking soda and salt and mix for an additional minute until combined, scraping the sides of the bowl as necessary. Lower the speed of your mixer to low and In alternating additions add in the flour and yogurt, beginning and ending with the flour. Mix until smooth. Spread the batter in the prepared pan and spread the crumb mixture evenly on top.
Bake for 30-35 minutes until the center is set and a toothpick comes out clean.
Icing
In a medium saucepan combine the brown sugar, milk and butter on medium heat. Bring to a boil and boil for 3 minutes. Immediately remove from the heat. Stir in the vanilla and whisk in the powdered sugar until no more lumps remain. Allow the icing to cool for 10-15 minutes, whisking occasionally until it thickens a bit and then drizzle on top of the warm cake.
Serve warm or at room temperature.
---
Notes:
store airtight for up to 3 days.
I noted you can use dark or light brown sugar in this recipe. I used dark in the cake and light in the crumb and icing, but feel free to use all dark or all light.
Also, note you can add 1 teaspoon of cinnamon to both the cake and the crumb if you would like a cinnamon flavored cake.
Keywords:: crumb cake, crumb cake recipe, brown sugar cake, breakfast cake, best breakfast recipe, make ahead breakfast, best cake recipe, homemade cake
Want To Save This Recipe?
PIN for later: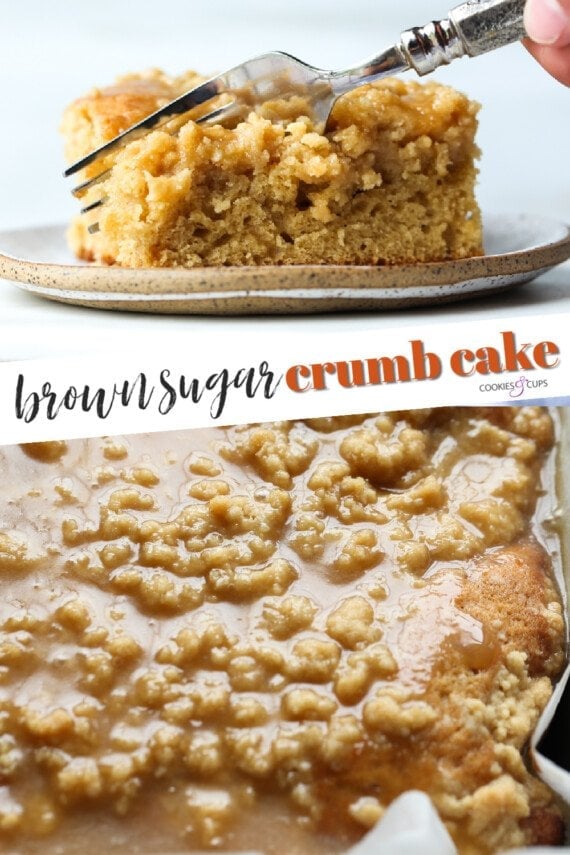 This recipe and its images were originally posted in 2016 and updated in 2020. The recipe remains the same, just updated to be more clear.