Easy5 minsQuick
This Basil Vinaigrette recipe is quick and easy to make, and bursting with the best fresh basil flavor.  Perfect for drizzling on salads, pizzas, pastas, soups, grilled meat, veggies and more!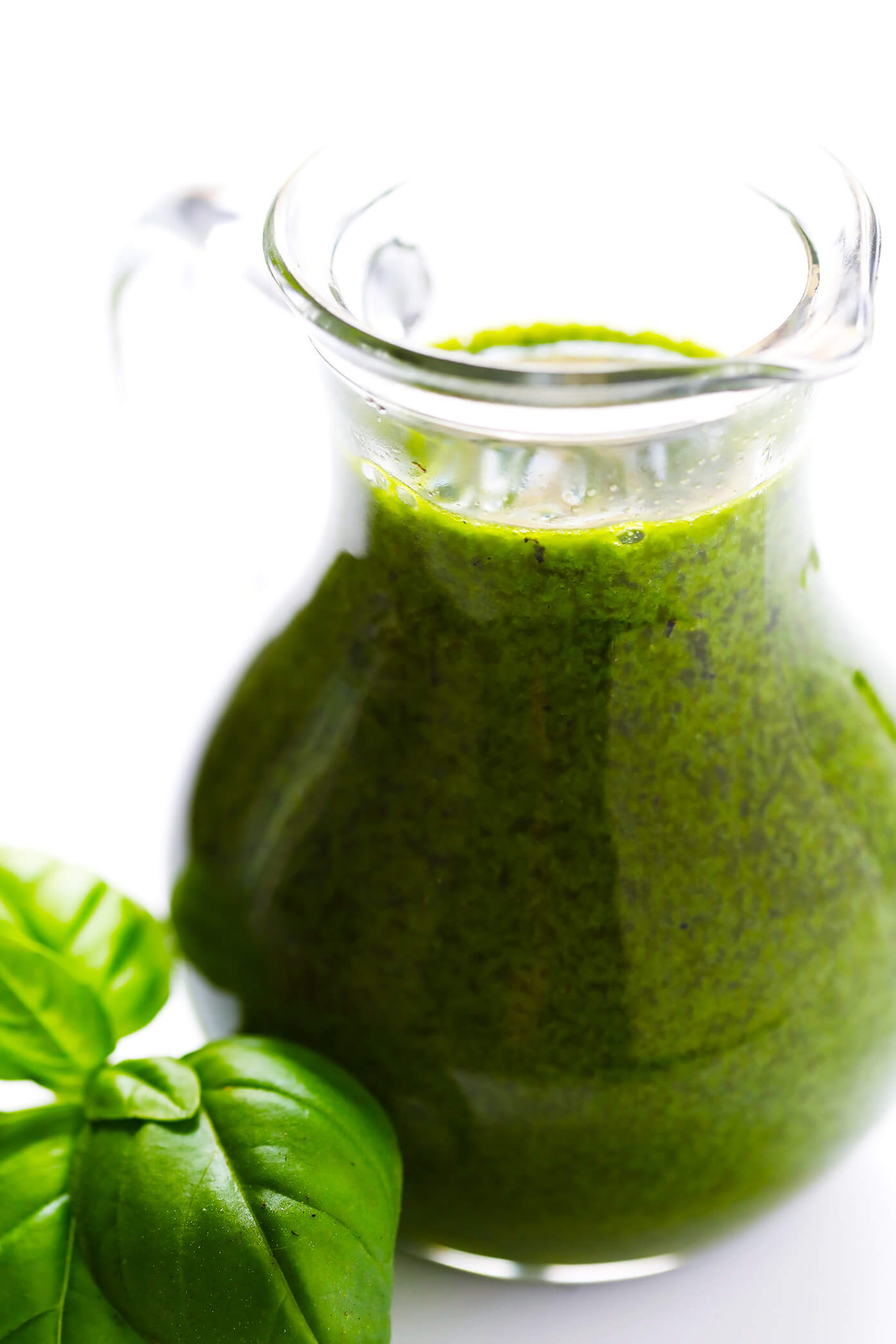 These past few weeks, Barclay and I have been hosting some very special visitors from Kansas City…my in-laws!
They arrived just in time for the most perfect stretch of weather here in Barcelona.  And Barc's dad, accordingly, made himself right at home at the tiny little table out on our balcony, where he does his daily reading and writing and people-watching in the Spanish sunshine.  Meanwhile, Barc's mom also spent her own fair share of time out on our various balconies…helping us revive our dozen planter boxes full of herbs!
And by "revive", I of course mean replant replant pretty much all of them.  😂
You see, when we first moved into our apartment here six months ago, we fell madly in love with our little European balcony spaces and immediately brought home a zillion plants and herbs to fill them.  And for months, it was a dream come true.  Our little herb garden was thriving, and I loved going out to snip a little of this and a little for our meals.  But, after an unseasonably cold winter here (snow for the first time in the city in 7 years!), one too many weeks when we spaced off watering anything (oops), and daily visits this spring from some very hungry pigeons (grrr)…we found ourselves recently down to just our two hearty rosemary and lavender plants.  Plus an old kale plant that had accidentally gone wild and grown into something that looked like it was straight out of a Dr. Seuss book.
Whoops!
Thankfully, my mother-in-law is a genius with plants and generously agreed to roll up her sleeves and help us with our Herb Garden 2.0.  And thanks to her magic touch, I'm happy to report that our balconies are now literally overflowing with delicious fresh herbs again.  And I'm extra happy to report that our new crop includes lots and lots (and lots and lots and lots) of albahaca.  Fresh basil.  My absolute favorite. 💚
So to celebrate, I immediately whipped up a batch of my favorite basil vinaigrette, which we have been drizzling on roasted veggies and grilled chicken and my favorite strawberry burrata salad (recipe coming soon!) all week long.  And in honor of basil season everywhere, I thought it was high time to share this recipe on the blog.  It only takes about 5 minutes to make, calls for 4 basic ingredients, and tastes like pure summer.  You're going to love it.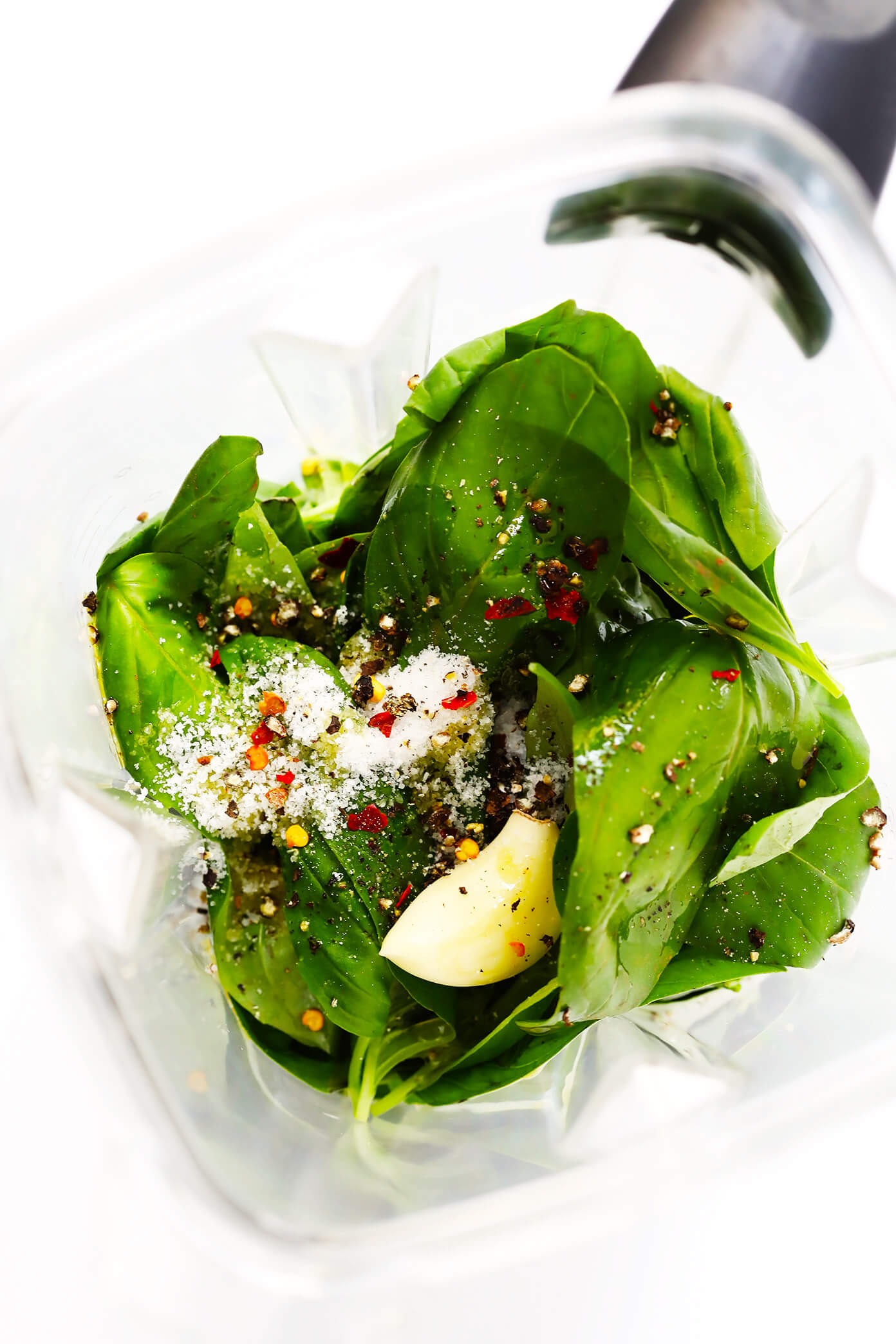 Basil Vinaigrette Ingredients:
To make this basil vinaigrette recipe, you will need:
Lots of fresh basil: naturally 🙂
Extra virgin olive oil: or any other mild-flavored oil you prefer
Garlic: no need to pre-chop, the blender will do it for you
Red wine vinegar: or champagne vinegar, apple cider vinegar or rice vinegar will do
Dijon mustard: optional, but I feel like it rounds out the flavors well
Kosher salt and freshly-cracked black pepper: essentials, don't forget 'em!
Crushed red pepper flakes: just a pinch to accent the flavors of the vinaigrette, not make it spicy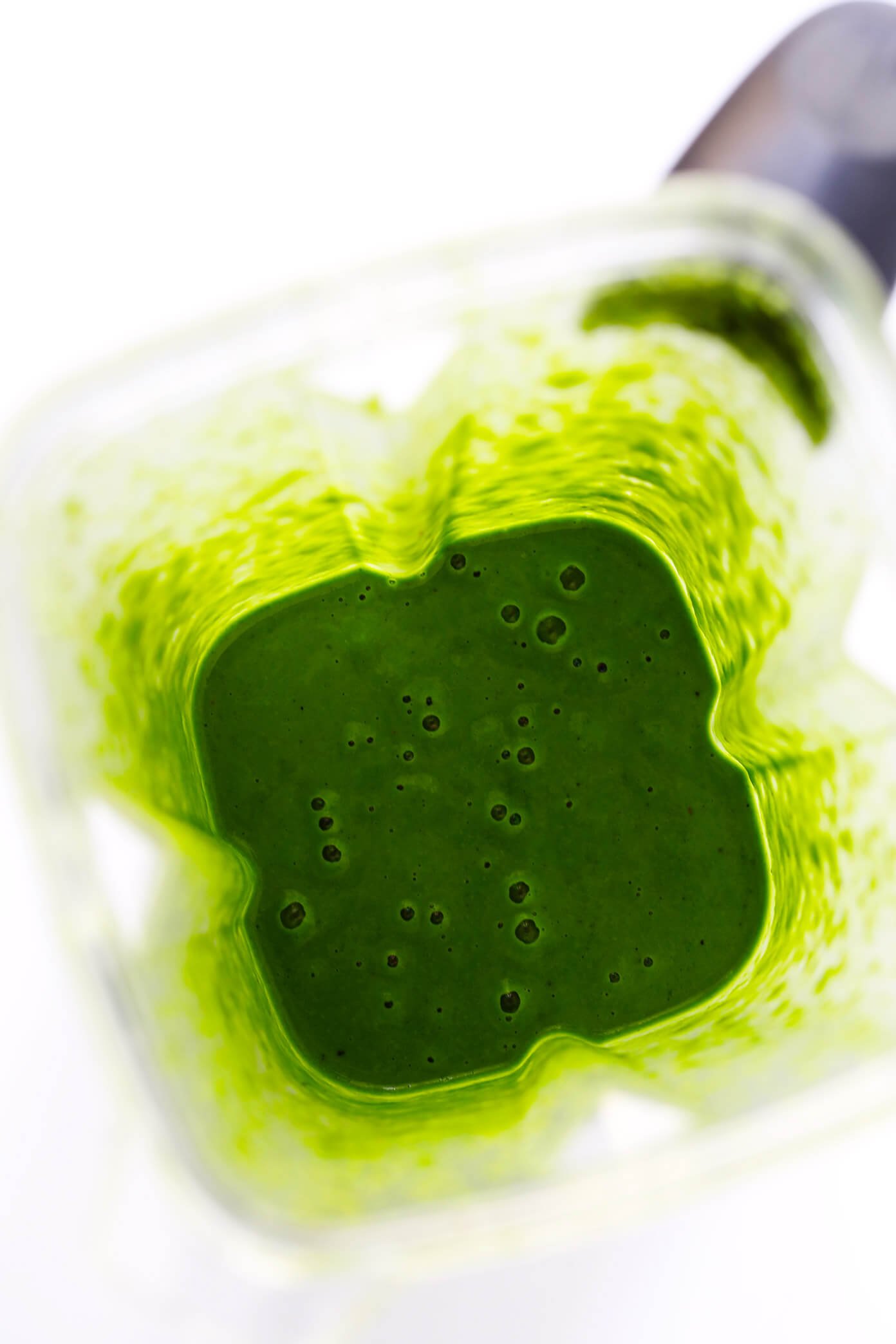 How To Make Vinaigrette:
Simply combine all of your ingredients in a blender or small food processor, and puree until completely smooth.  If your dressing is too thick, just add in a few tablespoons of water at a time until it reaches your desired consistency.  Also be sure to give it a taste, and season with extra salt and pepper if needed.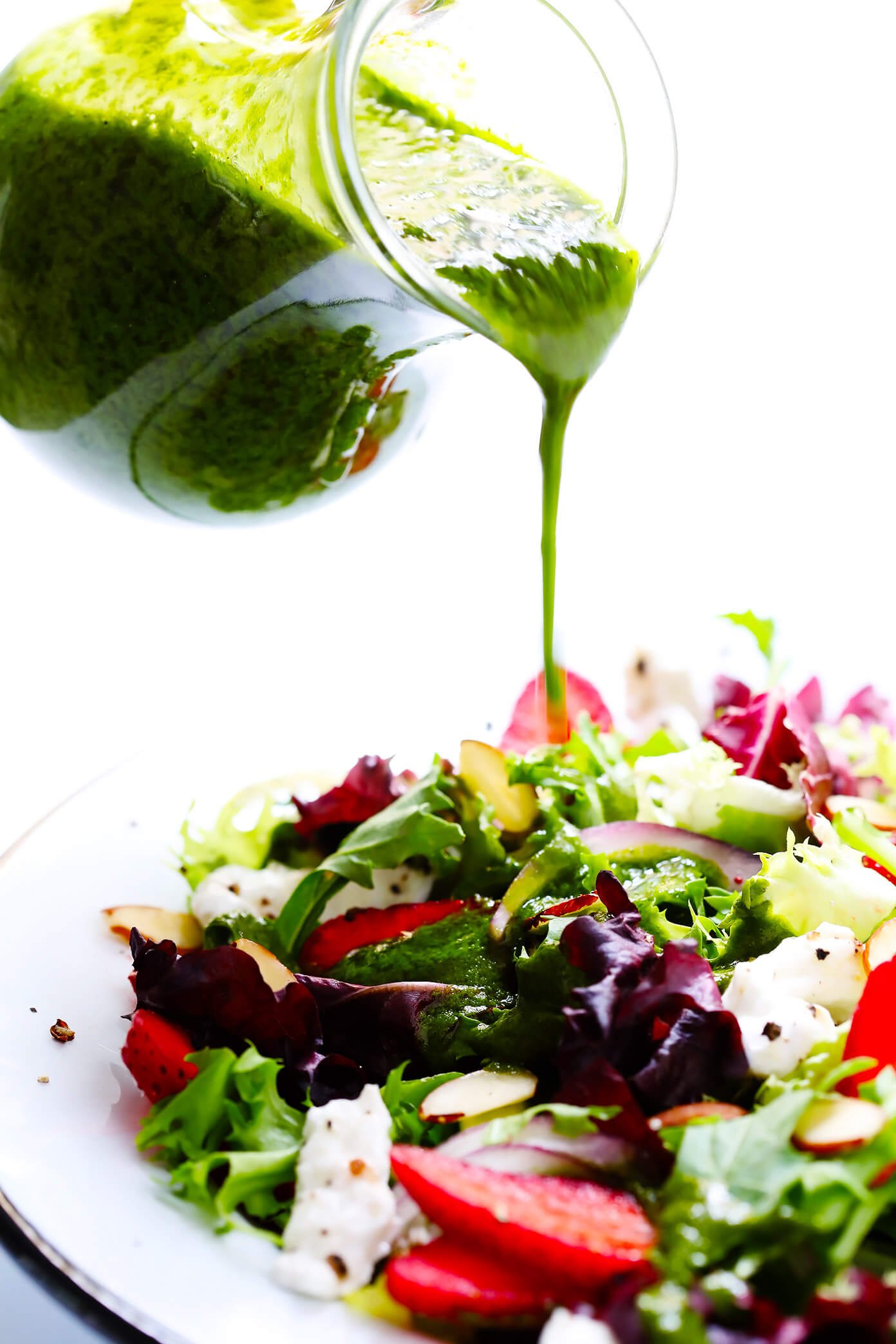 Ways To Use This Basil Vinaigrette Recipe:
This would be absolutely delicious used as a:
Dressing: perfect for tossing with green salads and pasta salads
Drizzle: use it as a finishing sauce for cooked veggies, meats, seafood, pizza, eggs, soups, etc.
Dipper: serve it up with fresh veggie sticks or even breadsticks as a delicious dipper
Mixer: stir a spoonful or two into your hummus, queso, guac, etc. for an extra burst of freshness
Brusher: brush a spoonful onto your flatbreads or sandwiches too!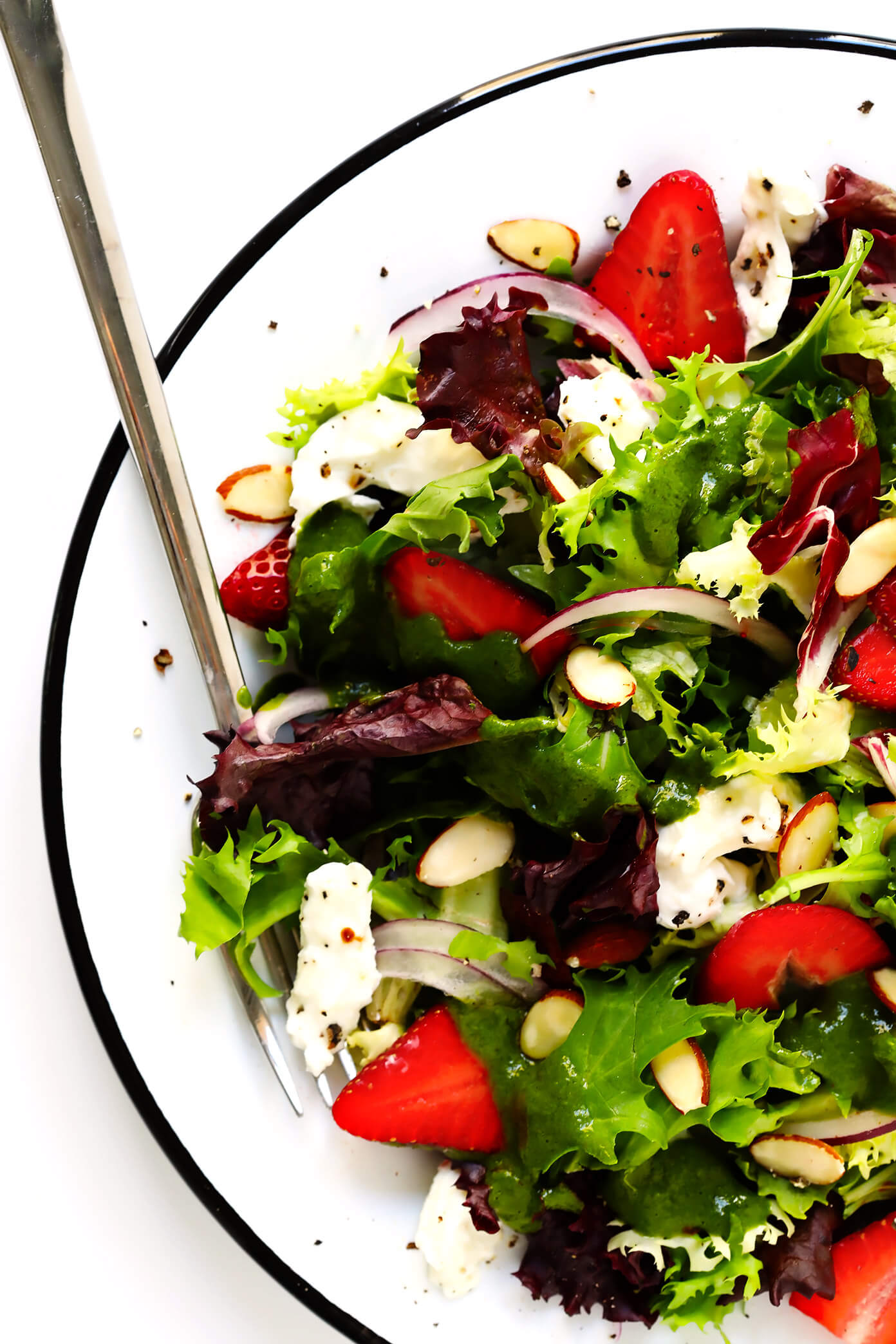 Happy basil season!  Enjoy, everyone!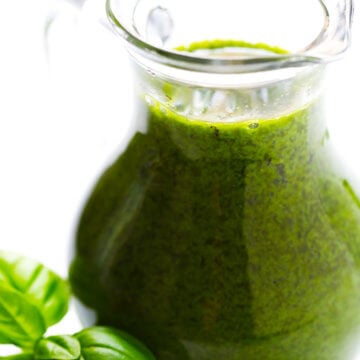 Yield: About 1 cup
Basil Vinaigrette
This Basil Vinaigrette recipe is quick and easy to make, and bursting with the best fresh basil flavor.  Perfect for drizzling on salads, pizzas, pastas, soups, grilled meat, veggies and more!
Ingredients:
2 cups tightly-packed fresh basil leaves
1/2 cup extra virgin olive oil
3 tablespoons red wine vinegar
1 large clove garlic, peeled
3/4 teaspoon sea salt
(optional) 1/2 teaspoon Dijon mustard
1/2 teaspoon freshly-cracked black pepper
pinch of crushed red pepper flakes
Directions:
Combine all ingredients in a blender or food processor, and puree until smooth.  If the vinaigrette is too thick, feel free to add in a few tablespoons of water a time and blend until the mixture reaches your desired consistency.
Taste and season with additional salt and pepper if needed.
Serve immediately, or refrigerate in a sealed container for up to 3 days.
Difficulty: EasyCategory: Quick


All images and text ©Gimme Some Oven
If you make this recipe, be sure to snap a photo and hashtag it #gimmesomeoven. I'd love to see what you cook!