This Beef Brisket recipe is perfect any time of year. You can make BBQ brisket in the oven for a super tender, delicious result. This oven baked brisket is made even better with my special BBQ brisket sauce!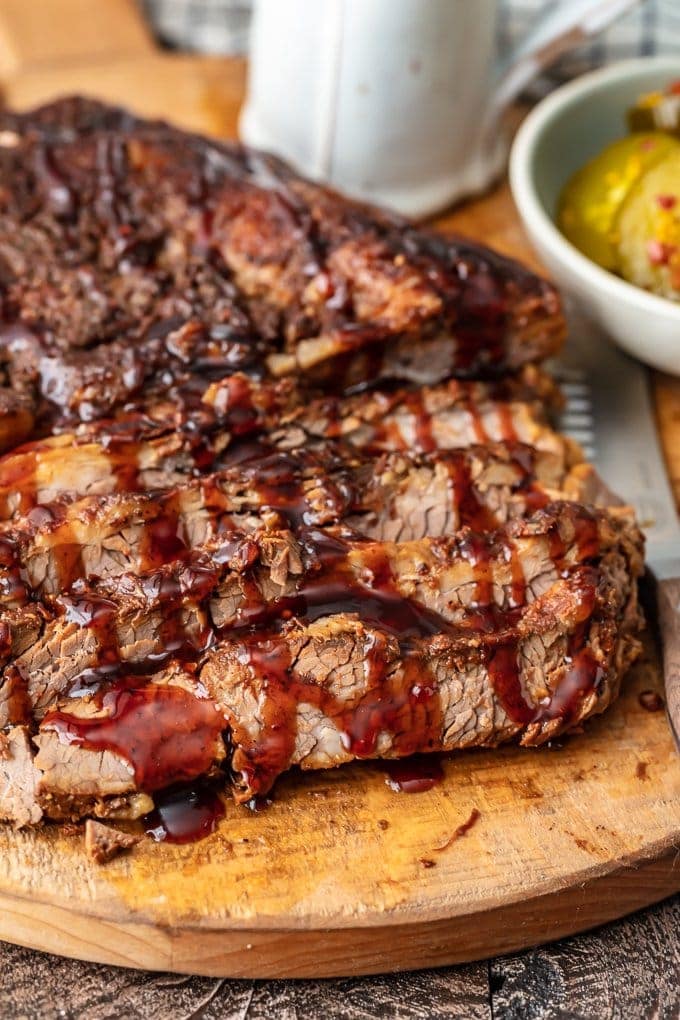 Beef Brisket Recipe (Baked Brisket)
This beef brisket recipe is the perfect main dish for any meal. Make BBQ brisket in the oven for the most tender and tasty result!
If you're looking for a delicious dish to serve for dinner, holidays, or special gatherings, this beef brisket recipe is it! No need to get the grill out either, because we're cooking this brisket in the oven. It definitely takes some time, but the result is tender, delicious BBQ brisket that everyone will love!
This was my Grandma Gall's recipe and one that brings back so many amazing memories around her table. My Mom has also made it for years and I'm so honored to be sharing it today!
This isn't a simple last-minute meal kind of recipe, so make sure you plan for this one. You'll need to prep the beef brisket up to a day in advance so that it has plenty of time to marinate before cooking. But I promise this oven baked brisket is well worth the effort!
I love this BBQ brisket recipe for holidays because you know when they're coming. You know you need something special to cook for Christmas, Easter, 4th of July, or whatever day you make this. So you'll have plenty of time to prep this a day ahead, or even a couple days ahead.
Best of all, I'm topping this recipe off with the best BBQ sauce for brisket. It's my favorite way to spice up this baked brisket recipe!
This oven baked brisket is so tender and so delicious. Make this BBQ beef brisket recipe for your next holiday meal!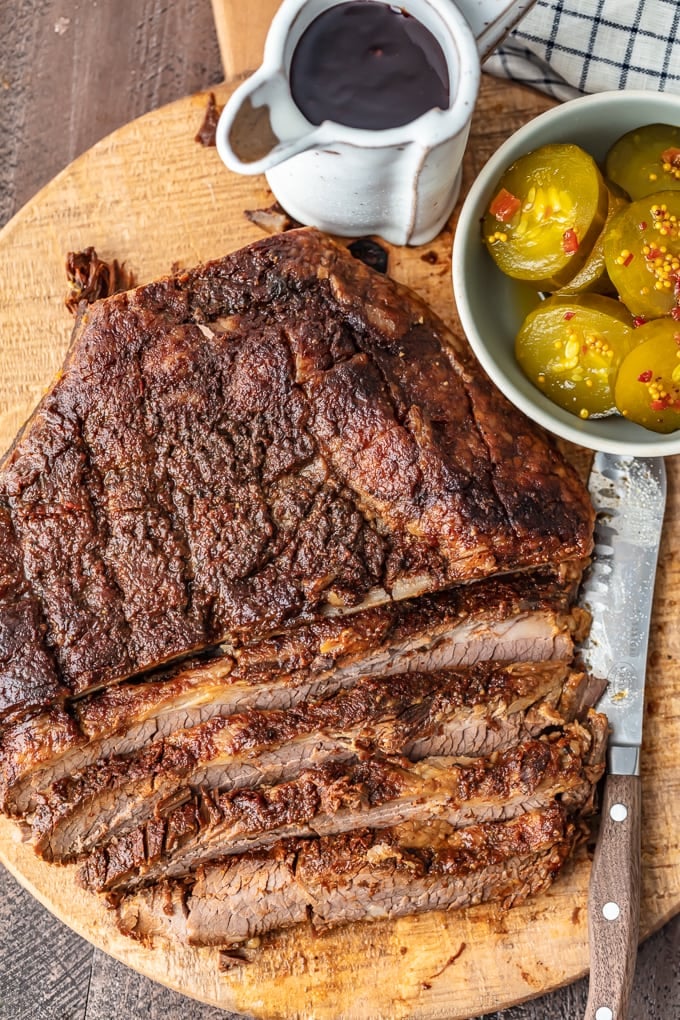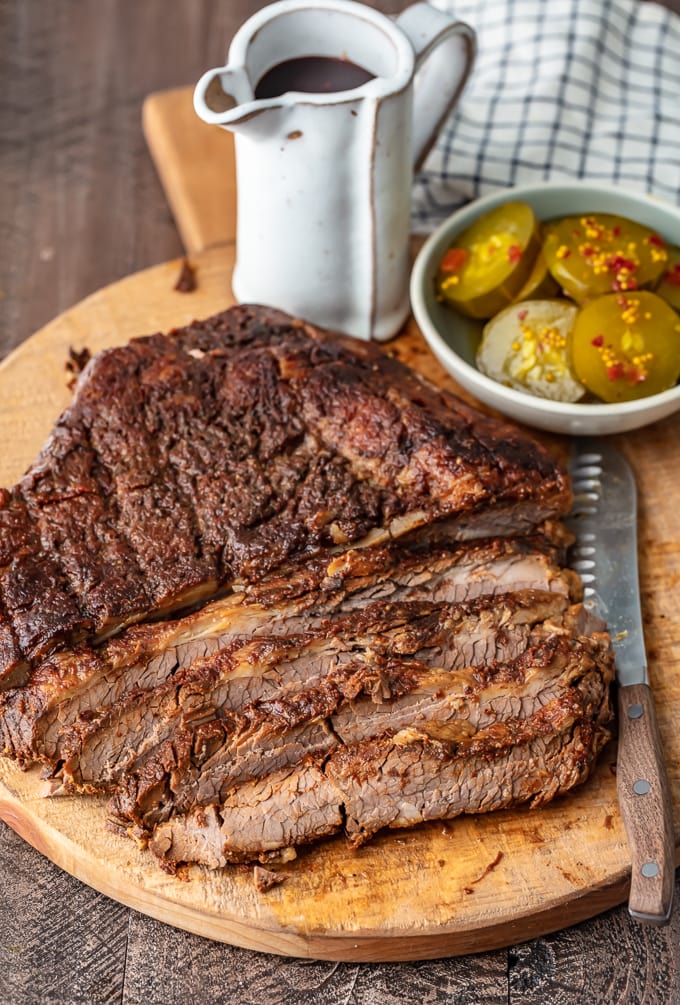 Best BBQ Brisket
I love this oven baked brisket because it has all the flavor of BBQ with the juiciness that can only come from roasting. It's the best BBQ brisket recipe for any occasion. Now that I know how to cook brisket in the oven, I can make it any time of year, and so can you!
We use both store bought BBQ sauce as well as our special "Homemade" BBQ Sauce on this recipe. I hope you'll try it with both!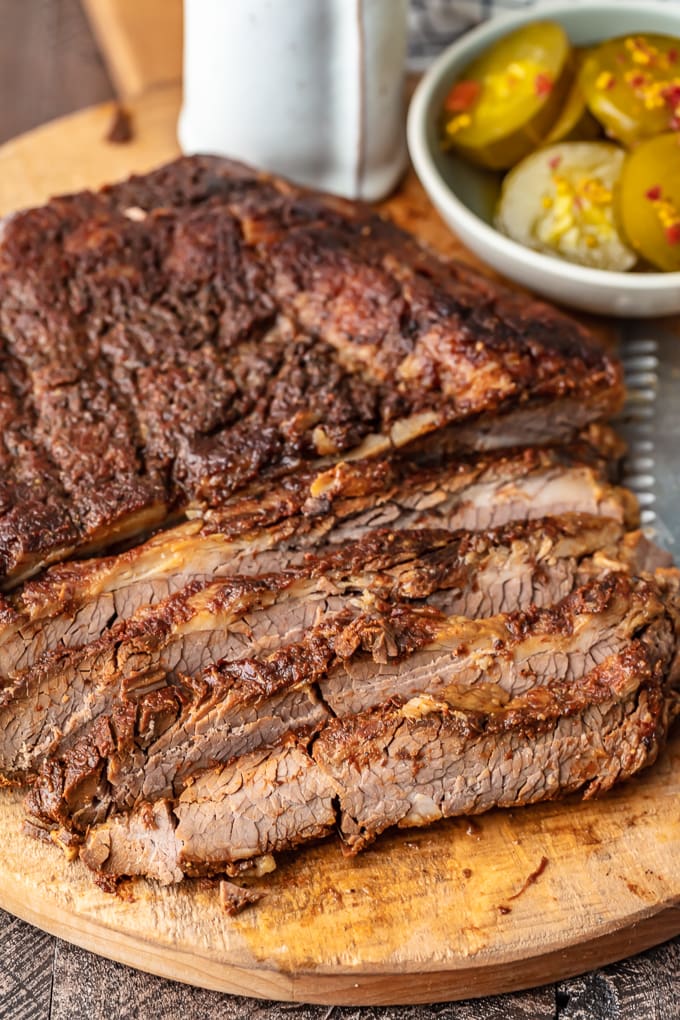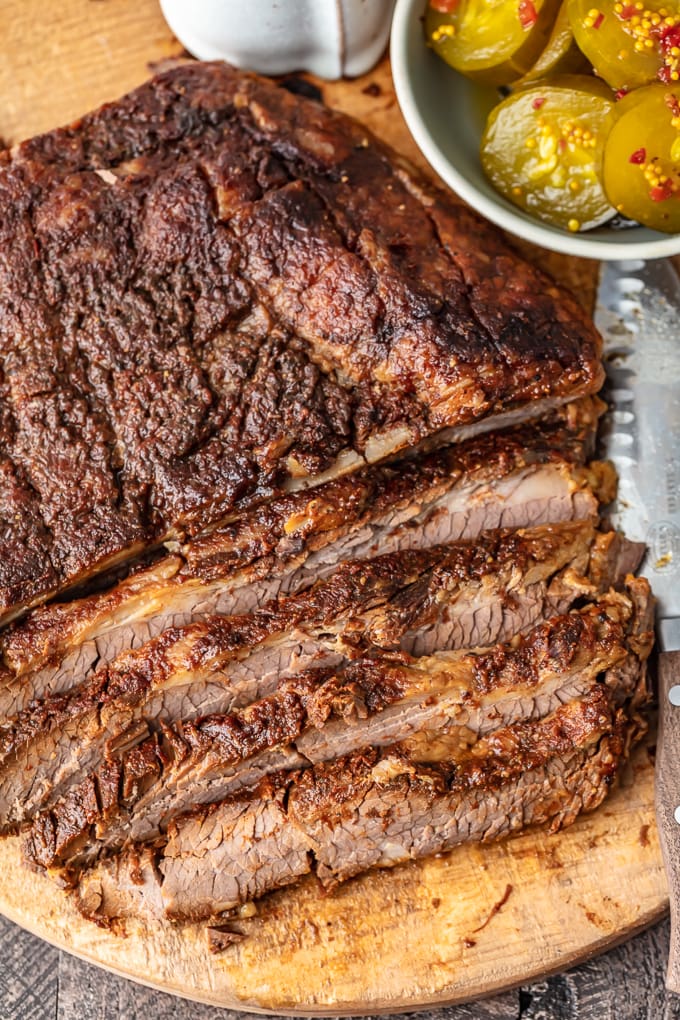 How to Cook Brisket in Oven
Before we even get to cooking brisket in the oven, remember that you need to get a head start on this beef brisket WAY ahead of time. The brisket will need to be prepped and sit in the refrigerator 8-24 hours before cooking. So this is definitely a recipe you need to plan for.
How to prep the brisket before baking:
Remove the white film and trim the fat from the brisket.
Line a large baking pan with foil and spray it with non-stick spray.
Place the brisket in the pan and sprinkle all sides with seasoning.
Mix the BBQ sauce and liquid smoke together, then pour it directly over the brisket.
Pour water into the pan around the brisket (but not on it).
Cover the pan with foil and refrigerate it for 8-24 hours.
Take the brisket out of the fridge about 30 minutes before cooking. 
How to make baked BBQ brisket:
Keeping the brisket covered, place the pan in the oven and cook for 5 hours at 275°F.
The baked brisket is done cooking one the internal temperature reaches 200°F.
When it's done, place the entire pan on a cooling rack and uncover the brisket to let the steam vent. 
Give it 30 minutes to cool before slicing, and then serve with our brisket sauce. You can make this ahead of time if you don't have time to cook the day of serving (which is especially helpful for holidays or big gatherings). Just wrap the brisket in foil once it has cooled and refrigerate it.
Recommended Products for this Oven Baked Brisket Recipe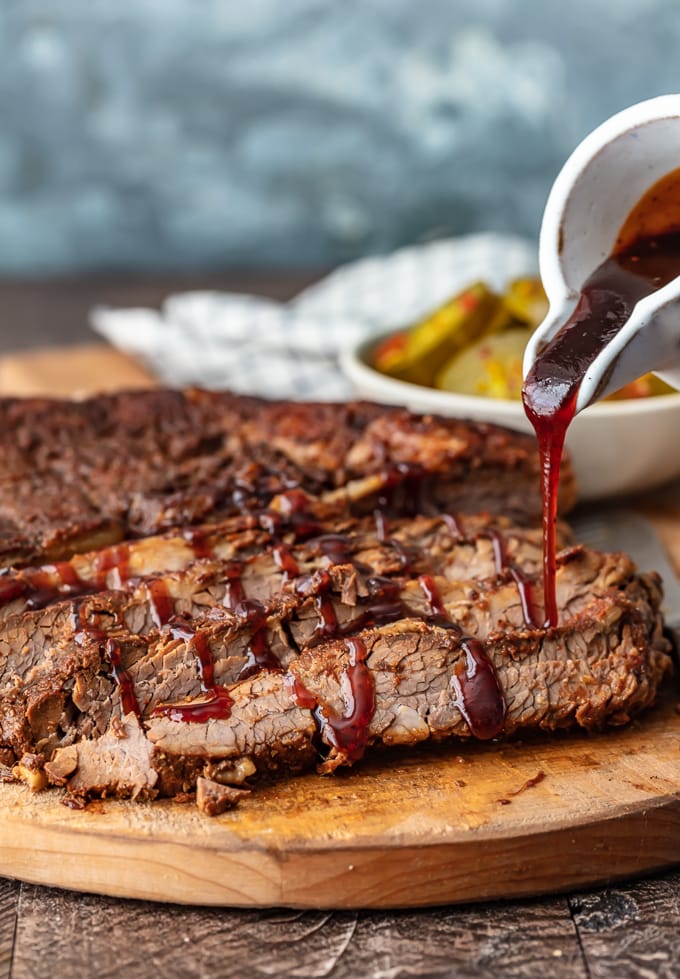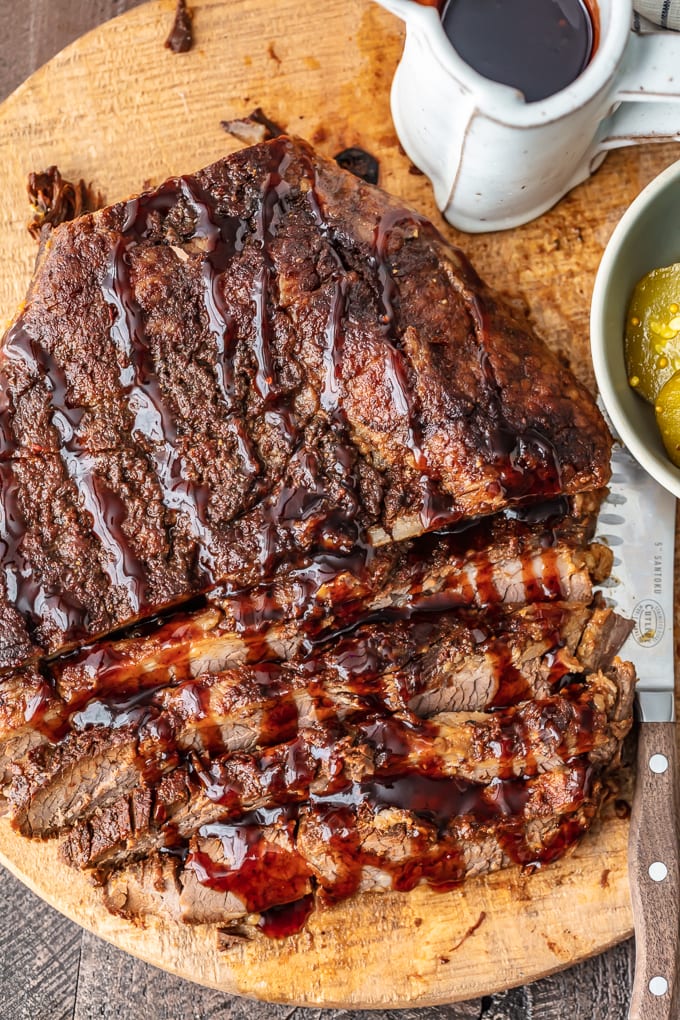 Best BBQ Sauce for BBQ Brisket
This oven baked BBQ brisket isn't complete without the PERFECT brisket sauce. I used my "homemade" BBQ sauce recipe to add some extra flavor. You can use your favorite BBQ sauce to marinate, but I highly recommend drizzling my brisket sauce over it before serving. It just adds so much flavor!
How long to cook brisket in the oven?
How long to cook brisket in the oven can vary based on your oven. For this recipe, we're cooking the beef brisket at 275°F for about 5 hours. At 5 hours, remove the brisket from the oven and use a meat thermometer to check the internal temperature. It's done cooking once it reaches 200°F. If it still hasn't reached 200°F, put it back in the oven and continue cooking, checking the temperature every half an hour.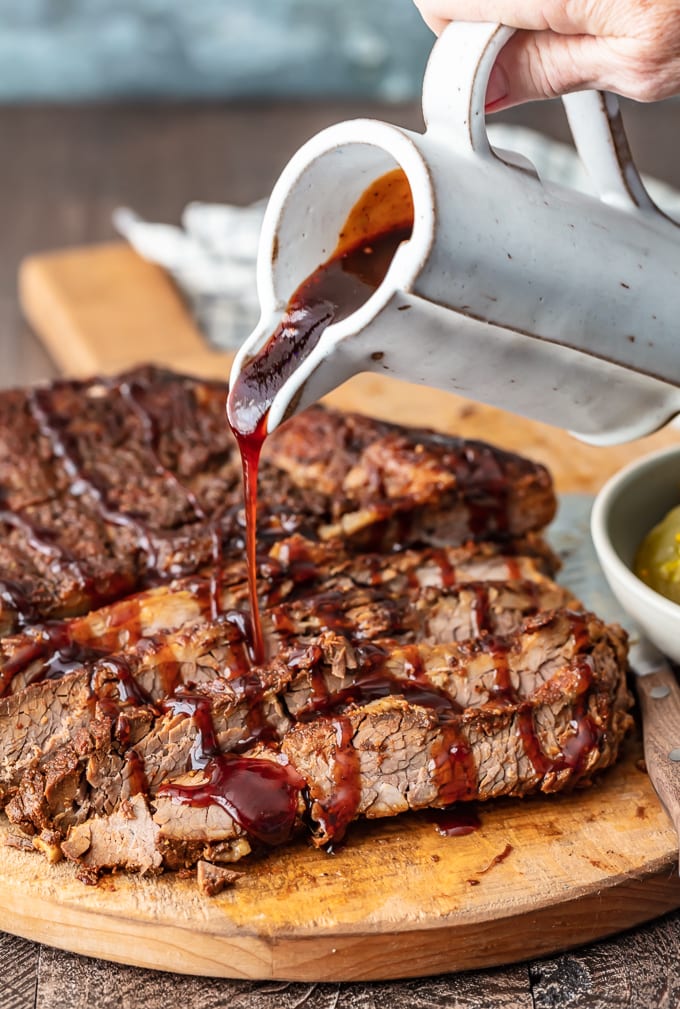 I hope you enjoy this baked BBQ brisket as much as we do!
Check the recipe card below for details on how to make this Oven Baked Brisket recipe. Enjoy!
If you like this beef brisket recipe, try these other delicious main dish options: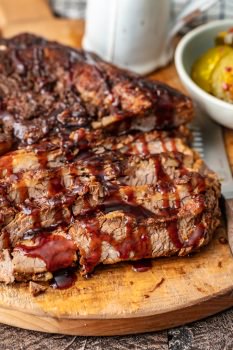 This Beef Brisket recipe is perfect any time of year. You can make BBQ brisket in the oven for a super tender, delicious result. This oven baked brisket is made even better with my special BBQ brisket sauce!
Course: Main Course
Cuisine: American
Keyword: baked brisket recipe, bbq brisket, beef brisket
Servings: 10
Calories: 320 kcal
Author: Becky Hardin
1

6 pound beef brisket, point cut with a ½-inch fat cap

Kosher salt

Freshly ground black pepper

Garlic powder

Celery powder

Onion powder

Ground nutmeg

8

ounces

BBQ sauce

click for our favorite

½

bottle Liquid Smoke

2

cups

water
Before starting, read all notes.

Remove any silverskin (white film on meat) and trim the fat cap to ½-inch.

Line a large baking pan (I use a lasagna pan) with foil. Spray the foil with nonstick cooking spray.

Place the brisket in the foil-lined pan and generously sprinkle all sides with each seasoning.

In a medium bowl, whisk together the BBQ sauce and Liquid Smoke.

Pour the BBQ sauce/Liquid Smoke mixture over the brisket. Pour the water around the brisket but not on top. Cover the brisket with foil and refrigerate 8-24 hours.

Remove the brisket from the fridge 30 minutes before cooking.

Heat the oven to 275°F and set the oven rack to the middle position.

Set the foil-covered pan of brisket in the oven and cook 5 hours.

Check the internal temperature of the brisket. The brisket is done when the temperature registers 200°F. You should be able to lift the brisket in the middle, with tongs, without the brisket breaking.

If the internal temperature doesn't register at 200°F, then place it back in the oven (covered) and retest every ½ hour.

Once the brisket reaches the desired temperature, transfer it to a cooling rack, open the foil (to let the steam vent) and let it cool at least 30 minutes before slicing.

After 30 minutes, transfer the brisket to a cutting board to slice and discard the cooking liquid.

If cooking the brisket one day before serving, wrap it tightly with foil (after it cools), refrigerate overnight and slice it the next day for easier slicing.

Serve with "Homemade" BBQ Sauce.

Enjoy!
*Note: The brisket needs to be prepped and refrigerated at least 8-24 hours before cooking.
*Note: If the brisket cooks a little too long and falls apart, it will still be delicious. I have often served it this way (before purchasing a meat thermometer) and have never had one complaint.
Nutrition Facts
BBQ Beef Brisket Recipe (Oven Baked Brisket)
Amount Per Serving
Calories 320 Calories from Fat 117
% Daily Value*
Total Fat 13g 20%
Saturated Fat 4g 20%
Cholesterol 112mg 37%
Sodium 378mg 16%
Potassium 651mg 19%
Total Carbohydrates 9g 3%
Sugars 7g
Protein 37g 74%
Vitamin A 1%
Vitamin C 0.2%
Calcium 1.8%
Iron 20.2%
* Percent Daily Values are based on a 2000 calorie diet.