This beautiful Berry Caprese Salad is a great simple salad for summertime! It only takes 10 minutes to make and Is the perfect side dish to go with any meal!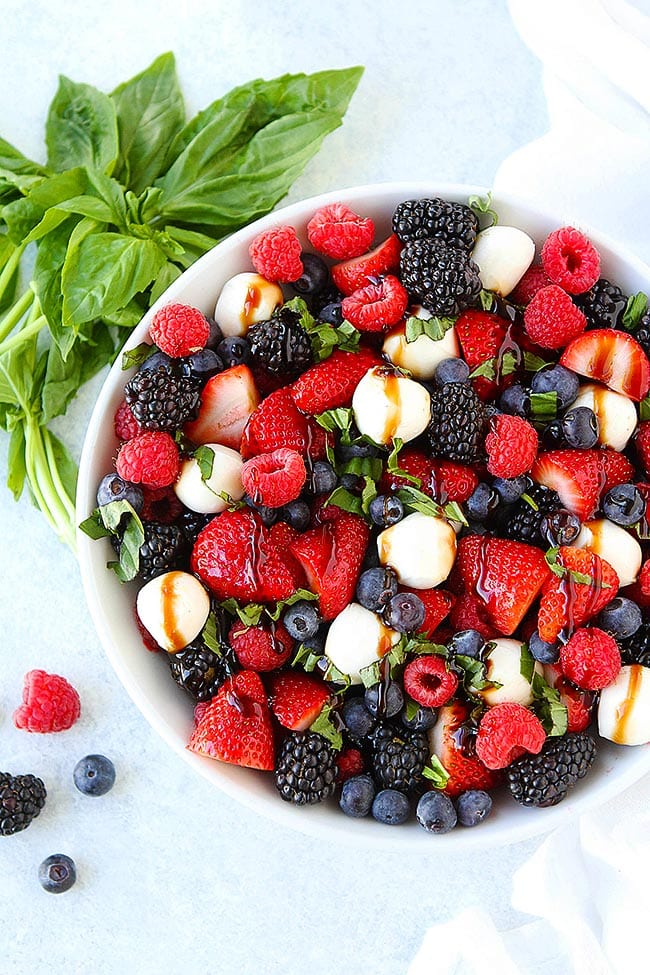 This post is sponsored by Kroger. 
Summer Salads
During the hot summer months, I only want to eat salads, watermelon, and ice cream. Ok, let's go wild and include some chips and guacamole by the pool. Sounds like a good summer to me:) Seriously though, I LIVE for summer salads when produce is so fresh and delicious. I am constantly creating new summer salad recipes so I never get bored with the same old salad.

OTHER RECIPES
My latest salad creation is this Berry Caprese Salad recipe. I love a good classic Caprese salad, with tomatoes, but this berry version is my new favorite. I made it for a blogging event at the Kroger headquarters in Cincinnati earlier this month and it was a huge hit. I am so excited to share the recipe with you today and tell you a little bit about my trip!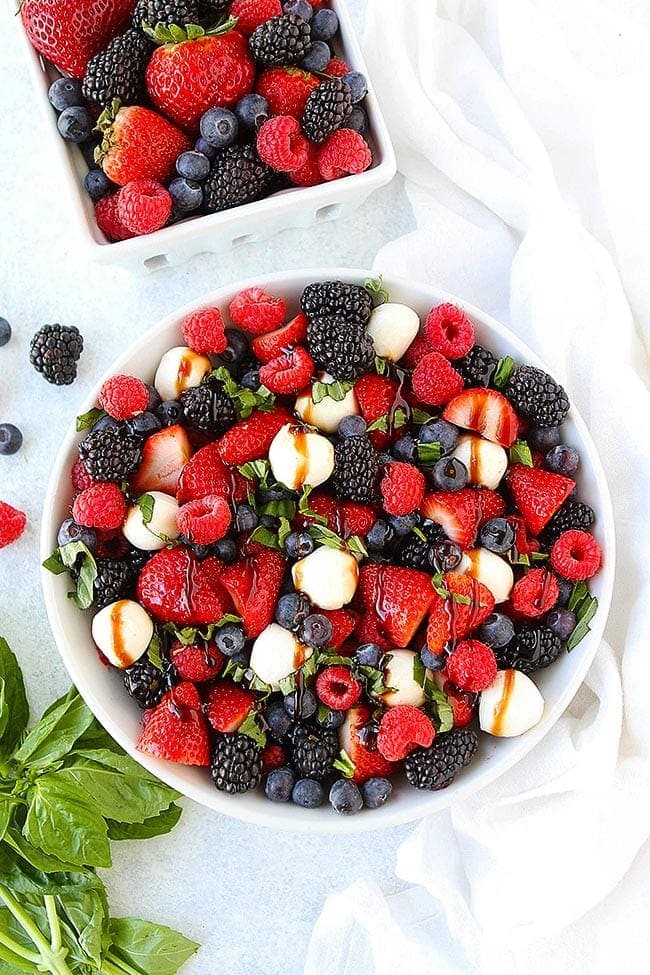 Easy and Beautiful Berry Salad
First, let's talk about this BEAUTIFUL Berry Caprese Salad. It screams summer, right? It is the perfect salad for Memorial Day, the 4th of July, Labor Day…and all of the summer days. You can't go wrong with this summer salad, especially because it is SO easy to make and looks SO pretty! This is one salad that will really impress your family and friends. They will never know it is so easy to make. And when I say easy, I mean EASY! You can make this salad in about 10 minutes. BOOM!
For this Berry Caprese Salad, you need:
strawberries
blueberries
blackberries
raspberries
fresh mozzarella balls
Simple Truth fresh basil
olive oil
Private Selection Balsamic Glaze
Make sure you start with the most beautiful and ripe berries since they are the star of the salad. I buy all of the berries at Smith's, they always have amazing produce. The Simple Truth Organic Basil is also top notch. I love using it when our garden isn't ready.
For this salad, I like to use the small fresh mozzarella balls that are in water. They are the perfect size for this salad. You can keep the mozzarella balls whole or cut them in half, either way works well. If you can't find them, you can use regular fresh mozzarella, just cut it into bite size pieces.
To assemble the salad, place all of the berries in a big bowl with the fresh mozzarella. Add fresh chopped basil, a drizzle of olive oil and finish the salad with Private Selection Balsamic Glaze. The balsamic glaze really makes the salad, so don't skip it. It is SO good!
See how easy that was? This twist on the classic caprese salad is guaranteed to be a summer salad favorite! Make it for all of your summer BBQ's, potlucks, picnics, and parties! It is the perfect red, white, and blue salad for the summer holidays too!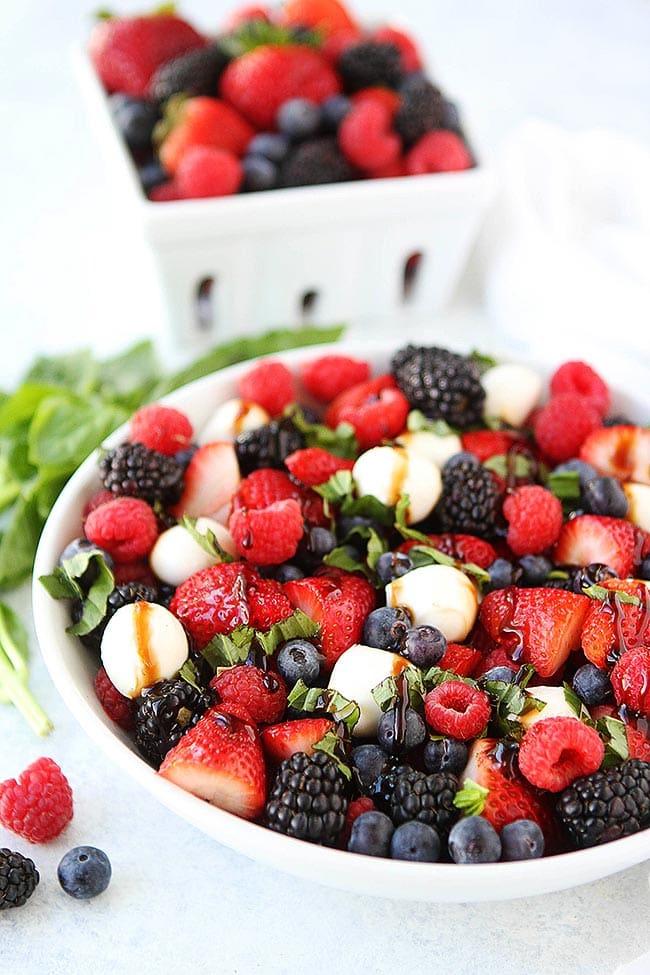 And now a little about my trip to Kroger earlier this month. A group of bloggers met at the Kroger headquarters in Cincinnati to learn more about Kroger, try new products, discuss social media/blogging, and to cook and eat LOTS of food together. It was a ton of fun! We love Kroger and shopped at their stores even before we had the blog, so I pinch myself that I get to work with them. They are such a great company and we shop at Smith's, our Kroger store, almost every day. We are lucky it is a few blocks away:)
While I was there, I learned about Kroger's Zero Hunger Zero Waste program. Did you know that in the U.S., more than 40% of food is thrown away, but 1 in 8 people struggle with hunger. So sad. The Kroger Co. has made hunger relief a priority, helping provide food and nourishment to people in need. Kroger is committed to ending hunger in our communities and eliminating food waste in our company by 2025. At the event, we were served an amazing breakfast with "repurposed" food. It made me think of all of the ways we can reuse and repurpose food at home. We always have too much food and try to share with neighbors, friends, freeze leftovers, eat leftovers, etc. but we can do better and Kroger has inspired me to do so! To learn more about the program, go here. There is SO much we can do to help reduce food waste and help those that are hungry and in need of food. I am so grateful for Kroger and their efforts to end hunger and food waste!
At the event, we also had the opportunity to cook dinner together. It was so fun being in a kitchen with a large group of food bloggers. Every blogger developed a summer recipe for our dinner and then we got to sit down and eat together. It was such a fun and delicious meal. I think I am still full, ha! I made this Berry Caprese Salad and it went well with all of the summer themed dishes. It was such a fun event!
And now you can make the Berry Caprese Salad at home! Enjoy!
If you like this Berry Caprese Salad, you might also like: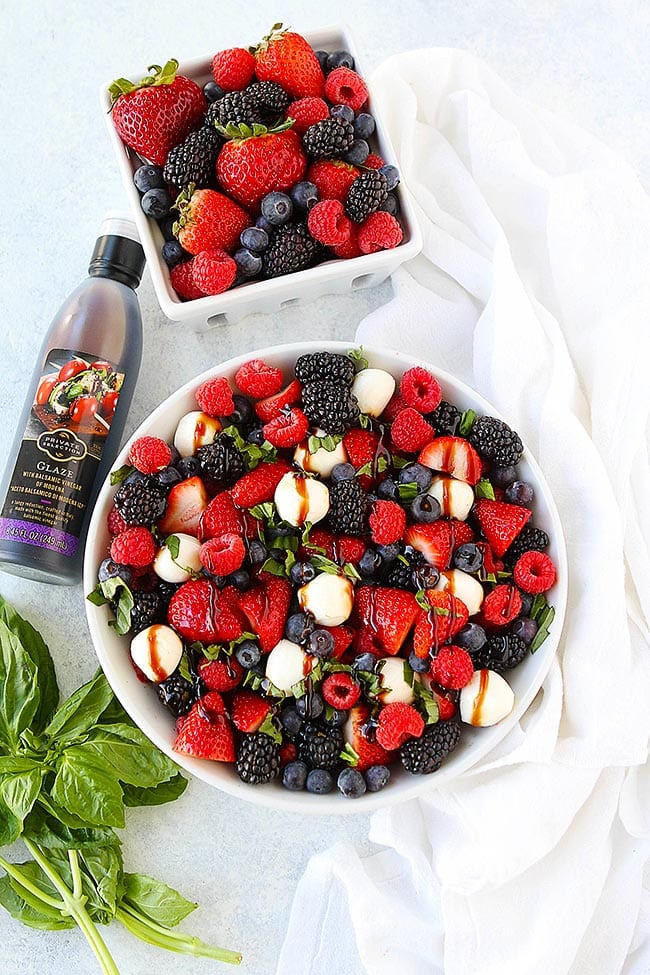 Berry Caprese Salad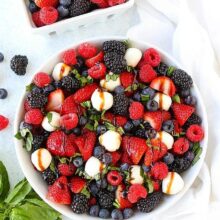 This easy and beautiful Berry Caprese Salad only takes minutes to make and is a great side dish to any summer meal.
Yield: Serves 4-6
Prep Time: 10 minutes
Total Time: 10 minutes
Ingredients:
Directions:
In a large bowl, combine berries, fresh mozzarella, and basil. Drizzle with olive oil and gently stir. Drizzle balsamic glaze over the salad and serve immediately.


All images and text ©Two Peas & Their Pod.




Follow twopeasandpod on Instagram and show us what recipes you are making from our blog! Use the hashtag #twopeasandtheirpod! We want to see what you are making in your kitchen!