Easy50 minsVegetarian
This Blueberry Crumble Bars recipe is quick and easy to make, and filled with the most irresistible sweet blueberry filling.  Perfect for fresh berries in the summertime, or frozen berries year-round.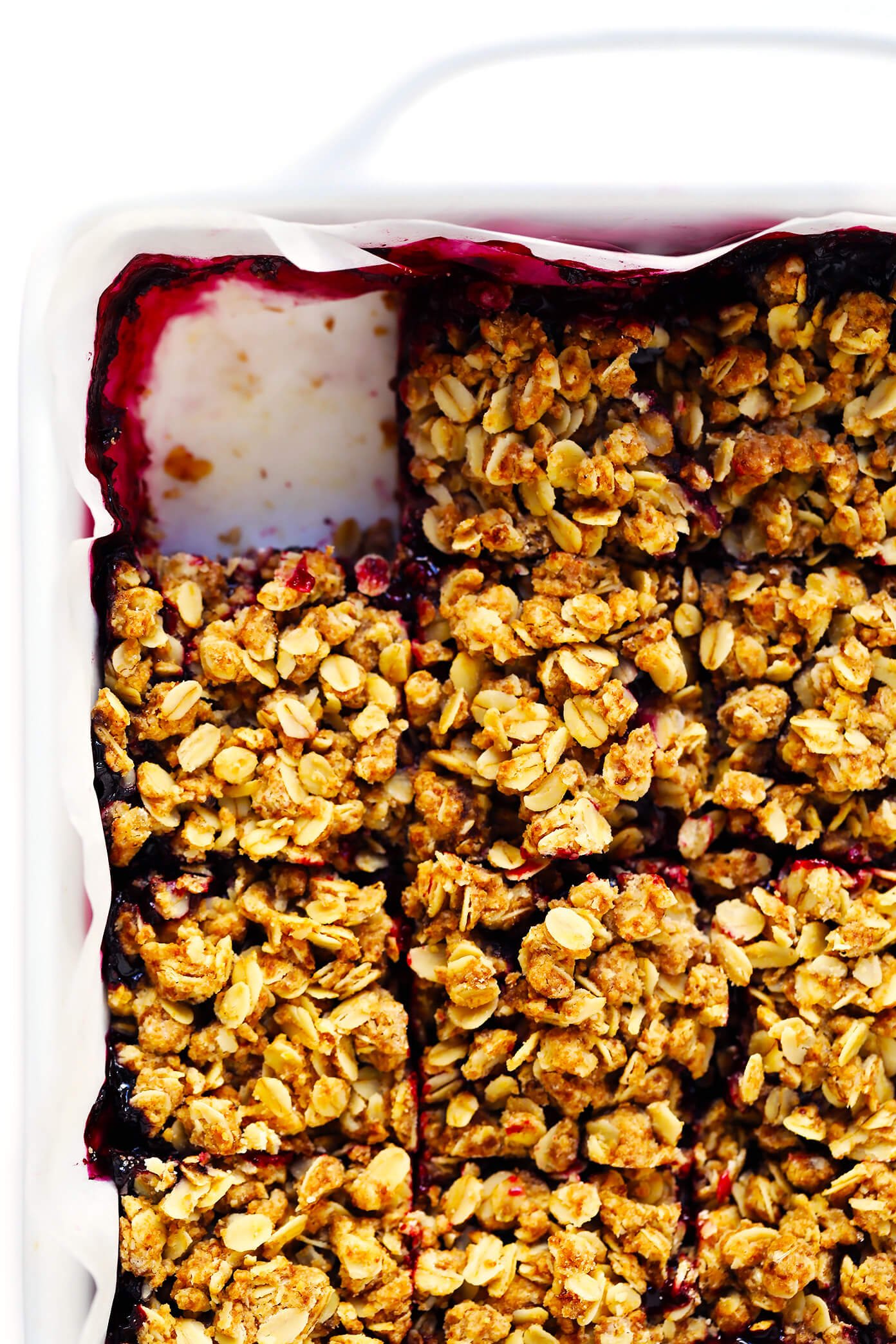 After six months of hosting back-to-back visitors here in our flat in Barcelona, we just picked up our final set of visitors for the season at the airport yesterday — my aunt, uncle and cousins from Kansas.
They came over to Europe to visit my cousin, Michael, who was studying abroad in Paris this summer.  And after a whirlwind trip in France, flew down yesterday to Barcelona to conclude their trip in Spain, where we've already had a fun time introducing them to Gaudí and vermouth and tapas galore.  And since they've been eating out non-stop the past few weeks, we figured they might be ready for an easy night in.  So tonight, Barc and I are planning to prepare a big cheeseboard with our favorite Spanish cheeses, hams, nuts, olives, breads, jams and paraguayos (would you guys like a post on that sometime?), an enormous salad (to balance out all of those carby tapas we've been eating), a tasting of our favorite vermouths (because, Spain).  And for dessert — these blueberry crumble bars.  Because, summer. ♡
As some of you have seen on Instagram, I've been tinkering around this week with recipes for how to make the perfect blueberry bars.  And after many berrylicious batches, I've settled on a recipe that Barclay and I both love.  It's made with a buttery oatmeal crisp, which is pressed into a bar on the bottom layer and crumbled on top.  It's filled with a luscious blueberry filling, made with fresh blueberries this time of year (or frozen year-round).  It's mostly just sweetened with berries, instead of cups and cups of extra sugar.  And it is absolutely delightful.
Just the right thing for a simple, cozy, summertime meal around the table with family, if I do say so myself.  And, if an extra scoop of ice cream happens to appear in the serving bowls tonight too, I wouldn't complain about that either.  😉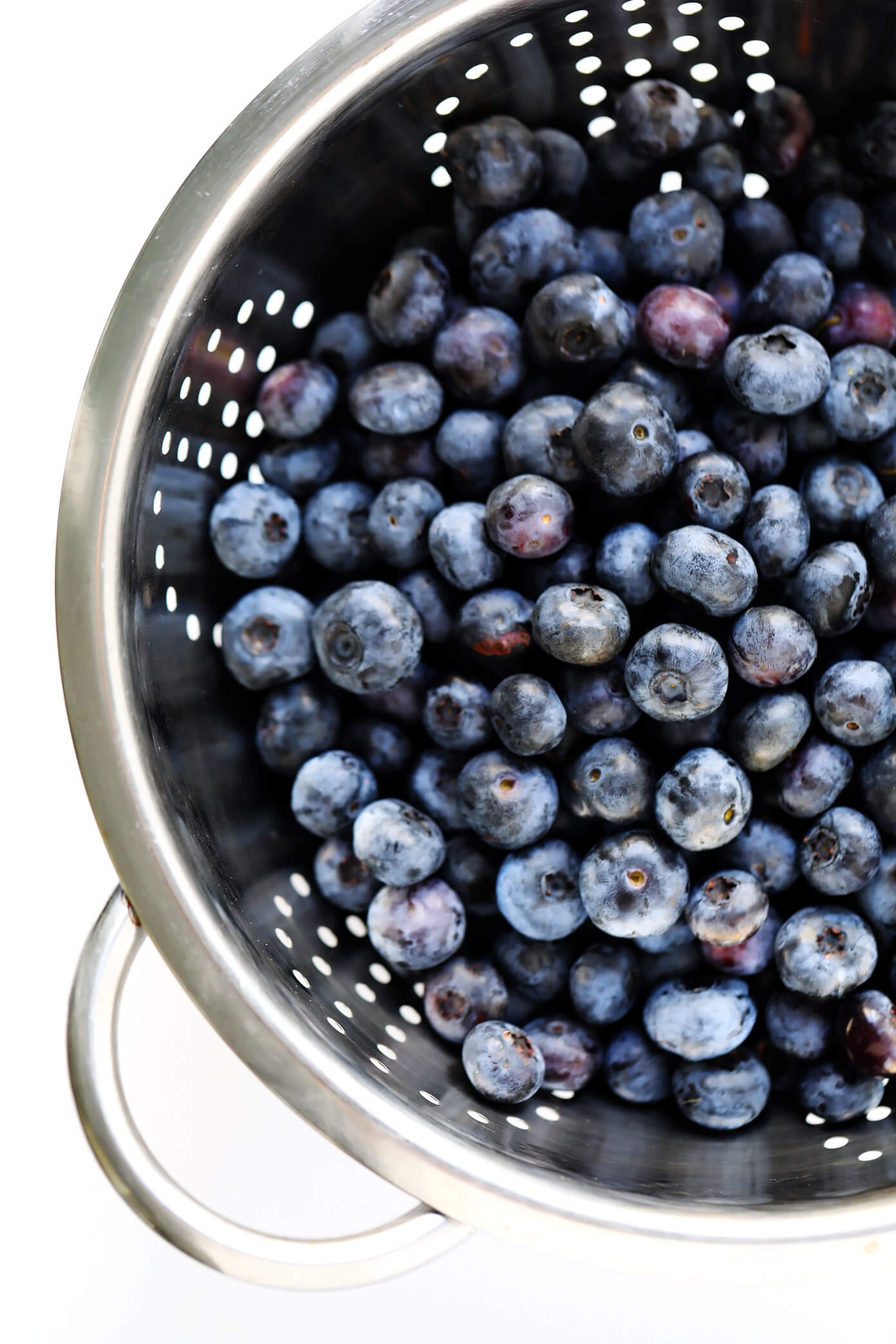 Blueberry Filling Ingredients:
Alright, first things first, let's talk about the most irresistible part of this recipe — that sweet, summery, ultra-satisfying blueberry filling.  It's made with just four simple ingredients:
Blueberries: fresh if they are in season, or frozen the rest of the year
Lemon juice: to add a little zest and bring out the flavors of these blueberries
Brown sugar: as needed, to sweeten
Cornstarch: to thicken (very important, or else you'll be eating these with a spoon, which isn't the worst thing in the world ;))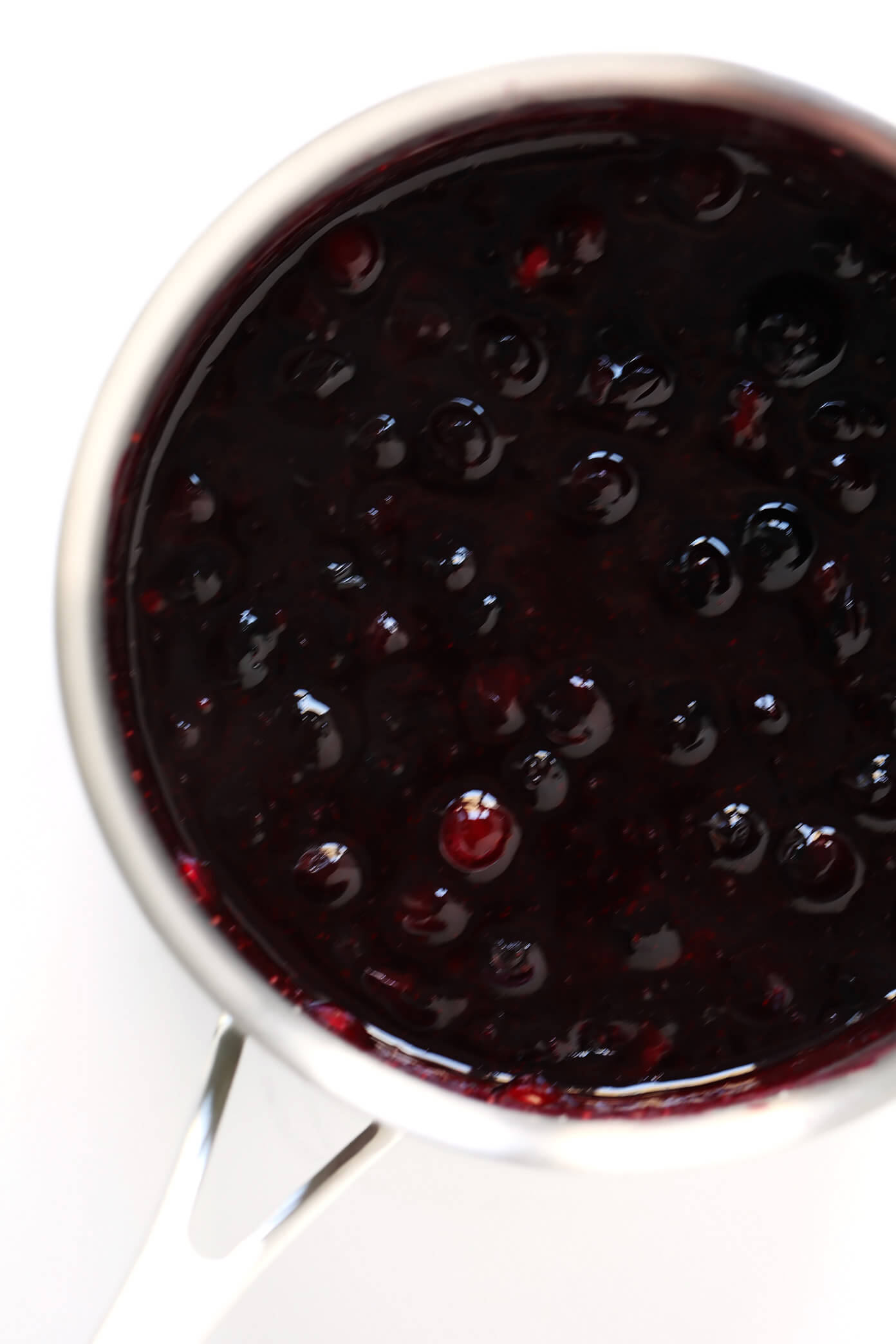 How To Make The Blueberry Filling:
To make the blueberry filling, simply:
Combine all of the ingredients together in a large saucepan.
Heat until the mixture comes to a simmer.
Then simmer for about 10 minutes, stirring and mashing a few of the blueberries occasionally. (I liked leaving some blueberries whole, but the texture is up to you.)
Then voila, it's ready to go!  Super simple.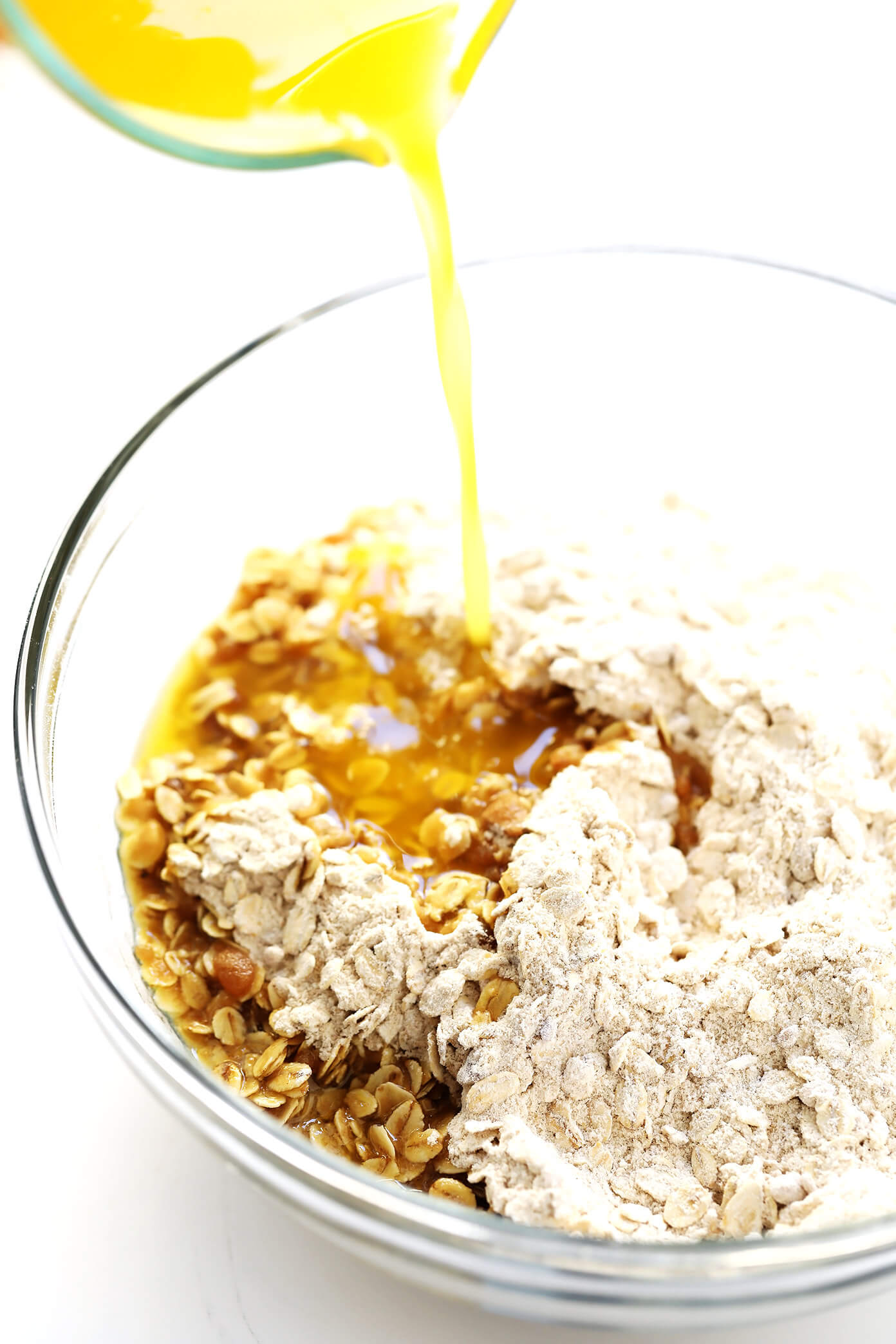 Oatmeal Crumble Ingredients:
Meanwhile, as your berries are cooking, let's work on the oatmeal crumble.  To make it, you will need:
Old-fashioned oats: Not quick or steel-cut.  Old-fashioned oats are the way to go here.
Flour: All-purpose or white whole wheat.
Brown sugar: Just 1/2 cup, not too much.
Cinnamon and salt: For seasoning.
Melted butter: Because…dessert.  If you're avoiding butter for whatever reason, these bars can also be made with coconut oil.  But I much prefer the flavor of butter here.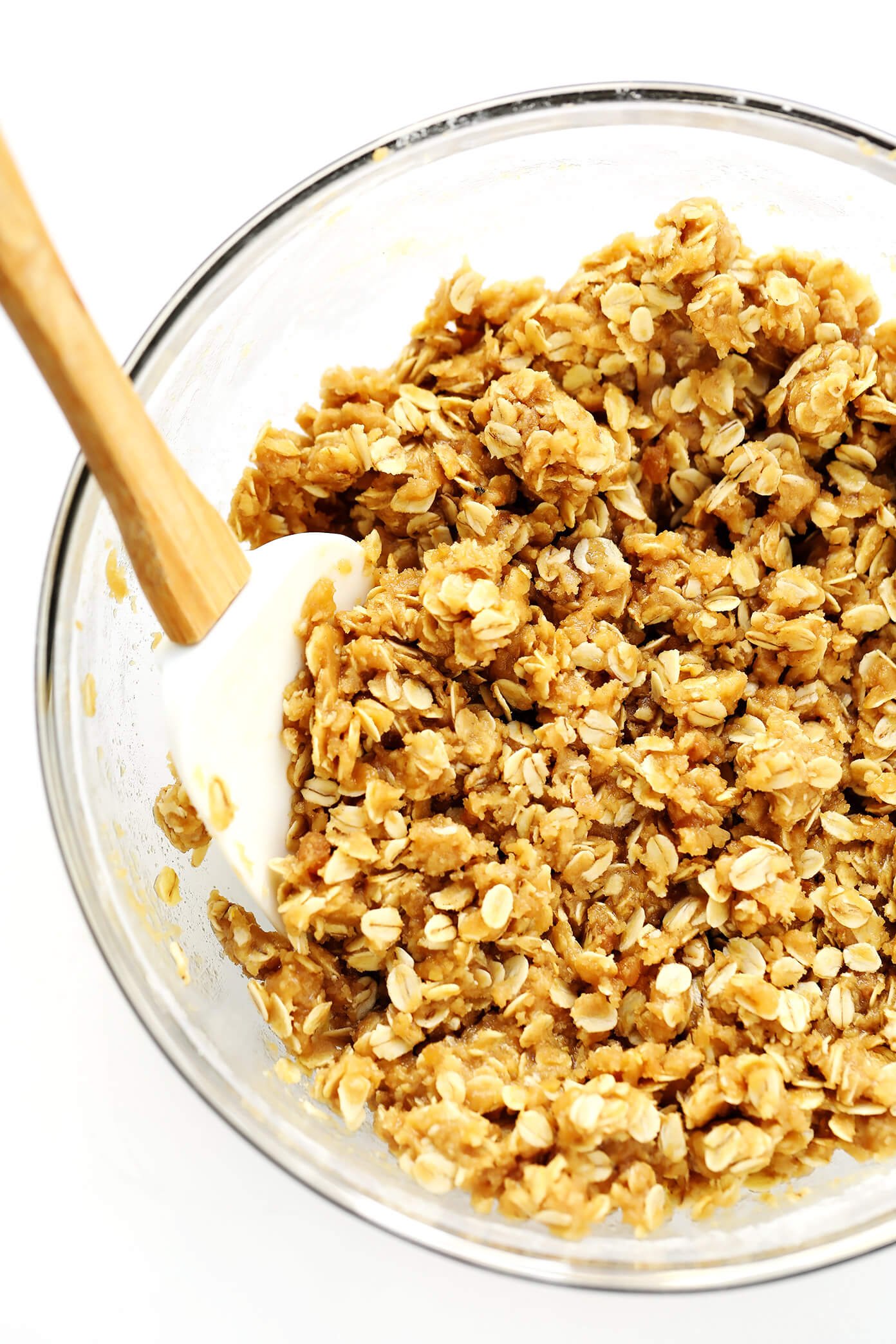 How To Make The Oatmeal Crumble:
To make the oatmeal crumble, simply:
Whisk all of your dry ingredients together. Oats, flour, brown sugar, cinnamon, salt.
Add in the melted butter. Yummm.
Then give everything a stir.  Until it's completely combined.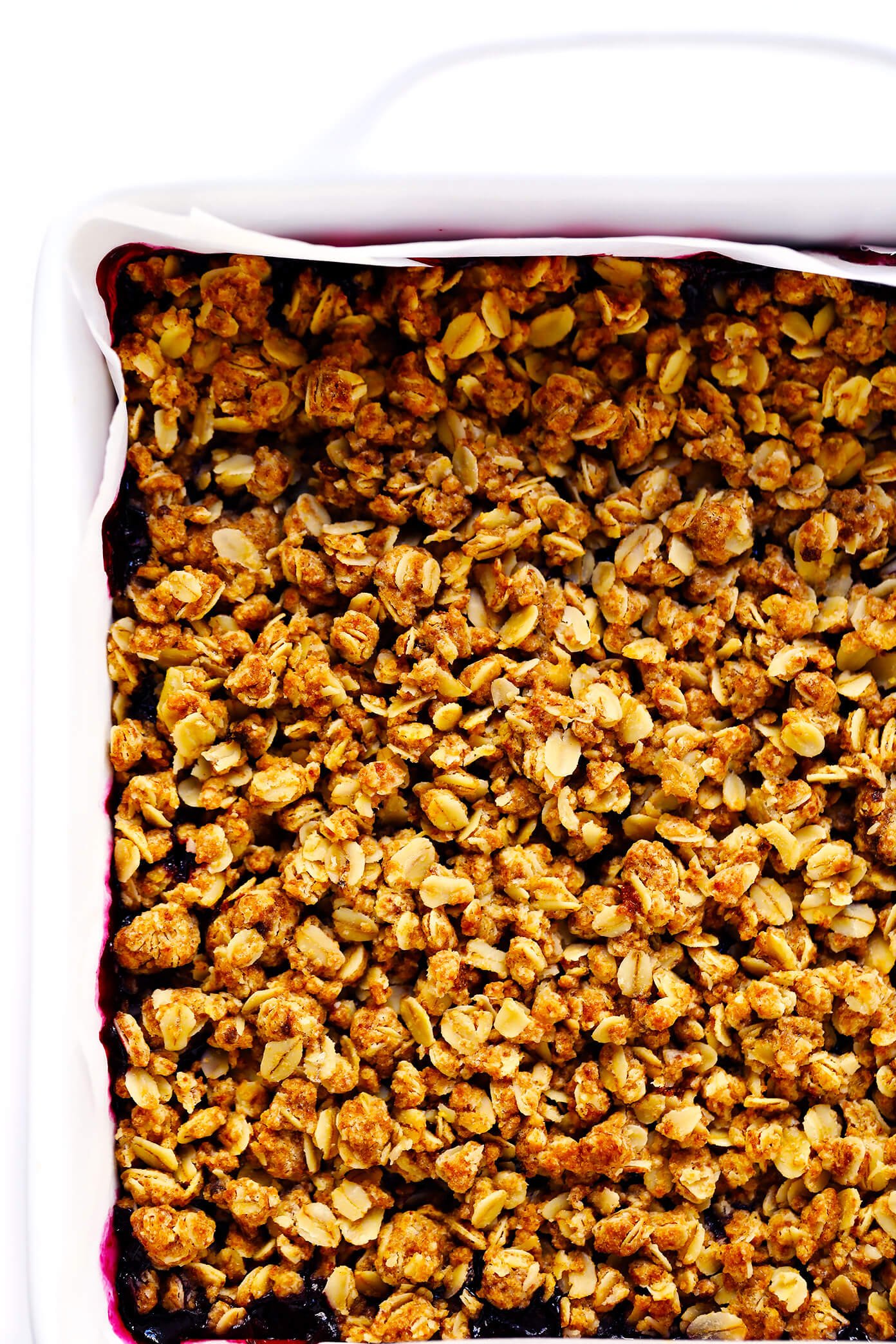 How To Assemble Blueberry Crumble Bars:
Then, to assemble the bars…
Press half of the crumble mixture into your baking dish.  I used an 8×8-inch baking dish, lined with parchment for easier removal.  And I recommend really giving this bottom layer a good press down, so that it forms a nice and even and compact base for your bars.
Pour the blueberry filling on top.  And spread it around evenly with a spoon.
Add the remaining crumble on top.  Crumbling it up with your fingers, and sprinkling it evenly over the top of the blueberry layer.
Pop it in the oven.  And bake at 350°F for about 30 minutes, or until the berries are nice and bubbly and the topping is crispy.
And chill.  Then remove and transfer the pan to a cooling rack until the bars reach room temp.  Cover.  And refrigerate for a few hours until the bars are completely chilled, which will make them easier to slice and hold.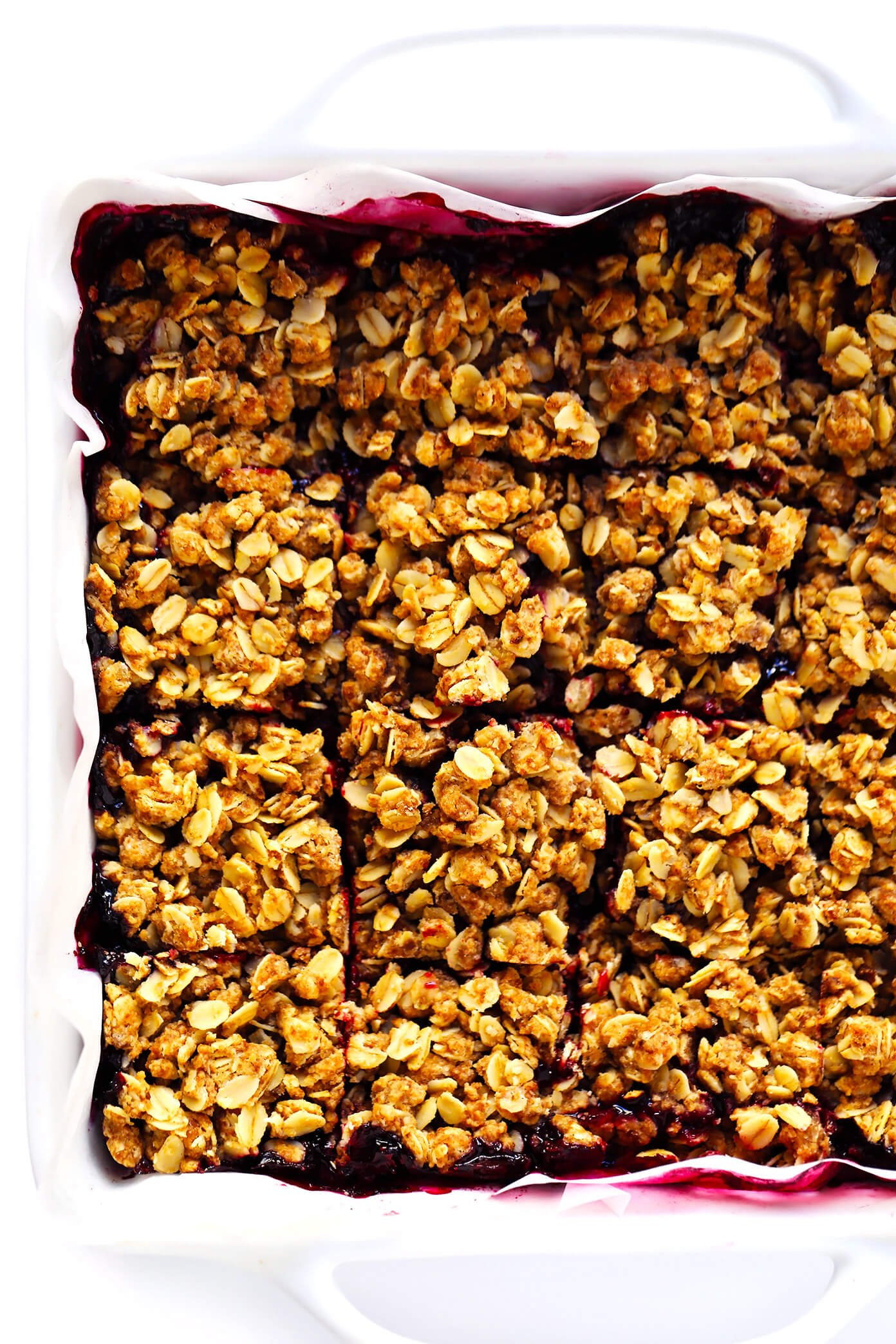 Then once the bars are nice and chilly, slice them up…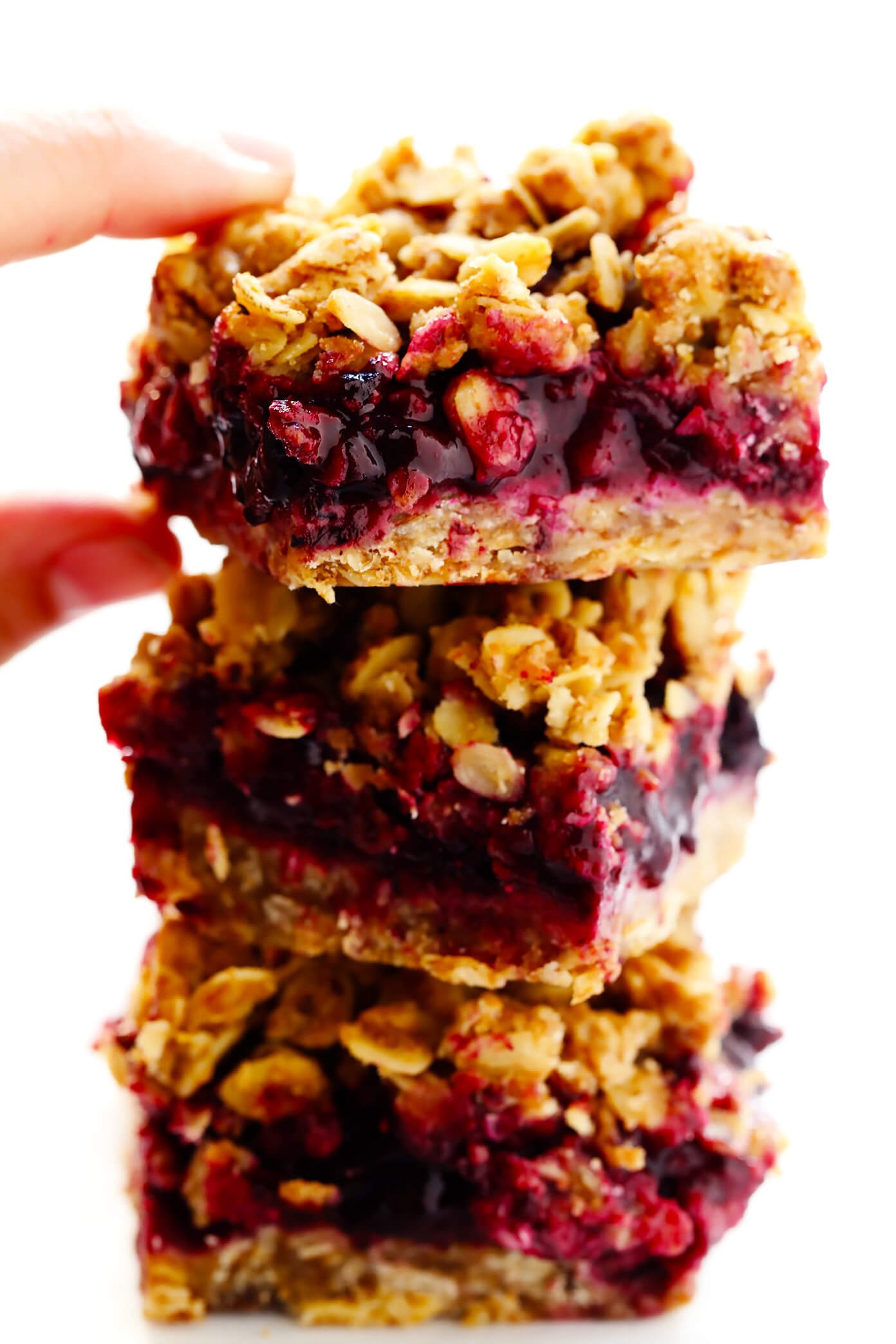 …and serve!  ♡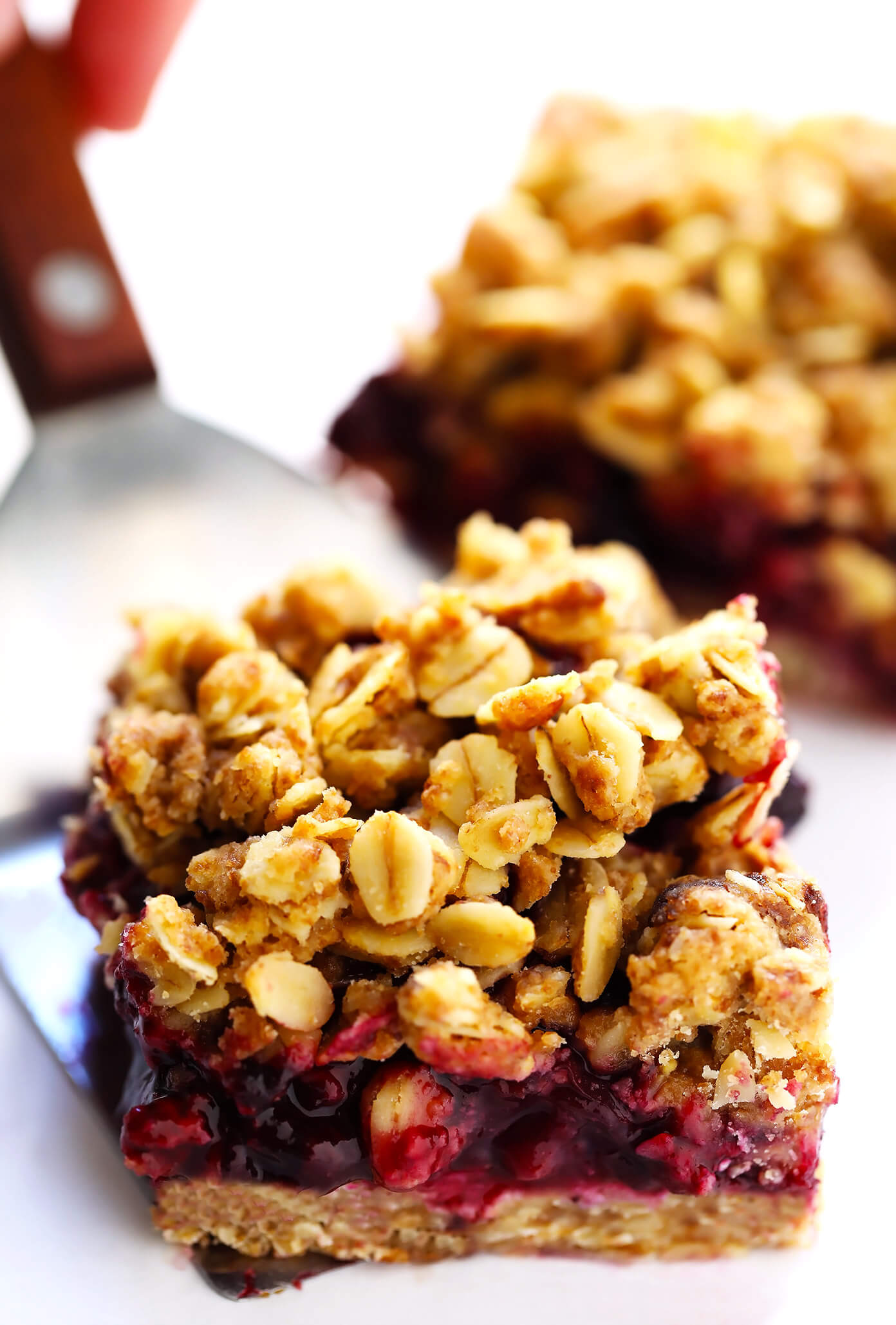 As I mentioned, these are absolutely delicious when served with a side of vanilla ice cream in the summertime.  But they're also perfectly lovely on their own.  I have a feeling you are going to love them.
Enjoy, everyone!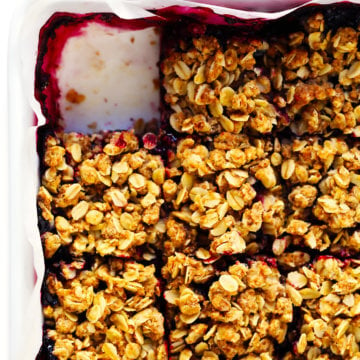 Yield: 12-16 servings
Blueberry Bars
This Blueberry Crumble Bars recipe is quick and easy to make, and filled with the most irresistible sweet blueberry filling.  Perfect for fresh berries in the summertime, or frozen berries year-round.
Ingredients:
1 pound (about 4 cups) fresh or frozen blueberries

¼

cup brown sugar, tightly-packed

¼

cup lemon juice
1

½

tablespoons cornstarch
2 ¼ cups old-fashioned oats
1

½

cups all-purpose flour
1 cup brown sugar, packed

½

teaspoon ground cinnamon

½

teaspoon salt
1 cup (2 sticks) melted butter
Directions:
Preheat oven to 350°F.  Line an 8×8- or 9×9-inch square baking dish with parchment paper; set aside.
In a large saucepan, stir together the blueberries, brown sugar, lemon juice and cornstarch until combined.  Heat over medium heat until the blueberries reach a simmer, stirring occasionally.  Then reduce heat to medium-low and simmer for 10 minutes, stirring and mashing a few of the blueberries occasionally, until the mixture is thickened.  Remove from heat and set aside.
Meanwhile as the berries are cooking, whisk together the flour, brown sugar, cinnamon and salt until combined.  Drizzle the melted butter evenly over the mixture, then stir until completely combined.
Transfer half of the filling to the prepared pan, and press it evenly into the bottom of the pan to form the bottom layer of the bars.  Pour the blueberry mixture on top, and spread it around evenly.  Then use your fingers to crumble and evenly sprinkle the remaining oatmeal mixture on top of the blueberry layer.
Bake for 30-35 minutes, or until the blueberries are bubbling around the edges.  Transfer to a cooling rack and cool until the bars reach room temperature.  Then cover and refrigerate until completely chilled.
Cut and serve chilled.  Or store in the refrigerator for up to 4 days.
Difficulty: EasyCategory: Vegetarian


All images and text ©Gimme Some Oven
If you make this recipe, be sure to snap a photo and hashtag it #gimmesomeoven. I'd love to see what you cook!