These brown butter glazed carrots are a delicious side dish perfect for Thanksgiving, Christmas or celebratory meal. They have the perfect balance of sweet, salty and savory and are perfect to serve a crowd as part of a larger meal.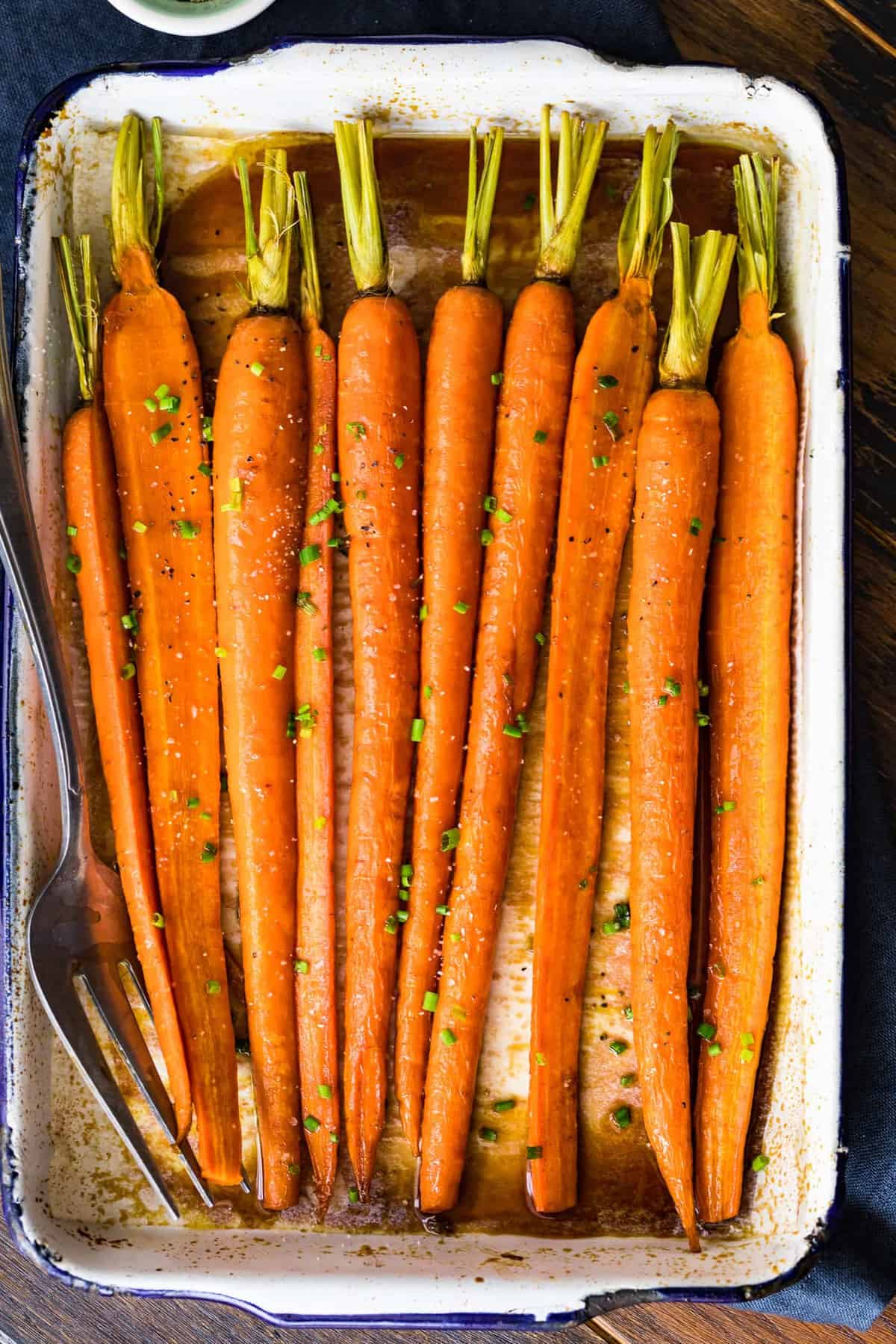 I don't know about you, but when it comes to the Thanksgiving and Christmas menus, I am all about the sides! These roasted carrots are so well flavored and really add a zing to your celebration meal!
How to Make This Brown Butter Glazed Carrots Recipe
Heat oven to 375°F and spray a shallow, rimmed baking dish/pan (just large enough to hold the carrots) with cooking spray.

The carrots should be close in size for baking. If they are on the thin size, use as is. If they are on the large size, cut them in half lengthwise. Just try to have the carrots as close to the same size as possible.

In a medium, stainless, heavy-bottom skillet, cook butter over medium heat. Once the butter comes to a boil, swirl or stir the butter every 15 seconds. When the butter just begins to darken, watch closely and stir more often. Butter has turned to "browned-butter" when it has a nutty fragrance and the milk fats, on the bottom of the pan, turn dark golden brown.

Add salt, black pepper, brown sugar, vinegar and red pepper flakes. Bring to a boil, reduce the heat to medium-low and simmer until the mixture has reduced and thickened a little, about 3-4 minutes.

Place the carrots side-by-side in the prepared pan and pour the butter/vinegar sauce over the top.

Bake carrots at 375°F for 15 minutes. Rotate the pan and turn the carrots over. Glaze with the pan juices, and bake another 15-20 minutes or until the carrots have softened and glaze has caramelized.

Transfer the carrots from the stove, re-glaze with pan juices and lightly sprinkle with salt and chopped chives or thyme.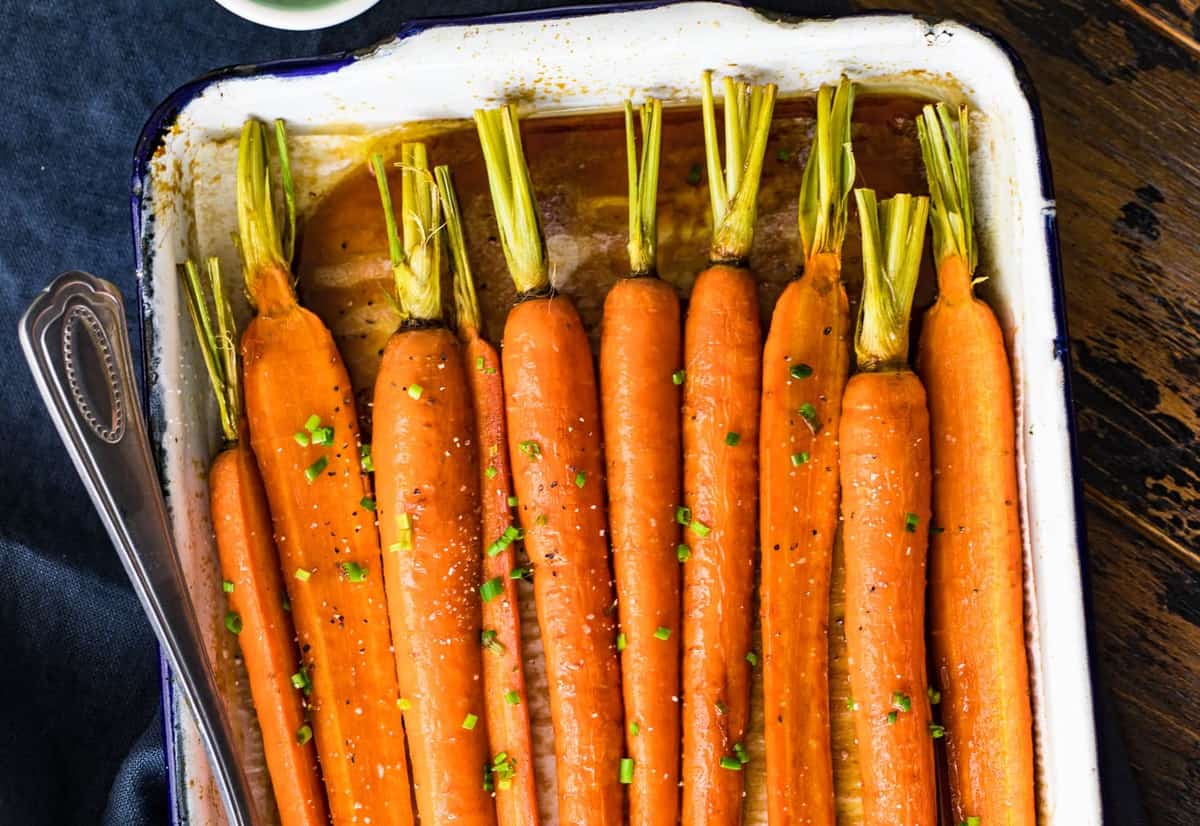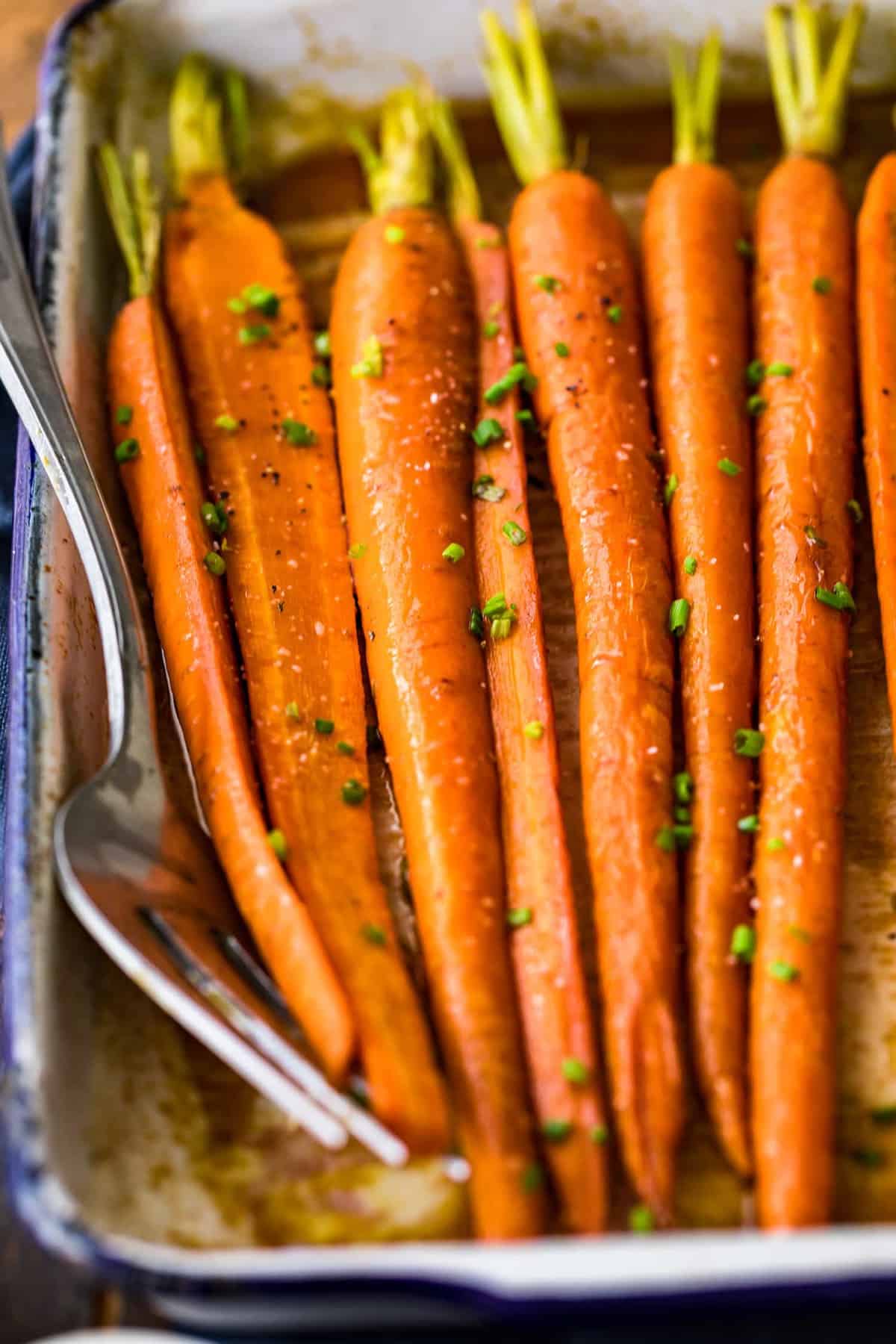 What do you glaze carrots with?
You only need a handful of ingredients to make these carrots the star of the show!
Unsalted butter
Salt and pepper
Brown sugar
Cider vinegar
Crushed red pepper flakes
This combination of ingredients results in a sweet and savory side dish with acid from the vinegar that cuts perfectly through the flavors.
What do you serve with Brown Butter Glazed Carrots?
These carrots will fit so perfectly in your Thanksgiving, Christmas or Easter menu, or any roast dinner you are planning. Serve them as a side with: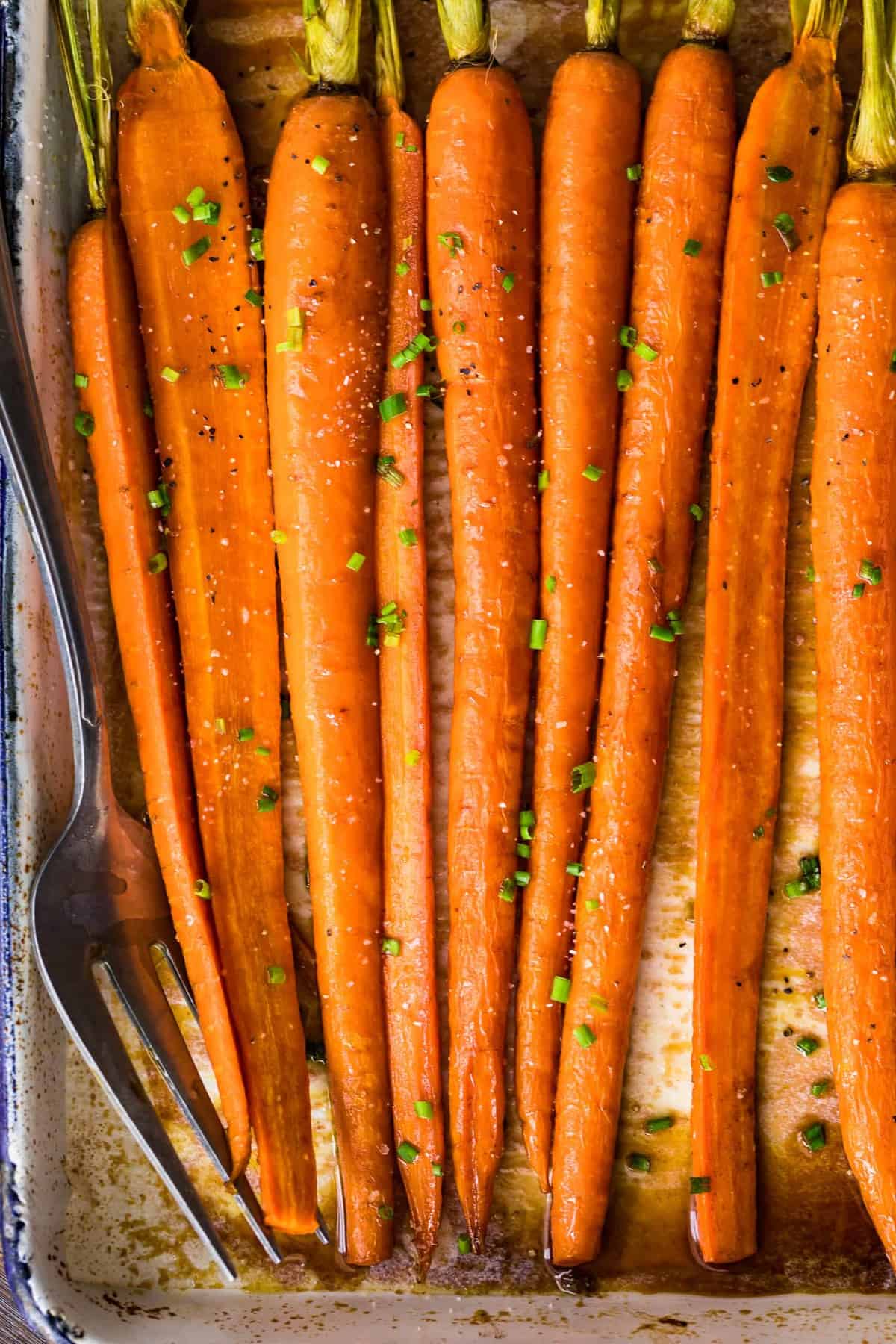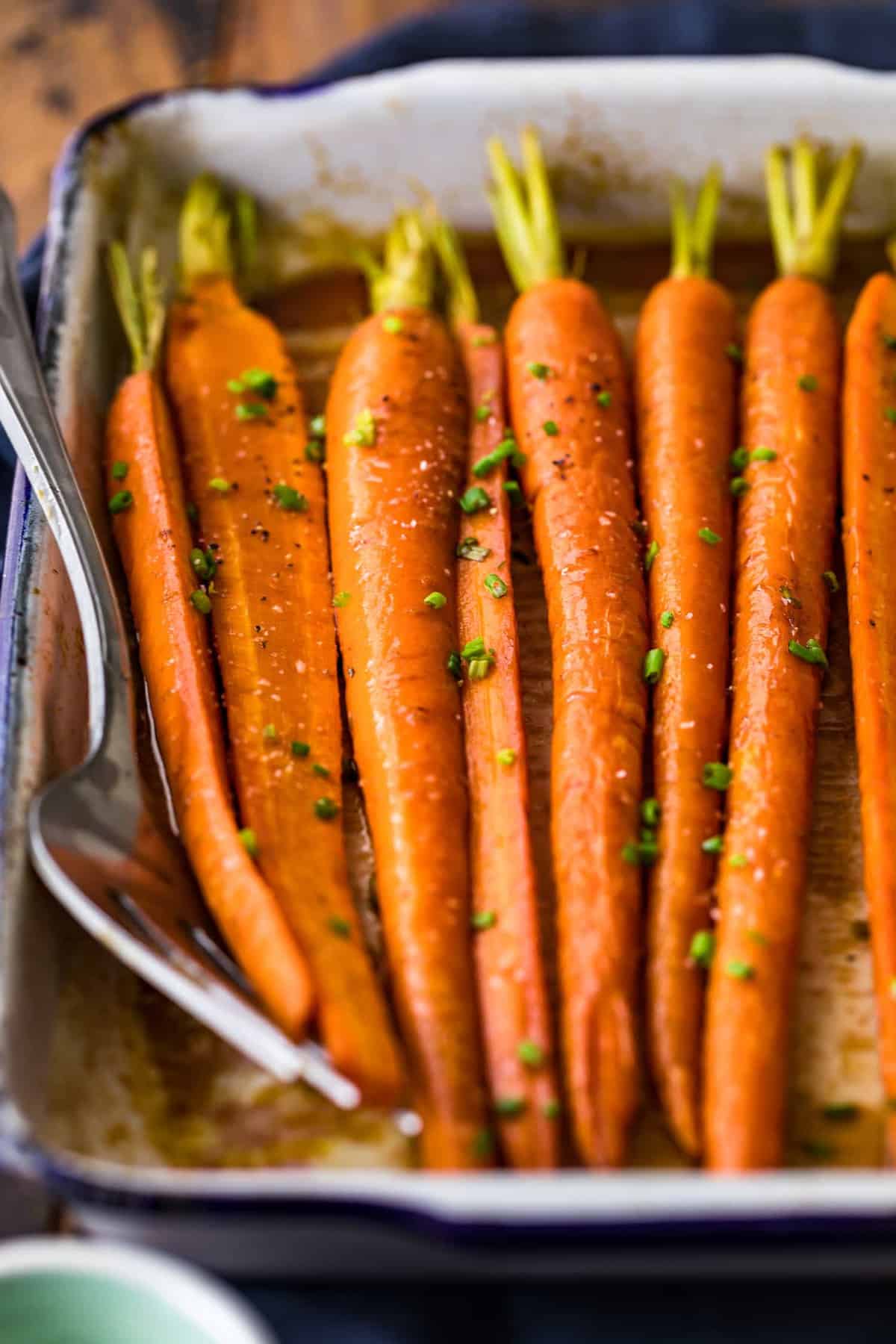 Can you make Brown Butter Glazed Carrots  ahead of time?
It doesn't take long to cook these carrots, but if you are trying to get ahead of the game, you can make the carrots the day before. Let them cool to room temperature and keep them covered in the fridge. The next day, just gently reheat them in the oven.
Top Tips To Make Brown Butter Glazed Carrots 
Ensure that the carrots are the same size and thickness so they cook evenly.
Don't lay the carrots on top of each other in the baking dish.
If you use salted butter, you don't need to add extra salt to the carrots.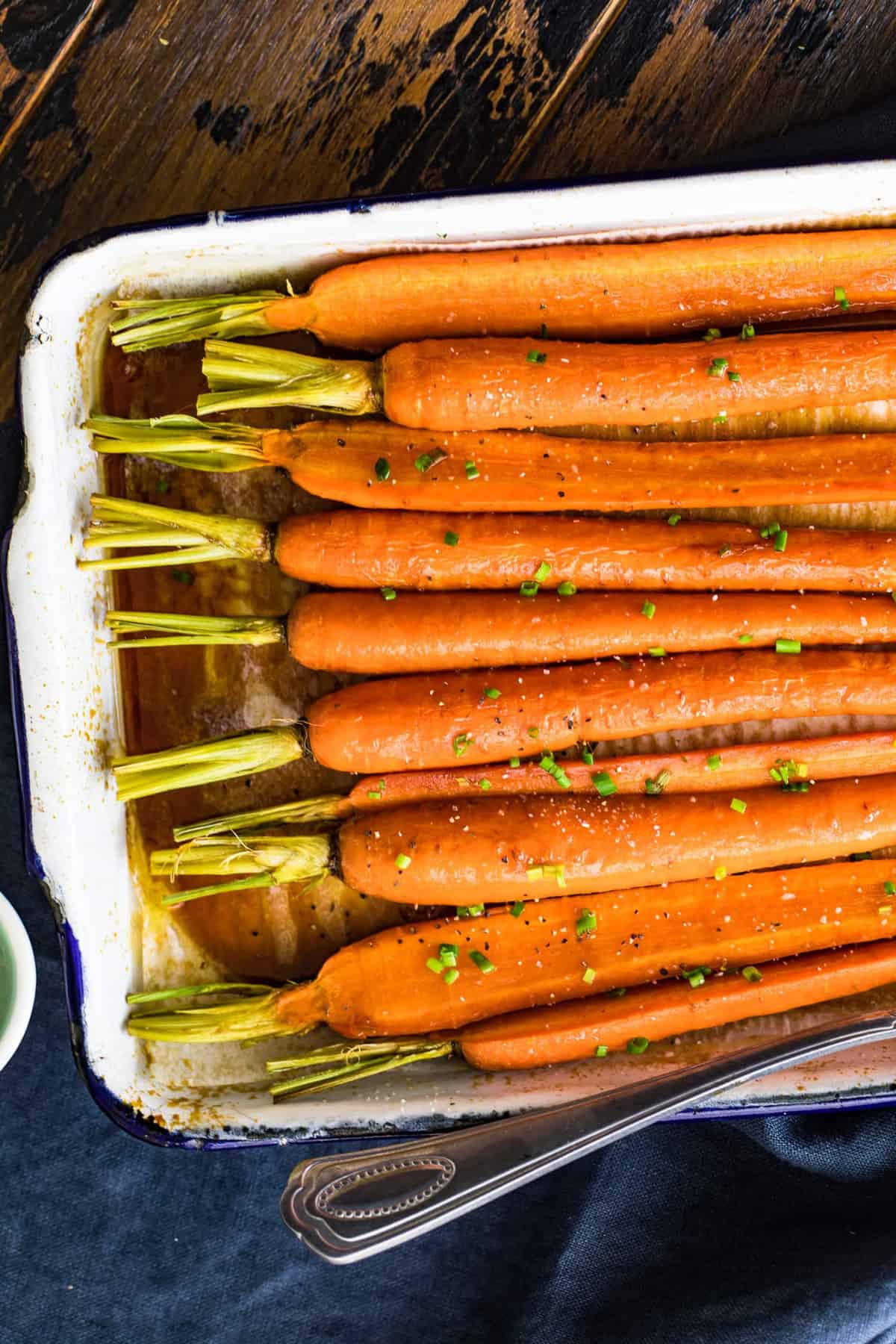 For more holiday side dishes:
Did you make this recipe?
Use the tag #thecookierookie when posting a photo of your recipe, and make sure to follow The Cookie Rookie on Instagram!
Becky woke up on her 30th birthday and realized she didn't know how to cook, ANYTHING! She started The Cookie Rookie as a way to document her journey to learn how to cook, one recipe at a time! The Cookie Rookie is a place to find easy recipes that anyone can make, and everyone will love!