Easy55 minsGluten-Free
This simple Mujadara recipe is slow-simmered with brown rice, lentils, caramelized onions and the yummiest warming spices…then tossed at the very end with lots of fresh mint and lemon.  My kind of delicious, feel-good comfort food.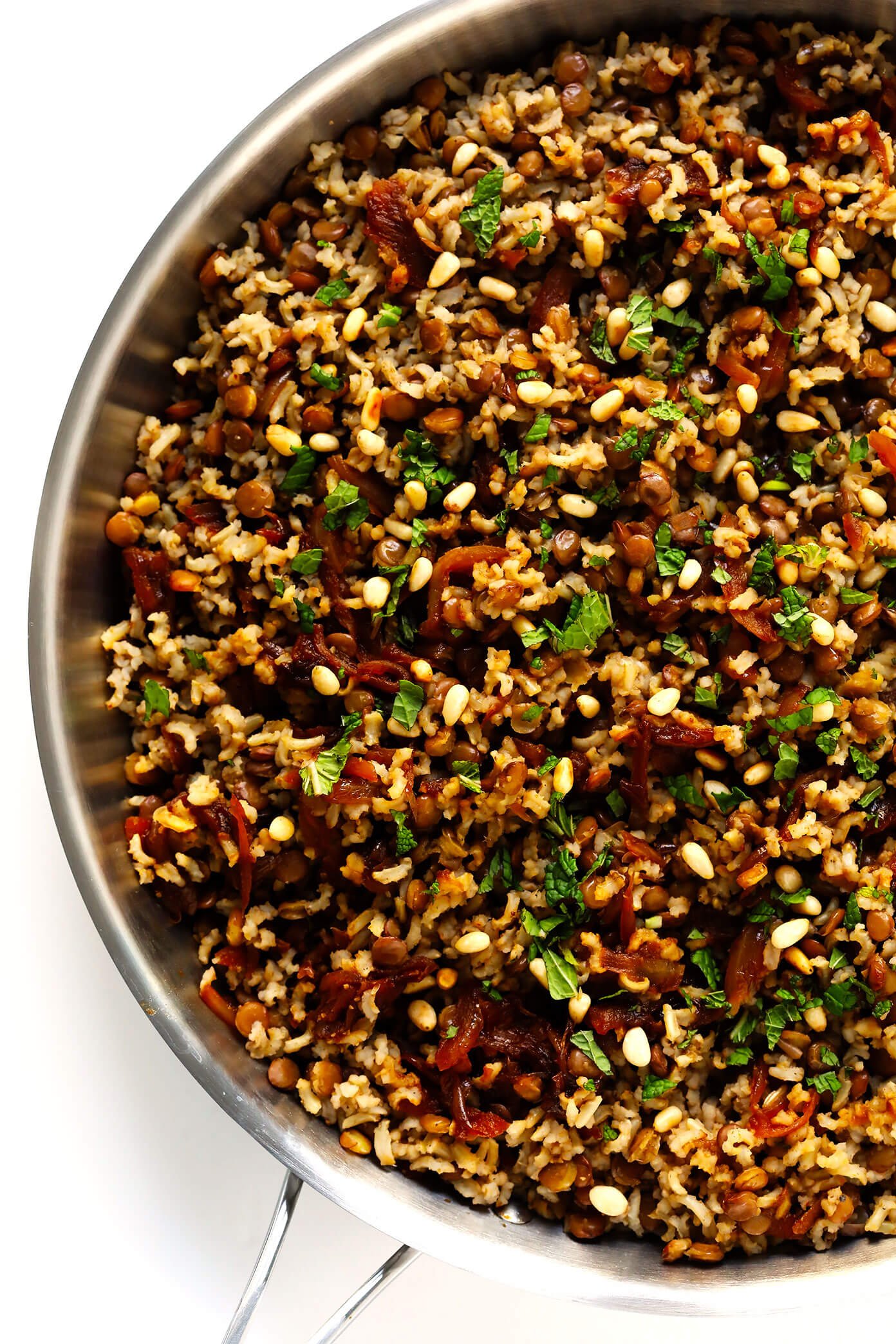 New favorite thing in life?
Leisurely flipping through magazines…on my iPad.  ♡♡♡
I know, I know, I'm about five years late to the magazine e-reading party.  And the iPad party.  But after moving — oh — about 3,000 miles outside of the shipping range of my favorite magazines, coincidentally around the time that my old Kindle decided to call it quits, I finally decided to bite the bullet and buy my first iPad.  And the first app that I downloaded to go with it?  Texture.
Are you guys familiar with Texture?
I had heard it advertised on about a million podcasts as The Place to go to download all of your favorite magazines.  But holy smokes — I had no idea just how many of my favorite magazines were on there!  I initially downloaded it because I was missing all of my fave American reads, like The Atlantic, and Wired, and Time.  But I was delighted to find that it also includes just about every food magazine under the sun as well!!  I admittedly never used to subscribe much to food mags back in the States, because it was so easy to just browse for recipes online and I didn't want the extra mags cluttering up the coffee table.  But the app makes it so simple to jump right to the recipes that catch my eye, and honestly, it's been a nice change of pace from Pinterest and my usual go-to sites online.  Big fan, right here.
Anyway, a few months ago while I was flip-flip-flipping through Cooking Light, I came across a recipe that instantly caught my eye for mujadara — a Middle Eastern dish made with rice and lentils and caramelized onions.  I had tried it once or twice before at restaurants, but had never tried making it at home.  So Barclay and I decided to give it a try.  And now — months later — it has become a total staple in our dinner rotation.
It's the perfect pantry meal that we can whip up on impulse, it's made with feel-good vegetarian ingredients that we both love, it will make your home smell amazing for days, and it's just total, hearty, fresh comfort food.  Big fans, right here.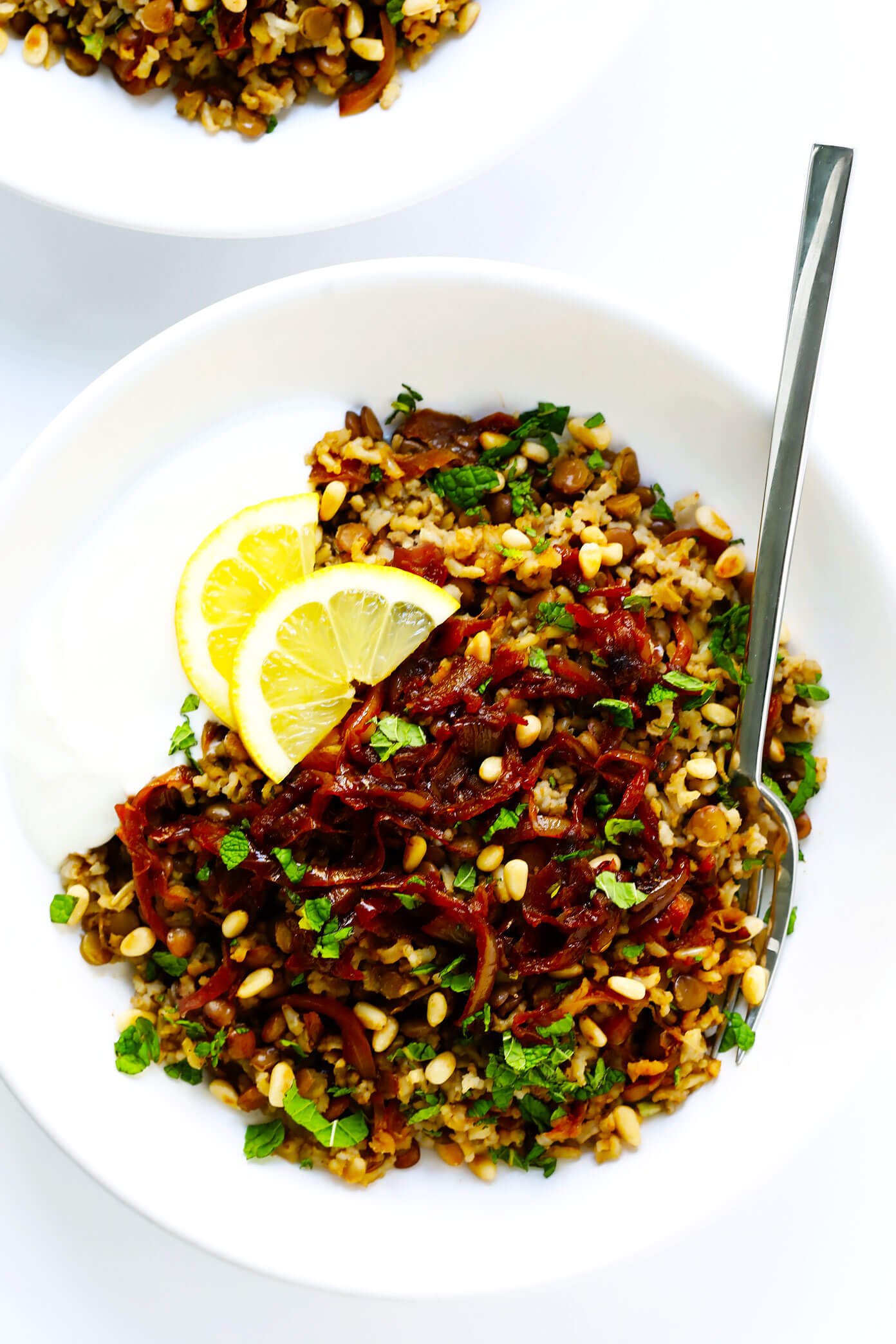 That said, since trying CL's initial recipe for mujadara, I have been tinkering around with the recipe a bit — customizing the spices to our taste, and trying to get the cooking time down to under an hour.  (Traditional one-pot mujadara averages about 90 minutes.)  And I think I've finally landed on our favorite version.  So of course, I had to share it with you.  🙂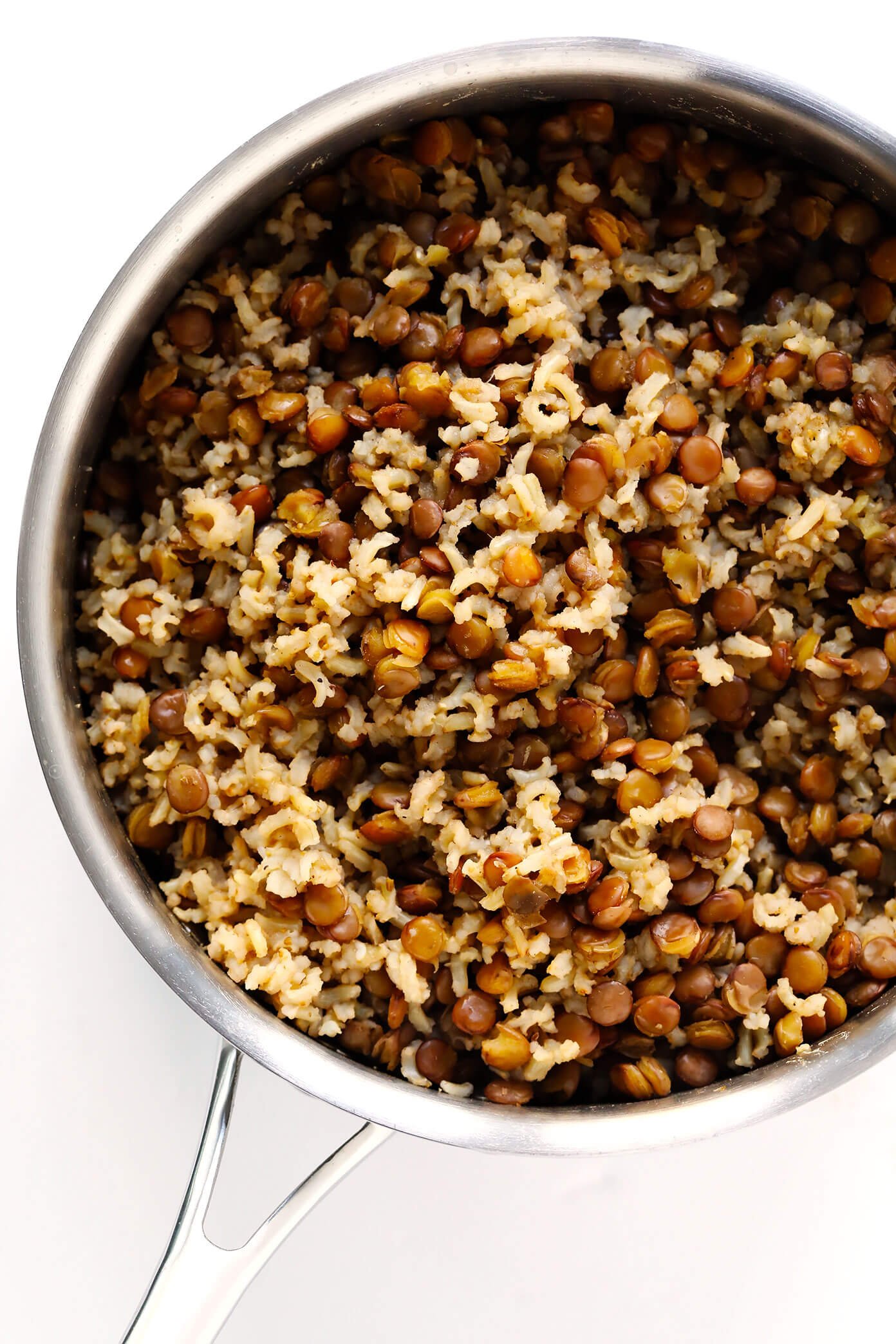 To make it, we'll do some simple stove multitasking.
In a small saucepan, bring a spiced veggie stock mixture to a boil.  Then add some brown basmati rice (I prefer the chewy texture and extra flavor of the brown basmati, versus traditional white rice) and brown lentils (or green lentils).  Cover, and simmer until cooked.
Then in a large sauté pan or stockpot, cook down a big batch of onions until they are nice and caramelized.  And then, take things a step further and add a bit of oil at the very end and fry about 1/3 of your onions until they are crispy.  These will be the topping for your mujadara…and are pretty much bound to steal the show.  😉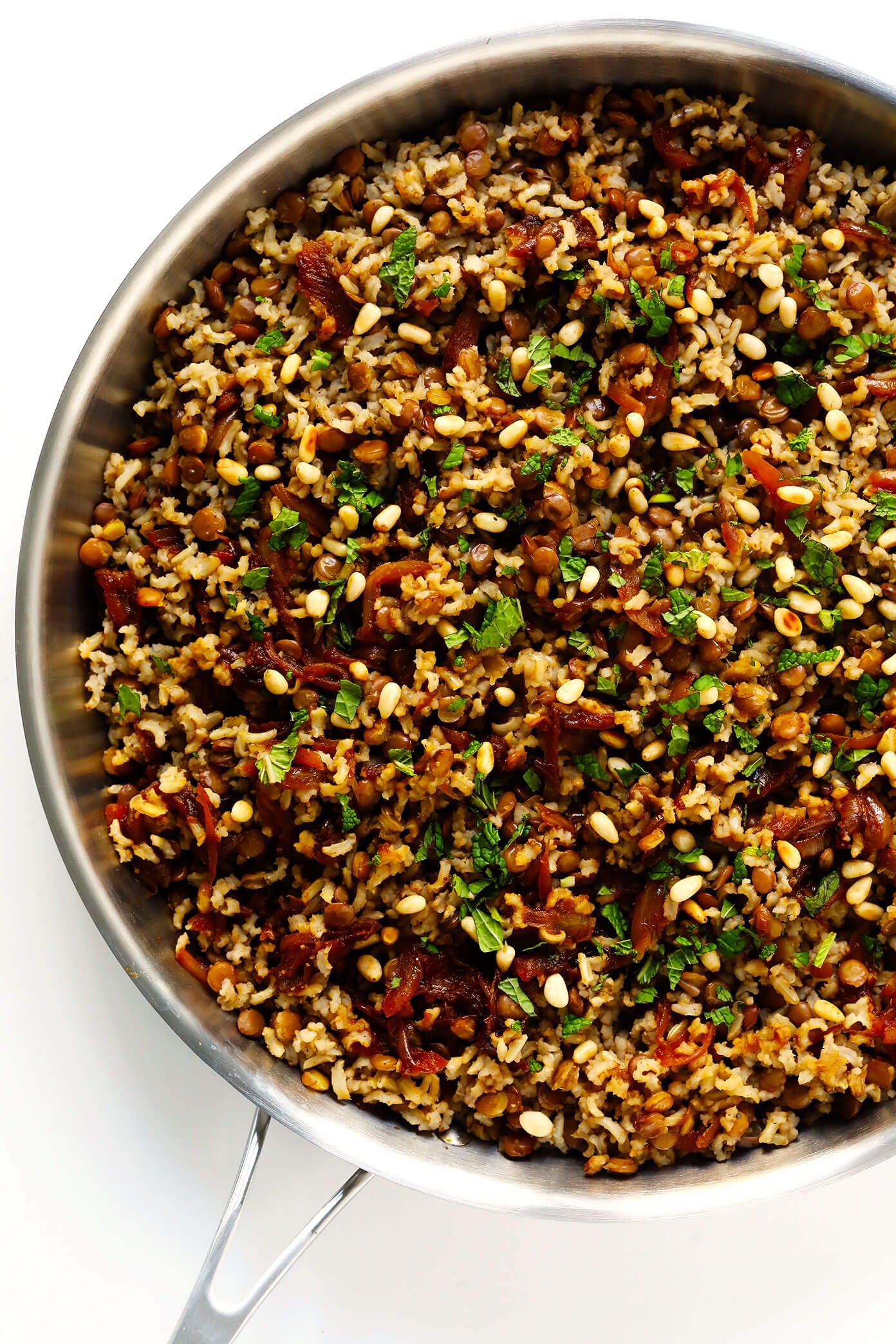 Once everything is cooked and ready to go, toss the caramelized onions with the rice and lentils, along with some toasted pine nuts (feel free to toast them in the sauté pan before you cook the onions), tons of fresh mint (the more, the merrier), lots of fresh lemon juice and zest.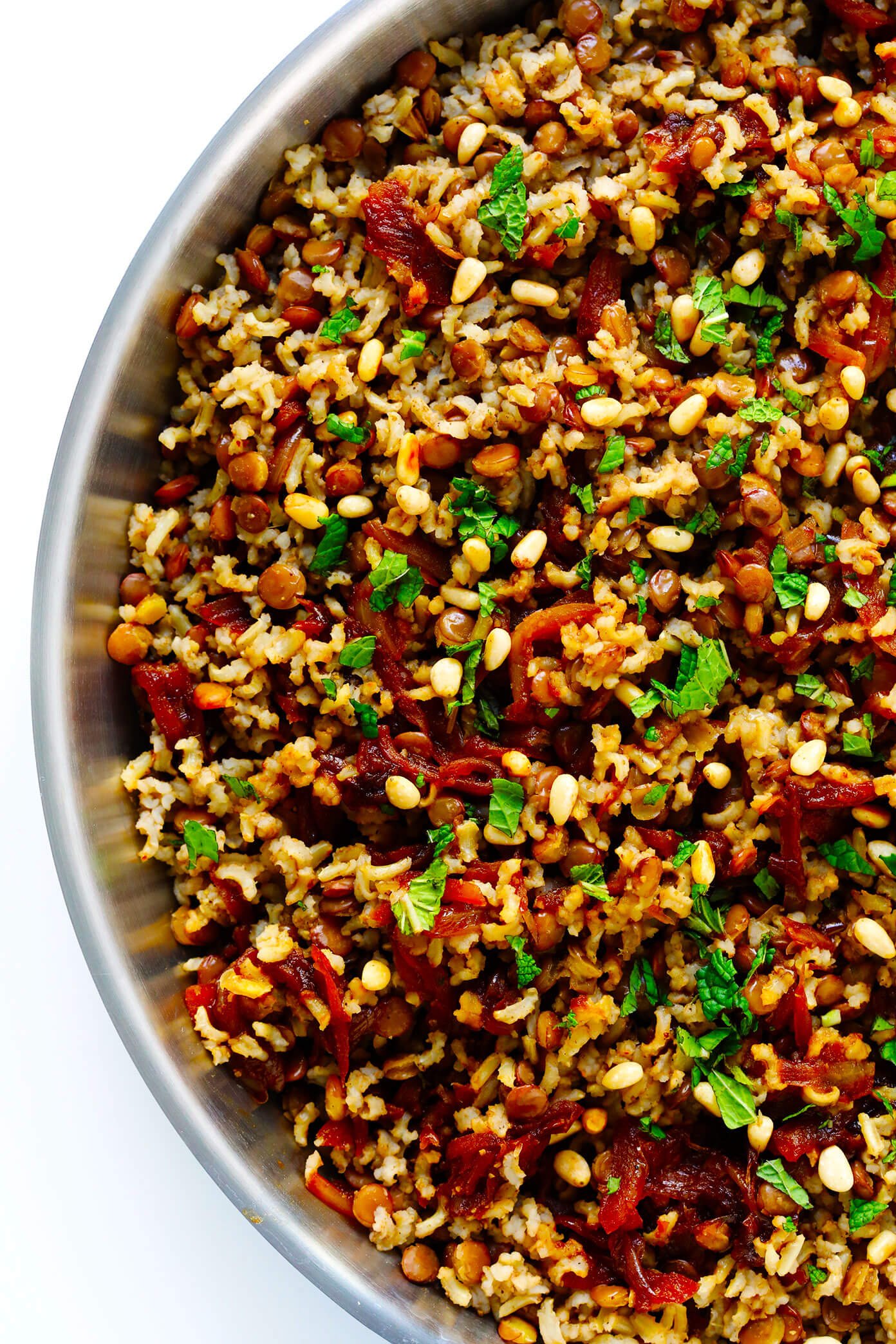 Then serve warm with a dollop of plain Greek yogurt, some extra lemons, and all of those crispy caramelized onions.  And dig in.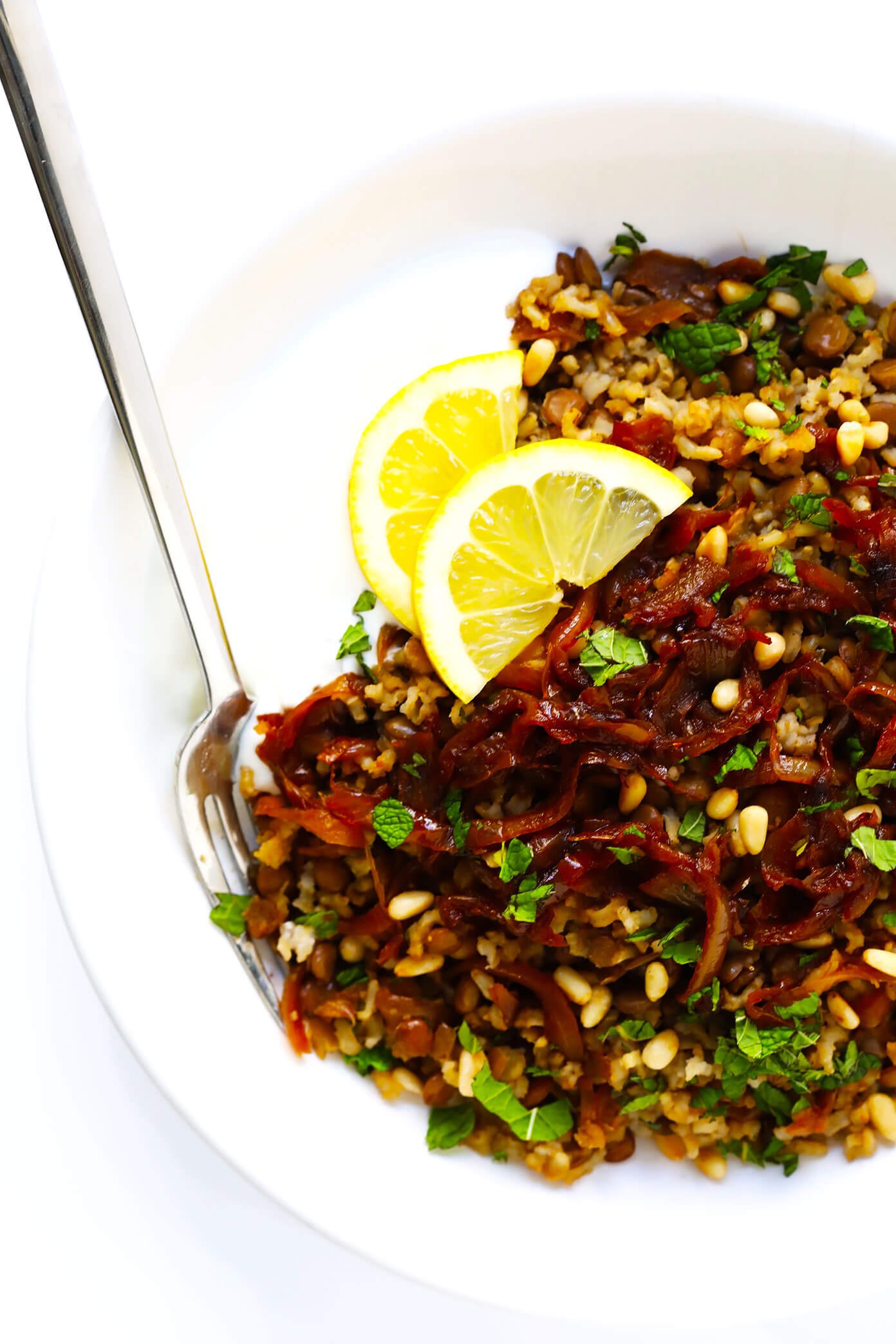 As you can see, this is a classic, no-frills, straight-ahead kind of dish.  But it's the perfect hearty meal when you're craving some comfort food.  And the balance of all of those cozy warming spices and the brightness of the fresh mint and lemon are sure to have you going back for more.
Meatless Monday, for the win!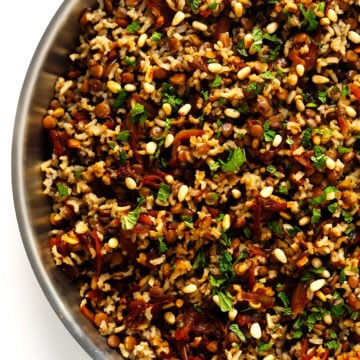 Yield: 4-6 servings
Brown Rice Mujadara
Ingredients:
5 cups vegetable stock
1 tablespoon ground cumin
1 teaspoon ground coriander
1 teaspoon salt
1 bay leaf
1 cup brown basmati rice
1 cup brown or green lentils
2 tablespoons olive oil, divided
3 medium yellow onions, peeled and thinly-sliced (or diced)
1/2 cup chopped fresh mint
1/2 cup toasted pine nuts
1 fresh lemon, plus extra for garnish
toppings: Greek yogurt
Directions:
To Make The Brown Rice and Lentils: Stir together vegetable stock, cumin, coriander, salt and bay leaf together in a large saucepan.  Heat over high heat until the stock reaches a boil.  Add rice and lentils, and stir to combine.  Continue cooking until the mixture reaches a simmer again.  Then cover, reduce heat to medium-low, and simmer for 40-45 minutes, or until the rice is cooked.  Remove from heat and let sit for 10 minutes.  Remove bay leaf.  Then fluff the mixture with a fork.
To Make The Caramelized Onions: Meanwhile, as the rice and lentil are being prepared, heat 

1 tablespoon

olive oil in a (separate) large sauté pan or stockpot over medium heat.  Add the onions and cook for about 30 minutes, stirring every few minutes, until they are browned and caramelized.  (If the bottom of your pan begins to brown, just add in a tablespoon or so of water, then use a wooden spoon to scrape up the browned bits.  Keep an eye on the bottom of your pan so that it doesn't burn!)  Once the onions have reached a nice chestnut-y color, remove 2/3 of the onions and transfer them to a separate plate, and set aside.
To Make The Fried Onions: Add the remaining tablespoon of olive oil to the remaining 1/3 of the caramelized onions in the pan, and increase heat to medium-high.  Sauté the onions in the oil for an additional 4-5 minutes until they become even more browned and slightly crispy, stirring occasionally.  Once they are ready to go, remove from heat and transfer to a separate plate.
To Wrap It All Up: Once everything is ready to go, combine the soft caramelized onions (not the fried batch), lentils, rice, mint, pine nuts, and the zest and juice of the fresh lemon in your sauté pan (or stockpot), and toss until evenly combined.  Serve warm with a dollop of Greek yogurt and extra lemon slices, and top with the crispy onions.
Difficulty: EasyCategory: Gluten-Free
If you make this recipe, be sure to snap a photo and hashtag it #gimmesomeoven. I'd love to see what you cook!