For the love of tacos, it's a Build-Your-Own BREAKFAST Taco Board with a tasty variety of toppings for everyone to build their own tacos with. Taco 'bout a fun and yummy way to start the day!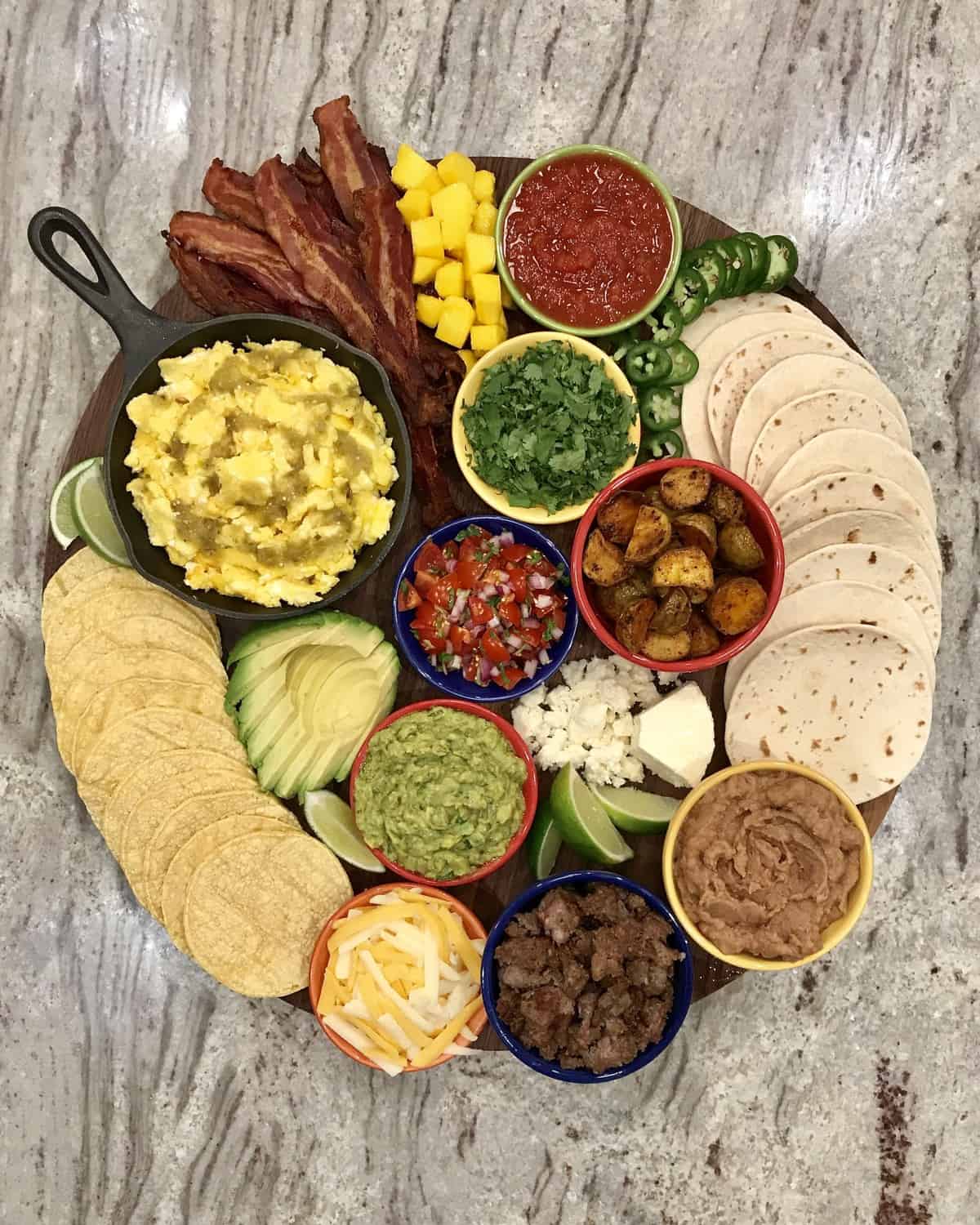 I've created several tasty taco boards over the years (you can find them here on the blog and on my Instagram), but this breakfast taco edition just might be our new favorite. It is so darn delicious. Everyone loves building their own breakfast tacos just the way they like them with a great selection of fillings to put in either corn or flour tortillas.
It's so easy to put together! Who wouldn't love to build their own taco for breakfast?! Let me show you how it's done…
This 20″ walnut wood board is one of my favorites, handmade by my dad! It's perfect for everyone to sit around while building and enjoying tacos.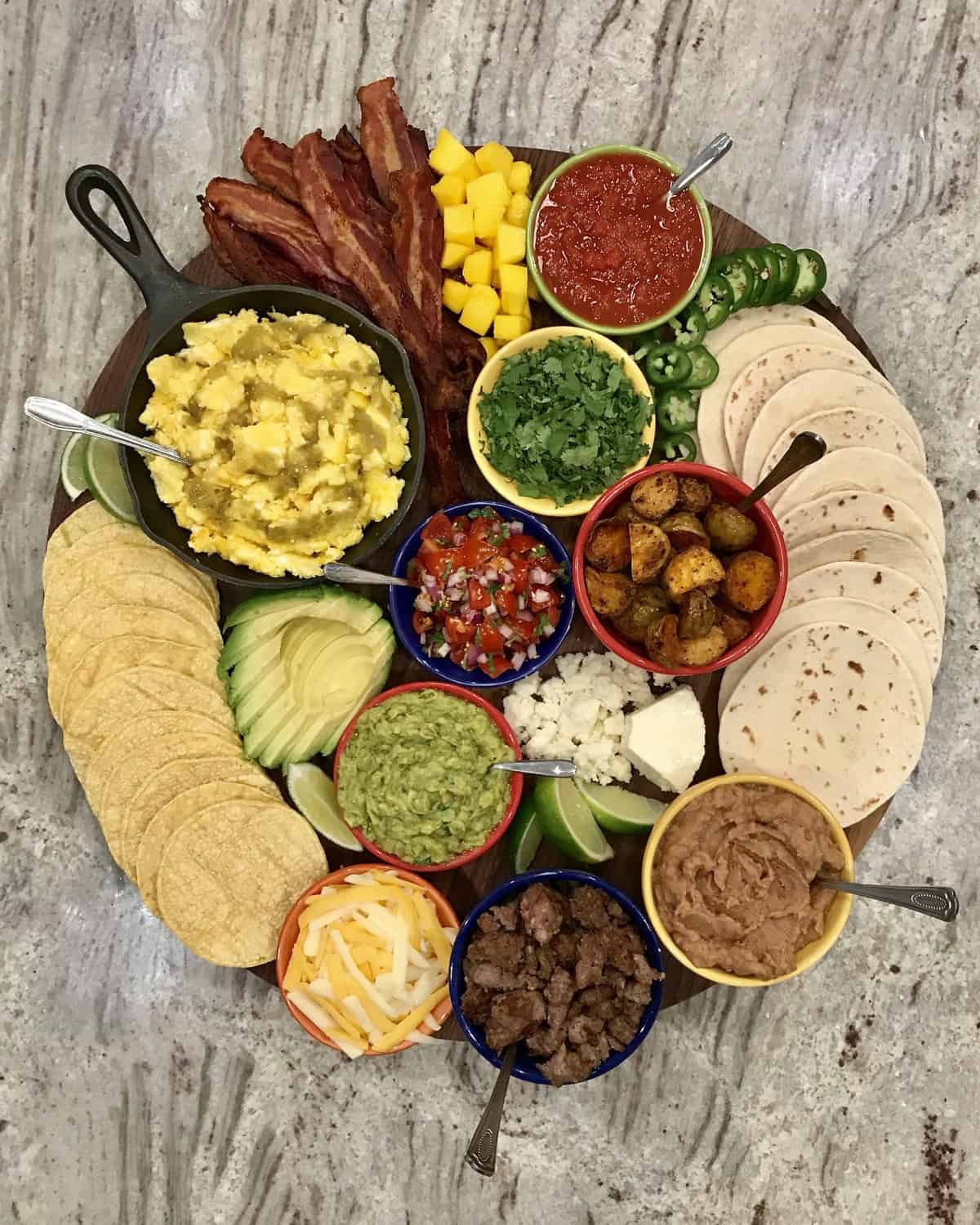 Start by making some baked bacon. While the bacon is in the oven, begin building the board with the cold and room temperature fillings like avocado, guacamole, cotija cheese, shredded cheese, cilantro, salsa, pico de gallo, jalapeño, lime wedges and mango.
Make the guacamole, slice the jalapeños, dice the mango, wedge the limes, chop the cilantro, and slice or dice the avocado.
Place the bowls of salsa, pico de gallo, guacamole, cilantro and shredded cheese on the board first. Surround them with the jalapeños, diced mango, cotija cheese, sliced avocado and lime wedges.
Meanwhile, brown the breakfast sausage, cook or reheat the breakfast potatoes, scramble some eggs and heat up a can of refried beans. For the breakfast sausage, I used ground pork breakfast sausage. Follow the directions on the package. We love this easy recipe option for the breakfast potatoes, but of course, you can also just use a bag of frozen breakfast potatoes. Then scramble the eggs and place them in this cast iron skillet for serving on the board and top with salsa verde. Fill serving bowls with the breakfast sausage, potatoes and refried beans.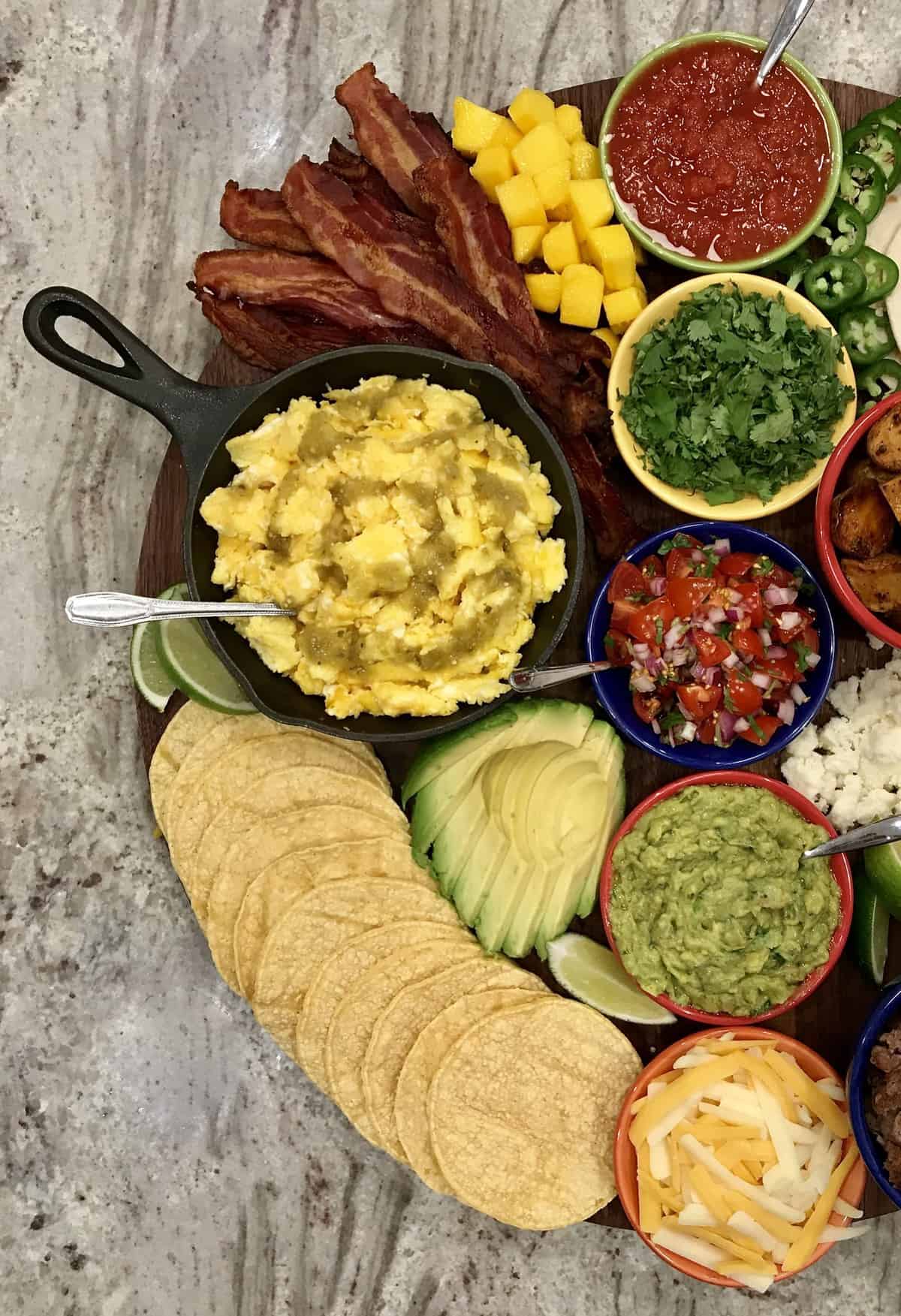 Now that all of the warm items are ready to go on the board, take the bacon out of the oven and add the warm items to the board.
Heat the corn and flour tortillas on a flat iron griddle or in the microwave, then line them on the edges of the board.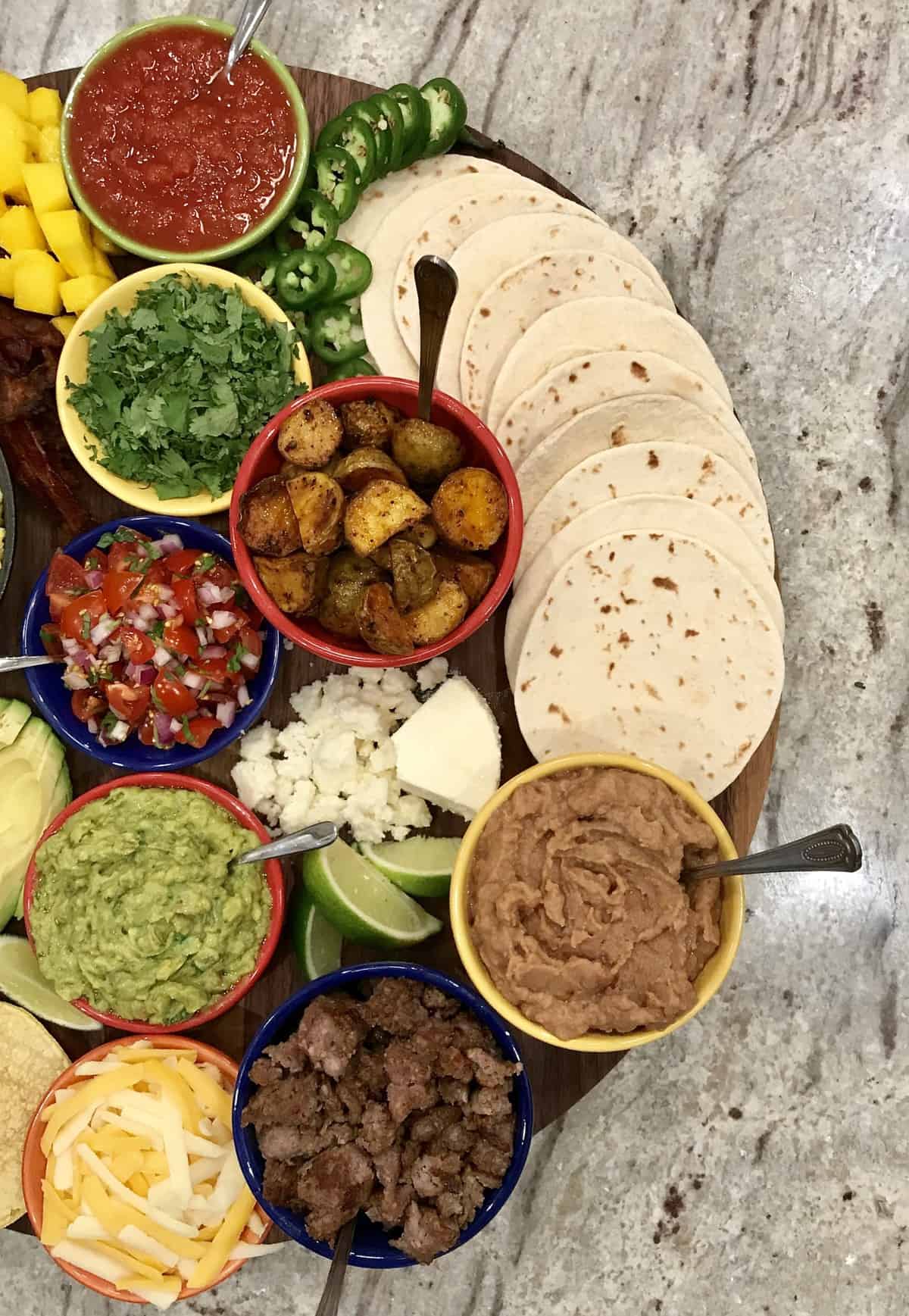 Ta-da! That's all there is to it, my friends. A fabulous way to start the day!  Enjoy your next Taco Tuesday, breakfast or brunch any day with this incredible Build-Your-Own Breakfast Taco Board.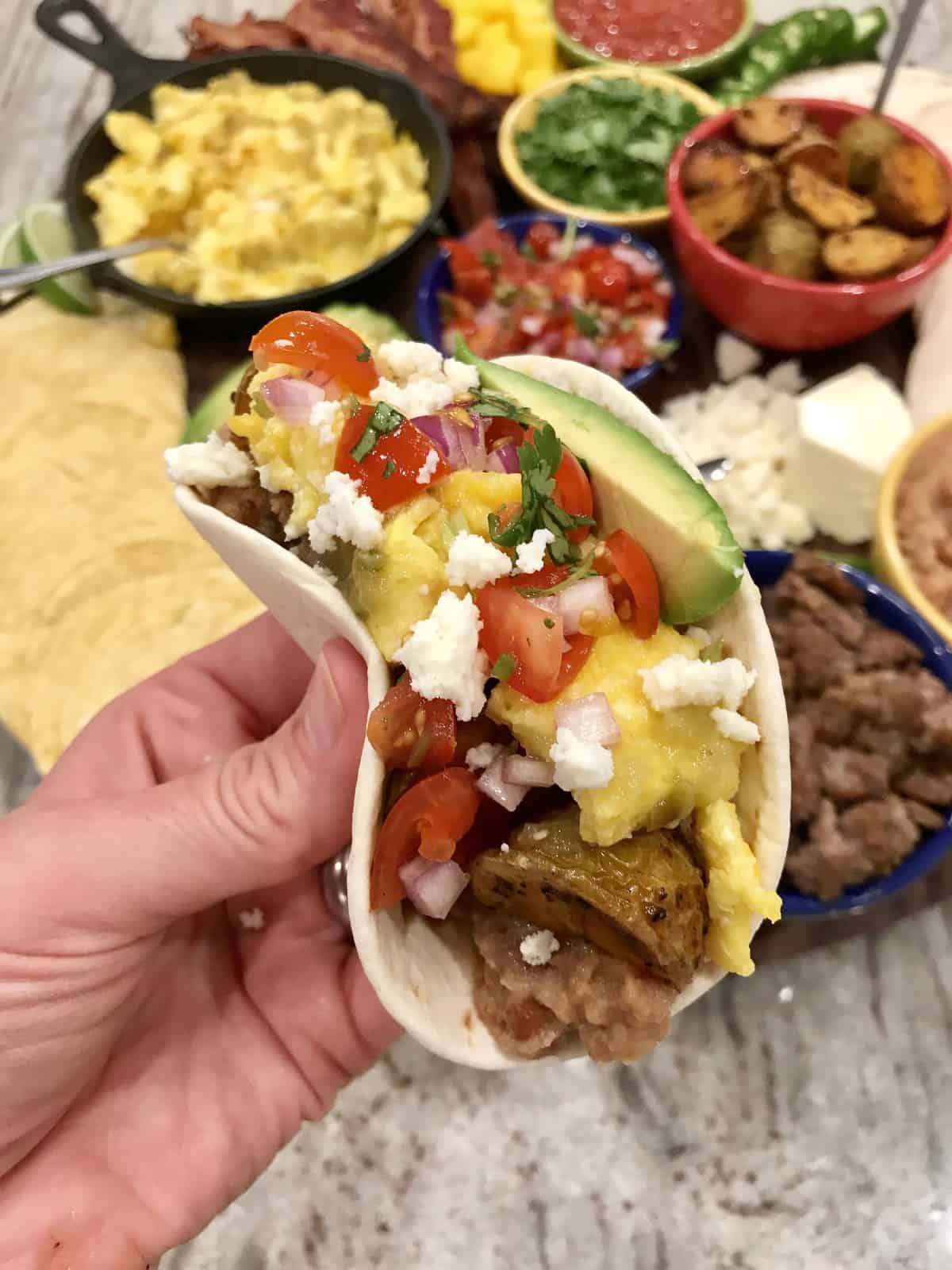 If you're inspired by this Build-Your-Own Breakfast Taco Board and re-create it for your loved ones, be sure to snap a picture and share it with me on Instagram @thebakermama so I can see.
 I love seeing how inspired and creative y'all get with the boards I share. Have fun and enjoy!
xoxo,