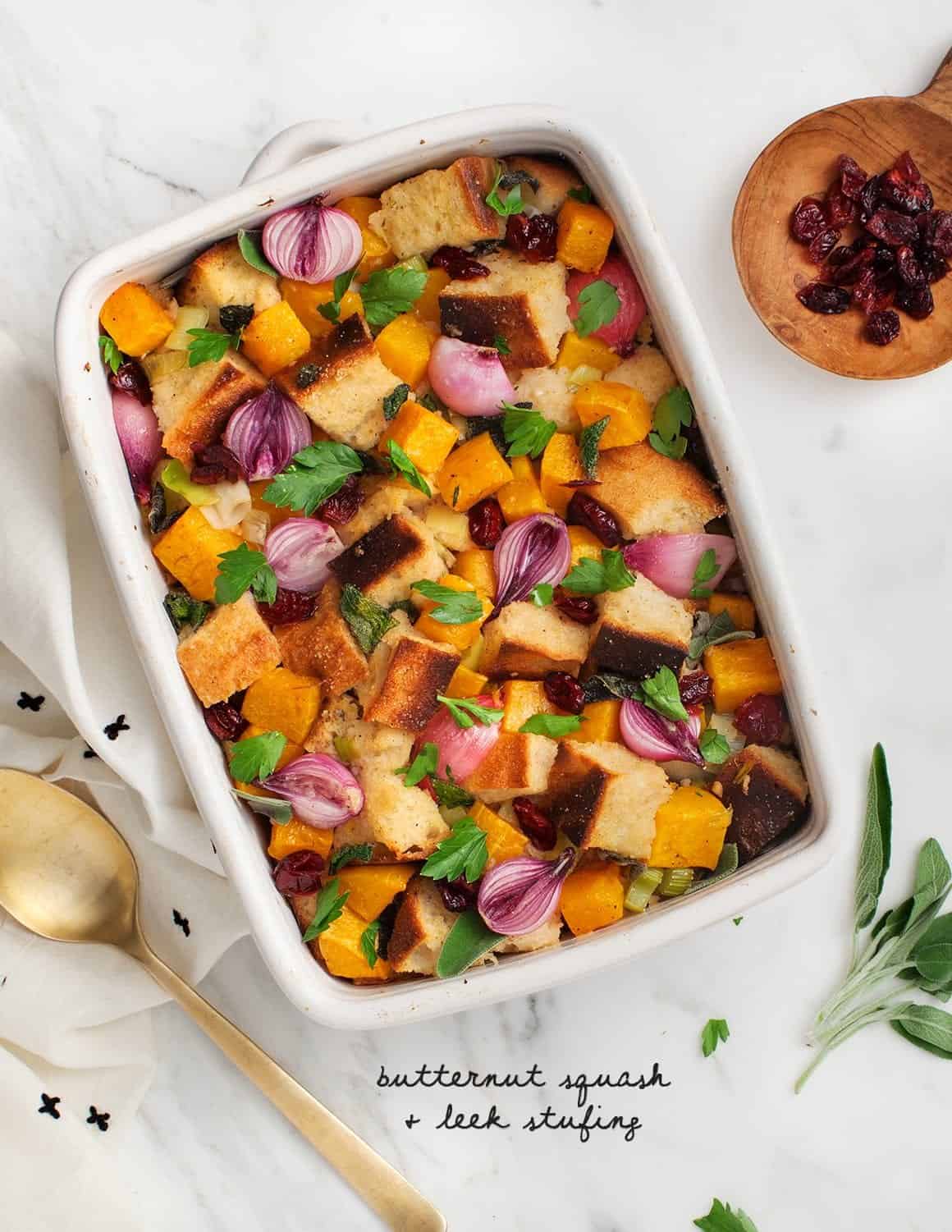 My favorite part about Thanksgiving food – the stuffing! Why soggy-baked bread tastes so good, I have no idea, but it just does. Maybe it's because we only eat it once a year (or in my case 5 times this year after testing this recipe and consuming the leftovers), but there's something about that combo of celery, sage, bread and broth that's SO tasty.
But here's the truth – I often shy away from making stuffing for the blog because, well, have you ever google-image searched "stuffing"? If there's an award for "ugliest holiday dish," it goes to stuffing. Maybe ugly holiday dishes will start trending just like ugly Christmas sweaters did, but until then, here's my attempt to "colorize" the most brown dish ever.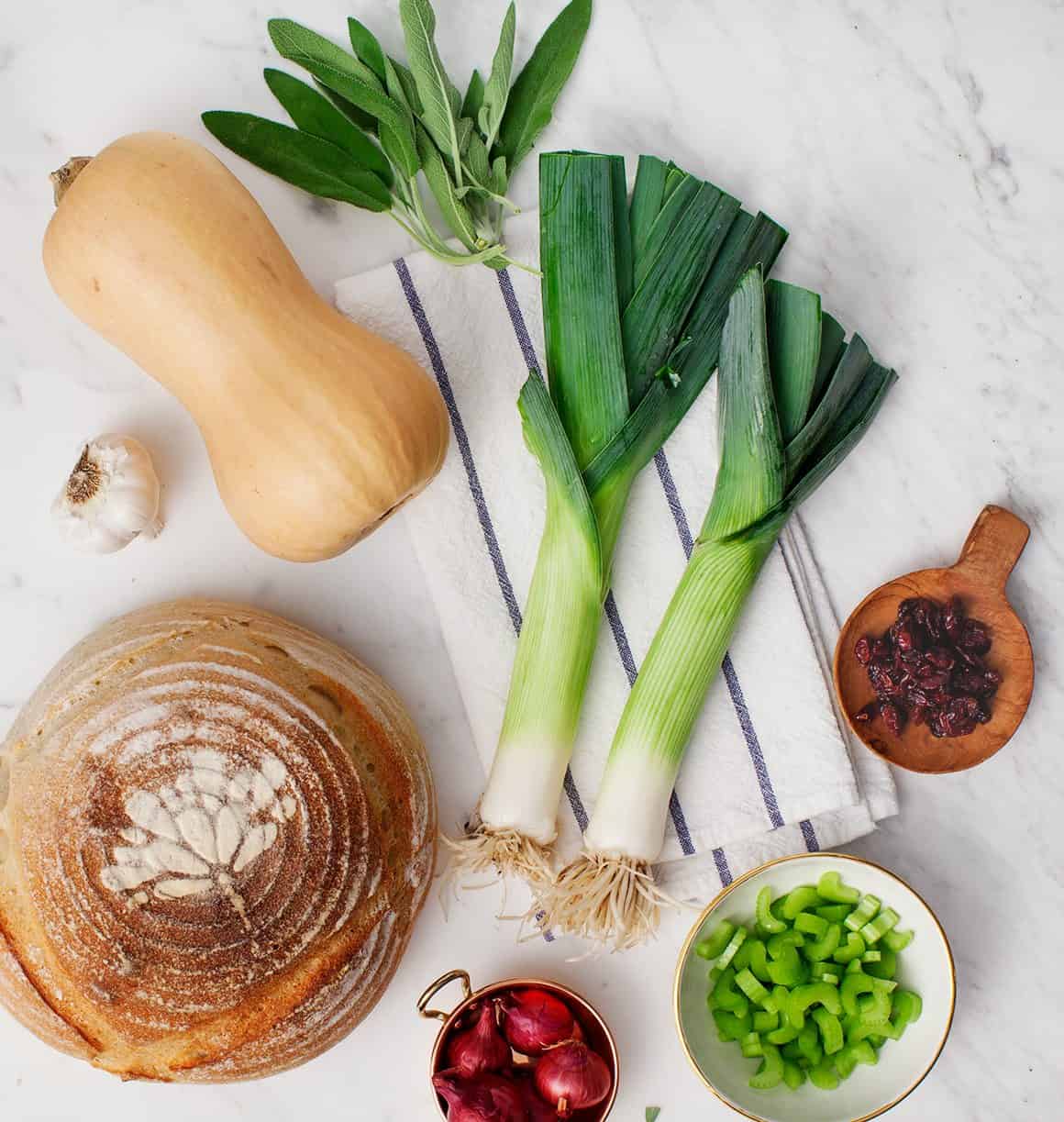 First, I looked around the kitchen and saw some leftover butternut squash, so I thought – butternut squash stuffing! Next, I decided on leeks instead of onions. Then I piled in the sage, celery, cranberries, and tiny purple onions. I topped it all with just a few fresh herbs at the end to brighten it up.

I love this stuffing – so much so that I've eaten it for lunch (along with this mash) every day this week. Aside from adding color because it's pretty, all of these extra vegetables combined here add so much more texture and flavor than regular bread stuffing.
So, this year, we can all be thankful for stuffing that's shareable with BOTH the family and social media ?

Butternut Squash & Leek Stuffing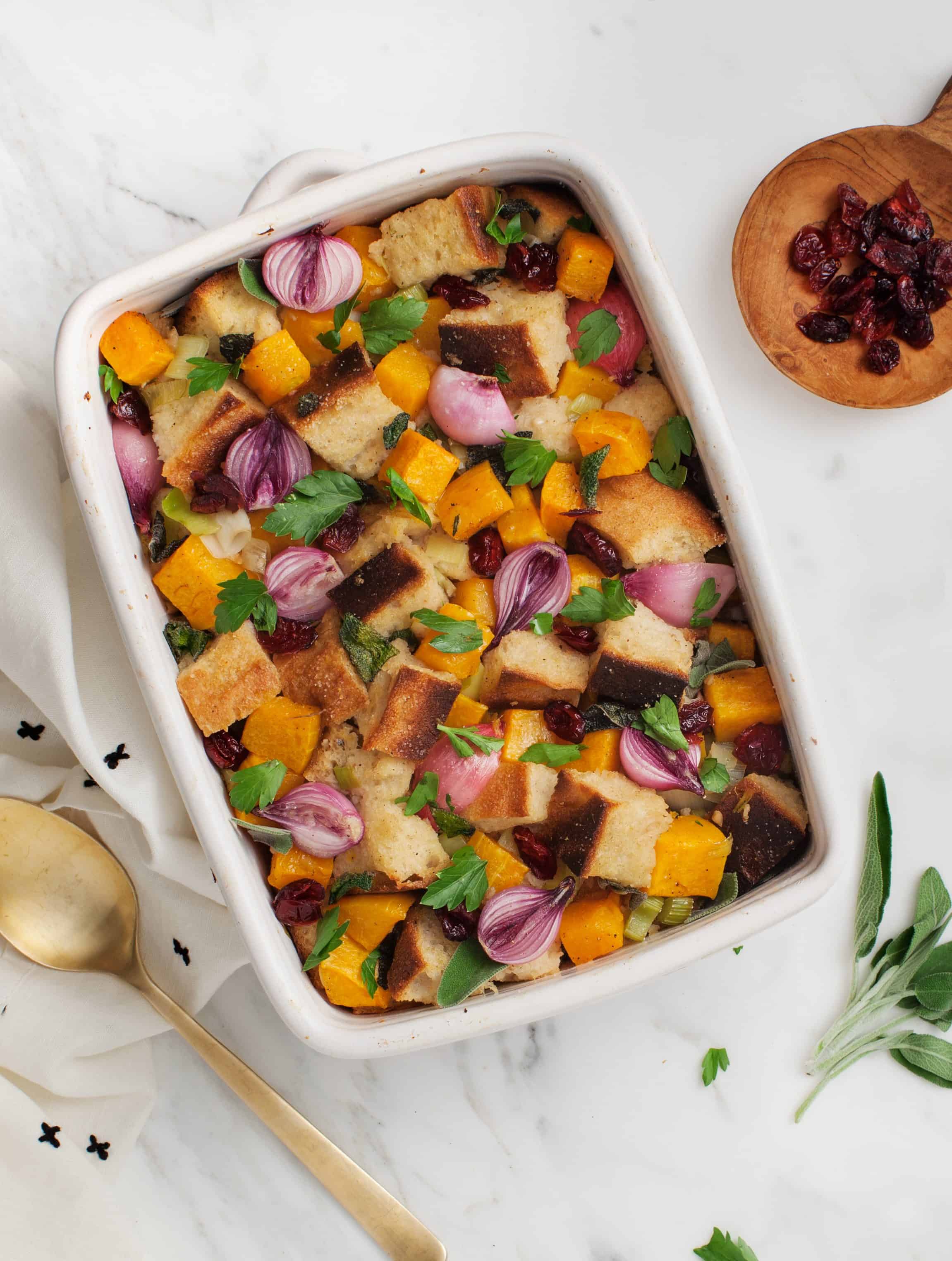 2 cups cubed butternut squash
2 tablespoons extra-virgin olive oil, divided, plus more for drizzling
1 heaping cup chopped leeks, white and light green parts, rinsed well
2 celery stalks, chopped
¼ cup dry white wine
3 garlic cloves, minced (or 5 cloves roasted garlic from this recipe, minced)
Heaping ¼ cup chopped fresh sage, plus about 12 small leaves
2 teaspoons minced fresh rosemary
Heaping 5 cups cubed sourdough bread (1-inch cubes)
1½ cups vegetable broth, more if needed
8 tiny pearl onions, peeled and sliced in half
¼ cup dried cranberries
¼ cup chopped fresh parsley
sea salt and freshly ground black pepper
Preheat the oven to 400°F and line a baking sheet with parchment paper. Place the butternut squash cubes on the pan and toss with a drizzle of olive oil and generous pinches of salt and freshly ground black pepper. Roast 25 minutes or until tender.
Reduce the oven heat to 350°F and lightly grease or spray a 7.5×10-inch (or similar) pan with olive oil.
In a large skillet, heat 1 tablespoon of olive oil over medium heat. Add the leeks, celery, and generous pinches of salt and pepper and cook until translucent, about 5 to 7 minutes. Add the garlic, chopped sage, and rosemary and stir. Add the wine, stir, and cook for 30 seconds.
Stir in the bread, then 1 cup of the broth, and gently toss until the bread cubes are evenly coated. Transfer to a baking dish and drizzle on the remaining ½ cup of broth, especially over areas that may seem dry. Evenly distribute the butternut squash, pearl onions, and sage leaves through the spaces between the bread. Drizzle 1 tablespoon of olive oil on top along with a few more pinches of salt and pepper.
Bake for 20 to 25 minutes or until the bread is golden brown on top. Sprinkle on the cranberries and chopped parsley, and serve.
3.4.3177