Easy25 minsQuick
This delicious Summer Panzanella recipe is filled with a rainbow of fresh tomatoes and veggies, toasted buttery bread, chickpeas, and tossed in an easy Italian vinaigrette. It's the perfect side or main dish for summertime!
So…I totally married that guy who's obsessed with salads. ?
You know, the guy who used to regularly purchase and eat an entire carton of spring greens for dinner back in his bachelor days. The guy whose salad emoji is always listed in his frequently-used screen, and who freaked out the day the "Healthy Living" Bitmoji was introduced. The guy who always waits to eat any side salad he's served until the end of his meal, because he "wants to save the best for last". The guy who can give you an ultra-detailed review of every chopped salad that has ever been sold at Costco. The guy who just — well — really really love salads!
Well, as you can imagine, we've thus tossed many a salad together during our two years together. (His favorite is my 5-Ingredient Arugula Salad — we make it probably at least once a week!) But lately, we seem to have gotten in a rut with the same greens that we use over and over and over again. So for something different last week, I decided to whip up a simple panzanella salad instead, filled with some of the gorgeous heirloom cherry tomatoes and cucumbers and fresh basil that are overflowing at our neighborhood farmers market lately. And when tossed with some delicious buttery crusty bread, chickpeas, Parmesan and a simple red wine vinaigrette, we both agreed this recipe was an absolute keeper.
Winner winner salad dinner! ?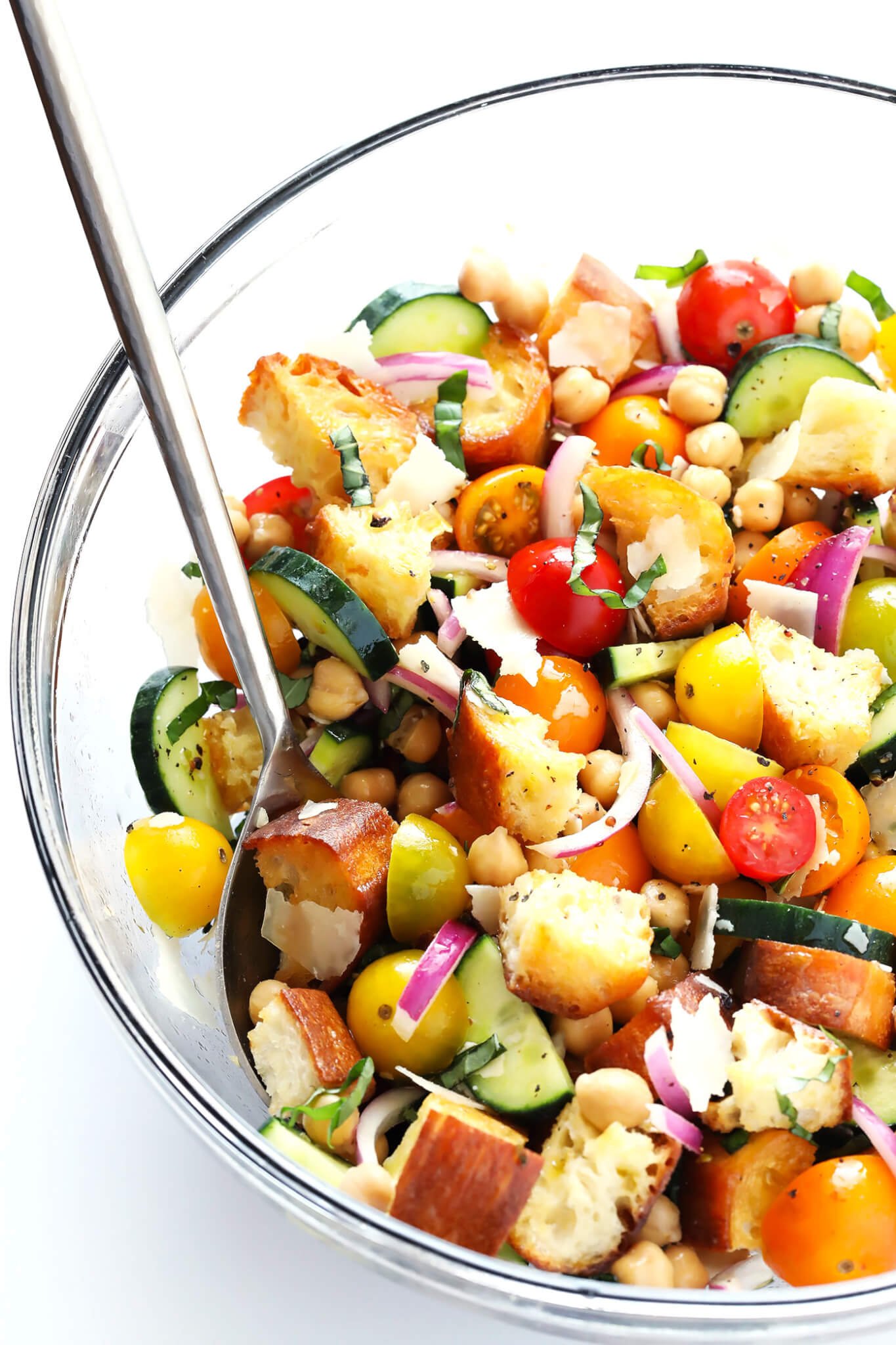 Oh, and freaking gorgeous too. I couldn't get enough of all of those beautiful colors.
Let's talk about how to make it!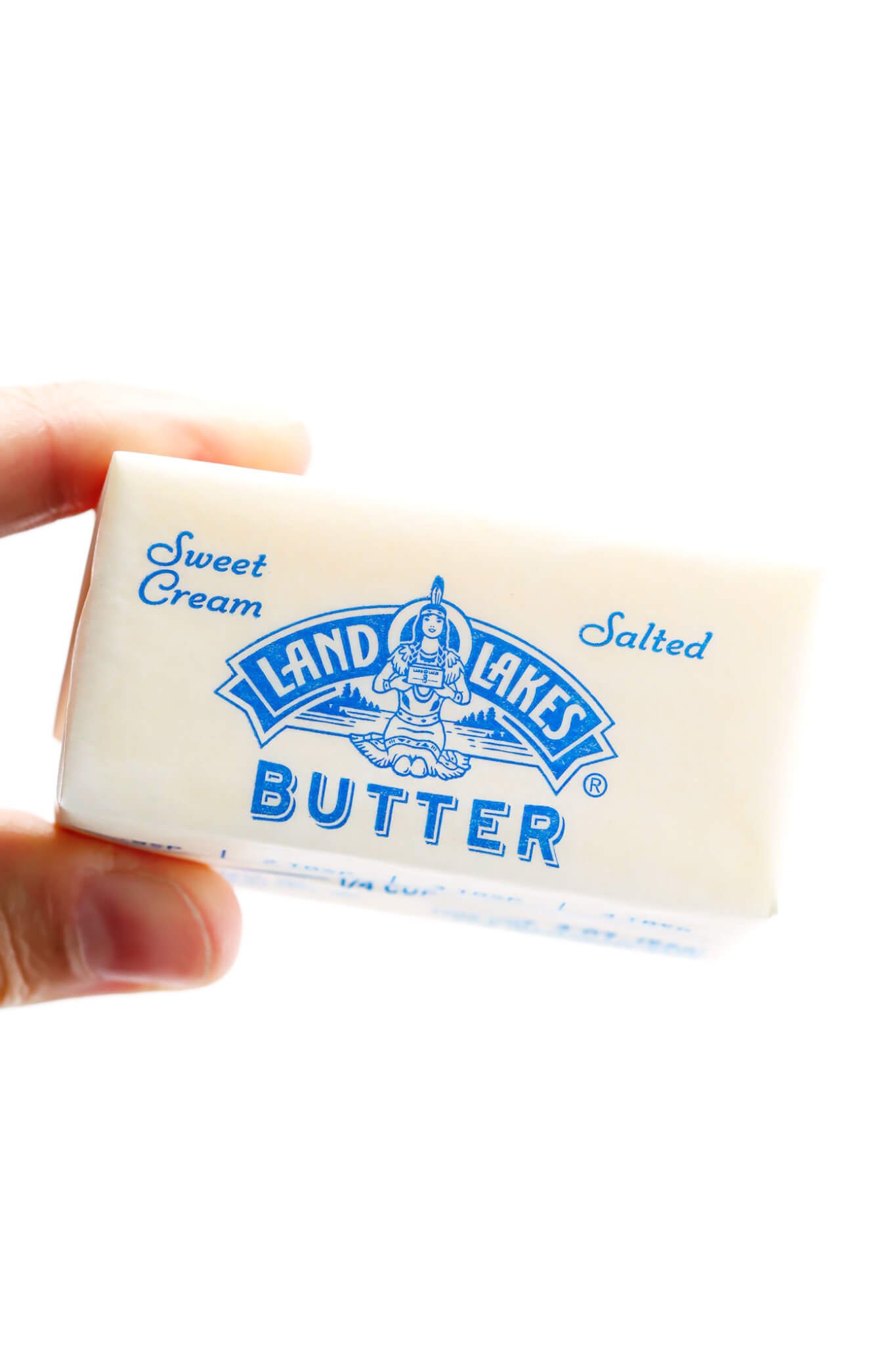 To begin, we start with the heart of a good panzanella salad — delicious, buttery, crusty bread. I always love using a good ciabatta or sourdough bread to make the base of the salad, and all the better if it's a few days old and slightly dried out. And for sure — all the better if it's tossed with some yummy melted butter before baking, so that it's extra golden and flavorful.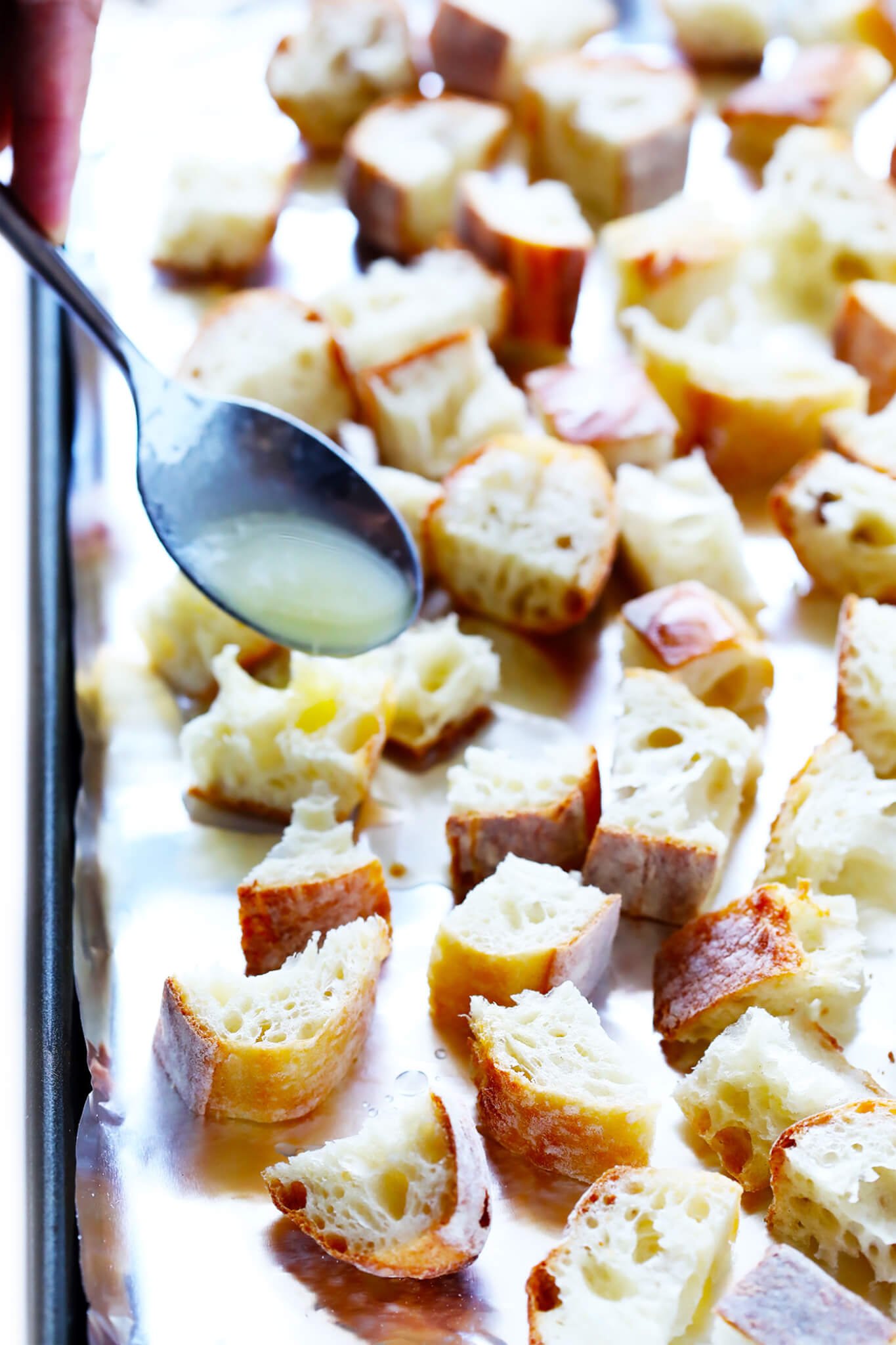 ALSO — on the butter note — I'm actually really excited that today's post marks the beginning of a new partnership this year with Land O'Lakes here on the blog. I've been a big fan and regular purchaser of their line of butters for years, and love how flavorful it is (guys, good quality butter can kick your recipes up a major notch) and love that they are a Midwestern company that takes such good care of their farmers (a few of whom I've even had the chance to meet). More about them — and more butter recipes — to come. ?
But for today's recipe, I thought I'd mention one of their products that Barclay and I use regularly — Land O Lakes® Butter in half sticks . We love these short little 4-tablespoon sticks because they are super handy with cooking for two. And also, they're just freaking adorable, and just the amount you need for this recipe.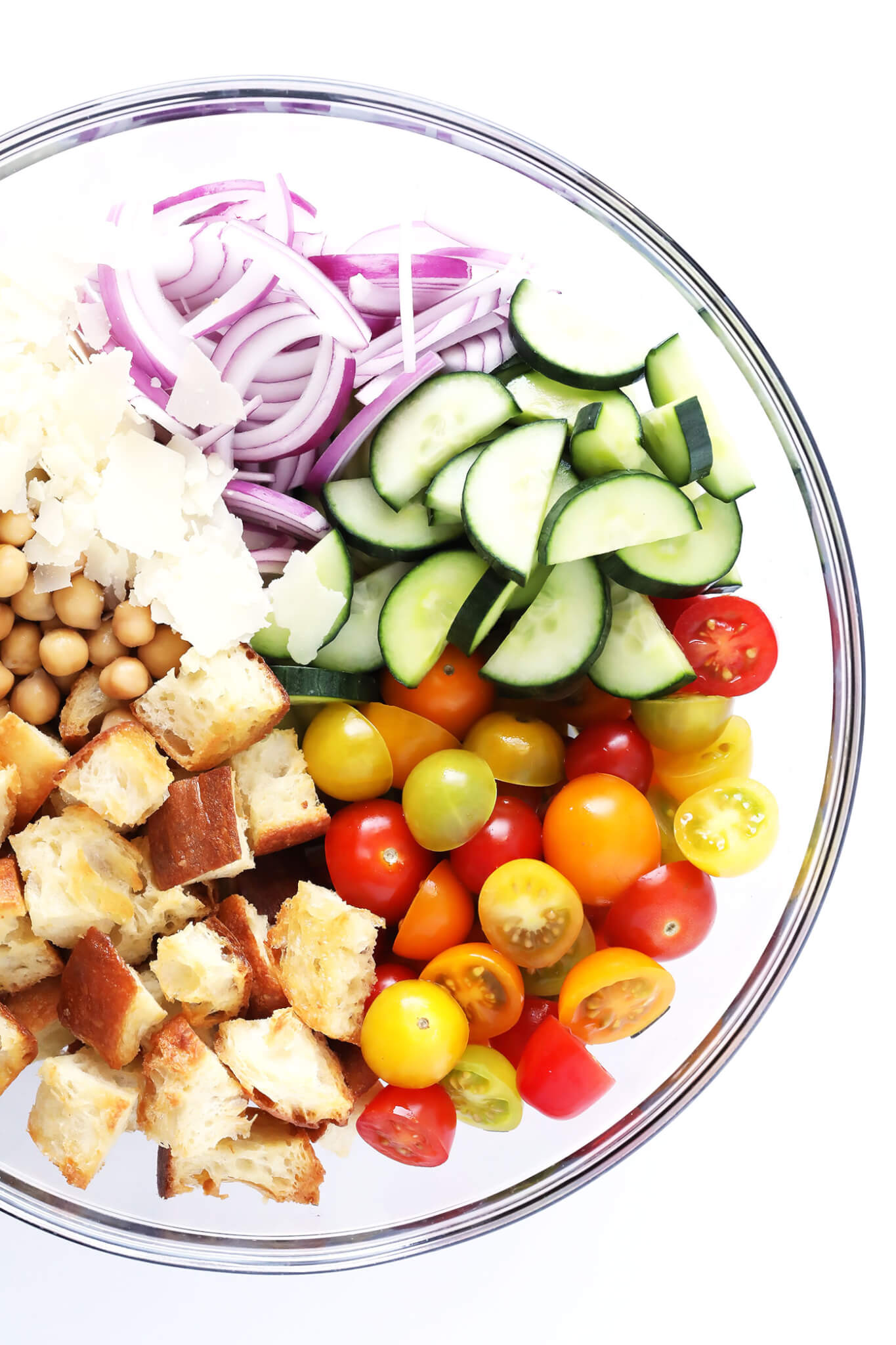 Anyway, while your buttery bread is toasting in the oven, use that time to prep all of your other ingredients and a simple vinaigrette. (Just about any fresh tomatoes will work here.) Then once the bread is ready to go, combine everything together…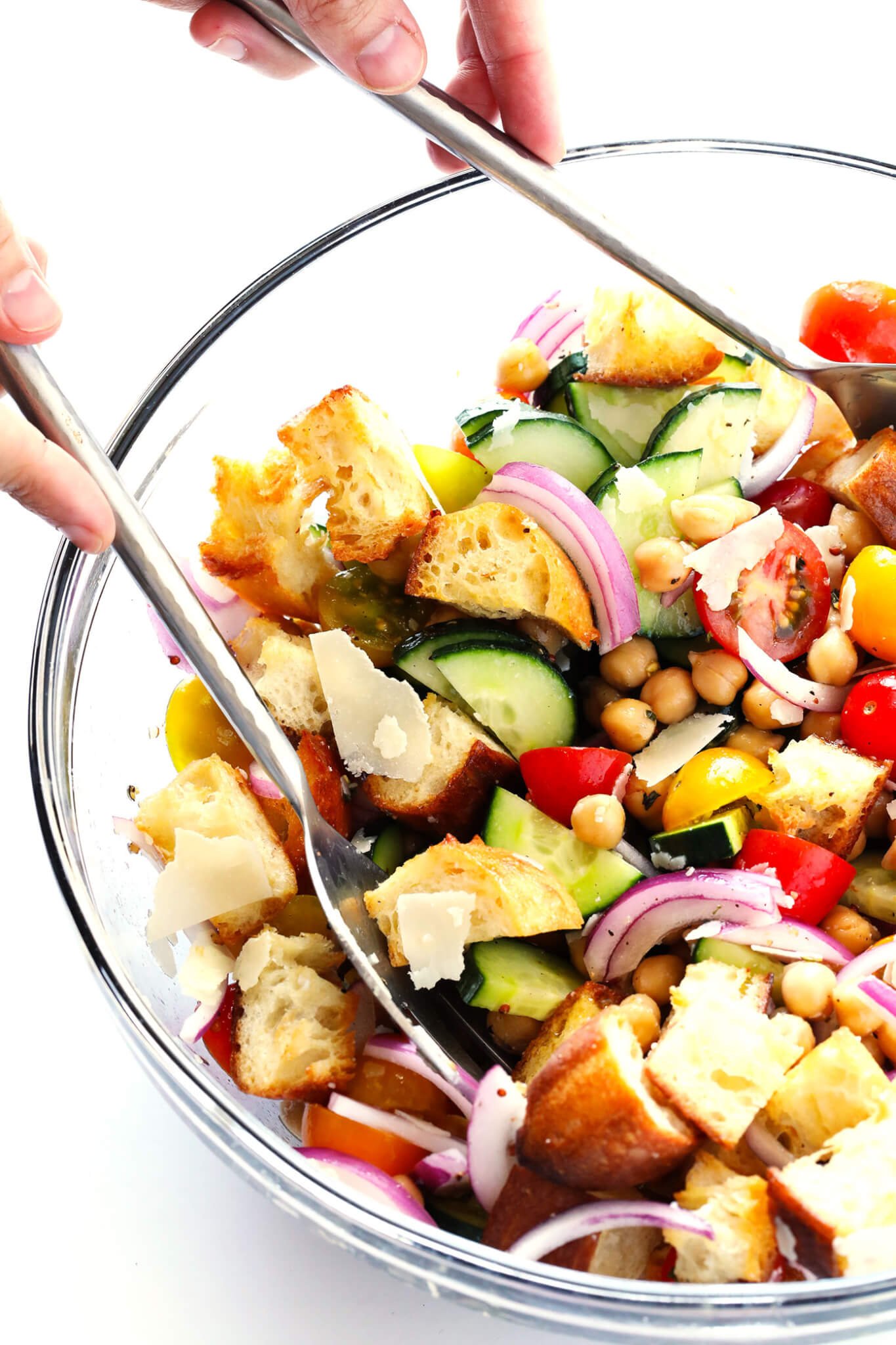 …give it a good toss…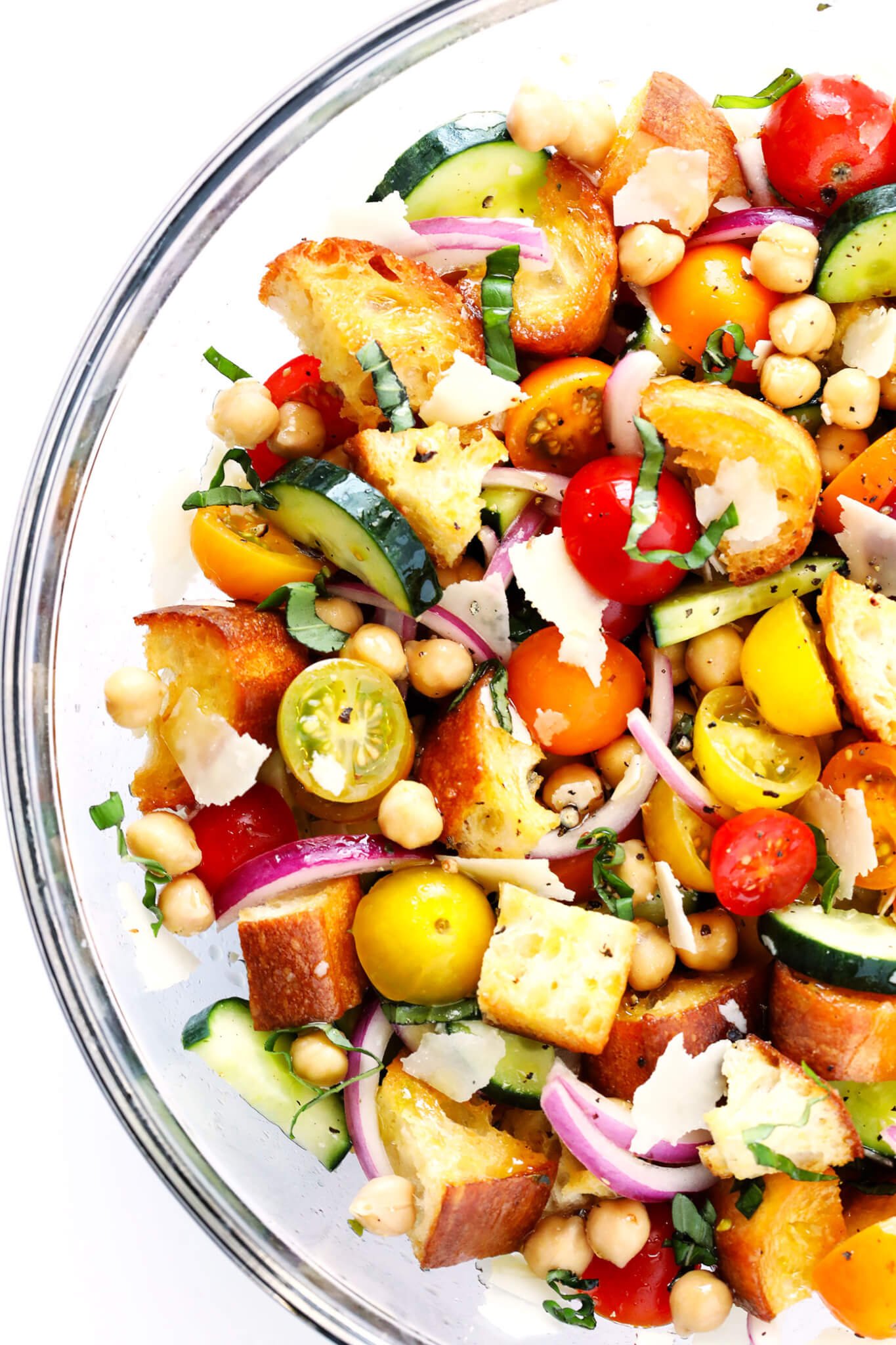 …and then voila! This gorgeous panzanella will be ready to serve!
Well actually, you can decide when to eat it. I actually love panzanella served fresh after tossing when the bread is extra crispy and warm. But if you'd rather cover and refrigerate the salad and wait a few hours, you get the extra bonus of the vinaigrette soaking into all of those ingredients, making everything even more flavorful.
Up to you!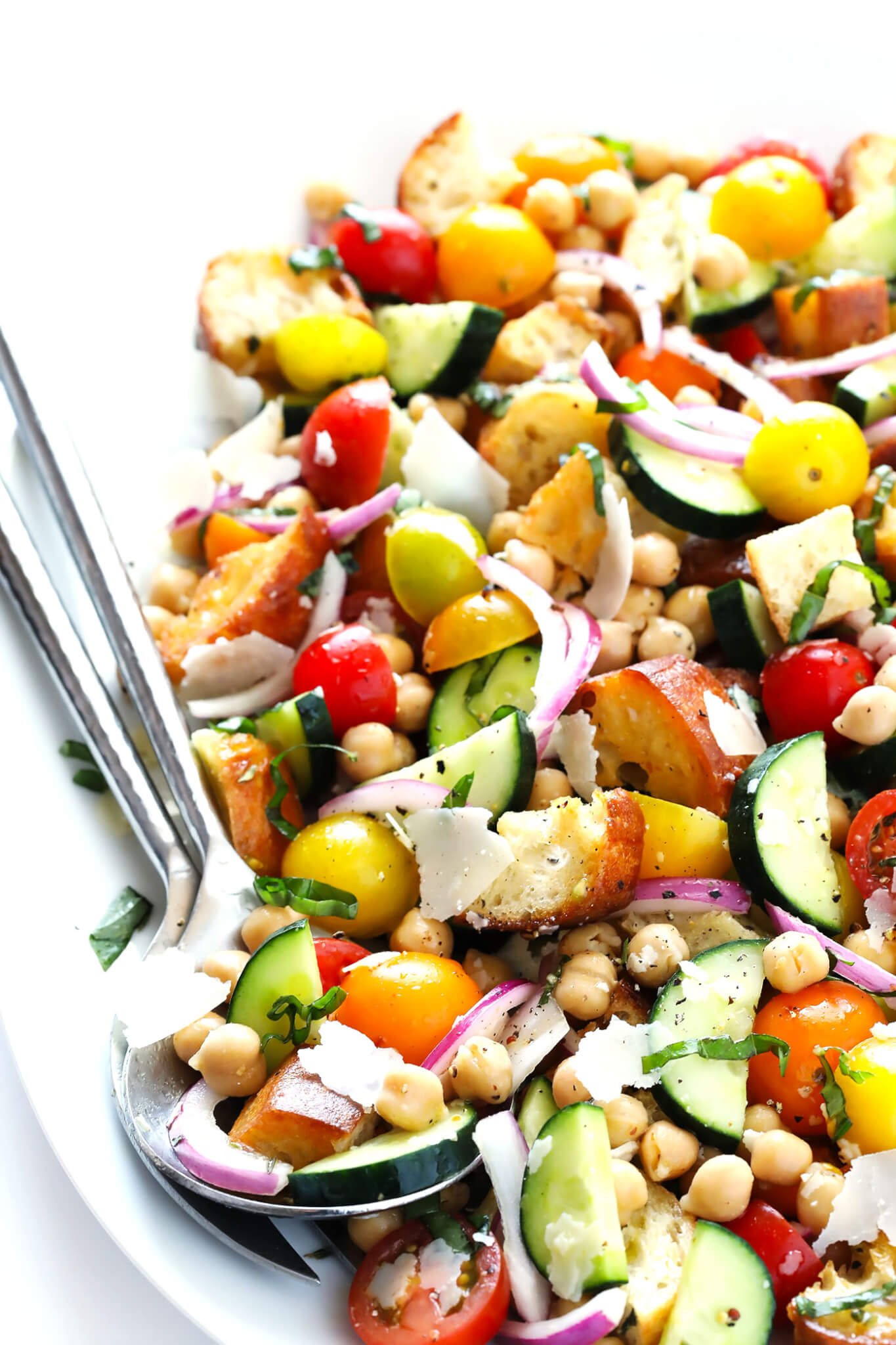 Whenever you're ready, I just highly recommend adding some extra Parmesan on top, which is never a bad idea.
Feel free to serve this one as a main course (which we did!) or as a side salad (it would go super-well, for example, with anything off the grill during the summertime). And enjoy!!
Yield: 4 small servings (or 2 large servings)
Summer Panzanella
This colorful Summer Panzanella recipe is ultra-quick and easy to prepare, made with delicious buttery crusty bread, and perfect for potlucks or picnics or easy weeknight dinners!
Ingredients:
Panzanella Ingredients:
1 small (7-ounce) loaf of ciabatta or sourdough bread, cut into 1-inch cubes
4 tablespoons butter (

I used

Land O Lakes® Salted Butter in Half Sticks

),

melted

1 (15-ounce) can chickpeas, drained and rinsed
1 English cucumber, thinly sliced
2 cups cherry tomatoes, halved
half a small red onion, peeled and thinly sliced
1/3 cup shaved or shredded Parmesan cheese, plus extra for serving
1/4 cup thinly sliced fresh basil leaves
1 batch Easy Italian vinaigrette (see below)
Easy Italian Vinaigrette Ingredients:
1/4 cup extra-virgin olive oil
2 tablespoons red wine vinegar
1 clove garlic, pressed or finely minced
1/2 teaspoon Dijon mustard (optional)
1/2 teaspoon dried oregano
1/4 teaspoon Kosher salt
Directions:
To Make The Panzanella:
Heat oven to 350°F.
Spread the bread out on a large baking sheet (<– covered with parchment or foil, if you'd like, for easy cleanup). Then drizzle it evenly with the melted butter, and toss until all sides of the bread are evenly coated. Bake for 15-20 minutes, turning once, until the bread is crispy and golden. Remove and set aside.
Meanwhile, as the bread is baking, prep your other ingredients and the vinaigrette.
Once the bread is ready to go, transfer it to a large serving bowl, along with the chickpeas, cucumber, cherry tomatoes, red onion, Parmesan and basil. Drizzle evenly with the Italian vinaigrette, and toss to combine.
Serve immediately, garnished with extra Parmesan if desired. Or, cover and refrigerate for up to 4 hours to let the flavors meld together more, stirring only once.
To Make The Vinaigrette:
Whisk all ingredients together until combined.
Difficulty: EasyCategory: Quick


All images and text ©Gimme Some Oven
If you make this recipe, be sure to snap a photo and hashtag it #gimmesomeoven. I'd love to see what you cook!