Easy45 minsGluten-Free
This Cabbage, Sausage and Potato Soup recipe is totally hearty and comforting, full of the best savory flavors, easy to make, and it's guaranteed to warm you right up!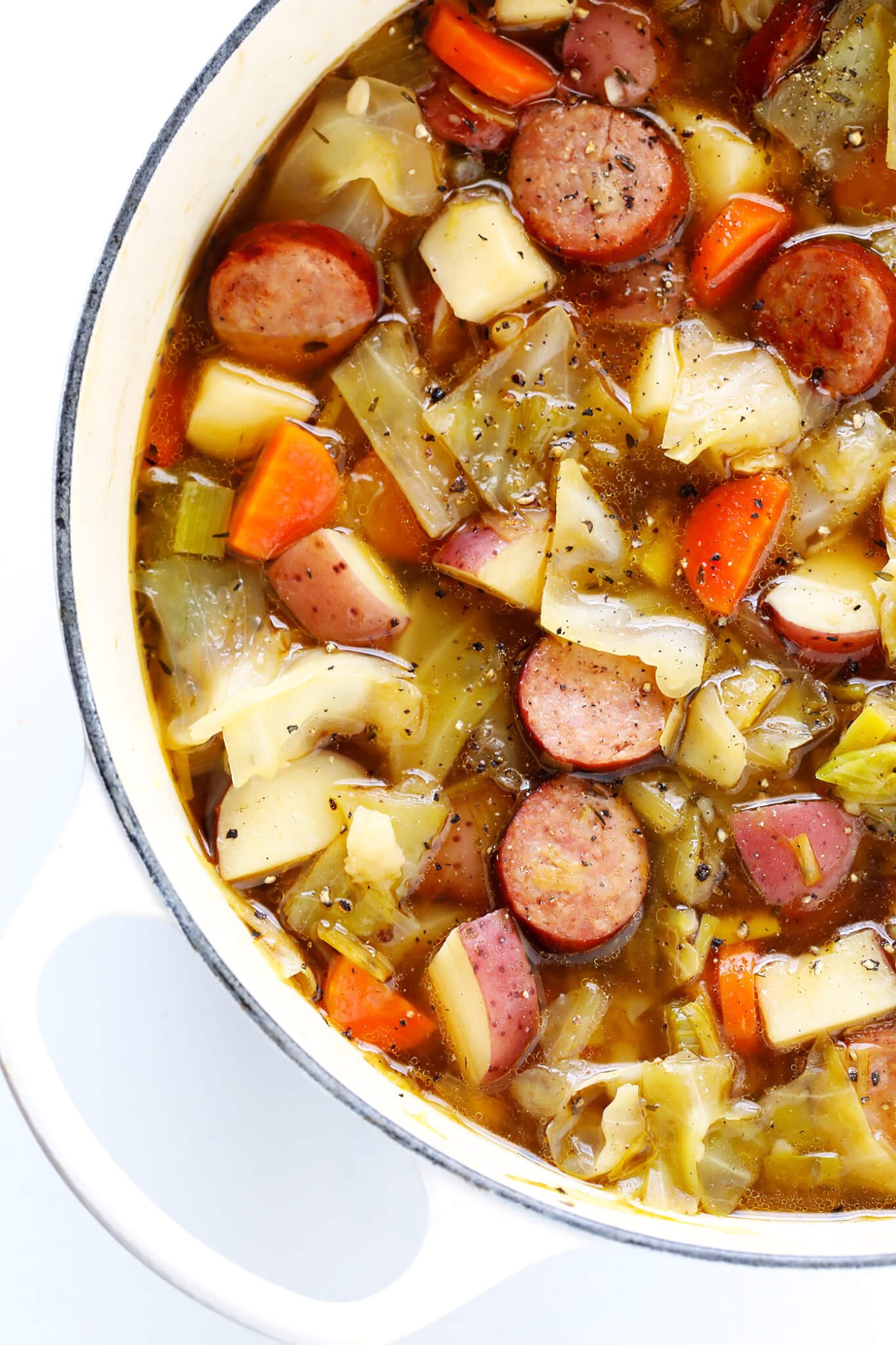 Guys, this soup.
It's only the middle of September, and I have already made it three times this past month.  And when I say three times, keep in mind that I'm now married to a handsome vegetarian who won't come anywhere near this one.  Which means this huge, simmering, delicious pot of soup (plus leftovers) are exclusively for Yours Truly.
And I still can't get enough of it!
This is probably due in part to the fact that I'm about 30 years late to the party that is cabbage soup.  I'm not sure why, but our family never grew up eating it, and for years I used to only think of it only in terms of those crazy fad diets, and never really tried a good bowl until a few years ago.  But the second I did — oh man, guys — it was cabbage soup love at first bite.  Especially when you add some smoked kielbasa sausage to the picture, and some hearty potatoes, and lots of savory and garlicky seasonings — this feel-good, hearty, savory, delicious soup is comfort food to the max.
I wish I squeeze you all around my table and ladle you up a steaming bowl for yourself right now.  But instead, I'm just going to beg you to stir up a pot for yourself.  Because this soup = magic.  ?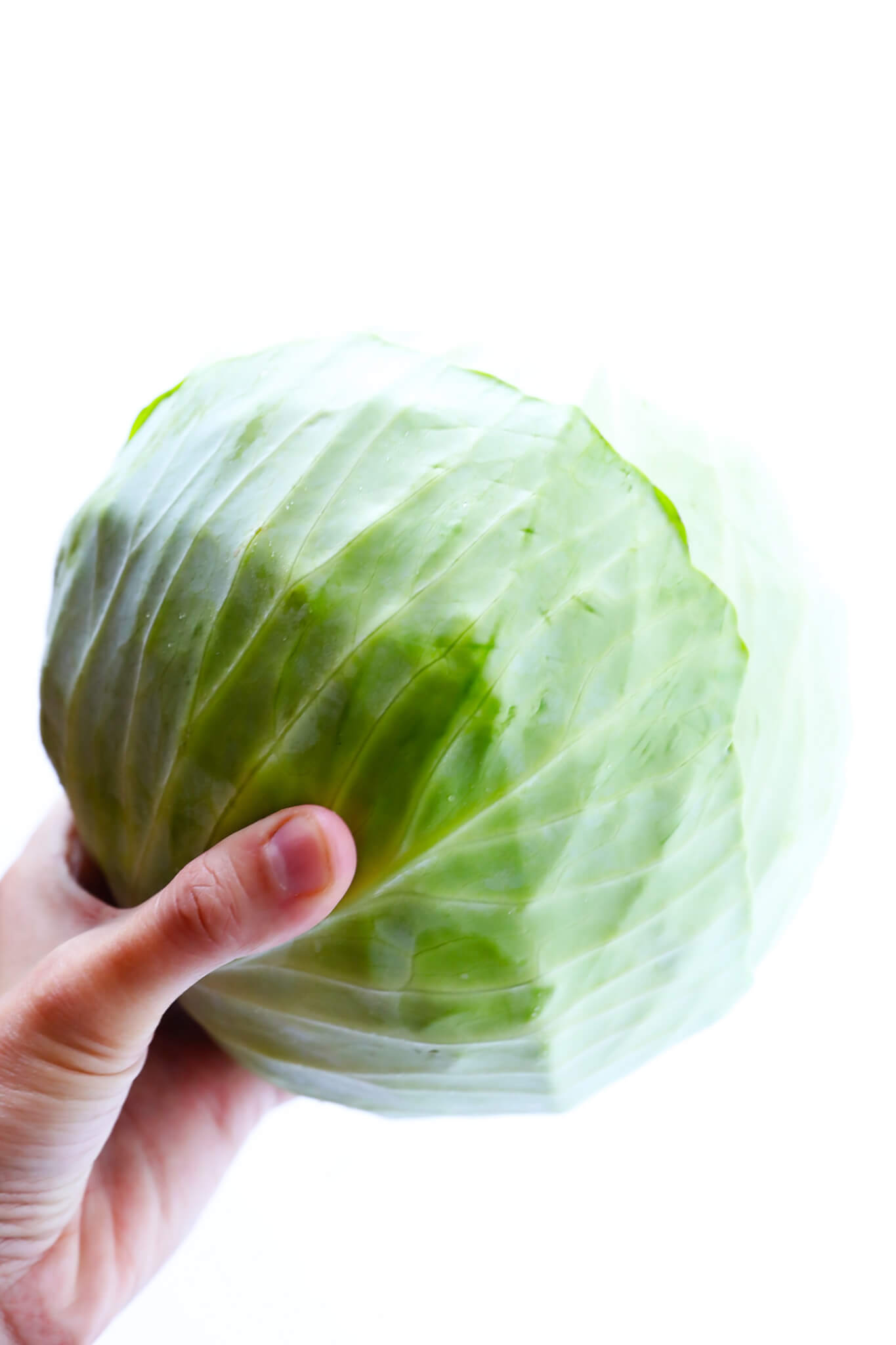 And the good news?  It's also incredibly easy to make!
Begin with your starring ingredient — a small head of green cabbage.  We're going to use it all in this pot of soup.  And even though it's going to turn into a small mountain of greens once it has been chopped, don't worry, because it'll all wilt down once we add it to the soup.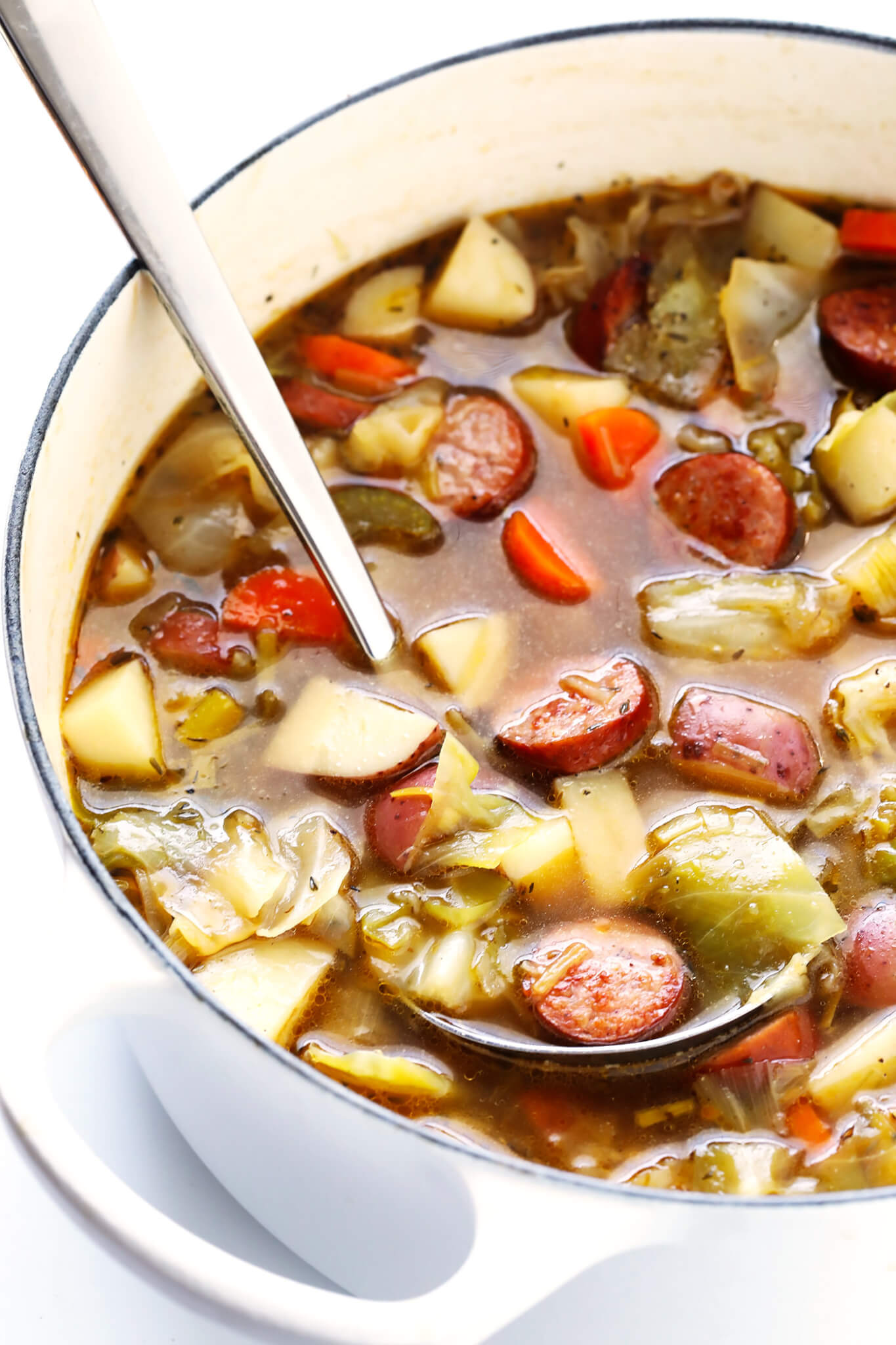 The second most important ingredient here is a good package of kielbasa sausage.  Really, you can use just about any kind of smoked sausage here (or even bratwurst).  But I'm partial to kielbasa here with its smoky, garlicky flavors (that usually include caraway, too).  You're welcome to use traditional pork sausage here, or chicken or turkey or vegan sausage.  You pick.
Begin by sautéing the sausage for a few minutes until it is lightly browned.  Then transfer it to a separate plate to save for later.
Sauté the rest of your veggies and all of that cabbage, then add the remaining ingredients and let the soup simmer until those potatoes are nice and tender.  Season with salt and pepper (I recommend extra black pepper with this one), and soon enough…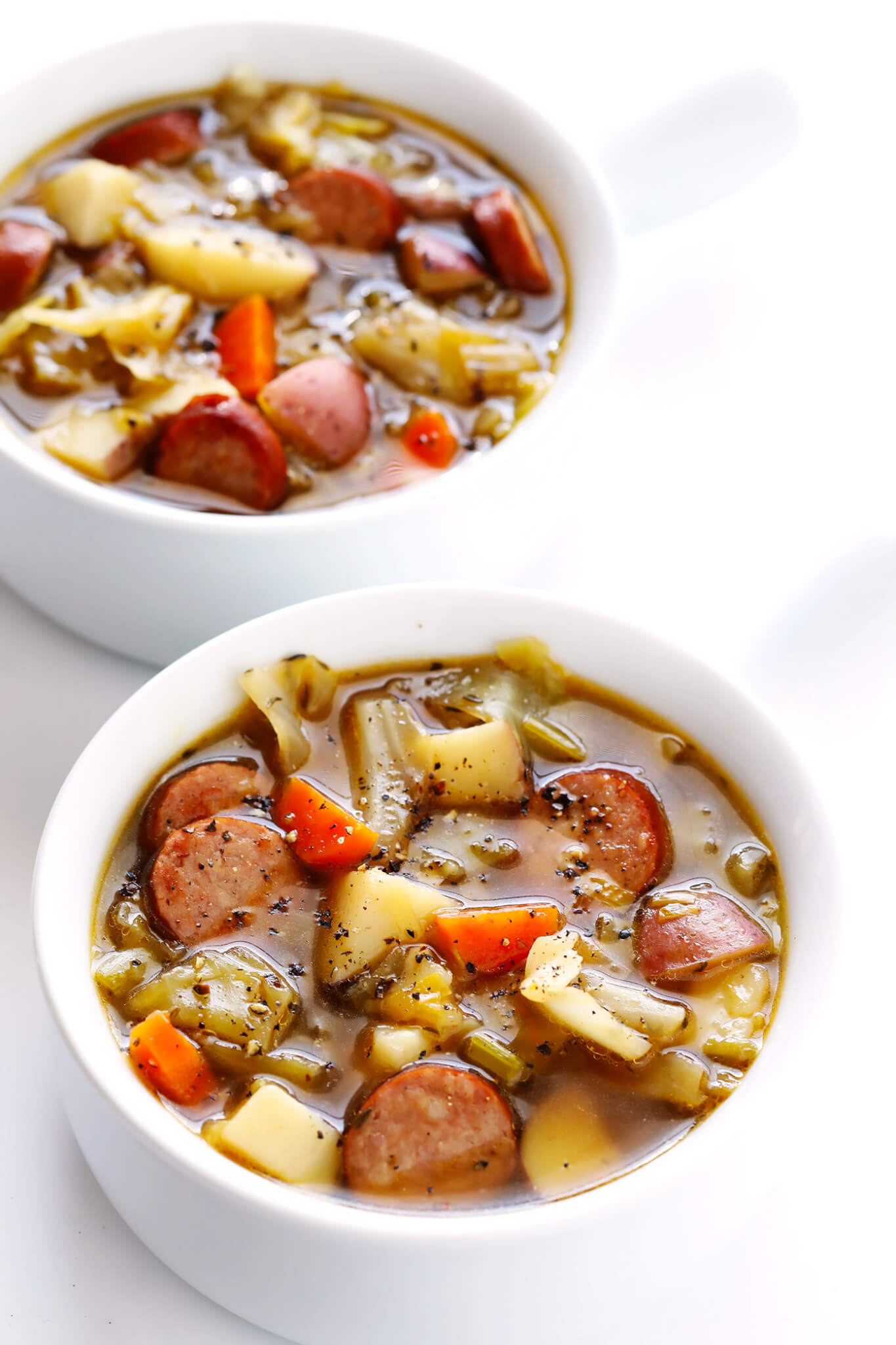 …these delicious bowls of cabbage soup will be yours to serve and enjoy.
Hope you love this one as much as I do, friends!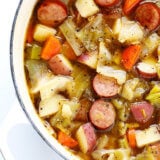 Yield: 8 servings
Cabbage, Sausage and Potato Soup
This Cabbage, Sausage and Potato Soup recipe is nice and hearty and comforting, it's full of the best savory flavors, and it's guaranteed to warm you right up!
Ingredients:
1 pound kielbasa sausage*, sliced into bite-sized pieces
2 tablespoons extra-virgin olive oil
3 medium leeks, sliced into ⅛ inch rounds, white and pale green parts only
2 medium carrots, peeled and diced
1 stalk celery, diced
1 small green cabbage, chopped into bite-sized pieces
3 cloves garlic, minced
6 cups chicken or vegetable stock
1 pound red potatoes, diced
1 tablespoon Italian seasoning, homemade or store-bought
1 bay leaf
Kosher salt and freshly-cracked black pepper
Directions:
Add sausage to a large stockpot and cook over medium-heat for 5-6 minutes, stirring and flipping occasionally, until the sausage is lightly browned.  Use a slotted spoon to transfer the sausage to a separate plate, and set aside.

Add the olive oil, leeks, carrots and celery to the pan, and stir to combine.  Sauté for 5 minutes, stirring occasionally.  Then add the cabbage and garlic, and sauté for 4 more minutes, stirring occasionally.
Add the stock, potatoes, Italian seasoning, bay leaf, cooked sausage, and stir to combine.  Continue cooking until the soup reaches a simmer.  Then reduce heat to medium-low, cover, and simmer for 15 minutes, or until the potatoes are cooked and tender.  Taste and season with a few generous pinches of salt and black pepper as needed.
Serve warm.  Or refrigerate in sealed containers for up to 3 days, or freeze for up to 3 months.
*Feel free to use traditional kielbasa sausage, or any kind of smoked pork, chicken, turkey, or vegan sausage that you'd like.  (Bratwurst also works!)
**If making this recipe gluten-free, be sure to double-check that your sausage is certified GF.
Difficulty: EasyCategory: Gluten-Free


All images and text ©Gimme Some Oven
If you make this recipe, be sure to snap a photo and hashtag it #gimmesomeoven. I'd love to see what you cook!