Quick Summary
You only need 20 minutes and 5 ingredients to make Cacio e Pepe. This classic pasta dish is simple, but so good! This cheesy, peppery pasta is absolutely delicious and perfect for an easy weeknight meal.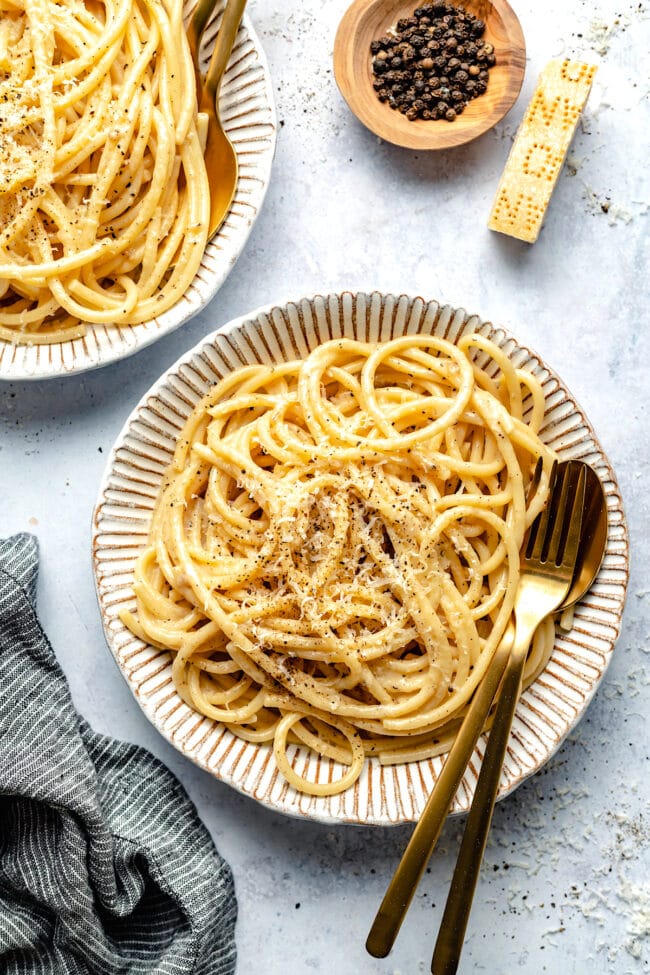 Don't you just love a good, cheesy pasta recipe? Cacio e Pepe is a classic and one of my favorite EASY meals.
Translated, "cacio e pepe" means "cheese and pepper," so you know it's going to be good! It's a traditional Roman dish that you can order at most Italian restaurants.
But don't worry, you don't have to travel to Italy to enjoy this classic dish, it is easy to make at home. Although, a trip to Italy sounds good right about now, ha!
Cacie e pepe is kind of like a grown-up mac and cheese. I find myself craving it more often than I'd care to admit. It's just SO good…and SO easy to make! You are going to love this one!
5-Ingredient Pasta
You only need five ingredients (6 if you count salt) to make Cacio e Pepe. It is one of those recipes you can whip up in no time, but tastes very gourmet!
For this recipe, you will need:
Kosher salt– The key to making good pasta is generously salting the pasta water. Make sure you don't skip the salt.
Bucatini pasta– Tonnarelli is the traditional pasta used when making cacio e pepe, but it can be hard to find so I use bucatini. It is a thick pasta that looks similar to spaghetti, but it is thicker and has a hole through the middle with square-cut edges. I love the texture of bucatini, especially in this dish. If you can't find it, you can use spaghetti or fettuccine.
Butter– Bring on the butter! It creates the perfect rich sauce.
Freshly ground black pepper– The star of the show! Use freshly cracked black pepper, for the best flavor. This dish is supposed to be heavy on the pepper, but if you don't like a strong peppery flavor or if you are serving to kids who are sensitive to pepper, you can reduce the amount. See the recipe notes.
Cheese– Aged Pecorino Romano is a MUST when making Cacio e Pepe. It is made from sheep's milk and has a strong and tangy flavor. I also use Parmesan cheese because I like the flavor of the two cheeses together. If you want to use ALL Pecorino Romano, you can, but personally I like the mix of both cheeses.
Cheese Tip– Make sure you use GOOD cheese found at the cheese counter. Grab a couple of wedges and freshly grate the cheese for this recipe. Do not use pre-grated cheese. The texture and flavor isn't the same and pre-shredded cheese will clump up when making the sauce. This dish only has a few ingredients so you want to use the very best for the very best flavor! I like to grate the cheese with a microplane so it's finely grated and melts right into the sauce and doesn't clump up.
How to Make Cacio e Pepe
This is a simple recipe, but make sure you follow the instructions so it turns out perfectly every time. You don't want the cheese to clump up!
Cook the pasta until al dente according to the package directions. Don't overcook the pasta and remember to salt the water! And don't drain the pasta water, you will need some of it to make the sauce!
Start making the sauce when the pasta is about halfway done. In a large skillet, melt the butter over medium-high heat. Stir in the black pepper and cook for about 2 minutes. Cooking the pepper will bring out the best flavor and infuse the sauce.
Add ½ cup of the pasta water from the pasta pot and bring to a simmer. Stir and cook for 1 minute.
Before you drain the pasta, reserve ½ cup of the pasta water. Use a colander to drain the pasta.
Add the pasta, Parmesan cheese, and Pecorino cheese to the skillet, make sure the heat is off. Using tongs, toss until the all of the cheese is melted and until all of the pasta noodles are well coated. Add the remaining ½ cup of pasta water and turn the heat on low. Cook for 1 minute or until the water mixes into the pasta, creating the perfect buttery, cheesy sauce.
Transfer the pasta to plates or bowls and garnish with additional freshly grated cheese. Serve immediately.
Slurp away! Ok, I know it is rude to slurp your food, but I think it is totally acceptable when cacio e pepe is on the menu:)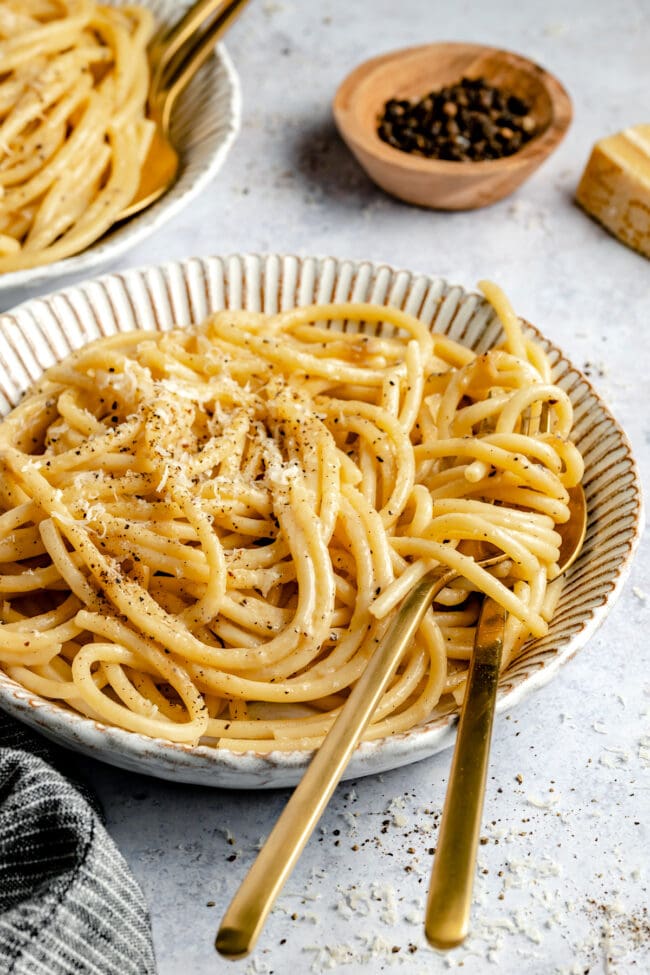 Side Dishes
Since this recipe tastes just like something you'd order at a restaurant, make it feel like dining out right in your own kitchen. Enjoy for a fun date night in or serve it at your next dinner party.
Make it a full meal and serve a few side dishes on the side.
How to Store
We rarely have leftovers, but if you do, place the pasta in an airtight container and store in the refrigerator for up to four days. Add a splash of water and reheat in the microwave or on the stovetop.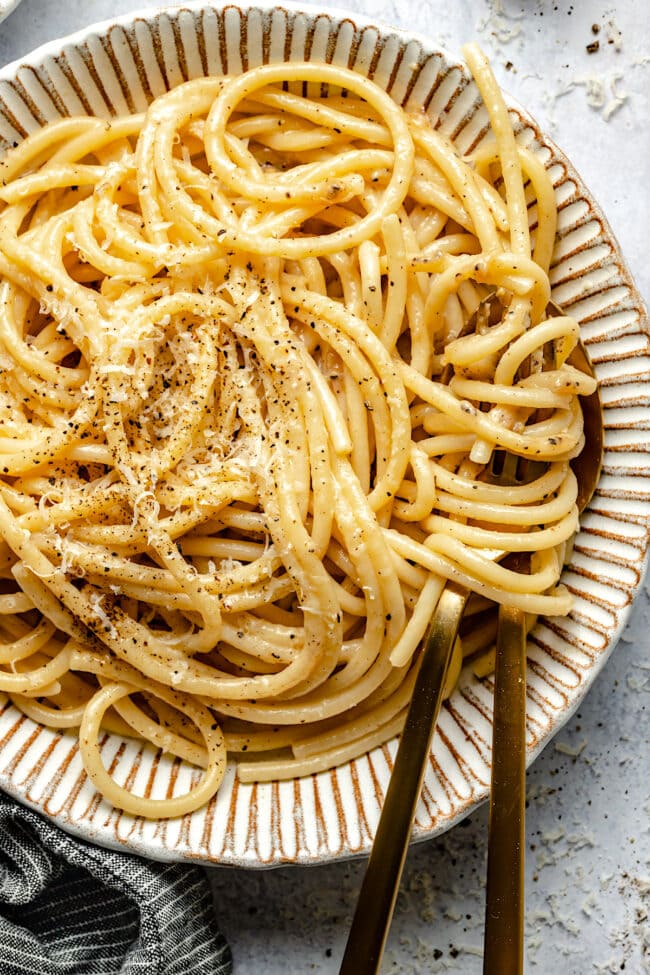 More Pasta Recipes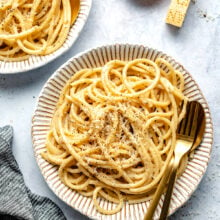 Cacio e Pepe
You only need 20 minutes and 5 ingredients to make Cacio e Pepe. This classic pasta dish is simple, but so good! This cheesy, peppery pasta is absolutely delicious and perfect for an easy weeknight meal.
2

tablespoons

kosher salt

12

ounces

bucatini pasta

(can use spaghetti)

5

tablespoons

unsalted butter

1 1/2

teaspoons

freshly ground black pepper

(see note)

3/4

cup

freshly grated Parmesan cheese

3/4

cup

freshly grated Pecorino Romano cheese

Extra grated cheese

for serving, optional
If you are sensitive to black pepper or don't care for it, you can reduce the amount. When we are making this dish for our boys, we usually do ¾ teaspoon of black pepper. 
We love using bucatini for this recipe because it is thick and hearty. Spaghetti will work. Make sure you use GOOD cheese. Buy a wedge and freshly grate it yourself.
Calories: 398kcal, Carbohydrates: 44g, Protein: 16g, Fat: 17g, Saturated Fat: 10g, Trans Fat: 1g, Cholesterol: 49mg, Sodium: 2671mg, Potassium: 165mg, Fiber: 2g, Sugar: 2g, Vitamin A: 455IU, Calcium: 291mg, Iron: 1mg
Have you tried this recipe?
Leave a comment below and share a photo on Instagram. Tag @twopeasandpod and hashtag it with #twopeasandtheirpod
Photos by Eat Love Eats