Easy45 minsQuick
This Cajun Corn Chowder recipe is lightened-up with healthier ingredients (also vegan and gluten-free), full of protein-packed lentils, and seasoned with the best zesty Cajun flavors.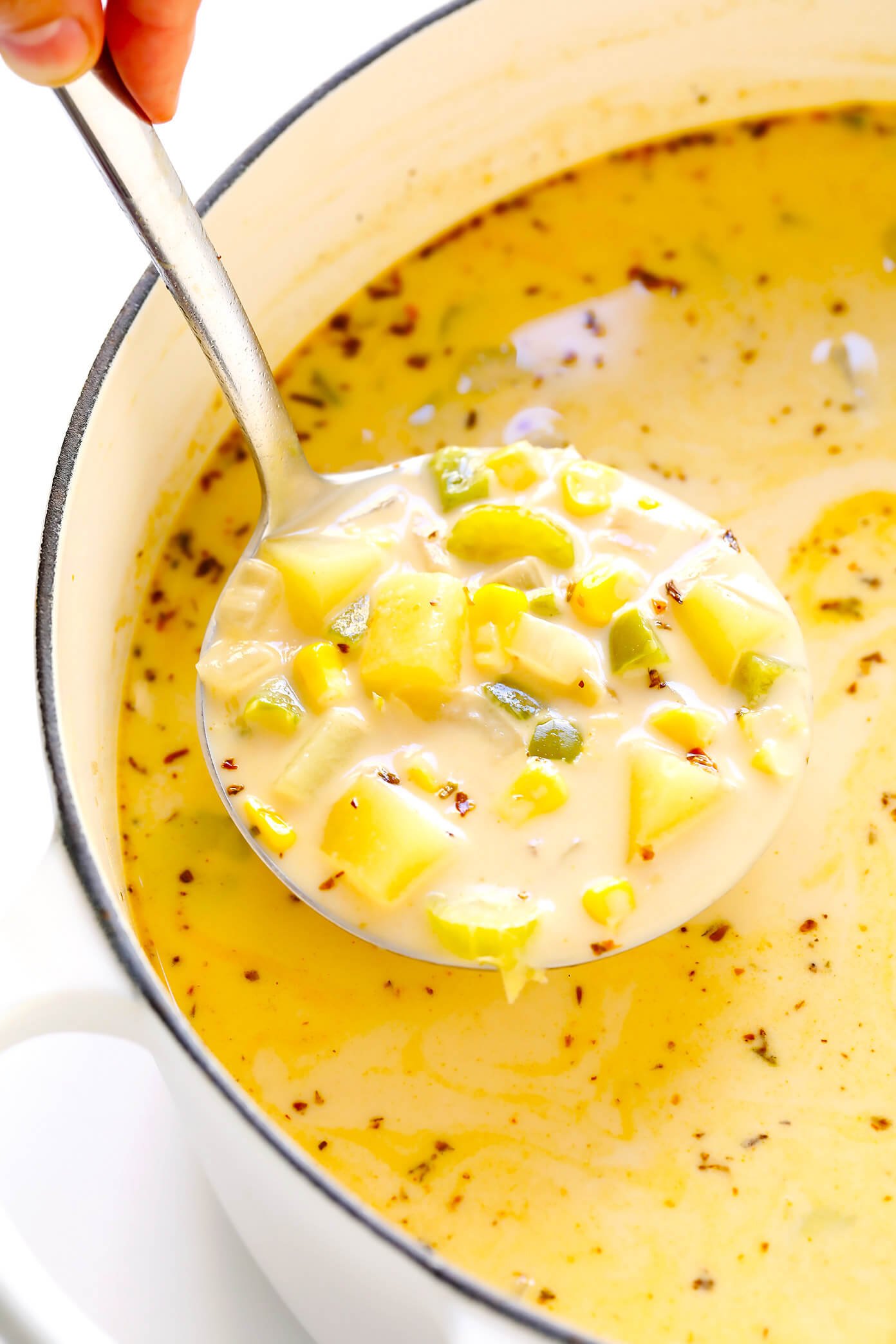 I will never be that girl who looks forward to winter.  But now that we're on the home stretch of summer, with September now just around the corner, I will say that I am extremely ready for one perk of winter to roll back around soon — hot soup season!  ♡
A quick pass through the recipe index here on the blog will give away the fact that soups are my absolute faves.  So much so, that there's really no such thing as soup "season" in our house.  I've always been the girl happily cozying up with a bowl of chicken noodle, sweating through curry hot pots, and eating my favorite lentil soup on repeat all summer long.  (Yes, even in our un-airconditioned Barcelona kitchen — whew.)
But this time of year, there's always one soup in particular that is a must — a big comforting batch of corn chowder.
As the granddaughter of Kansas corn farmers, this soup is a tradition during harvest season, and always feels like the perfect transition from summer into fall.  And all the better with this new recipe I've been tweaking lately.  It goes big on zesty Cajun flavors, which I think pair perfectly with sweet corn.  Yet it also goes mercifully lighter on the usual heavy thickeners, opting for creamy coconut milk instead, which allows this soup to be naturally vegan and gluten-free.  I've also hidden lots of lentils in there, which amp up the protein and lend some nice heartiness to the soup.  And if you're looking to do some meal prep for the start of the school year ahead, I've included instructions below for how to freeze this soup too.
So in honor of harvest season coming up, let's all pick up a batch of fresh, frozen or canned sweet corn and make a big batch of soup together!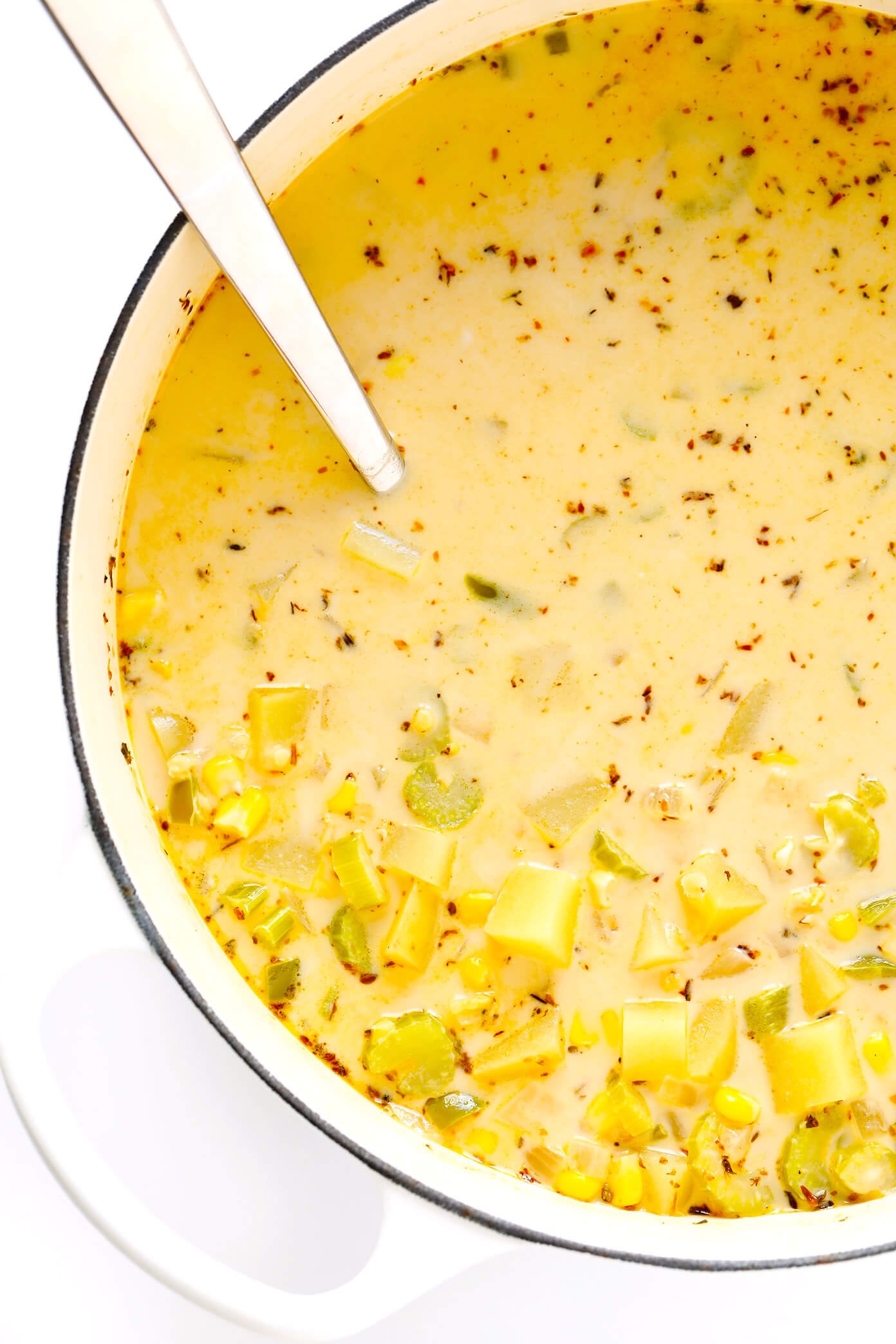 Cajun Corn Chowder Ingredients:
So what exactly is in this delicious chowder?  You will need:
The Cajun "Holy Trinity": Onion, green bell pepper and celery = classics
Garlic, Cajun Seasoning and Thyme: For seasoning
Vegetable Stock: Keeping with our vegetarian/vegan theme
Potatoes: You can really use any kind you'd like, but I would recommend Yukon golds.
Corn: Fresh, frozen or canned — up to you.  You will just need a little less than 1 pound (about 2.5 cups)
Red Lentils: They can be split or whole, but you really need 

red

lentils for this recipe.  Other colors will take much longer to cook.
Coconut milk: I used full-fat canned coconut milk for this recipe.  But feel free to use low-fat coconut milk.  Or you can sub in whole milk (if you eat dairy).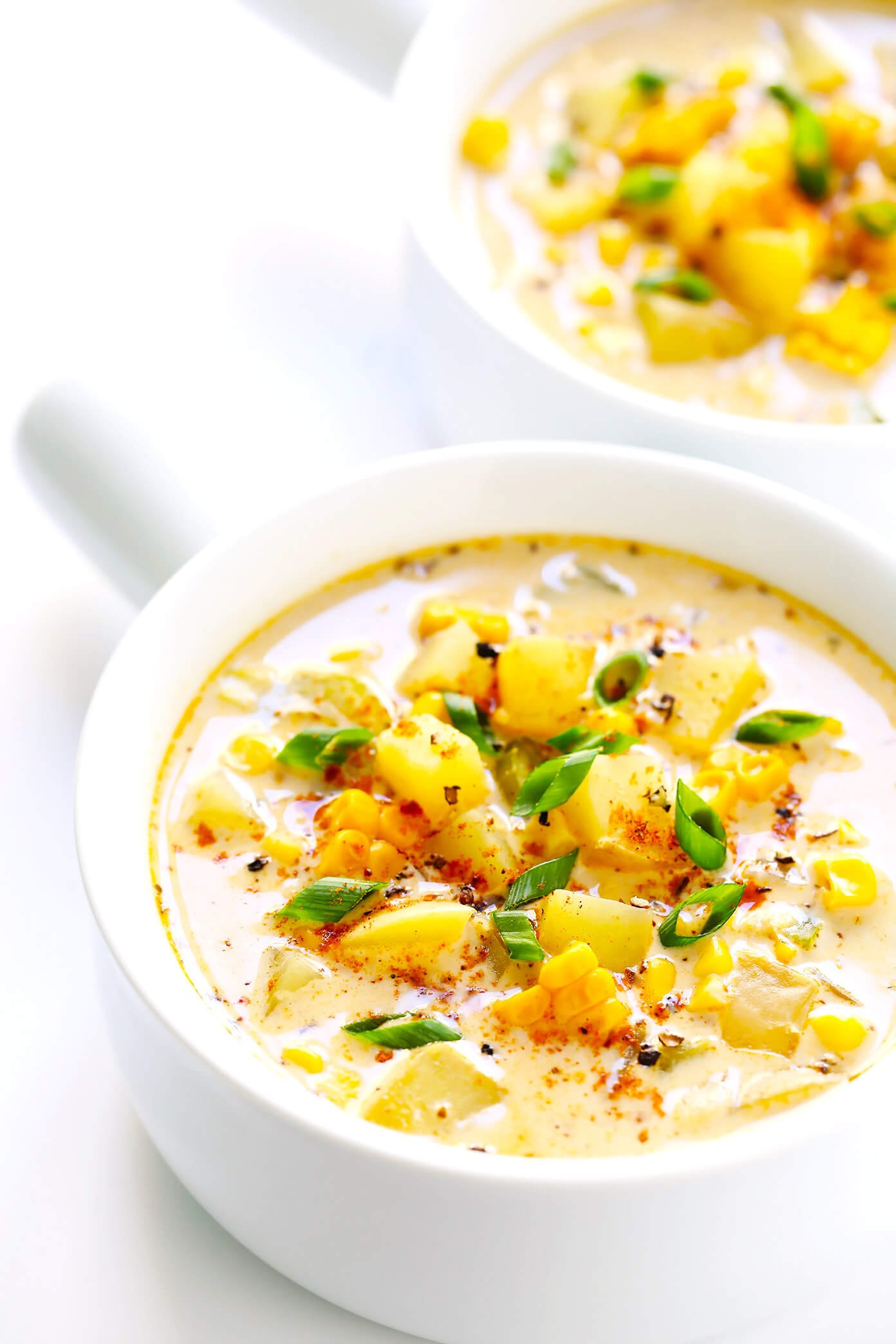 How To Make Corn Chowder:
This corn chowder recipe is pretty straightforward!  Simply…
Sauté your veggies. Sauté the Cajun holy trinity, plus garlic, until softened.
Stir in your remaining ingredients. Sans coconut oil.
Simmer, simmer, simmer.  Until the lentils and potatoes are nice and tender.
Add coconut milk.  Then taste and season with extra Cajun seasoning and/or salt, if needed.
Serve hot!  Topped with any garnishes that sound good to you. 🙂
As I mentioned above, this recipe is also easy to freeze if you'd like.  The trick is to just leave out the coconut milk if you are planning to make and freeze a batch, and then add it later when you reheat the soup (since coconut milk doesn't freeze very well).  That said, if you'd like to make a batch of this soup that's completely freeze-able, you're welcome to sub in cream or half and half instead (both of which freeze well).
Cheers, friends!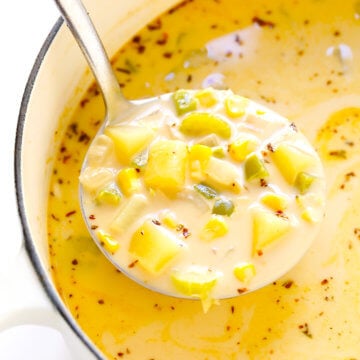 Yield: 8-10 servings
Cajun Corn Chowder
This Cajun Corn Chowder recipe is lightened-up with healthier ingredients (also vegan and gluten-free), full of protein-packed lentils, and seasoned with the best zesty Cajun flavors.
Ingredients:
1 tablespoon olive oil
1 medium white onion, peeled and diced
1 green bell pepper, cored and diced
2 ribs celery, diced
4 cloves garlic, peeled and minced
6 cups vegetable stock
1 1/2 pounds Yukon gold potatoes, diced into 1/2-inch cubes
1 (14-ounce) bag frozen corn (or you could also use canned whole-kernel corn)
1 cup red lentils*, rinsed and picked over
2 tablespoons Cajun seasoning (or more/less to taste)
1 teaspoon dried thyme
1 teaspoon salt
1 (14-ounce) can coconut milk
optional toppings: chopped green onions or chives, bacon, or oyster crackers, etc.
Directions:
Heat oil in a large stockpot over medium-high heat.  Add onion and sauté for 3 minutes, stirring occasionally.  Add bell pepper, celery and garlic, and continue sautéing for 5 more minutes, stirring occasionally.
Add vegetable stock, potatoes, corn, lentils Cajun seasoning, thyme and salt.  Stir to combine.
Continue cooking until the mixture reaches a simmer.  Then reduce heat to medium-low, cover, and cook for 10-15 more minutes, stirring occasionally, until the potatoes and lentils are tender.
Stir in the coconut milk until combined.  Taste and season with additional salt and/or Cajun seasoning if needed.
Serve warm, garnished with your desired toppings.  Or refrigerate soup in sealed containers for up to 3 days, or freeze for up to 3 months.
*Whole red lentils take about 15 minutes to cook.  But if you are using split red lentils, they only take about 7-8 minutes to cook, so I would recommend adding them in halfway through the potatoes' cooking time.
I also like to use a lot of Cajun seasoning in this soup.  But if you don't like much heat in your food, I would begin with 1 tablespoon of Cajun seasoning, and then you can add more as you would like, to taste.
Difficulty: EasyCategory: Quick


All images and text ©Gimme Some Oven
If you make this recipe, be sure to snap a photo and hashtag it #gimmesomeoven. I'd love to see what you cook!