Healthy, hearty, and complex, this authentic Caponata Recipe combines all of the flavors of the Mediterranean into one addictive blend! Everyone will devour this sweet, tangy, salty, dish made with roasted eggplant, black olives, raisins, and more.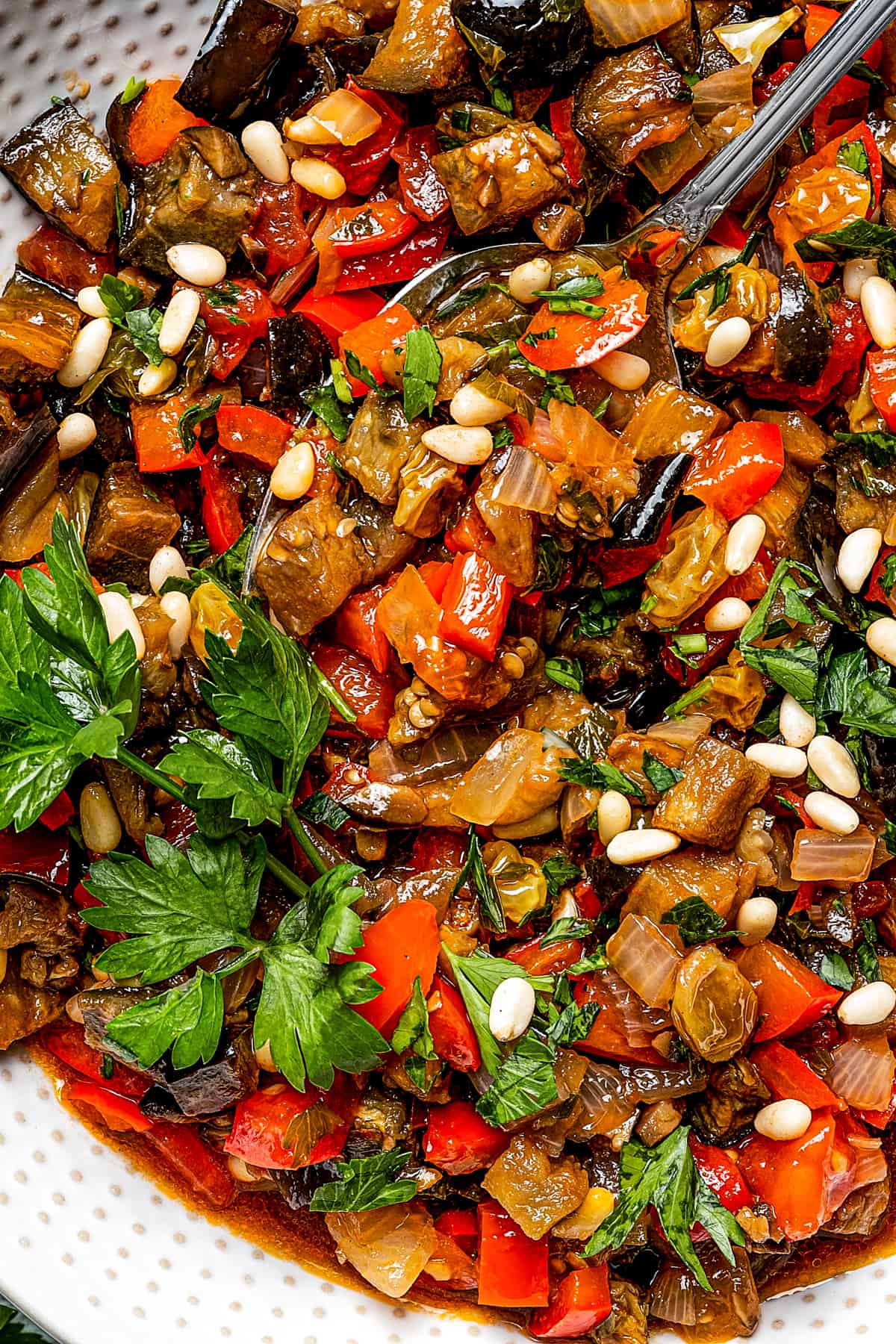 Sicilian-Style Caponata with Eggplant, Pine Nuts, and Golden Raisins
Eggplant is an underappreciated vegetable, and I'm on a mission to change that – one recipe at a time. This easy Caponata is so good, it could change the mind of any eggplant hater! If you like sweet and tangy foods with plenty of roasted, caramelized notes, this one's for you. And it's so versatile, you'll find yourself eating it with just about everything.
If you're not familiar, caponata is a ratatouille-like recipe that hails from Sicily, the famous island off of Italy's southern coast. Traditionally, the eggplant in caponata is fried – but roasting it is easier and gives the eggplant the perfect deep golden-brown color, silky texture, and meaty flavor.
Tomatoes, olives, and sweet raisins also play their crucial part in this fascinating vegetarian favorite. 
What Does Caponata Taste Like?
In a word? Agrodolce. That's Italian for sour and sweet, which are two of the big, bold flavors in caponata. It's also salty, thanks to the olives, and has a lot of meaty, umami goodness with the roasted eggplant and caramelized veggies. Once you taste it, you're gonna be hooked!
The Ingredients You'll Need
The ingredients for this recipe read like a Who's Who of flavor – we're talking olives, red wine vinegar, fresh herbs, pine nuts… it's all so savory and special. Everyone will adore the complex, complimentary taste of this bold recipe.
Eggplant: You can use globe eggplant, which are typically sold in most grocery stores, or you could use smaller Japanese or Italian eggplants. Cut the eggplant into ½ inch cubes.
Salt 
Olive Oil: Extra-virgin olive oil has the boldest taste.
Tomato Juice: Canned, bottled, or boxed is fine.
Red Wine Vinegar: If you don't have this, you could substitute white wine vinegar or apple cider vinegar.
Parsley: I prefer chopped, fresh parsley, but dried would also work.
Sugar: If you like, substitute your favorite honey here.
Fresh Tomato: Core the tomato, remove the seeds, and chop the flesh.
Raisins: Golden raisins are my go-to, but red raisins would also be good.
Black Olives: You want minced olives for this recipe.
Onion: A small yellow onion, finely chopped.
Bell Pepper: Finely chop the bell pepper, too. 
Pine Nuts: These are optional, but they add a fantastic flavor and texture!
Ciabatta: Sliced ciabatta bread is perfect for serving your homemade caponata.
How to Make It
This recipe is loaded with fresh, flavorful ingredients, but it's actually really easy to pull together. Even if you're new to cooking, or you've never made caponata before, don't stress – it's going to be amazing!
Roast the Eggplant. First, set your oven to preheat to 400˚F. While it's preheating, go ahead and sprinkle the eggplant cubes with salt, and set them aside for a few minutes. This will help pull some of the liquid and any bitterness from the eggplant. Pat them dry, and then place them on a sheet pan. Drizzle with olive oil, toss to coat, and roast in the preheated oven for 20 minutes, or until they're browned and tender.
Make the Caponata Base. While the eggplant roasts, get out a big mixing bowl and whisk the tomato juice with your vinegar, parsley, sugar, chopped tomato, raisins, and olives. Make sure the sugar dissolves in there, and set this mixture aside.
Saute the Remaining Ingredients. Heat up some olive oil in a skillet over medium-high heat. Add the bell pepper and the onion, and let those cook for about 7 minutes to soften and caramelize a little bit. You'll want to stir them occasionally.
Finish the Dish. Finally, stir the cooked eggplant and tomato juice mixture into the skillet, and let everything simmer together for five minutes or so, until the sauce has thickened. Take the caponata off the heat. While you can serve it right away, it's best to let it sit for an hour at room temperature before you serve it, so that the flavors can develop. Even better, refrigerate it overnight.
Enjoy! Whichever route you go, sprinkle it with pine nuts and serve it with the ciabatta when it's time to eat.
Easy Tips and Variations
Before you start chopping, roasting, and mixing, be sure to check out these helpful tips for fabulous caponata. It's a rewarding dish to get right, and each handy hint will help make sure that happens.
Make It in Advance: As you can imagine, Caponata tastes even better once it's had a chance to sit for a day or so in the fridge. The flavors blend and develop even more. So you can definitely make this a day or two in advance, and take advantage of the convenience and the taste. Win-win!
Roast Well: Caponata should have a soft, well-cooked texture similar to a good relish, chutney, or even jam – so don't be afraid to cook the vegetables until they're very tender.
Use Seasonal Produce: Although eggplant is really crucial to caponata, the other ingredients are a bit more flexible. Feel free to throw in some yellow crookneck squash or zucchini, some sauteed leeks, celery, additional bell peppers… use what's in season around you, and enjoy!
Raisin Substitutes: If you don't really want to use raisins, you can leave those out – or use another sweet, dried fruit like chopped pitted dates, prunes, or even figs. Some of these are sweeter than others, of course, so keep that in mind.
Serving Suggestions
While Caponata is traditionally more of a relish or antipasto than a side dish or main course, it honestly works beautifully in all kinds of settings! Here are just a few:
How to Store Leftover Caponata
Leftover caponata can be stored in an airtight container or jar in the refrigerator for about a week. Bring it back to room temperature before serving.
Can I Freeze This?
Caponata is freezer-friendly, but keep in mind that the texture and even the flavors of the veggies won't be quite the same after freezing and thawing. (If your vegetables are large or just lightly cooked, the thawed caponata may be watery or even mushy.)
To freeze, place cooled caponata in freezer bags or containers, leaving as little air in the bag/container as possible. Freeze for up to three months.
Thaw in the fridge before using.
ENJOY!
Preheat the oven to 400˚F.

Season the eggplant cubes with salt and set aside while the oven preheats.

Pat dry the eggplant with paper towels and transfer them to a sheet pan.

Drizzle with olive oil and toss to coat.

Roast for 20 to 25 minutes, or until browned and tender.

In the meantime, in a mixing bowl whisk together the tomato juice, vinegar, parsley, and sugar.

To the tomato mixture, stir in the chopped tomato, raisins, and olives.

Heat extra virgin olive oil in a 12-inch skillet set over medium-high heat.

Add bell pepper and onion and cook, stirring occasionally, for about 7 minutes, or until softened and a bit browned.

Reduce heat to medium-low.

Stir in the cooked eggplant and tomato juice mixture; bring to a simmer and cook for about 5 to 8 minutes, or until sauce is thickened. You can cook for longer, or to desired consistency.

Remove from heat.

For best flavor, let the caponata sit at room temperature for 1 hour before serving.

Taste and adjust; more salt, more vinegar, etc…

Top with pine nuts and serve with ciabatta.
Caponata can be refrigerated for up to a week; bring to room temperature before serving.
Calories: 60 kcal | Carbohydrates: 6 g | Protein: 1 g | Fat: 4 g | Saturated Fat: 0.5 g | Polyunsaturated Fat: 1 g | Monounsaturated Fat: 2 g | Sodium: 89 mg | Potassium: 150 mg | Fiber: 1 g | Sugar: 4 g | Vitamin A: 403 IU | Vitamin C: 13 mg | Calcium: 9 mg | Iron: 0.4 mg | Net Carbs: 5 g
Nutritional info is an estimate and provided as courtesy. Values may vary according to the ingredients and tools used. Please use your preferred nutritional calculator for more detailed info.
More Healthy Eggplant Dishes