You're going to love making this Cheesy Baked Mostaccioli for family dinner! A comforting pasta recipe made with tender mostaccioli noodles tossed in a rich meat sauce, layered with three types of cheese and then baked to golden, bubbly perfection.
Looking for more cozy pasta recipes? Try my crock pot mac & cheese recipe!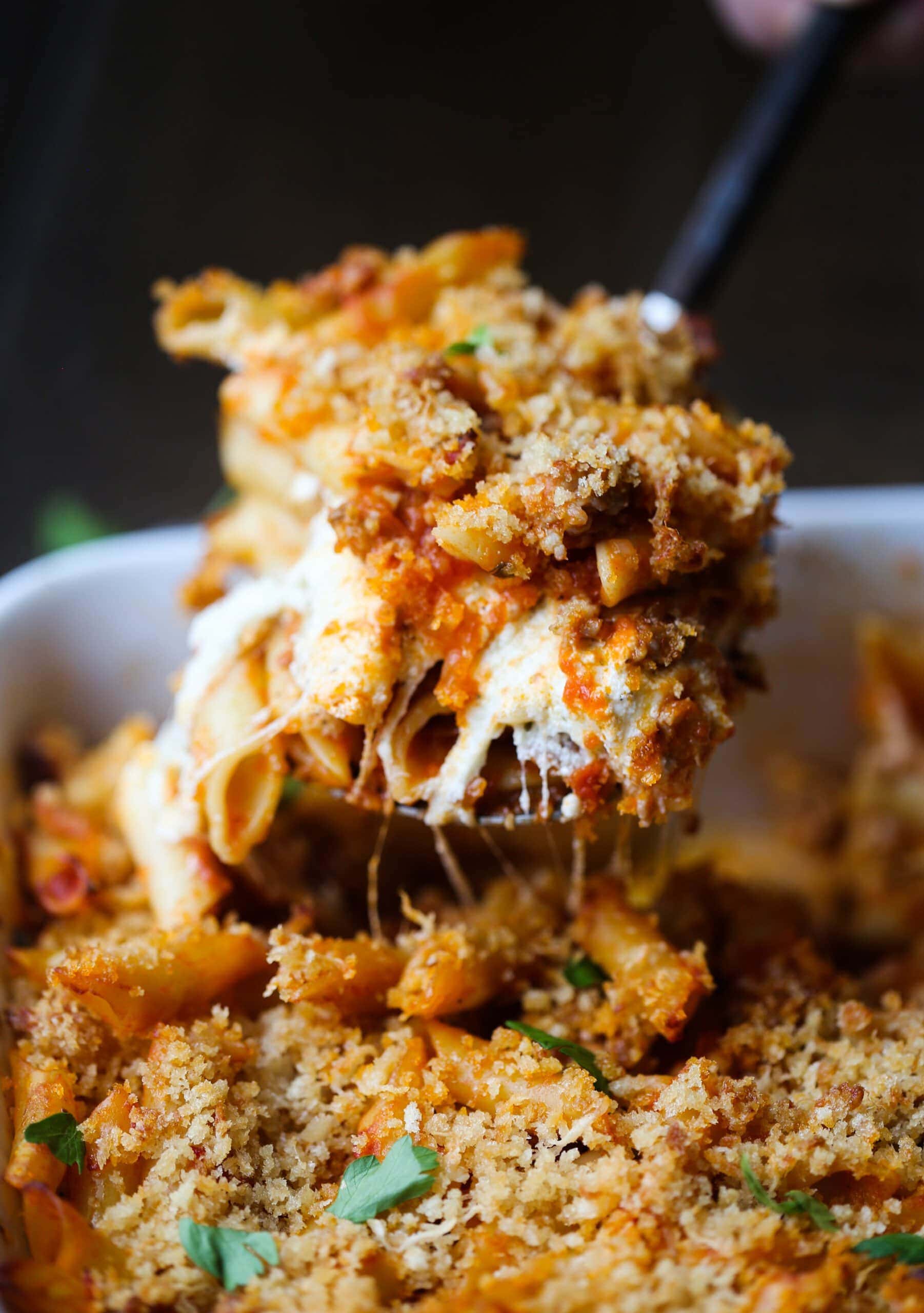 Easy & Cozy Mostaccioli Recipe
Pasta lovers, this one's for you! This casserole is the ultimate comfort food that the whole family will love. Baked mostaccioli is a hearty pasta dish made with melty cheese, meaty Italian sausage and sweet marinara sauce. Topped with a crisp layer of seasoned breadcrumbs and parmesan cheese, this recipe is full of delicious flavor and one of the best weeknight dinners!
Baked mostaccioli is perfect to prepare ahead for freezing and easy reheating, making it great for meal prep and potlucks, too!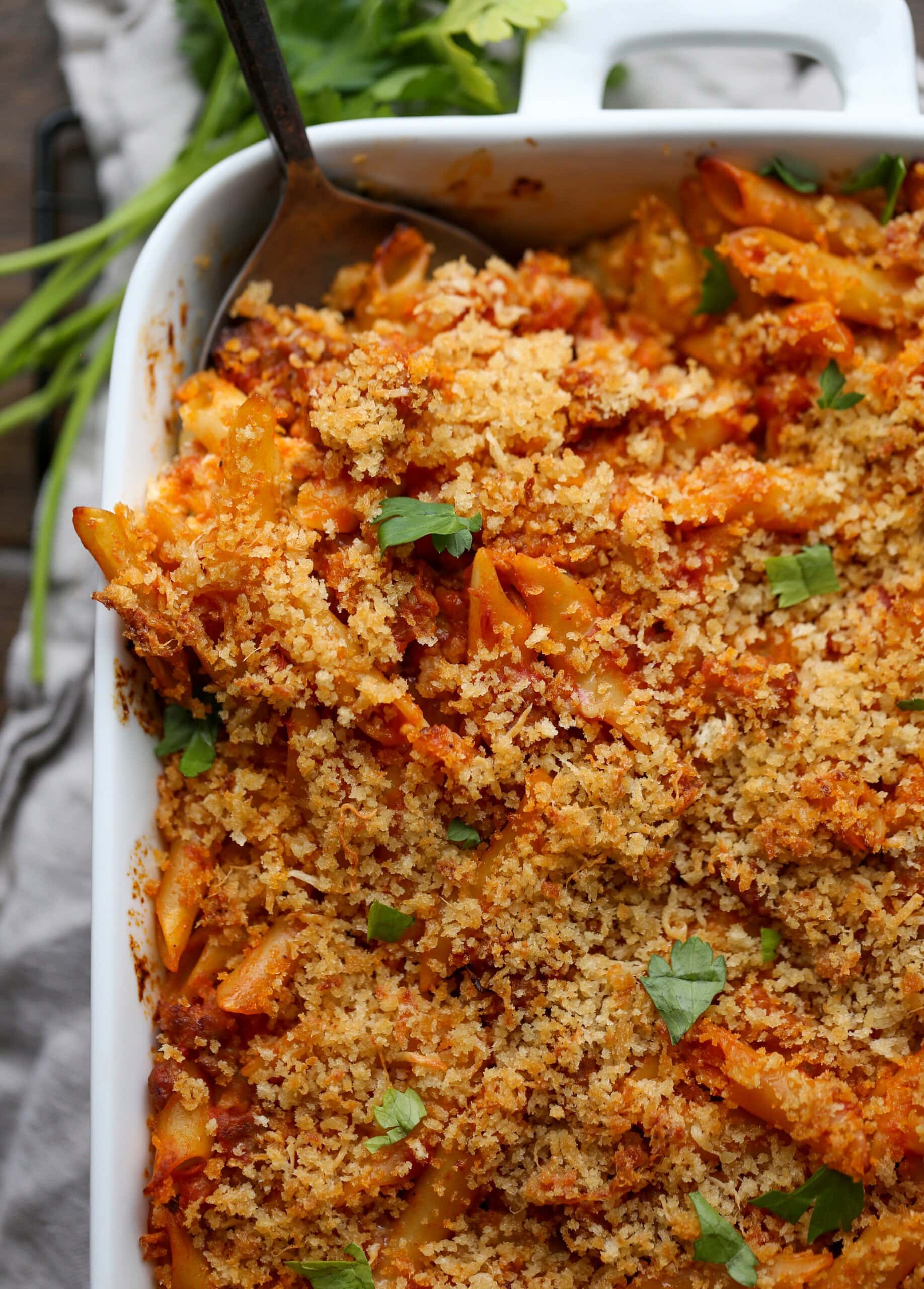 What is Mostaccioli?
Mostaccioli is a type of dry, tubular pasta that is a specialty in Southern Italy. Similar to penne, both have angled ends and are often interchangeable in recipes like this baked pasta casserole! The main difference is that mostaccioli pasta has a smooth exterior, while penne has ridges.
Baked mostaccioli, baked penne, and baked ziti are all more or less the same dish apart from the type of pasta used in the recipe. These casseroles all involve pasta tubes combined with red sauce and ground meat, layered with cheese and then baked.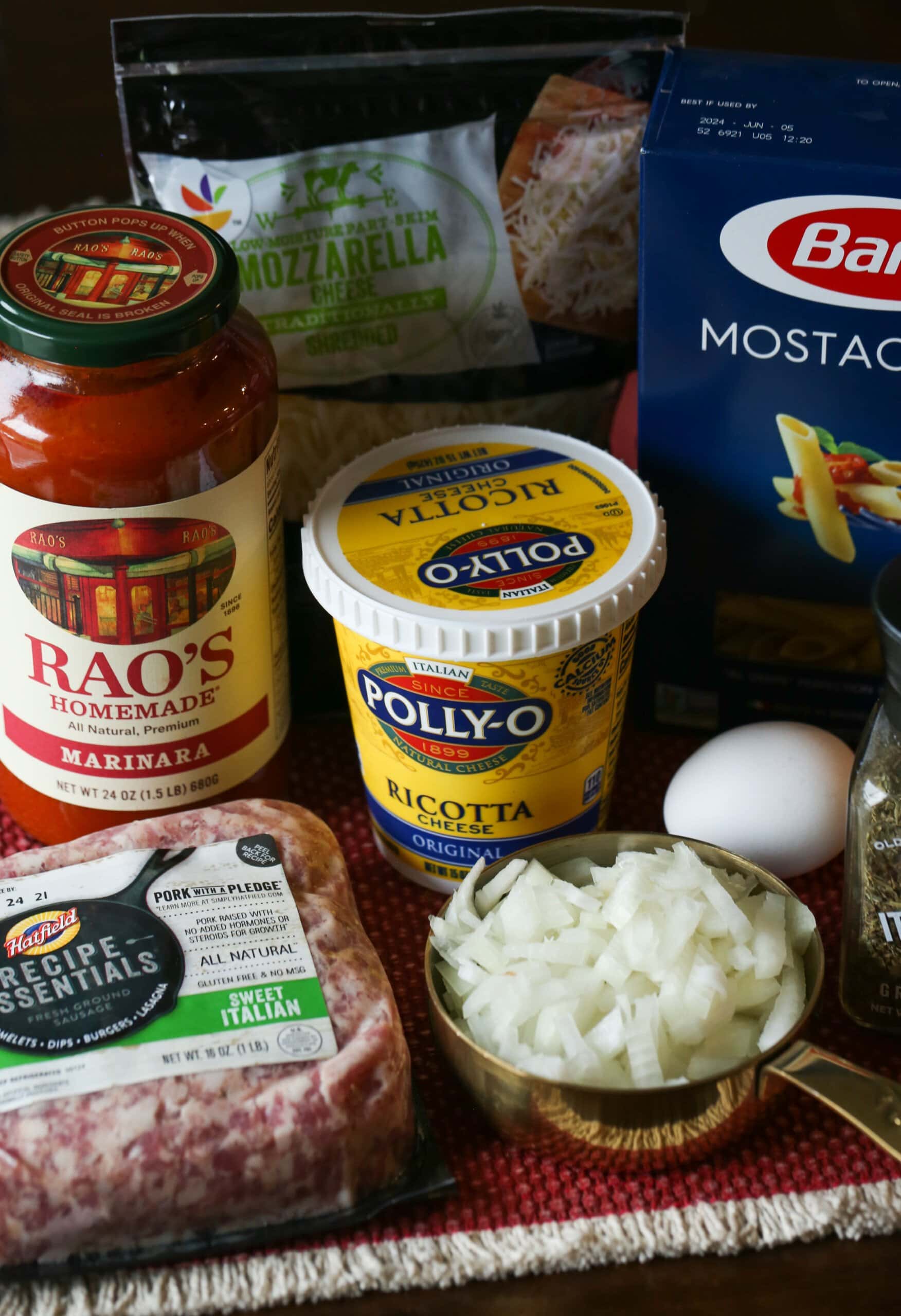 What You'll Need
This mostaccioli recipe is filled with Italian-inspired ingredients and authentic flavors. Here's what you'll need:
Pasta: This baked pasta recipe calls for mostaccioli pasta (however, you can also make this recipe as baked ziti or baked penne should you substitute these types of pasta noodles instead).
Italian Sausage: Good quality ground sausage meat, either mild or spicy depending on preference. 
Marinara Sauce: I use jarred marinara sauce for convenience. Feel free to use fresh or homemade marinara sauce if you have some handy!
Cheese: This pasta bake uses three kinds of cheeses. Ricotta cheese for its creamy texture, mozzarella cheese for the classic Italian flavor, and parmesan cheese (freshly grated is best!).
Garlic: Whole cloves, minced.
Onion: Diced.
Italian Seasoning: You can also use a combination of dried basil, oregano, and parsley.
Breadcrumbs: Panko or a similar brand. Note that unseasoned is best!
Garlic Powder
Olive Oil
Butter
Egg
Salt & Pepper
How to Make Mostaccioli
It all starts with a sweet meat sauce! Here's how to prepare this easy pasta dinner: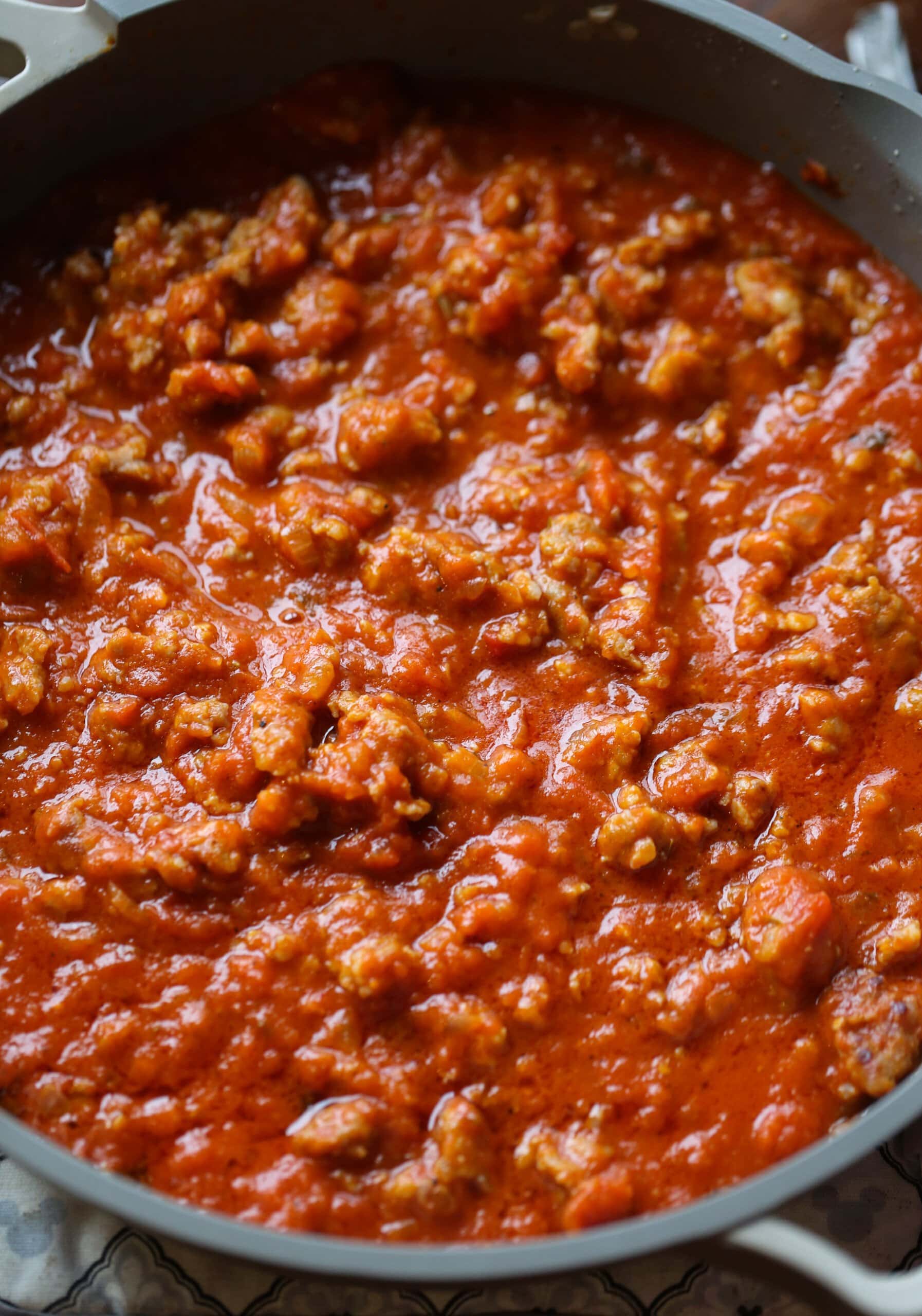 Make the Meat Sauce: Saute the onions, then add in the ground Italian sausage to cook until browned. Drain any grease and then pour in the jar of marinara. Leave the sauce to simmer on low.