This pesto pasta salad recipe is simple, delicious, and so easy to make. Make this cold pesto pasta dish as the perfect side dish for any meal, or as a light lunch.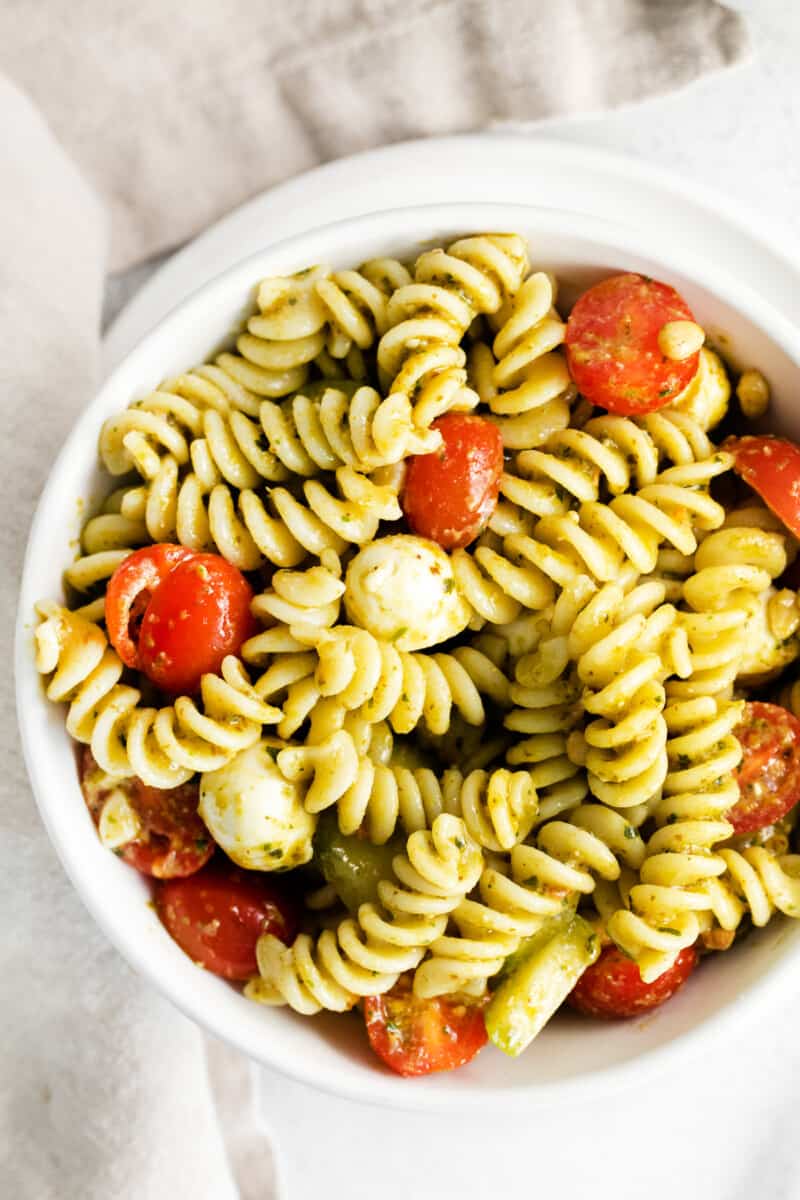 Easy Pesto Pasta Salad Recipe
Pasta salad is one of my favorite sides because it's so easy to put together. And since it's served cold, you can make it ahead of time! It's my go-to when someone asks me to bring a dish or when I have guests to feed.
This delicious pesto pasta salad is filled with mozzarella, tomatoes, cucumbers, and pine nuts. It's vegetarian-friendly and sure to please everyone's taste buds.
Why you'll love this Caprese Pesto Pasta Salad recipe:
EASY: This is so easy to throw together. Just cook the pasta and toss with the other ingredients.
DELICIOUS INGREDIENTS: Speaking of ingredients, they create the perfect flavor balance and make this one delicious dish.
MAKE AHEAD: You can easily make this pesto pasta salad ahead of time!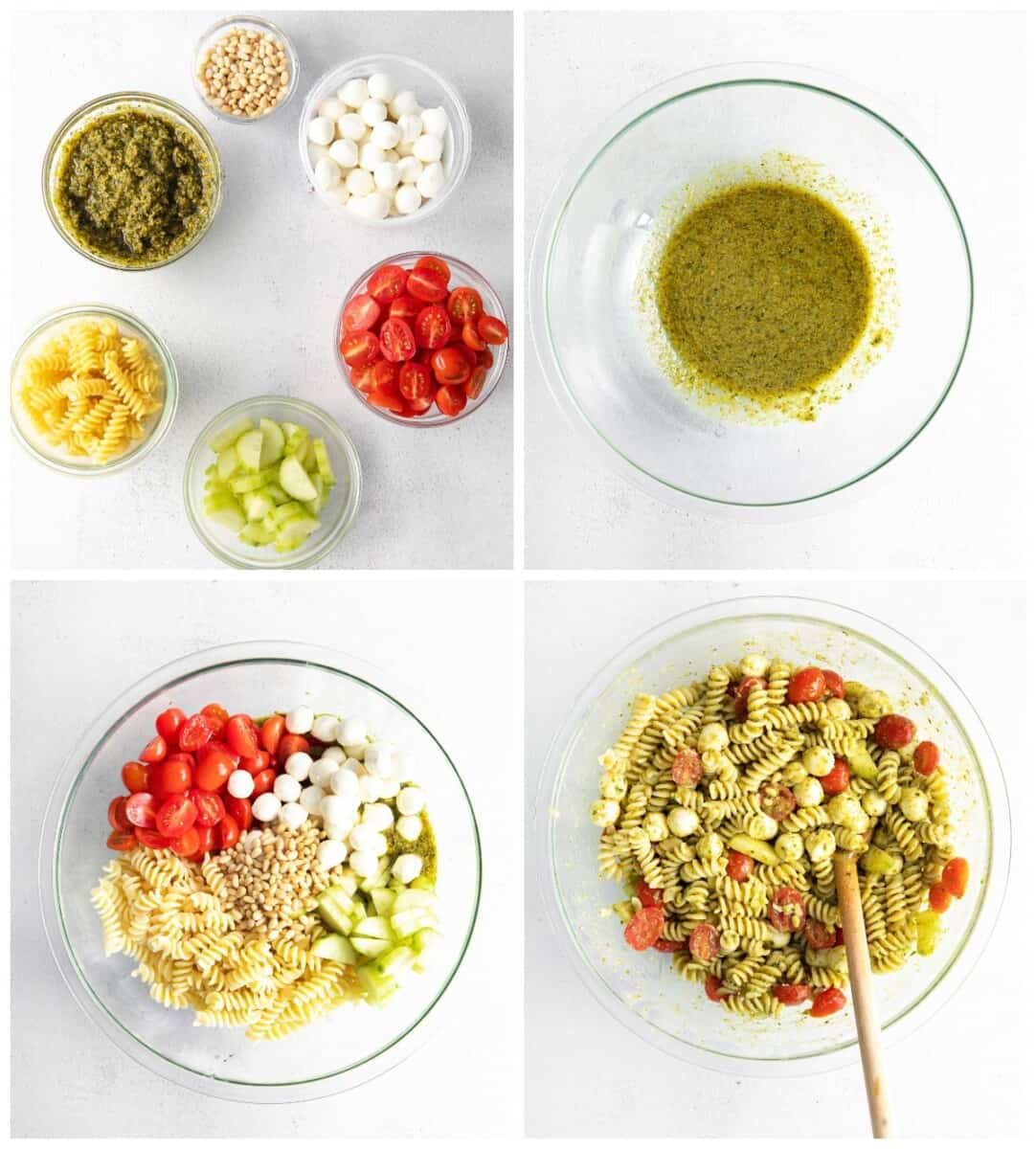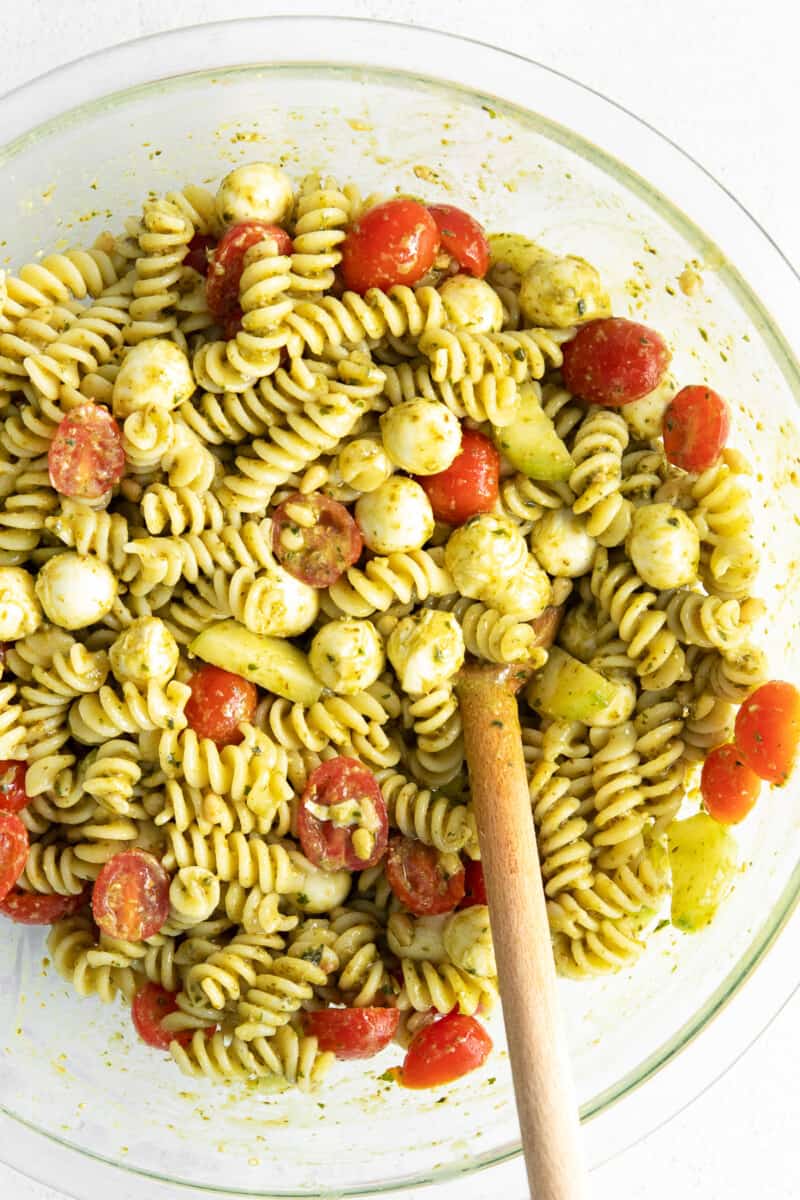 How to make Pesto Pasta Salad
Be sure to see the recipe card below for full ingredients & instructions!
Cook pasta according to package instructions.
Reserve about a cup of pasta water.
Drain pasta in a colander and run under cool water.
In a mixing bowl, whisk the pesto with the pasta water.
Add the pasta and other ingredients into the bowl and toss to combine.
Season to taste with salt and pepper.
Serve at room temperature or chill in the fridge for a cold pasta salad.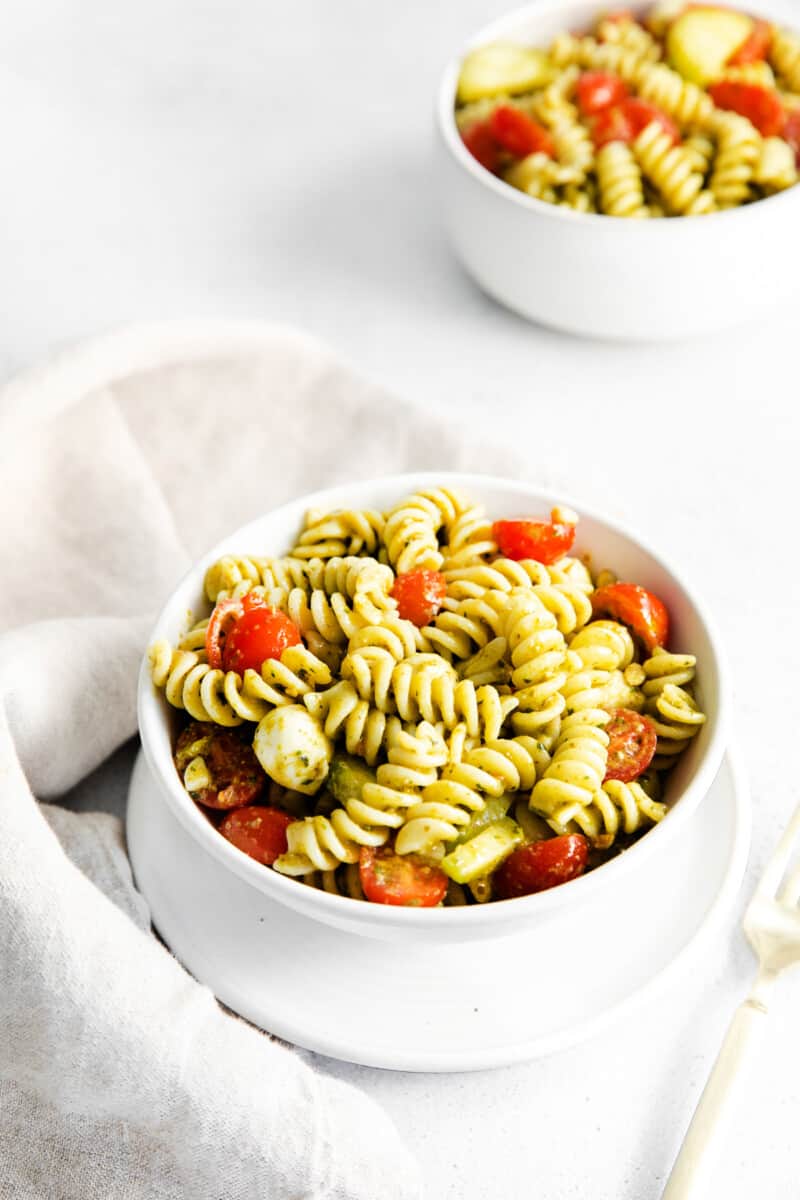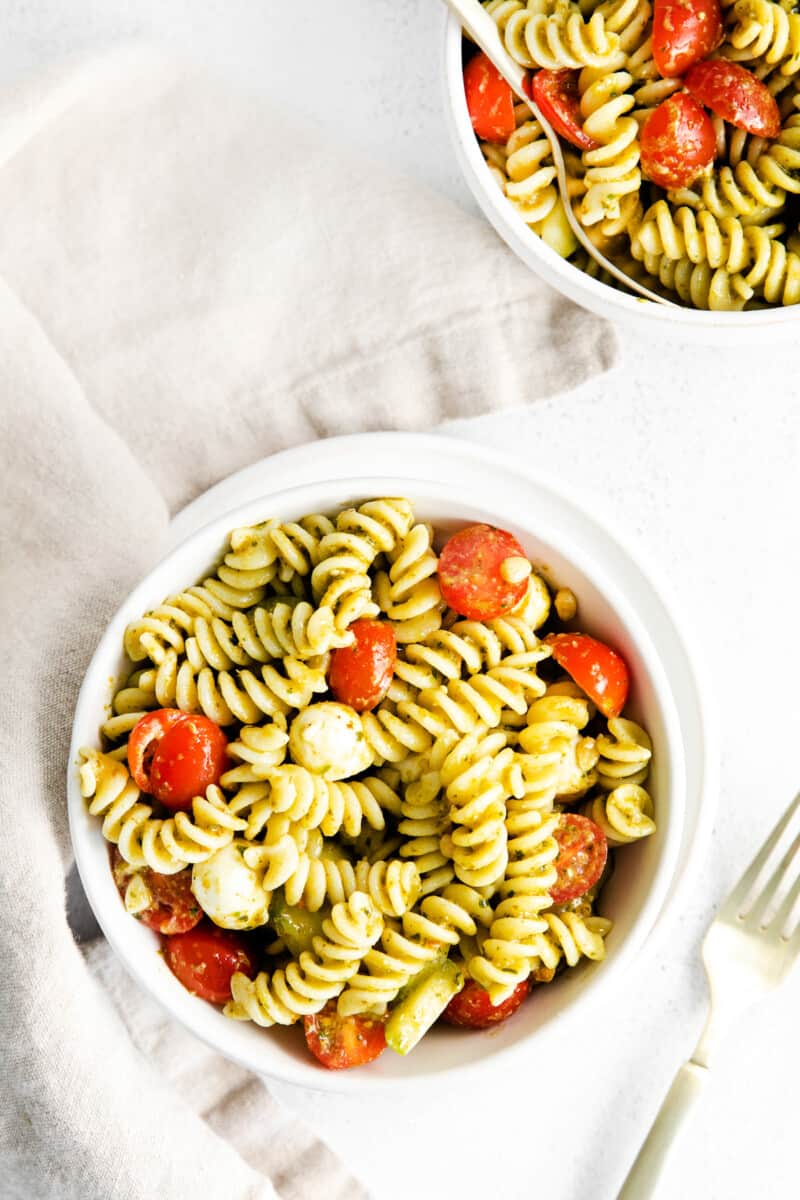 What kind of pasta should I use?
I used rotini for this dish and I think it suits the recipe. However, you can use any type of pasta you like and it will still taste delicious. Penne and farfalle (bowtie) are my other favorites for pasta salad.
What can I add to pesto pasta?
I think the ingredients in this pesto pasta salad are the perfect balance (bright acidic tomatoes, cool refreshing cucumbers, rich mozzarella, toasted pine nuts). But this recipe is easy to change up!
Other ingredients you might want to include or substitute are sun-dried tomatoes, basil or spinach, broccoli, or add chicken for a more robust dish.
Can I make pesto pasta salad ahead of time?
Yes, cold pasta salad is the perfect make ahead dish! Since you'll want to give it some time to chill in the fridge before serving, making it ahead of time works best.
Make it anywhere from a couple of hours to a couple of days before, although I think it's at its best when served within 2-8 hours.
Can I serve this warm?
If you don't want a cold pesto pasta salad, you can serve this soon after making it, closer to room temperature. Warmed up leftovers are a great option too.
While you could turn this into a tasty hot pasta dish with some adjustments, I recommend trying this Baked Pesto Rigatoni if that's what you're looking for.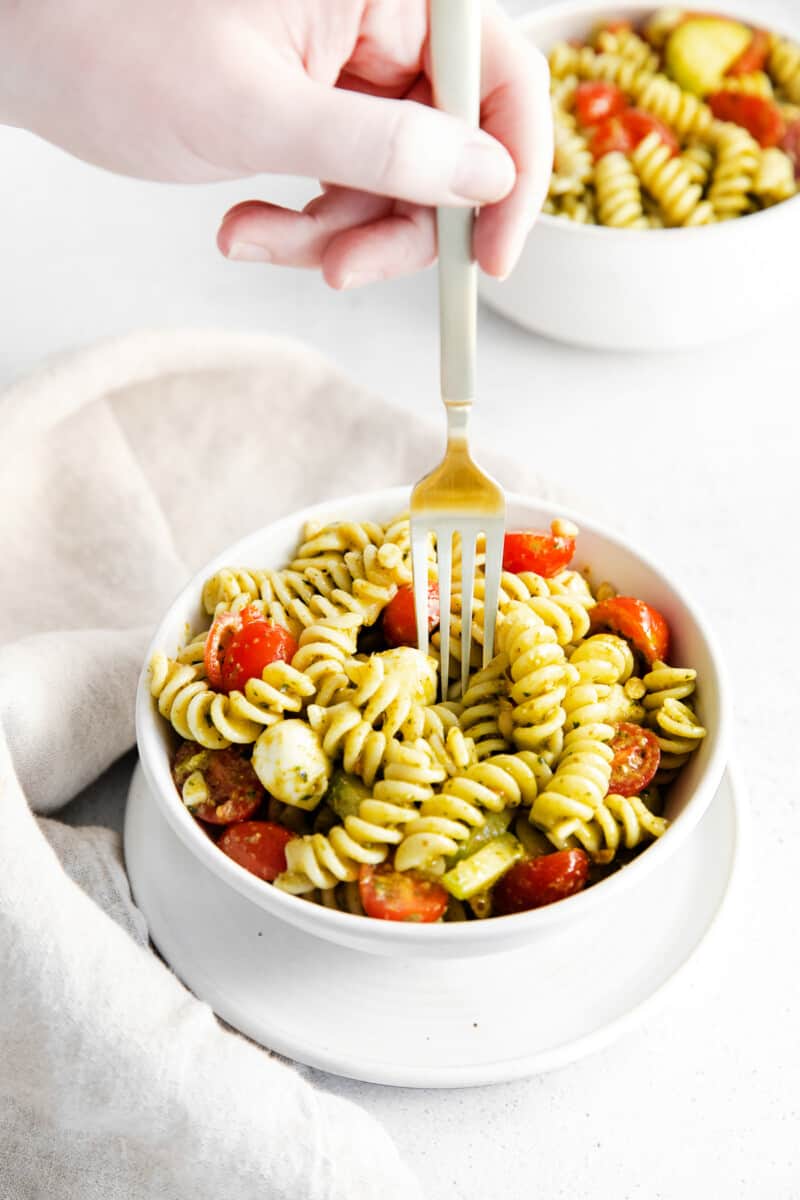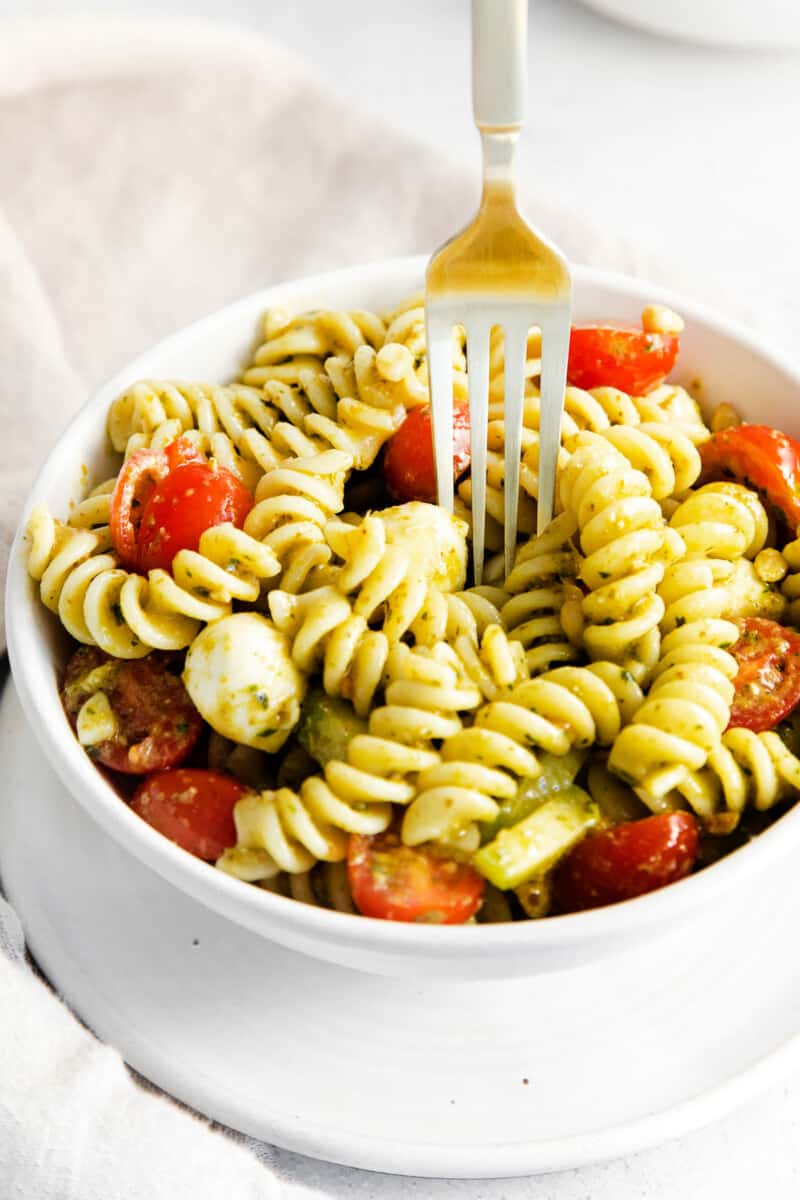 Tips!
Store-bought pesto sauce is a quick option. Or you could try making this homemade basil walnut pesto if you like!
I recommend peeling the cucumber, unless you're using an English cucumber (then there's no need).
Run cooked pasta under cold water to help cool it before combining ingredients.
Refrigerate it for a couple of hours if you'd like to serve it chilled.
Store leftovers in an airtight container in the fridge up to 3 days.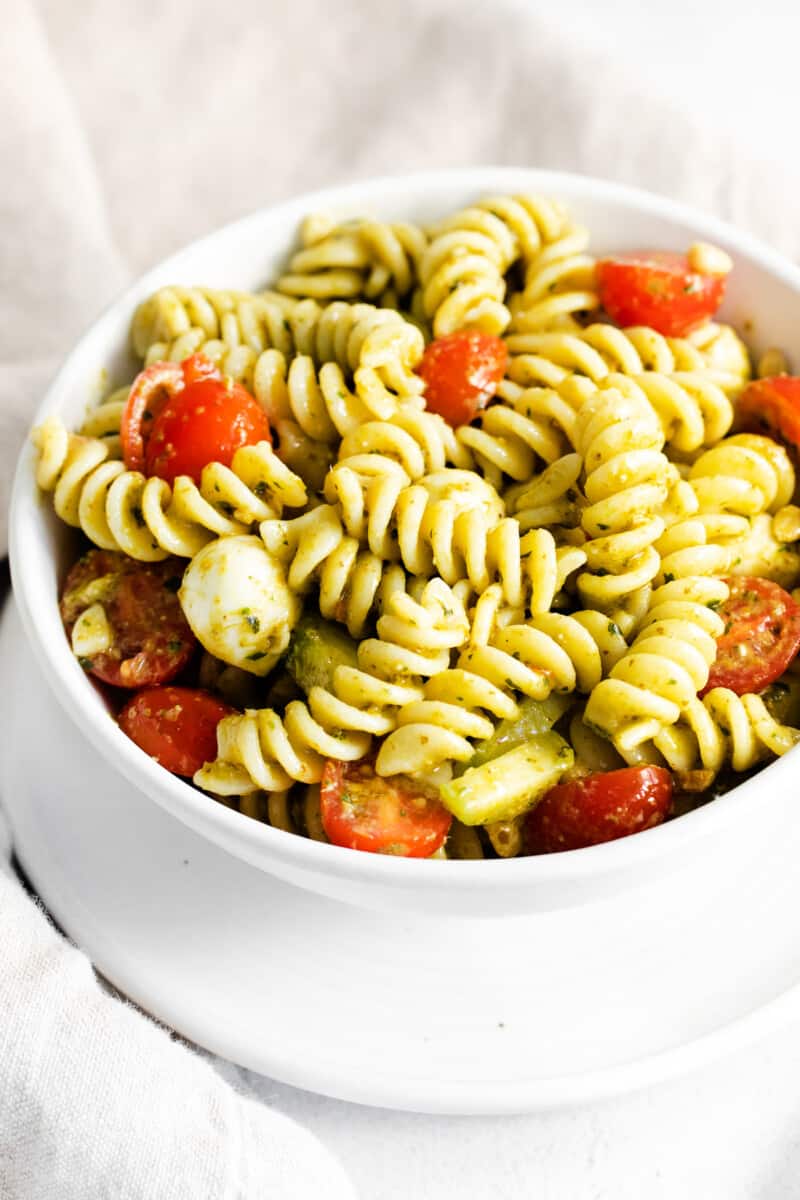 This pesto pasta salad with mozzarella and tomatoes is so tasty and so easy to make. Serve it any time, as a side dish or even as the main dish.
More Easy Pasta Salad Recipes we Love
If you make this recipe be sure to upload a photo in the comment section below or leave a rating. Enjoy!