The BEST Chicken and Mushroom Pie, similar to pot pie but chock-full of buttery mushrooms, chicken, bacon, and cheese, all stuffed in pre-made puff pastry dough for an easy, filling, comforting dish all done in under 1 hour!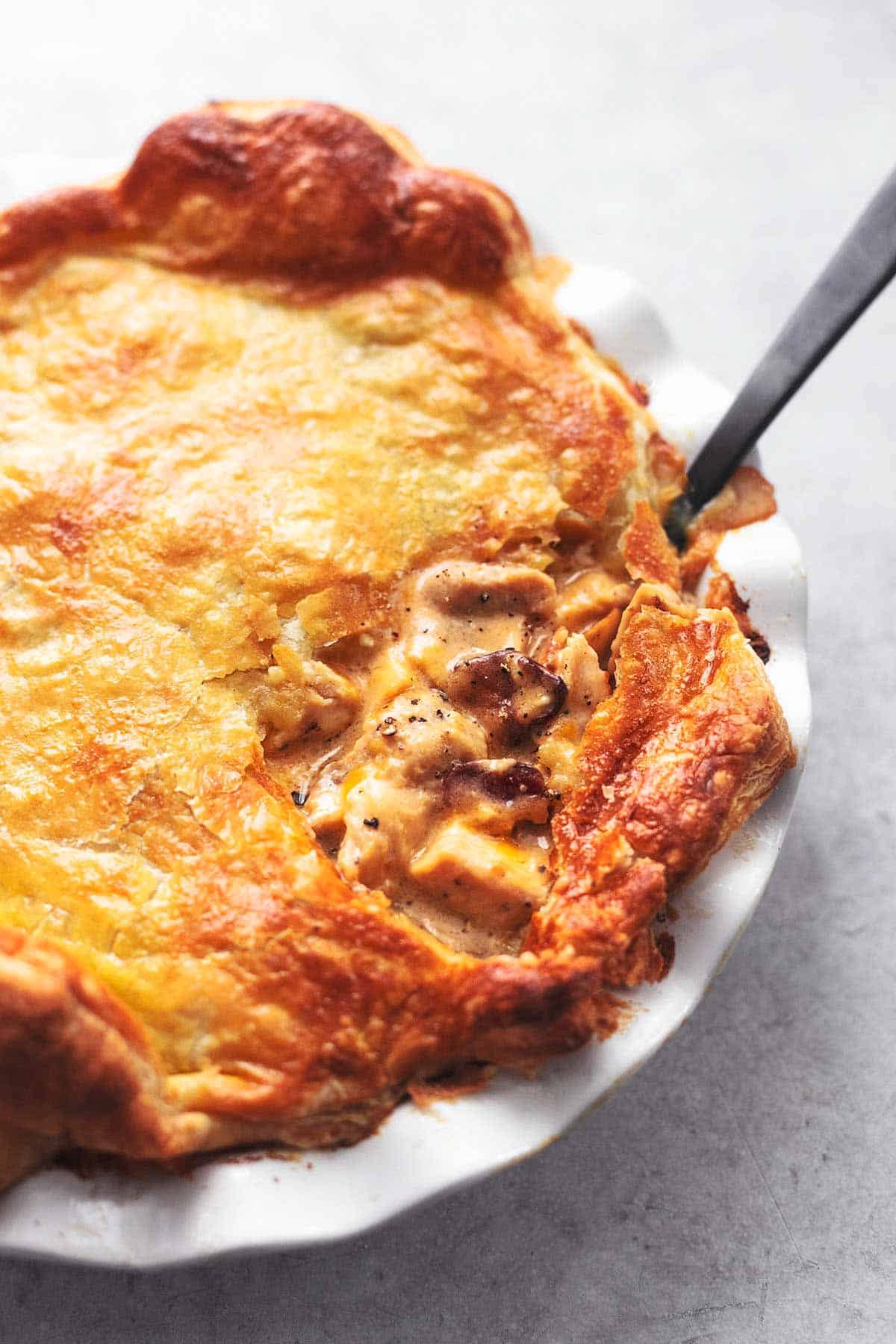 In the mood for more savory meals like this one? I've got you covered with my recipes for Skillet Chicken Pot Pie, Pizza Pot Pies, and Skillet Chicken and Stuffing.   
While I'm a big fan of chicken pot pies, sometimes I just want to mix up the ingredients in those, you know? So, out with the peas and in with the mushrooms…and honestly? I love it so much more. It has all the savoriness of mushroom soup with the chewiness of crust (but not just any old pie crust, puffy pastry crust this time!) plus tender pieces of chicken, salty bacon, and of course garlic and cheddar. 
Have I sold you on the idea yet? I hope so! This will feed a crowd or is great for singles who like to meal prep on Sundays for the week too! 
Why this Recipe Works
Mushrooms — Whether you are team mushroom or not, I think we can all agree that they add a great flavor. So don't write this dish off completely. You can always pick the mushrooms out and give them to the mushroom lover in your life. Honestly though my husband claims to be anti-mushroom and he loves this dish, so give it a real chance! 
Bacon — I've said it before and I'll say it again, bacon needs no reason to be added. It's delicious and it works in just about every recipe. Add it whenever you can, as much as you can. It makes everything so much better! 
Puff pastry — Make this easy dish even easier by using frozen puff pastry. Just thaw it out a few minutes before you're ready to make this dish for an amazing pie crust! 
Homemade cream of chicken soup — It's really, really easy to make cream of chicken soup at home. Throw out the canned stuff, make this once and you'll wonder why you haven't been making it for every dish that called for canned this whole time.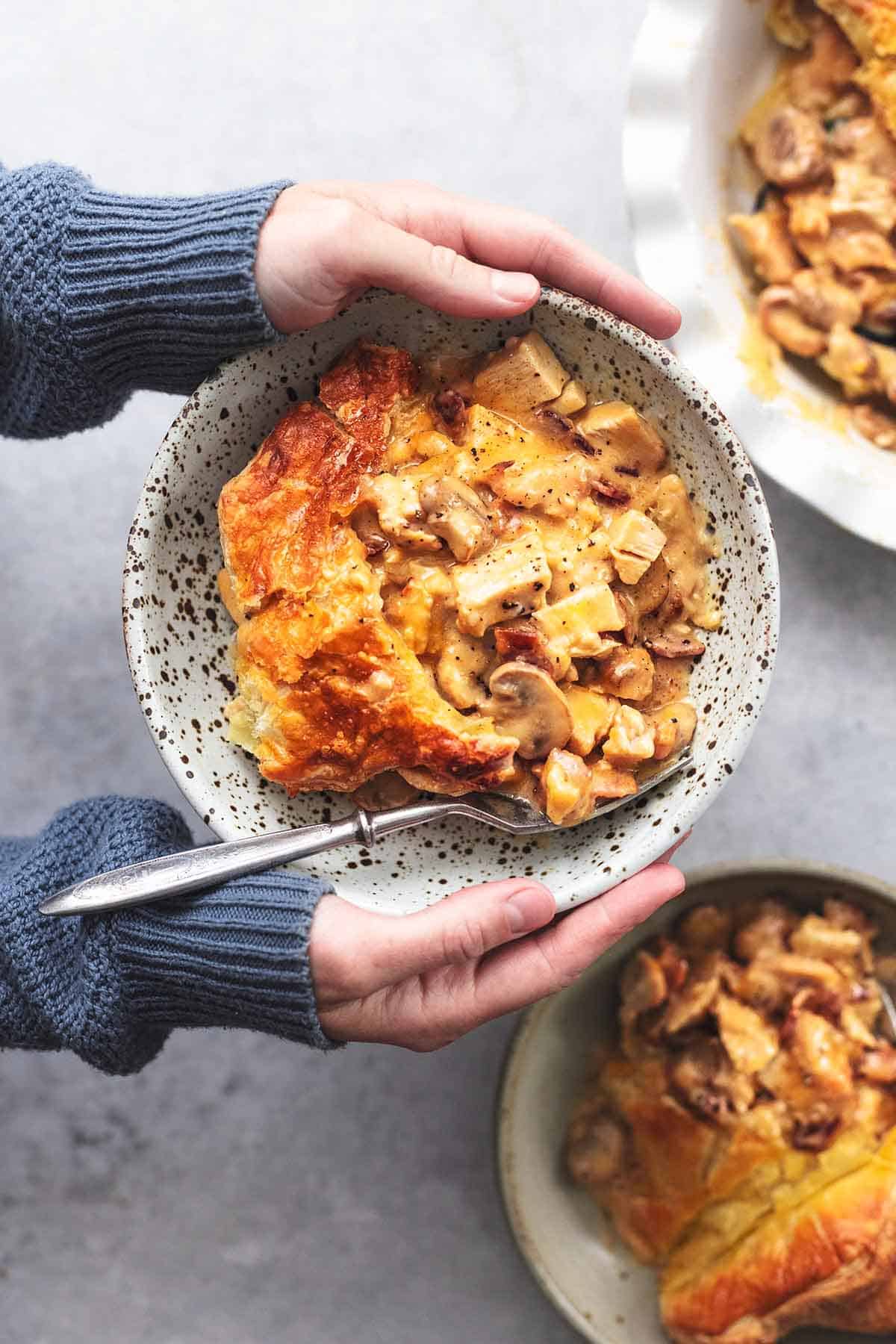 Here's How you Make it
Preheat the oven to 400 degrees, then grease a round pie dish and pat one piece of puff pastry into the greased pie dish and set aside as you make the rest. 
Prepare the soup
First, you'll melt the butter in a medium saucepan, then stir in the flour to make a roux, whisking in the chicken broth and milk till the roux starts to thicken. 
Then, stir in the salt, garlic powder, and pepper. Take it off the heat and set it aside. 
Making the chicken and mushroom pie
In a large skillet, melt the 2 tablespoons of butter, then stir in the mushrooms and minced garlic and let them cook down for about 2-3 minutes, or until garlic is fragrant and the mushrooms begin to brown.
Now add the chicken and bacon and stir for 1 minute, then add the cream of chicken soup you made plus the cheddar cheese.
Transfer all of this into the puff pastry crust in the pie pan. Cover with the other piece of puff pastry (if it doesn't cover all the way, that's okay, just line up the corners of the bottom the best you can).
Put in the oven to bake on the bottom rack for 25 minutes or until the crust is puffed and golden brown. Allow to cool slightly before serving.
Is a Mushroom a Protein or a Carb?
Mushrooms are low-carb and have almost zero fat. They have a tiny bit of protein. The type of carb a mushroom has varies depending on the type of mushroom. 
If you're wondering if mushrooms are okay on low-carb diets, the answer is "yes!"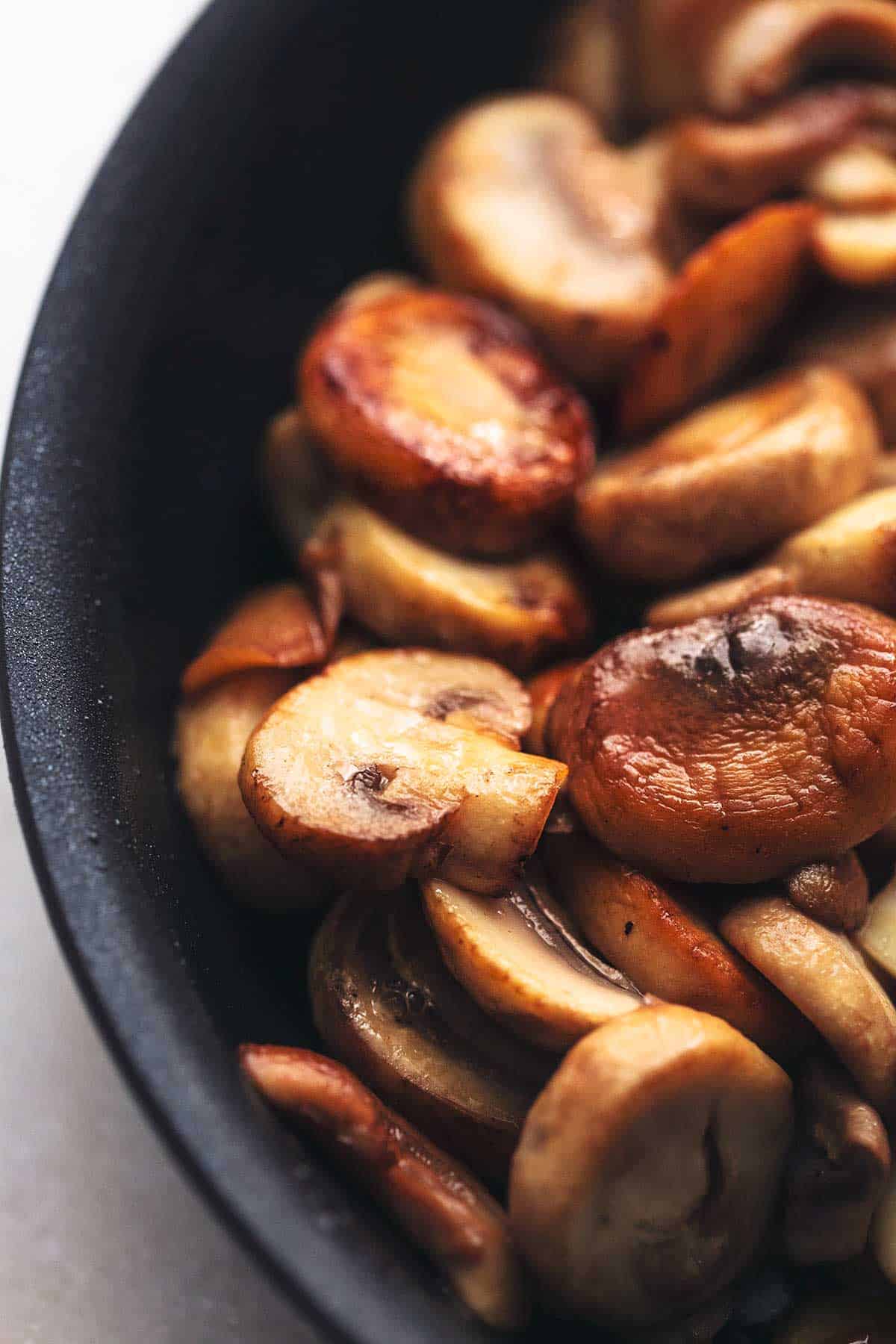 Ideas for Customizing this Recipe
Swap cheddar cheese for gruyere, swiss, or another hard, smoky cheese option. 
Miss those peas and carrots? Add them in when you cook the mushrooms and garlic. 
In a hurry? Go ahead and use that canned cream of chicken soup. I won't tell! 
Or, double up on the mushroom flavor with cream of mushroom soup instead. 
Add in some rosemary, thyme, or basil or an Italian spice blend to amp up the flavor of this chicken mushroom pie.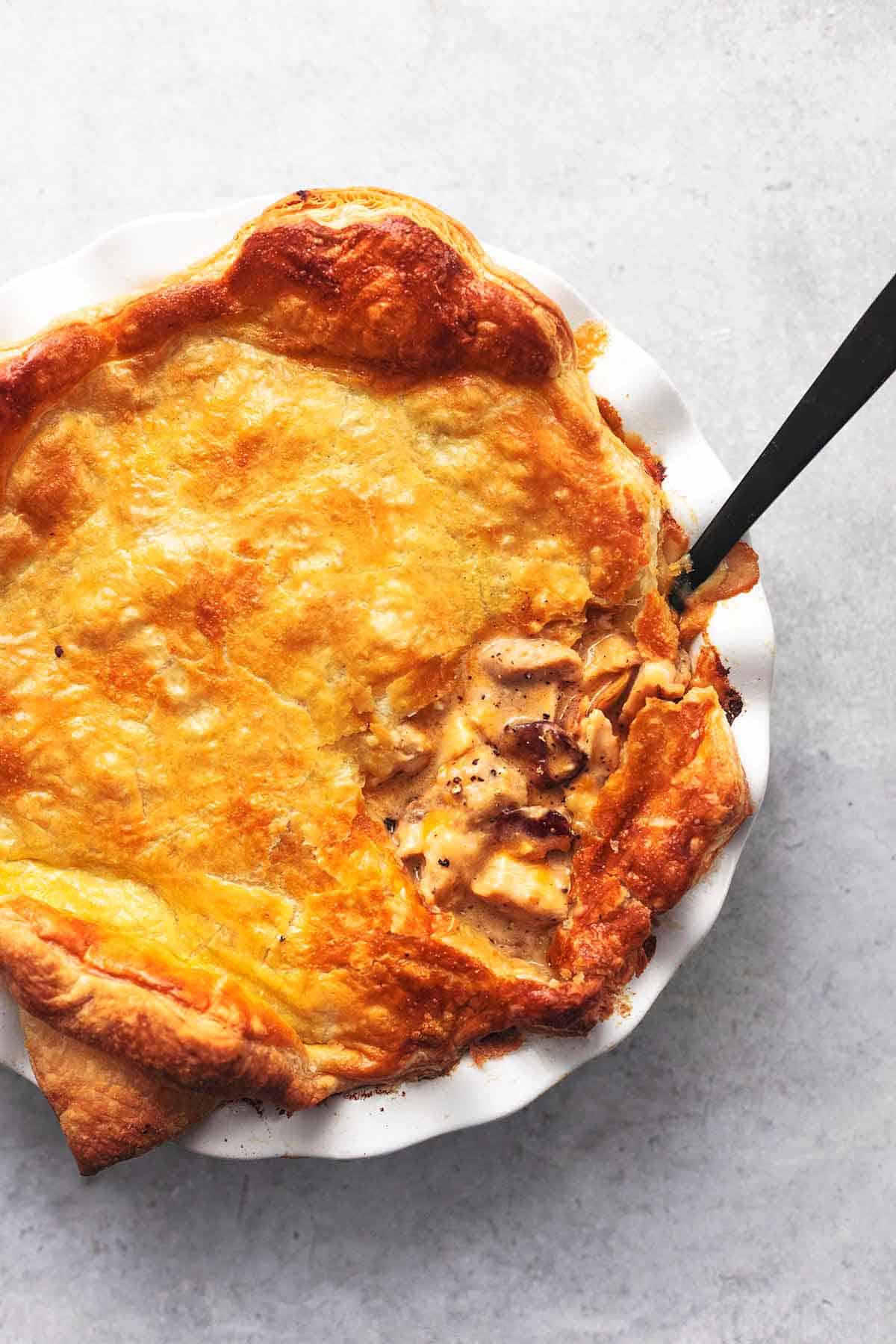 Expert Tips
Swap your bacon

for turkey bacon if you want, rather than pork bacon. If you want neither, that's okay too. You can also use bacon drippings to saute the mushrooms and garlic in instead of butter. 
Use any cheese

you like. I prefer a medium or sharp cheddar, but you can really use any kind.  

Don't skip greasing

the pie pan before putting in the first puff pastry crust, otherwise it'll stick to the bottom and be hard to scoop and even harder to clean. 

You can keep this chicken and mushroom pie in the fridge for up to 4 days so long as you keep it covered or in an airtight container. Heat it up, once slice at a time, in the microwave or stove, until just heated through.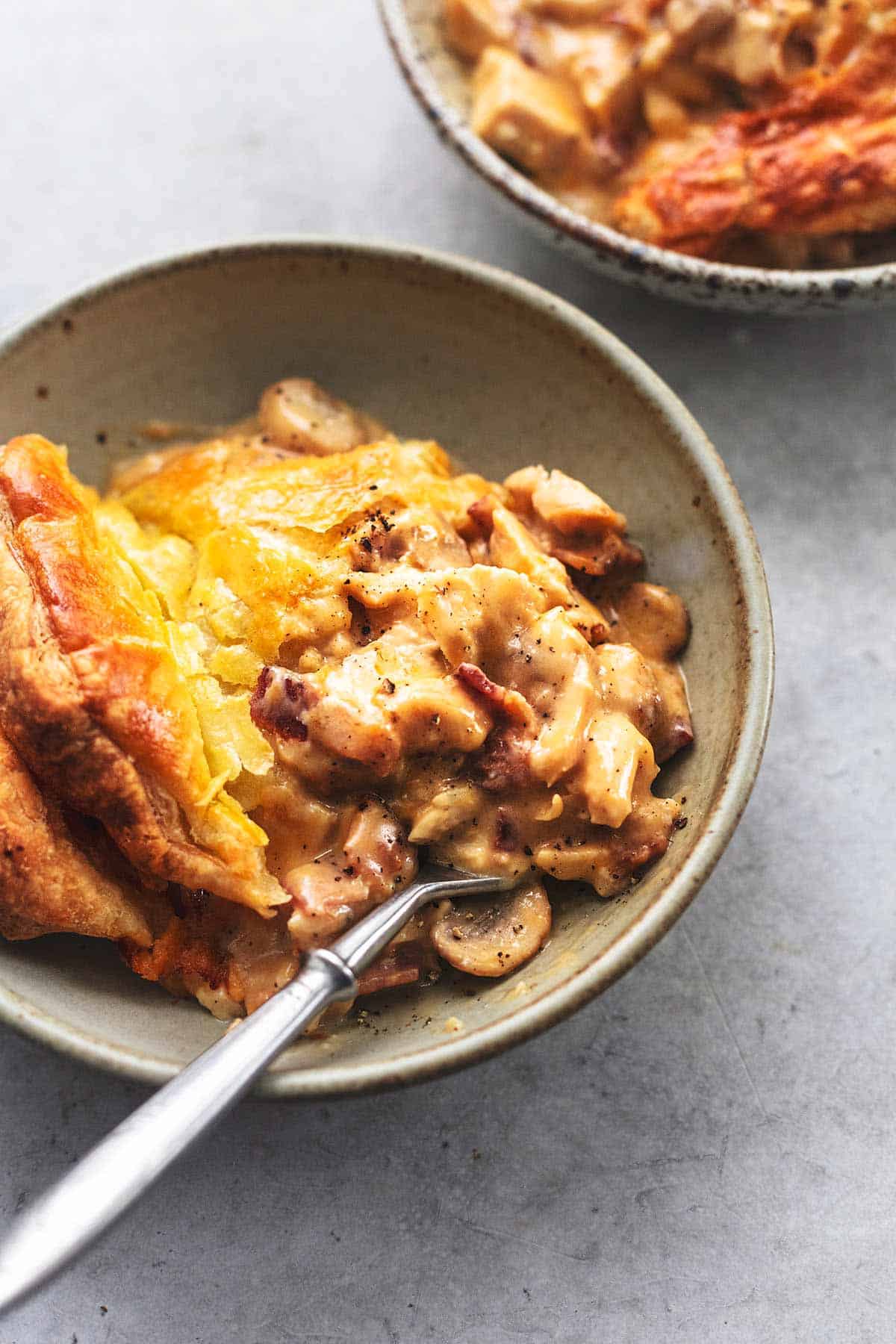 More Mushroom Recipes
Did you try this Chicken and Mushroom Pie? WOOHOO! Please rate the recipe below! 
homemade cream of chicken
Preheat oven to 400 degrees. Grease a round pie dish. Gently pat one sheet of puff pastry into the greased pie dish. Set aside.

Prepare the homemade cream of chicken by melting 6 tablespoons butter in a medium sauce pan over medium-high heat. Stir in the flour for 1 minute. Gradually whisk in broth and milk. Stir in salt, pepper, and garlic powder. Once thickened and smooth, remove from heat.

In a large skillet melt the 2 tablespoons of butter. Stir in mushrooms and minced garlic for 2-3 minutes til garlic is fragrant and mushrooms begin to brown.

Stir in chicken and bacon for 1 minute, then stir in cream of chicken and cheddar cheese.

Transfer mushroom and chicken mixture to your pie dish. Cover with remaining sheet of puff pastry (it doesn't have to cover all the edge of the pie dish, just line up the corners with the corners of the bottom puff pastry sheet).

Bake on bottom rack for 25 minutes til crust is puffed and golden brown. Cool slightly before serving.
Bacon tip: feel free to use turkey bacon instead of traditional pork bacon. You can also use the bacon drippings in place of the butter for sauteeing the mushrooms and garlic!
Cheese: use any cheddar you like, I love the flavor of medium or sharp, but regular works just fine. 
Calories: 778kcal | Carbohydrates: 45g | Protein: 35g | Fat: 51g | Saturated Fat: 16g | Cholesterol: 116mg | Sodium: 858mg | Potassium: 500mg | Fiber: 2g | Sugar: 5g | Vitamin A: 348IU | Vitamin C: 4mg | Calcium: 230mg | Iron: 4mg