Chicken Satay Skewers with Spicy Peanut Sauce marries delicious, grilled chicken breasts marinated in coconut milk, curry, honey, and soy sauce with a finger-licking-good, slightly spicy peanut sauce for dipping.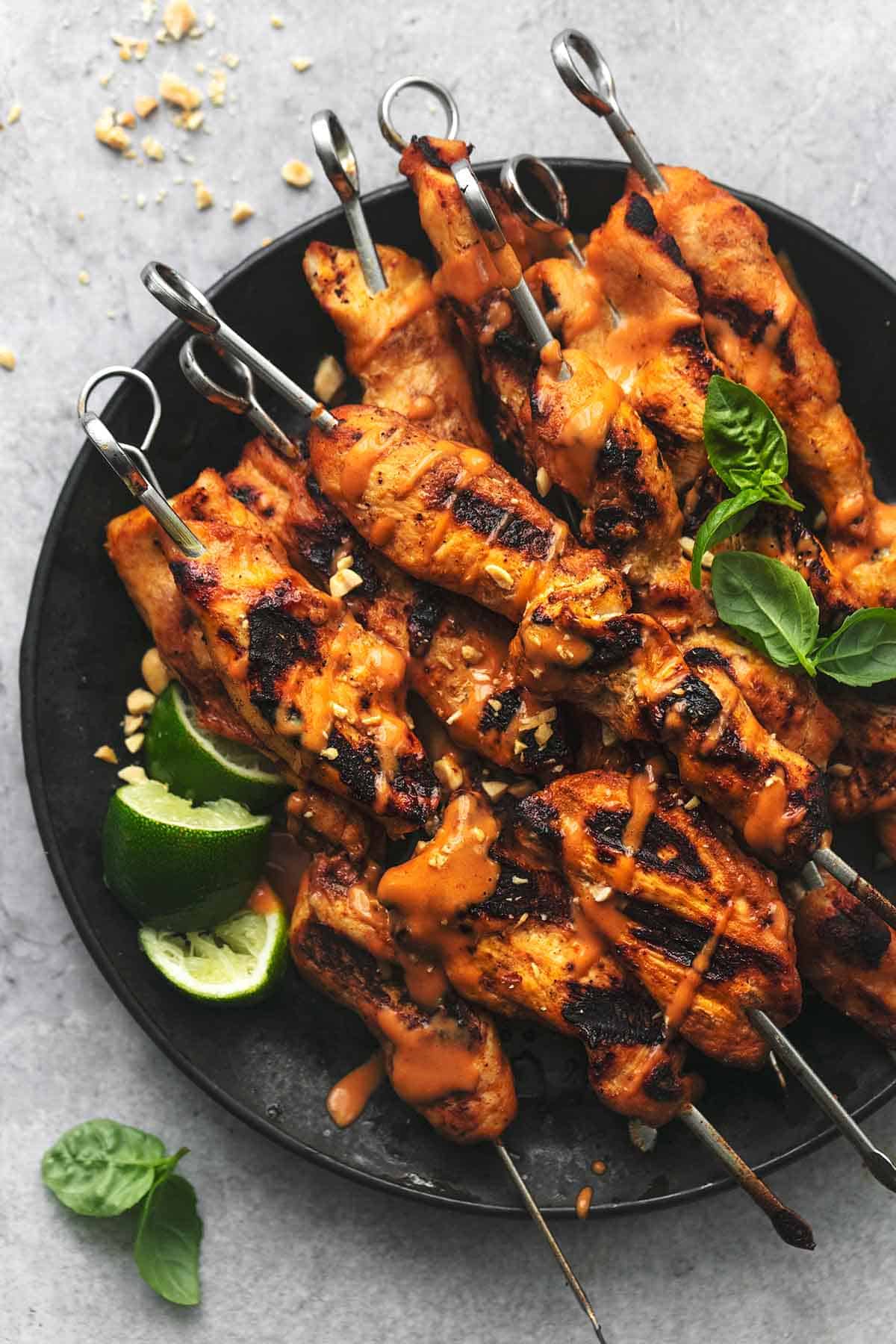 It's grilling season! I want to grill alllllll the things. I cannot find enough time to grill all the things though (sad), so for now, I'm going to have to do just one recipe at a time. First up? Chicken Satay! By now you know I have mad love for all foods Thai. But I've yet to make this easy Chicken Satay. Why? I can't say (tay)? Okay bad joke. It's late at night though, and I have a belly full of satay and Peanut Butter Chocolate Chunk Cookies so my brain is sooo happy yet a bit mushy. Worth every bite though! 
The thing that really caps off this Indonesian Chicken Satay recipe is the Spicy Thai Peanut Sauce. I just can't have one without the other! Whoever thought to dip chicken into peanut sauce was a real genius in my book! This recipe comes together quickly and is amazing for an appetizer or as a main dish — or both! 
Here's What You Need
Making Chicken Satay Skewers is easy! All you need is some chicken and a quick marinade made of easy-to-find-ingredients: 
Chicken breasts

Canned coconut milk

Soy sauce

Yellow curry powder

Red curry paste 

Honey
Yepppp that's about it! What did I tell you? Easy. 
WHAT'S IS THAI PEANUT SAUCE MADE OF? 
It is possible to eat Chicken Satay without peanut sauce, but I don't recommend it. (I realize some people are allergic, see info below on alternate dipping sauces that will work well too!)

Reserved coconut milk from the can you used for the chicken marinade

Creamy peanut butter

Soy sauce

Sriracha sauce or crushed red pepper flakes

2 tablespoons fish sauce or 1T extra soy sauce

juice of 1 lime

1 tablespoon honey
HOW DO YOU MAKE CHICKEN SATAY?
First, slice the chicken into 1-inch strips. Then, whisk together all the marinade ingredients (coconut milk, soy sauce, curry powder/paste, and honey) and add the chicken to it. Toss it together to coat, and then pop the chicken in the fridge for 1 hour to chill.
When you're ready to grill, skewer each chicken piece longways and grill over medium heat for 6-8 minutes, turning occasionally to ensure the chicken is cooked all the way around. 
If you don't want to grill, you can put the chicken skewers on a greased baking sheet in the oven set to 375 degrees for 15-18 minutes, or until cooked all the way through. 
Either way you cook — be careful when taking off the grill/out of the oven, the skewers (especially if you use metal ones) will be hot! 
HOW DO YOU MAKE PEANUT SAUCE FROM SCRATCH?
This sauce is so easy, you can whip it together while the chicken cooks. Simply mix together all the peanut sauce ingredients in a bowl, stirring thoroughly to combine. Set it aside until the chicken is done cooking, and then dip away! 
Alternately, you can make this peanut sauce with coconut milk up to two days in advance. It might thicken while in the fridge. If this is the case, then you can stir a tablespoon or two of water into the sauce thin it back out. 
Serve in a bowl with a spoon for easy sharing or serve in individual bowls for dipping. Or, crazy idea, just pour it all over the chicken. There really is no wrong answer here. 
OTHER DIPPING SAUCE FOR CHICKEN SKEWERS
If you are interested in other dipping sauces that would go well with this chicken satay, rather than going with the traditional Thai Peanut Sauce, here are some amazing alternatives: 
Tzatziki Sauce

is a great addition to just about any meat dish (and veggie for that matter) in my opinion! 

The cilantro and garlic in this

Argentinian Chimichurri Sauce

works wonderfully with the curry in the chicken marinade. 

Try

Cilantro Lime Avocado Sauce

when you're in the mood for a little bit of green and some heart-healthy fats in your dipping sauce. 

Honey Mustard

sauce adds a little bit of tang and sweet to the skewers. 

Use store-bought hoisin or even teriyaki sauce drizzled over the skewers for a sauce that's salty, tasty, and not too thick. 

You can also try a nut-free peanut butter alternative as a substitution (I have heard good things about Wowbutter) in the Spicy Thai Peanut Sauce instead of regular creamy peanut butter. 
Looking for more easy grilling chicken recipes? Read up on some of my favorite recipes and see if one of them doesn't hit the spot! Grilled Chicken Margherita, Grilled Chicken Souvlaki, and Grilled Sweet and Spicy Thai Kabobs.
Did you make this recipe? Leave a comment and give it a rating below!
1.5

pounds

chicken breasts, sliced into 1-inch thick strips
chicken marinade
1/2

cup

canned unsweetened coconut milk

reserve remaining coconut milk for peanut sauce

4

tablespoons

soy sauce

1

tablespoon

yellow curry powder

1

teaspoons

red curry paste

OR additional 1T yellow curry power

2

tablespoons

honey
peanut sauce
reserved coconut milk from the can

1/2

cup

creamy peanut butter

4

tablespoons

soy sauce

1-2

tablespoons

sriracha sauce

or 1-2 teaspoons crushed red pepper flakes

2

tablespoons

fish sauce

or 1T extra soy sauce

juice of 1 lime

1

tablespoon

honey
In a medium bowl whisk together all marinade ingredients.

Add chicken, toss to coat. Cover and chill for 1 hour.

While chicken is marinating, prepare the peanut sauce by combining all ingredients and stirring well. Set aside.

Skewer the chicken and grill over medium heat for 6-8 minutes, turning throughout to ensure even cooking OR bake on a sheet pan at 375 degrees for 15-18 minutes until cooked through.

Serve warm with peanut sauce for dipping. Enjoy!