These Honey Garlic Chicken Foil Packets are made with juicy grilled chicken breast, potatoes and green beans and covered in the simplest homemade honey garlic sauce — an easy camping meal!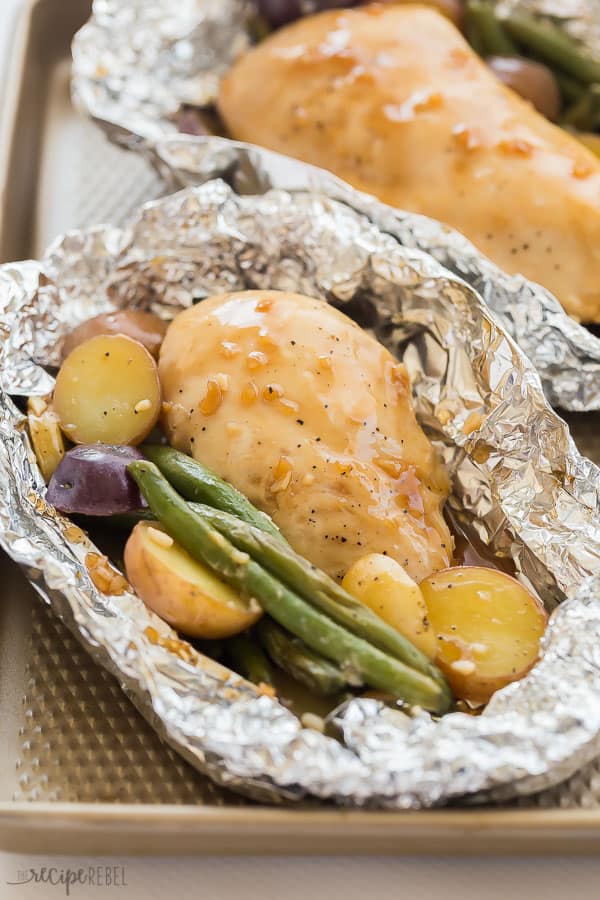 I've got camping on my brain, and I'm hoping to rack up a bunch of new favorite easy grilling recipes this summer!
I don't know about you, but getting outside and cooking outside is one of our favorite things to do in the summer, and having a slew of easy grilling recipes makes that so much easier to do!
Some of our favorites so far are these Chicken Parmesan Foil Packets with Veggies, Chicken Cordon Bleu Foil Packets, and these Easy Monterey Chicken Foil Packets.
I always use Little potatoes for grilling, because I don't have to wash or peel them, they're just ready to go right out of the bag! Plus, they're downright delicious 😉
I like to halve or slice them so they cook in the same amount of time as the chicken in these foil packs, but if you're just grilling potatoes you don't even have to do that!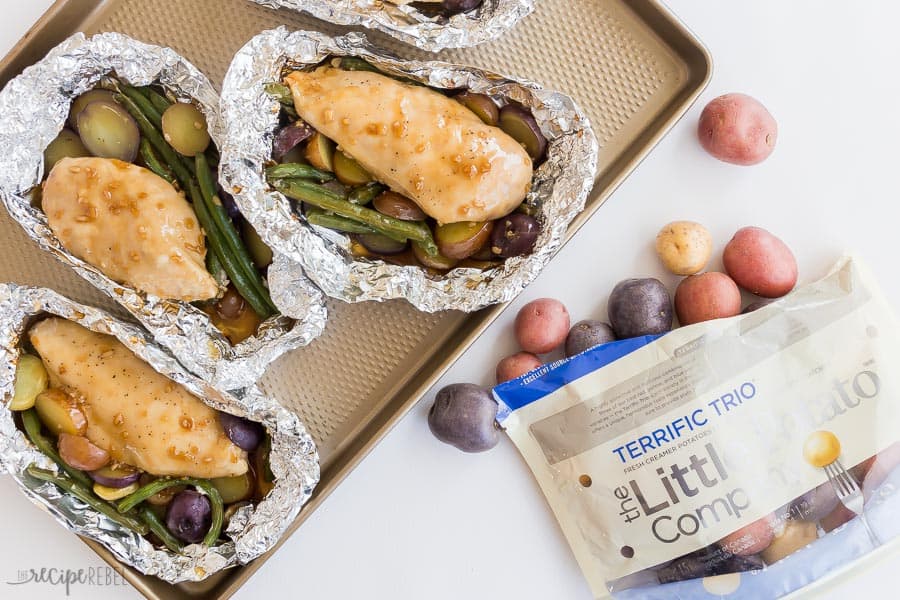 For these foil packs I used the Terrific Trio from Little Potato Company, but any Little potatoes will work just as well!
Foil pack meals are great for prepping ahead so you can really enjoy your time outside — and who doesn't want more of that this summer?
What's in honey garlic sauce?
The honey garlic sauce is a favorite for a reason — it's just the right amount of sweet and tangy, and comes together with just a few ingredients.
After many tries I finally narrowed down my perfect honey garlic sauce and it couldn't be easier!
liquid honey (not creamed and not flavored)
soy sauce (always low sodium!)
fresh minced garlic (I buy the jarred stuff!)
cider vinegar (just a touch for a little tang!)
I sometimes like to add a little corn starch and thicken a bit in the microwave to brush over the chicken as a glaze after cooking, but this isn't 100% necessary.
How to make Honey Garlic Chicken Foil Packets:
Slice up your Little potatoes and halve your beans — this ensures they fit nicely in the foil packs and cook in about the same amount of time as the chicken.
Top with your chicken — using whole chicken breasts ensures the chicken will stay juicy, and you can even swap this for boneless, skinless chicken thighs if you prefer!
Brush with half of your sauce mixture — we want to save a little for afterwards!
Seal the packets to keep everything moist.
Grill over medium heat, about 375-400 degrees F. Open once or twice to check and shift veggies around if they are cooking too quickly on the bottom.
Thicken remaining sauce and serve!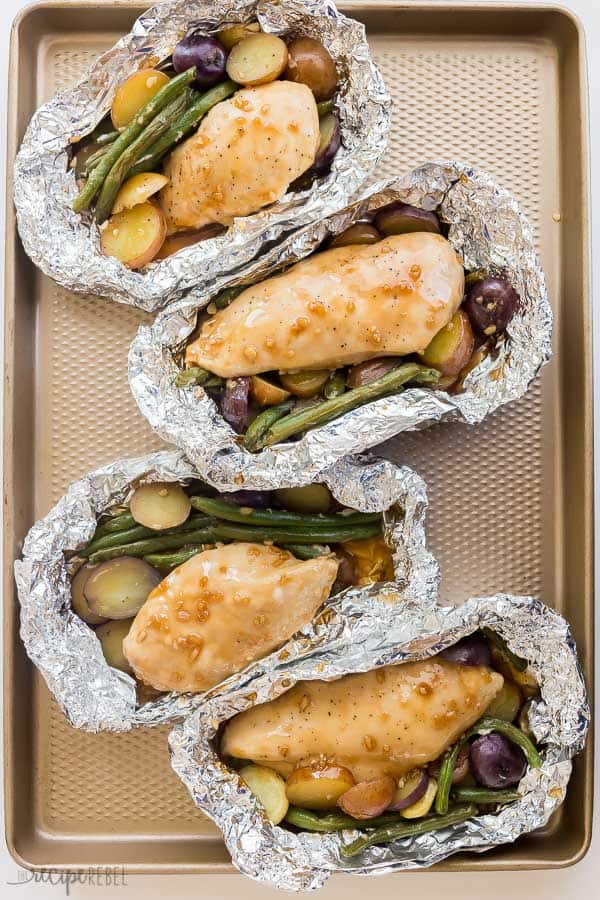 Can I make these foil packs in the oven?
You can absolutely make these in the oven if you don't have a grill or it's not grilling weather.
Simply bake, sealed, in a 375 degree F oven for 20 minutes or until potatoes are tender and chicken reaches an internal temperature of 165 degrees F in the thickest part.
Variations on these Honey Garlic Chicken Foil Packets:
Switch up the veggies and use ones that are in season or that your family enjoys — asparagus, thinly sliced carrots, broccoli, mushrooms, peppers all work, just keep in mind that they may have varying cook times.
Don't like cooking in foil? Skip the foil and throw everything in a grill pan (one with no holes in it!).
As I mentioned above, you can swap the chicken breasts for thighs if you prefer — they have a little more fat and a little more flavor.
For a one-pan meal from the grill, try an Oven | BBQ Ready kit by The Little Potato Company, potatoes and seasoning pack come in a foil cooking tray. The Garlic Herb flavour would work well in this recipe!
*This post is generously sponsored by The Little Potato Company and I was compensated for my time in creating this recipe. All opinions are my own.