Chickpea Noodle Soup is perfect for cold weather or under-the-weather days! It's comforting, nourishing, vegetarian, and delicious!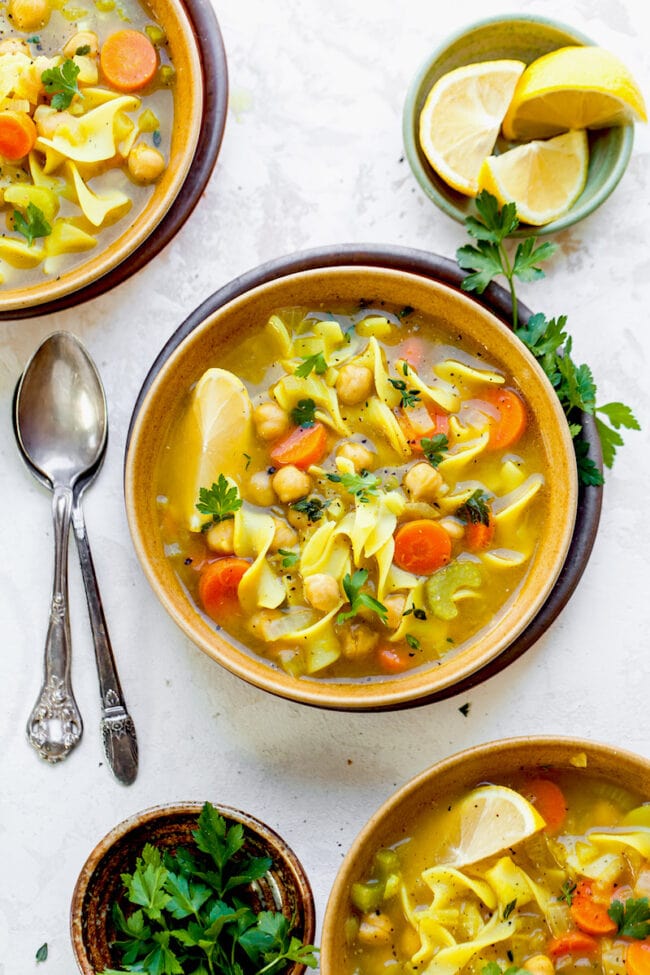 Chickpea Noodle Soup
This Chickpea Noodle Soup is one of my favorite cold-weather recipes. It has lemon, ginger, and turmeric, so it feels very healing and comforting. It's a lighter vegetarian soup, but still such a comfort food. This is the soup our family makes whenever someone is sick or if we feel a sickness coming on. It is nourishing and always hits the spot. I also love making a big pot when it is cold outside. It warms me right up! If you like chicken noodle soup, I bet you will love this soup too!
Vegetarian Chicken Noodle Soup
Chickpeas are the perfect substitute for chicken! They're a great source of protein and super yummy too. If you're wanting to cook for a vegetarian, cut down on cost, or just use less meat, this is a great option! Keep a few cans of chickpeas in your pantry so you can whip up a pot of this soup whenever you need it!
If you need the soup to be vegan, use vegan noodles. You can also use gluten-free noodles to make the soup gluten-free.
Freezing Ginger
Fresh ginger gives this soup so much flavor. We always keep a huge hunk of it in the freezer. You can peel, grate, and chop when it is frozen and it will keep for months in the freezer. Pro tip-use a microplane to grate ginger, works like a charm! Fresh ginger smells so good and will really brighten up the flavor in this soup.
How to Make Chickpea Noodle Soup
This is your classic soup-making process! It's straightforward and makes a TASTY soup.
Sauté. Get the onion, carrots, and celery cooking first. These veggies get the longest time in the pot since we want them good and tender!
Garlic. Maybe the best part of any cooking process is throwing aromatic garlic into the pot. My favorite!
Liquids and seasonings. Stir in vegetable broth, thyme, ginger, turmeric, salt, and pepper.  Now it's looking like a soup!
Noodles and chickpeas. Bring it all to a low boil and add in the egg noodles and chickpeas. They need about 10 minutes with occasional stirring, until the noodles are soft, before you add in lemon juice and parsley.
Taste. Give it a taste test and add salt and pepper if needed. Ladle into bowls and serve it hot!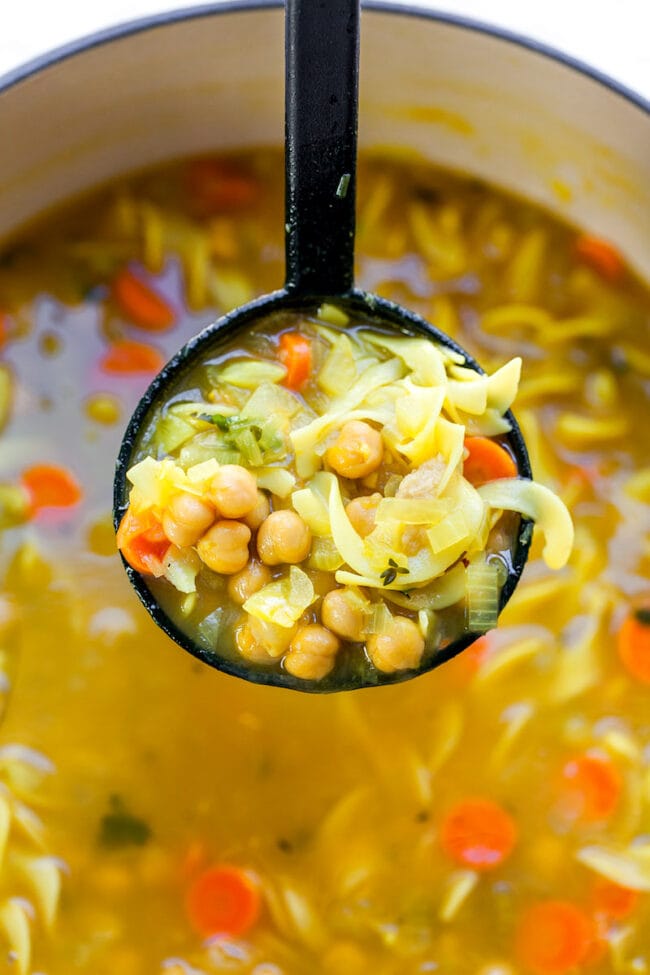 What to Serve with Chickpea Noodle Soup
Crackers are an easy side with this soup! Saltines are a kid-friendly favorite. If you're delivering this soup to someone who is sick, including a sleeve of saltines is also a really nice gesture! You could also make Parker House Rolls or Cornbread for a really great meal. And you always can round out the meal with a simple green salad!
Freezing Chickpea Noodle Soup
Making a big batch and freezing is a great way to have nourishing soup on hand anytime you need it! Ladle the finished, cooled soup into an airtight freezer-safe container and freeze it for up to two months.
More Vegetarian Soup Recipes:
Give me all the veggie soups! This is maybe my favorite way to get a variety of vegetables on the table.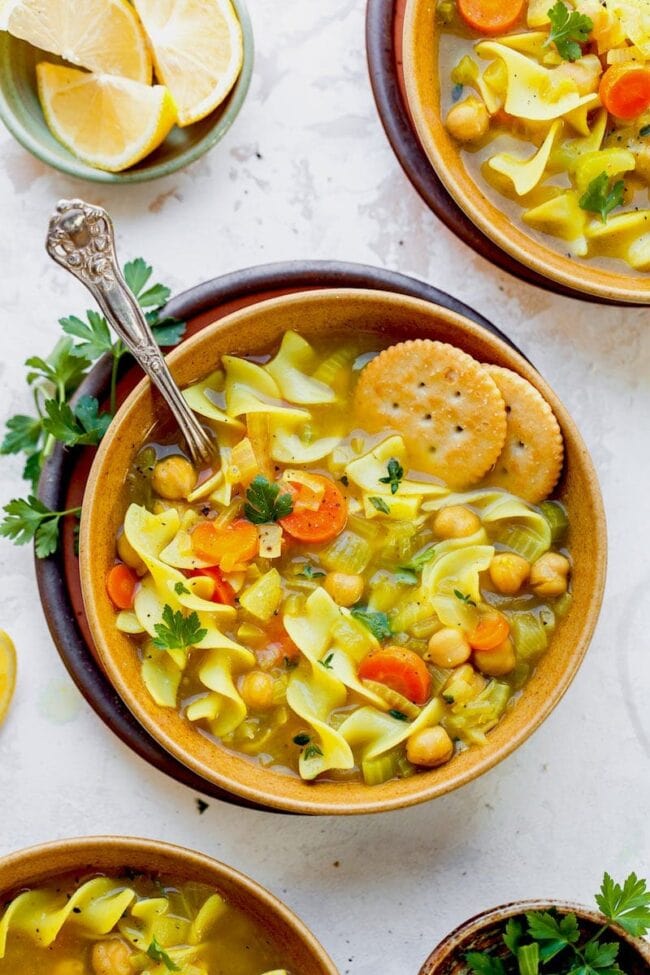 1

tablespoon

olive oil

1

yellow onion,

chopped

2

large carrots,

chopped

2

celery ribs,

chopped

3

cloves

garlic,

minced

8

cups

vegetable broth

1

teaspoon

fresh thyme

1

teaspoon

fresh ginger

1/2

teaspoon

ground turmeric

1

teaspoon

kosher salt

1/4

teaspoon

black pepper

2

cups

extra wide egg noodles

28

ounces

canned chickpeas,

rinsed and drained

1

tablespoon

fresh lemon juice

1

tablespoon

chopped fresh parsley
Nutrition Facts
Chickpea Noodle Soup
Amount Per Serving
Calories 222 Calories from Fat 54
% Daily Value*
Fat 6g9%
Saturated Fat 1g5%
Cholesterol 11mg4%
Sodium 2028mg85%
Potassium 319mg9%
Carbohydrates 36g12%
Fiber 7g28%
Sugar 5g6%
Protein 9g18%
Vitamin A 4156IU83%
Vitamin C 5mg6%
Calcium 64mg6%
Iron 2mg11%
* Percent Daily Values are based on a 2000 calorie diet.
Keywords
vegan, vegetarian
Photos by Dishing Out Health