An iconic, top-rated (flourless!) cookie gets a festive burst of holiday cheer in this recipe for Christmas Monster Cookies studded with green, red and white M&Ms.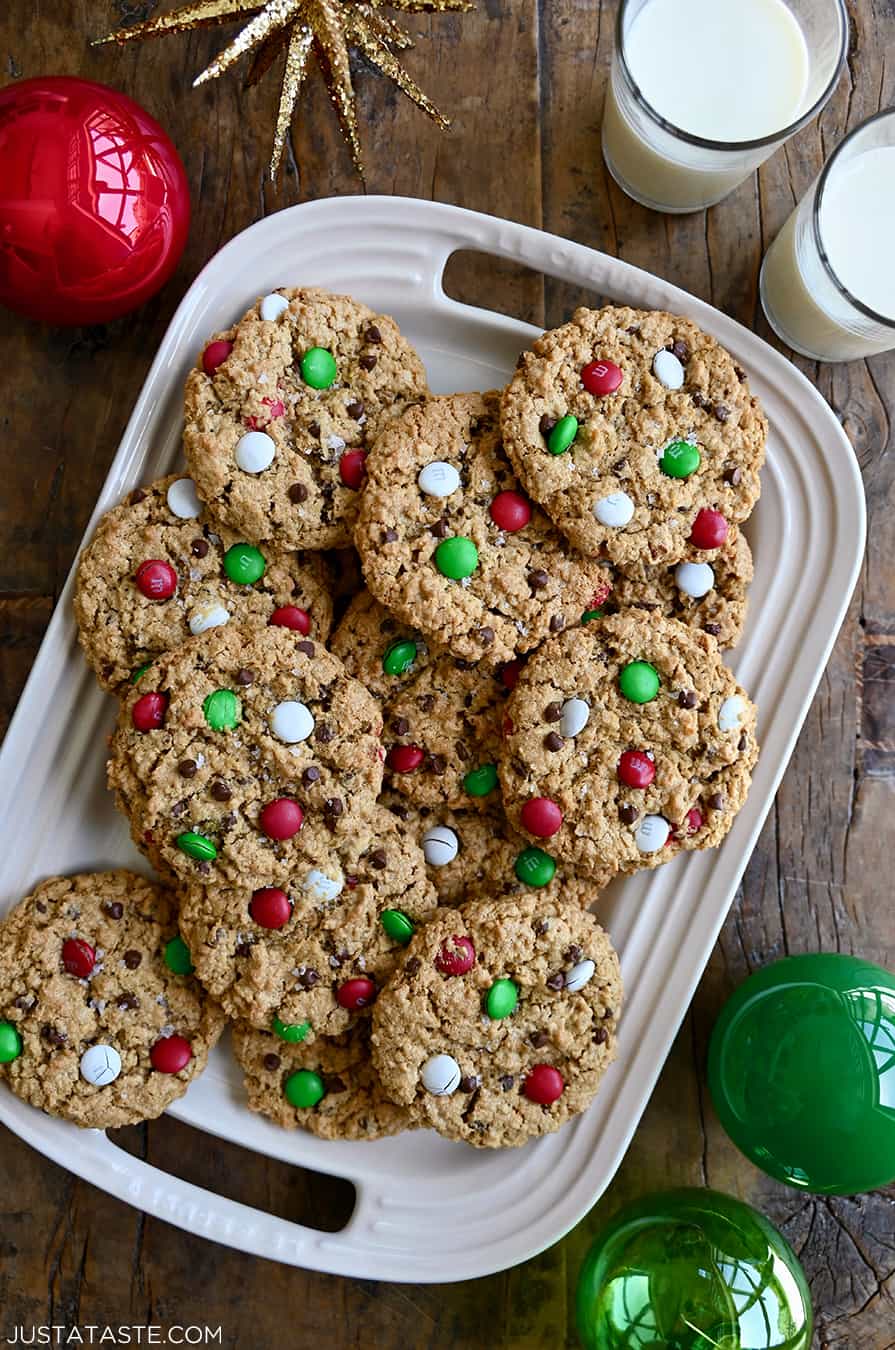 Believe your eyes: These cookies are completely flourless. No, I haven't done any magic disappearing acts or swapped in any crazy, hard-to-find ingredients. Quite the opposite! Oats, peanut butter and sugar (plus a few other pantry and fridge staples) are the only bits of culinary magic you need to whip up these fun and festive Christmas cookies.
The result? Soft, chewy monster cookies loaded with peanut butter and chocolate flavor. So let's get to it!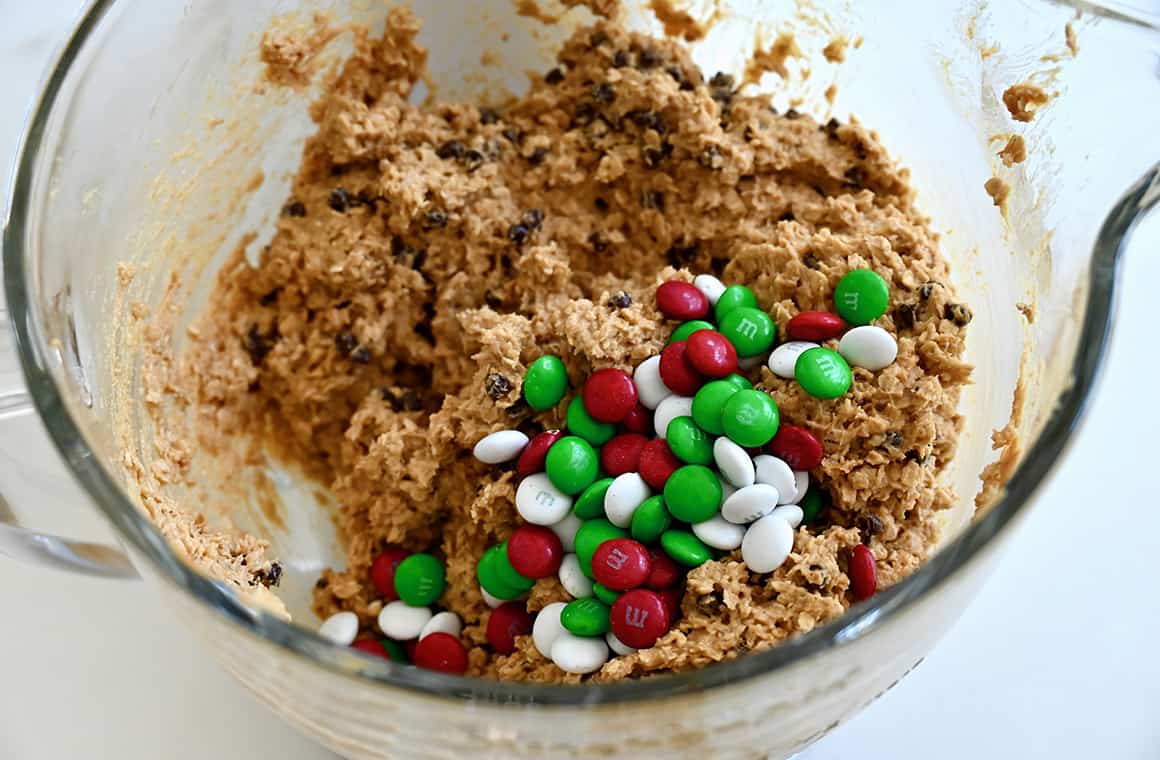 Can You Refrigerate Monster Cookie Dough?
Absolutely! Monster cookies are one of the easiest cookies to make ahead of time. Once you mix up the dough, scoop cookies onto a parchment paper-lined baking sheet in a single layer to freeze. Once frozen, you can place individual cookie dough balls into a freezer-safe container or sealable plastic bag for up to three months. When you're ready for a fresh-baked, chewy cookie, simply thaw overnight and bake as instructed.
Want to freeze already-baked cookies? Cool your cookies completely before sealing in a freezer-safe container or plastic bag. When that cookie craving strikes, you can heat these back up in the oven at 350°F for 4 to 5 minutes.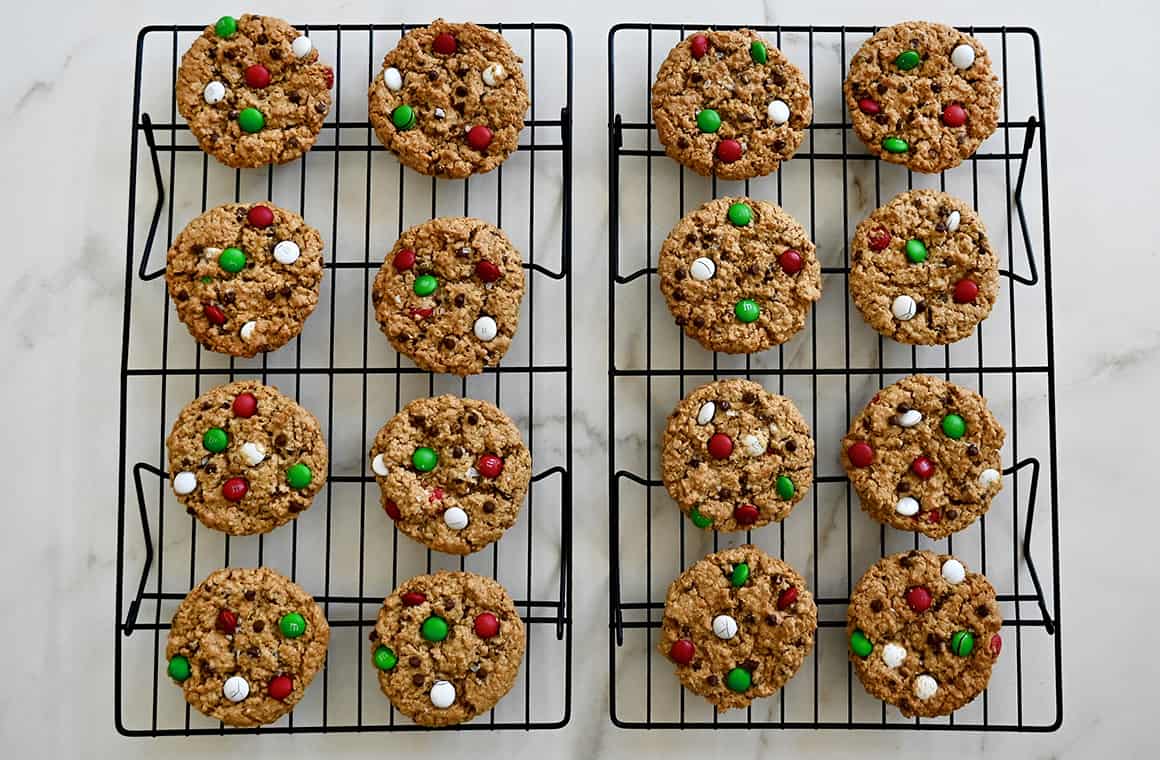 Why Are My Cookies Flat?
If your cookies are coming out flat, butter is usually the main culprit. When butter is completely melted or too soft it causes cookies to spread too quickly as they bake. Placing cookies on either a hot baking sheet (especially in between batches) or an over-greased baking sheet will also produce flatter cookies.
To help keep your cookies from spreading, line your baking sheets with parchment paper or silicone baking mats. Other helpful tips? Chill your cookies quickly in the freezer for 10 minutes or refrigerate for 1 to 2 hours prior to baking.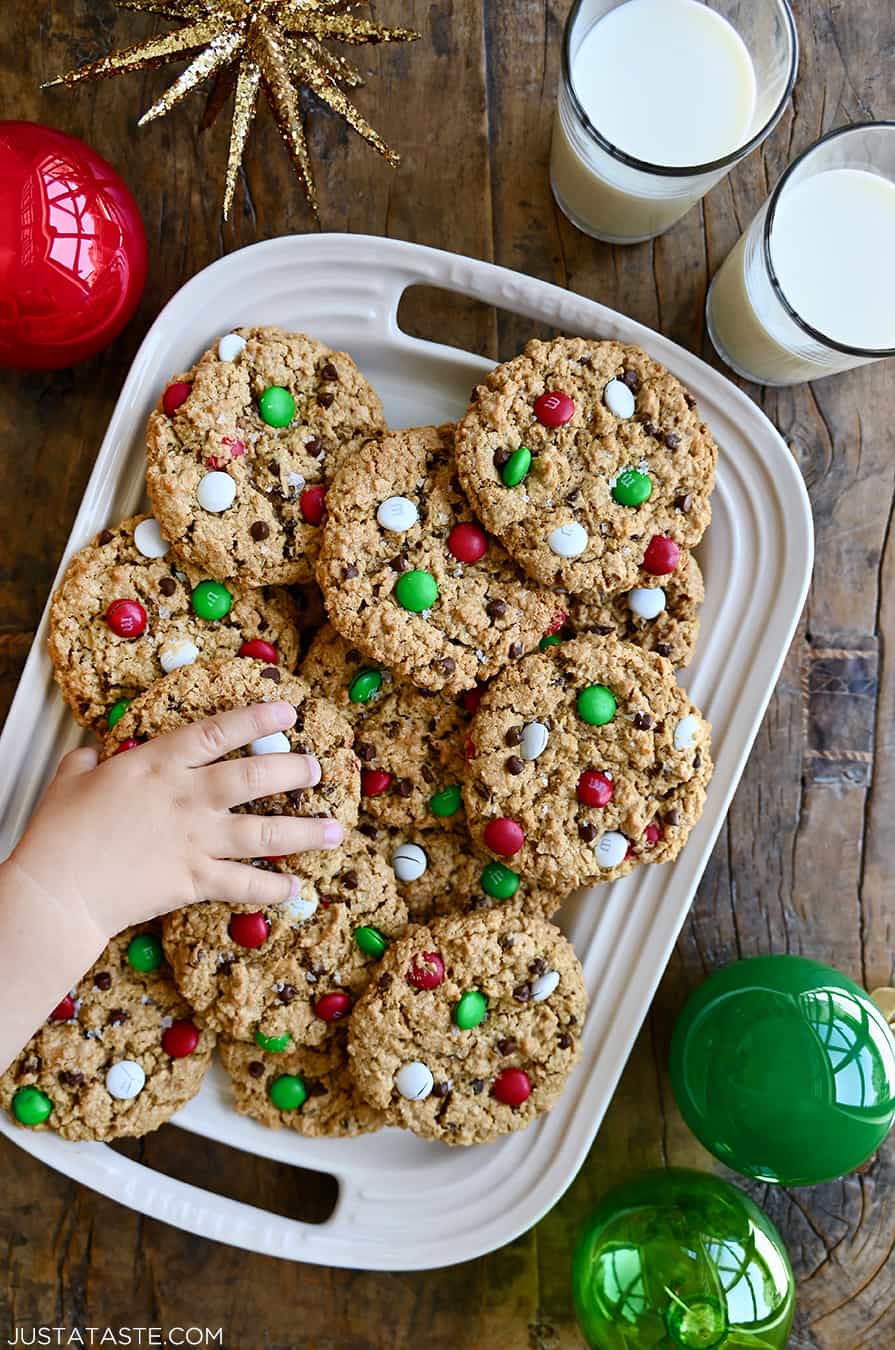 The Best Peanut Butter Alternatives  
If you or your family have peanut allergies, don't worry! You too can have fun with monster cookies. Almond butter makes a great replacement; It does have a more neutral flavor compared to peanut butter, but it works just as great.
Feel free to swap in any of your favorite allergen-friendly alternatives, like soy nut butter or sunflower seed butter. Personally, I love the rich, buttery flavor of cashew butter and it makes a more than worthy swap for peanut butter.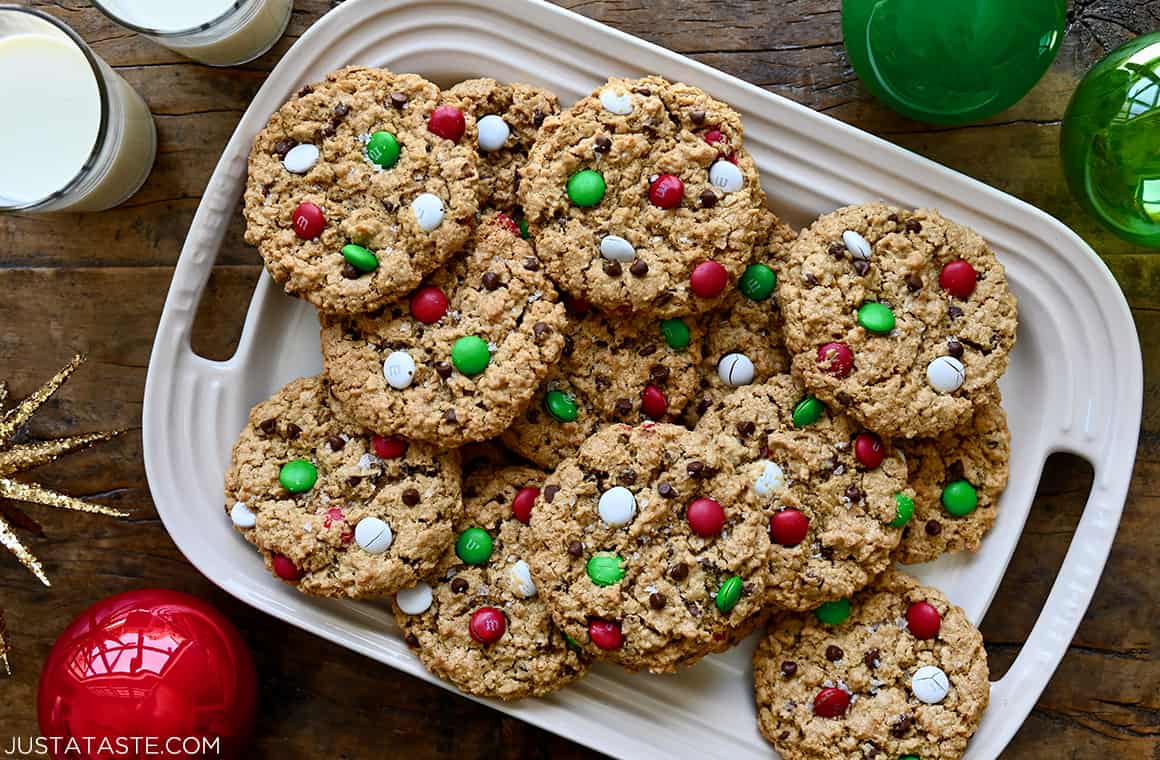 Craving more? Subscribe to Just a Taste to get new recipes, meal plans and a newsletter delivered straight to your inbox! And stay in touch on Facebook, Twitter, Pinterest and Instagram for all of the latest updates.
Preheat the oven to 350°F. Line two baking sheets with parchment paper.

In the bowl of a stand mixer fitted with the paddle attachment, cream together the butter, sugar and brown sugar until light and fluffy, scraping down the sides as needed, about 2 minutes.

Add the eggs one at a time, beating between each addition.

Beat in the peanut butter, vanilla baking soda and salt, then beat in the oats.

Beat in the Christmas M&Ms and mini chocolate chips just until combined.

Using an ice cream scoop or two small spoons, scoop 2- to 3-tablespoon mounds of dough onto the baking sheets, spacing the cookies at least 2 inches apart.

Bake the cookies until they are barely set in the centers, 12 to 15 minutes. Remove the cookies from the oven and let them cool for 5 minutes on the baking sheets before transferring them to a rack to cool completely.

★ Did you make this recipe? Don't forget to give it a star rating below!