Coconut Chocolate Chunk Scones are made with coconut milk, coconut, toasted coconut, chocolate chunks, and a sweet coconut glaze! Coconut lovers will LOVE this scone recipe. The scones are perfect for breakfast, brunch, or with a cup of tea or coffee.
Post sponsored by Kroger
I love a good scone and when I say good I mean NOT dry! There is nothing worse than getting a hard, dry, flavorless scone. Scones should be soft, fluffy, tender, and sweet. Scones are one of my favorite breakfast treats, or anytime of day treats. There is no bad time of day to enjoy a scone.
I am currently obsessed with Coconut Chocolate Chunk Scones. They are LOADED with coconut and the chocolate chunks make them even more amazing! They are the perfect scones!

OTHER RECIPES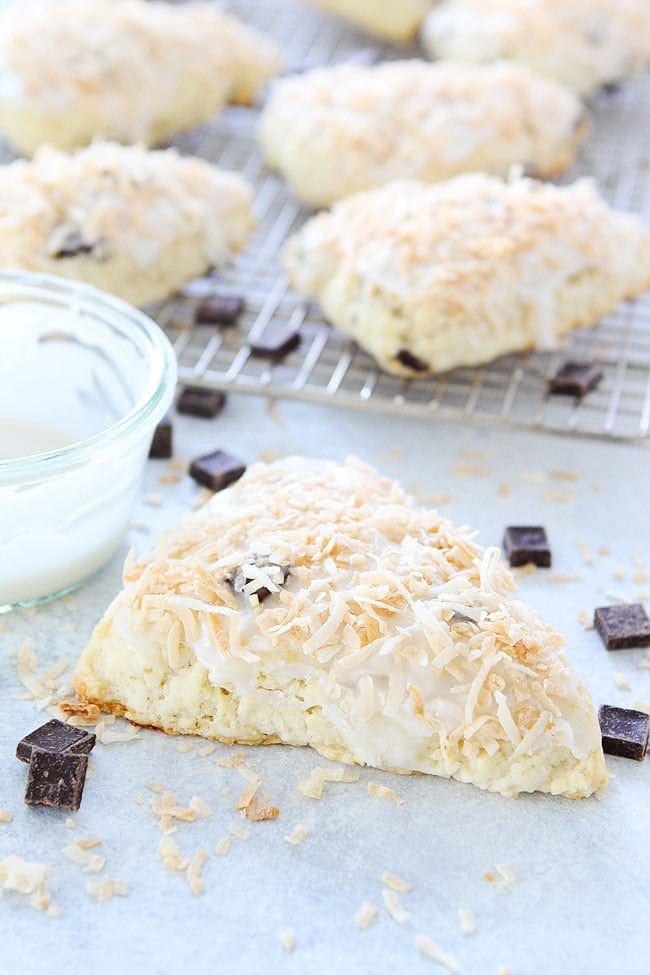 Coconut Scones
Most scones are made with heavy cream, which is a very good thing. I usually make my scones with heavy cream, but this time I used coconut milk since they are coconut scones. I wanted to maximize the coconut flavor. I used coconut milk from the can (Thai Kitchen brand, I buy it at my Kroger store, Smith's), the full fat stuff, don't use lite in this recipe. You want the scones to be nice and rich.
The scones also have plenty of butter, remember, we don't want a dry scone! The scone gets plenty of moisture from the butter and coconut milk.
I mix in Kroger sweetened flaked coconut and Private Selection Dark Chocolate Chunks into the scone dough. The coconut and dark chocolate combo is fantastic! I love using the Private Selection Chocolate Chunks because I don't have to chop my own chocolate and the chunks are nice and big. You can find the coconut and dark chocolate chunks in the baking aisle at any Kroger store.
Don't overwork the scone dough. Mix the dough together and then gently form it into a circle. Don't over knead or handle the dough too much. You will end up with tough scones if you over work the dough.
Cut the scones into eight equal triangle pieces and brush the tops with coconut milk.
Bake until the scones are light, golden brown and let them cool completely.
Toast Kroger sweetened flaked coconut in the oven. Make sure you watch the coconut closely because it will toast up quickly.
The scones also have a coconut glaze made with coconut milk, powdered sugar, and vanilla extract.
Glaze the scones and top them with the toasted coconut.
The scones are best the day they are made so eat one right away, like as soon as you sprinkle that toasted coconut on top. You are going to enter coconut heaven after one bite!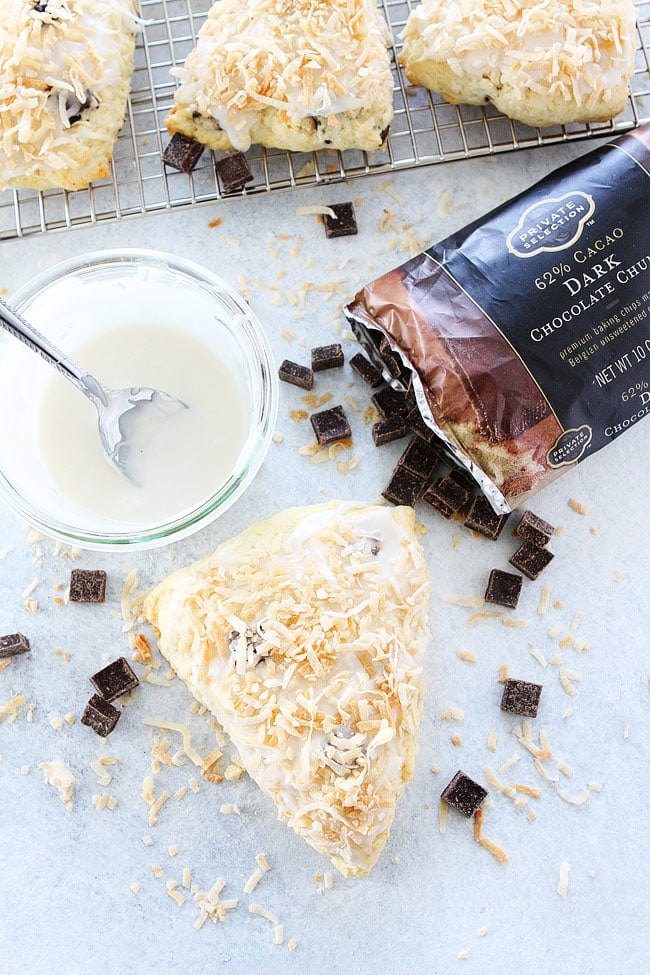 Perfect for Breakfast or Anytime of Day
You can eat scones for breakfast, brunch, with a cup of coffee or tea, or for dessert! They are a great treat anytime of the day, and yes, it is ok to eat them for breakfast even though they have chocolate in them. You have my permission:) Talk about a great way to start the day!
I am for sure making these Coconut Scones for Easter brunch. Coconut is popular at Easter time so these scones are perfect for the holiday. Your family and friends will love them, especially when they get a bite of chocolate with the coconut. They will be blown away!
How to Make Scones
If you like this scone recipe, you might also like: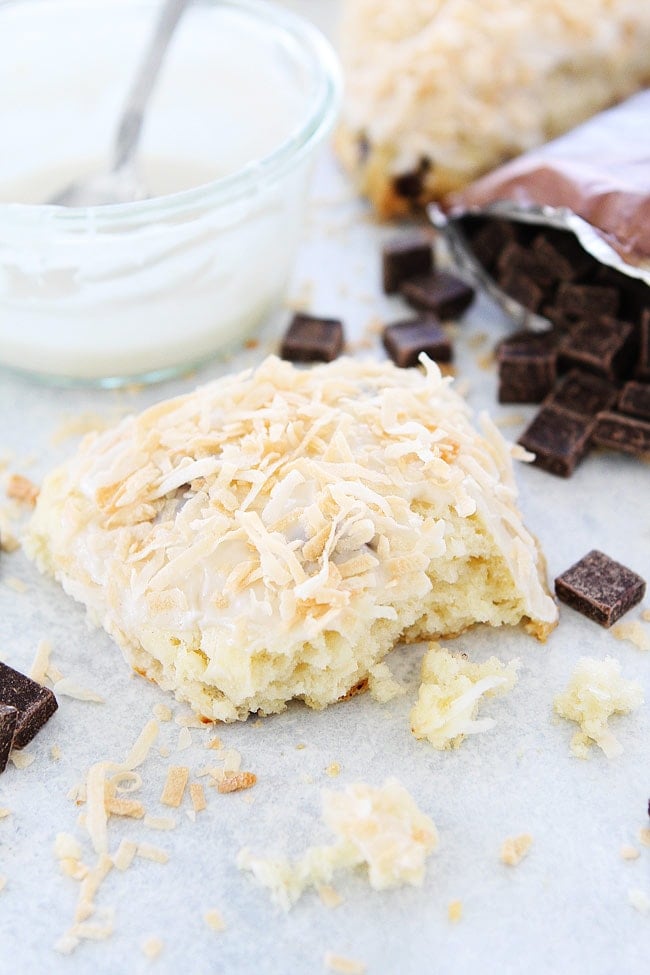 Coconut Chocolate Chunk Scones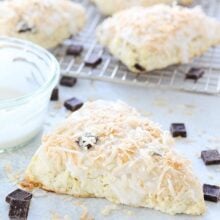 Yield: 8 scones
Prep Time: 20 minutes
Cook Time: 20 minutes
Total Time: 40 minutes
Ingredients:
For the Scones:
2 cups all-purpose flour
1 tablespoon baking powder
3 tablespoons granulated sugar
1/2 teaspoon salt
6 tablespoons cold unsalted butter, cut into 1/4-inch cubes
1 cup canned coconut milk, plus 1 tablespoon, divided (not lite coconut milk)
1/2 teaspoon vanilla extract
1 cup Kroger sweetened flake coconut
3/4 cup Private Selection Dark Chocolate Chunks
For the Coconut Topping:
3/4 cup Kroger sweetened flake coconut
For the Coconut Glaze:
1 cup Kroger powdered sugar
4-5 tablespoons coconut milk
1/2 teaspoon vanilla extract
Directions:
Preheat oven to 400 degrees F. Line a large baking sheet with parchment paper or a Silpat and set aside.
In a large bowl, whisk together flour, baking powder, sugar, and salt. Quickly cut in the butter, using your hands, two knives, or a pastry blender. Mix until mixture resembles coarse meal, with a feel larger butter lumps. Pour 1 cup of coconut milk and vanilla extract over the ingredients and stir with a spatula until dough begins to form. Don't over mix. Gently fold in the coconut and dark chocolate chunks.
Transfer dough to a floured countertop and knead dough by hand just until it forms a ball. Form scones by patting the dough into a 3/4-inch thick circle. Cut the scones into 8 even triangles.
Place scones on prepared baking sheet. Using a pastry brush, brush scones lightly with the additional coconut milk. Bake scones for 15-18 minutes, or until scones are light brown. Remove from oven and cool scones on a wire cooling rack.
While the scones are cooling, toast the coconut for the topping. Reduce the oven temperature to 325 degrees F. Place the coconut on a baking sheet that has been lined with parchment paper or a Silpat baking mat. Spread out the coconut in an even layer onto the baking sheet. Place in the oven and bake for 5-7 minutes, stirring once, or until coconut is very light brown and toasted. Remove from oven and let cool.
To make the coconut glaze, whisk together powdered sugar, coconut milk, and vanilla extract in a medium bowl. Whisk until you reach desired consistency. Drizzle glaze over the cooled scones. Sprinkle toasted coconut over the glazed scones. Let sit until the glaze hardens and the toasted coconut is set. Enjoy!
Note-Scones will keep in an air-tight container for up to 2 days, but they really are best eaten the day they are made.


All images and text ©Two Peas & Their Pod.




Follow twopeasandpod on Instagram and show us what recipes you are making from our blog! Use the hashtag #twopeasandtheirpod! We want to see what you are making in your kitchen!