This confetti corn salad is a wonderful tasting side dish that comes together in just 5 minutes. Packed with fresh and flavorful ingredients it's perfect to pair with grilled meats and can be made ahead of time.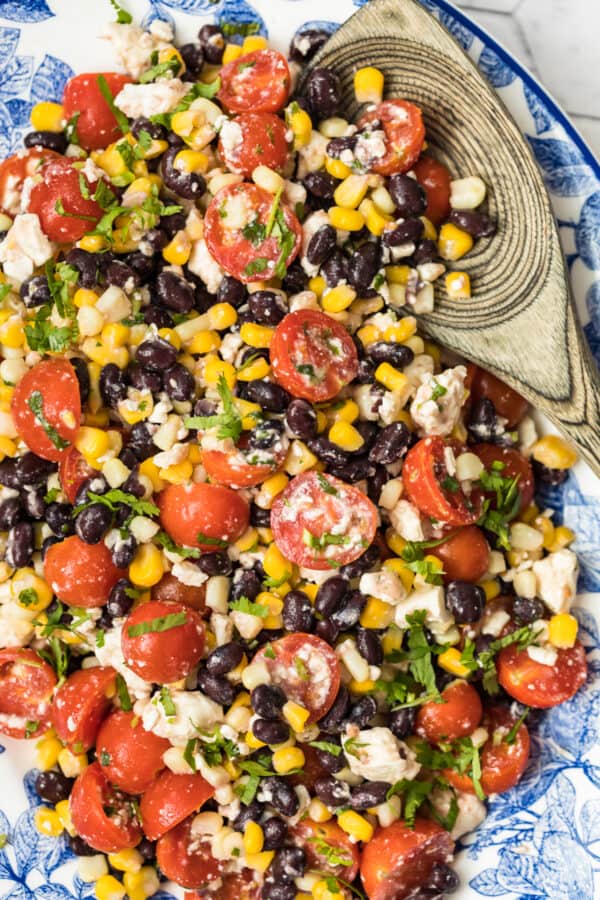 I love discovering new salads each summer, and this one makes the most of the seasons produce with corn and tomatoes. Dressed with lime juice it's a wonderfully fresh and vibrant side dish.
Perfect to serve with Grilled Flank Steak, chicken or fish, this vegetarian recipe is sure to please and is perfect for all of your cookout needs!
Why you'll love this confetti corn salad!
It's so easy and quick! This tomato corn salad comes together in just 5 minutes with simple ingredients.
Made with healthy ingredients and fresh veggies, it's high in protein with tonnes of vitamins and minerals.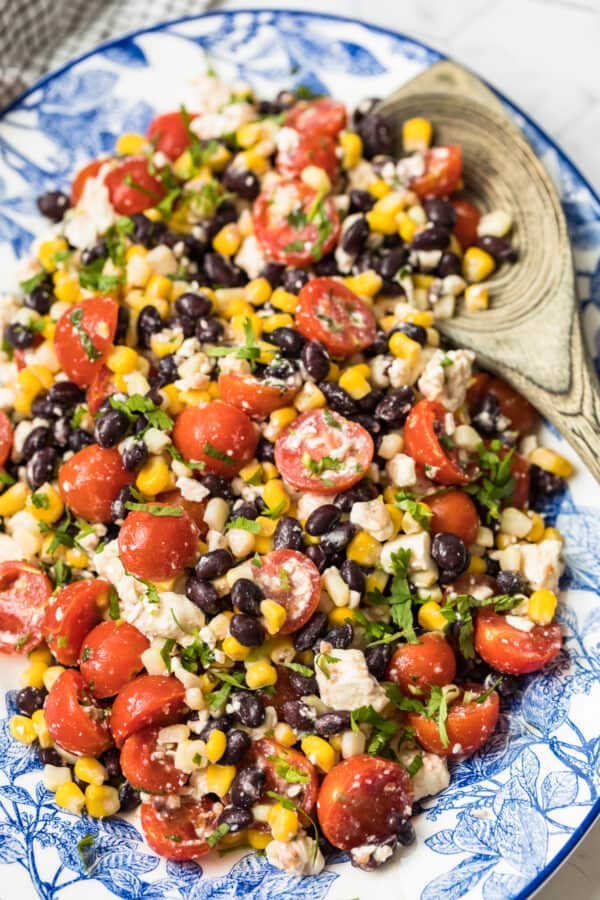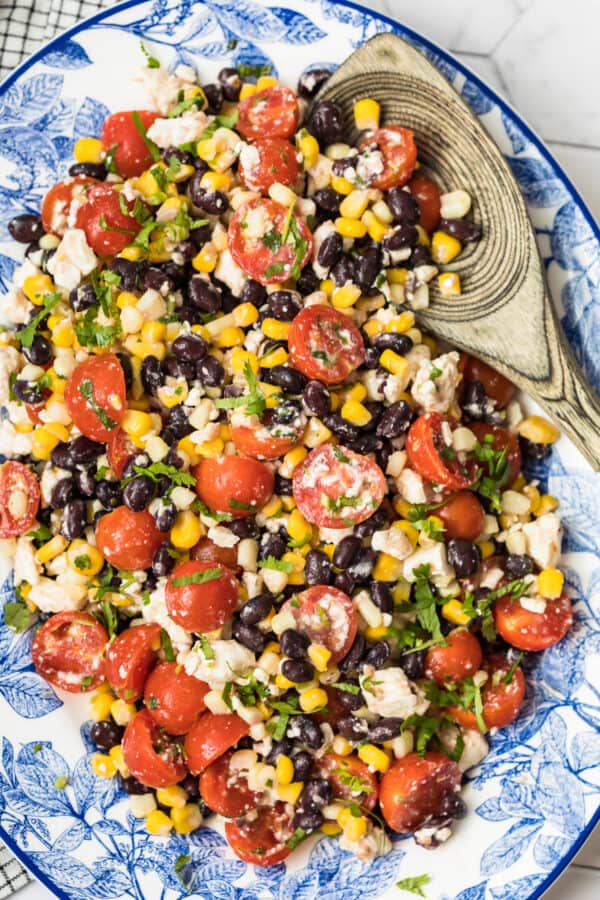 How To Make Confetti Corn Salad
Combine the tomatoes, corn, feta, black beans, and cilantro in a bowl.
Whisk together the dressing ingredients.
Pour the dressing over the salad and stir to coat.
Chill to let the flavors develop.
Can you use fresh or canned corn?
You can make this with fresh corn, simply cut the kernels from the corn aand then cook them in boiling water for a few minutes to soften them before adding to the salad.
I prefer not to use canned corn as I find the texture a little mushy, but if you are in a pinch you can use it for sure. Just drain and rinse it well before combining with the other ingredients.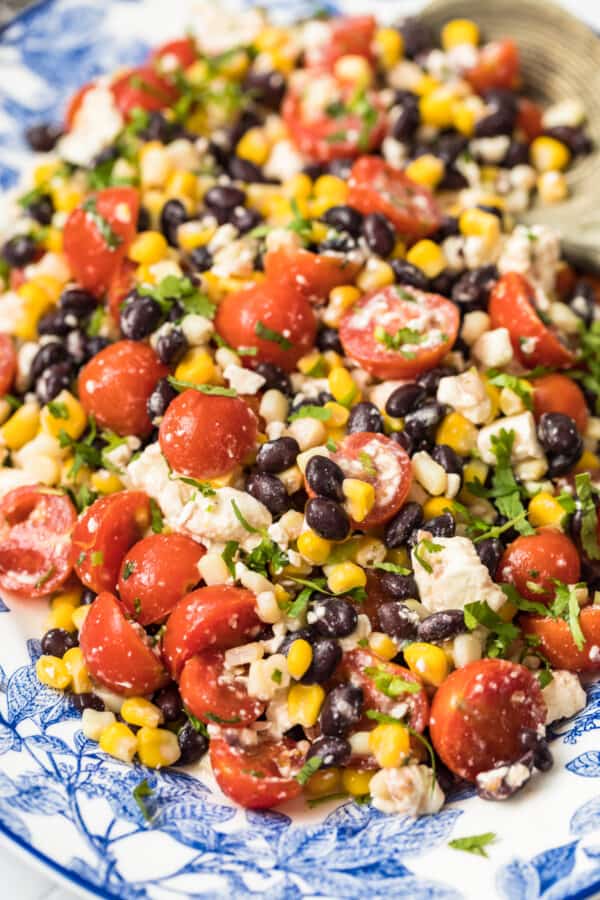 How long does it keep?
This confetti salad will keep well in the fridge for up to 3 days, sealed in an airtight container. Just give it a stir before serving it. I like to let it sit for at least 30 minutes before serving to let the flavors develop.
What else can you add to a corn salad?
This salad is pretty perfect as it is, but there are a few additions and swaps you can make to make this your own.
Swap the lime juice for lemon.
I like black beans in this salad, but red kidney beans would also work well.
Add in some chopped jalapeno for a bit of heat.
Swap the feta for cojita or goats cheese.
If you don't like cilantro, swap it for parsley.
Add in any other veggies you have in your fridge!
Recipe Notes and Tips
Drain and rinse the black beans well. They can be a little salty when they come out of the can.
Use fresh lime juice, not bottled. It is some much more flavorful and zingy.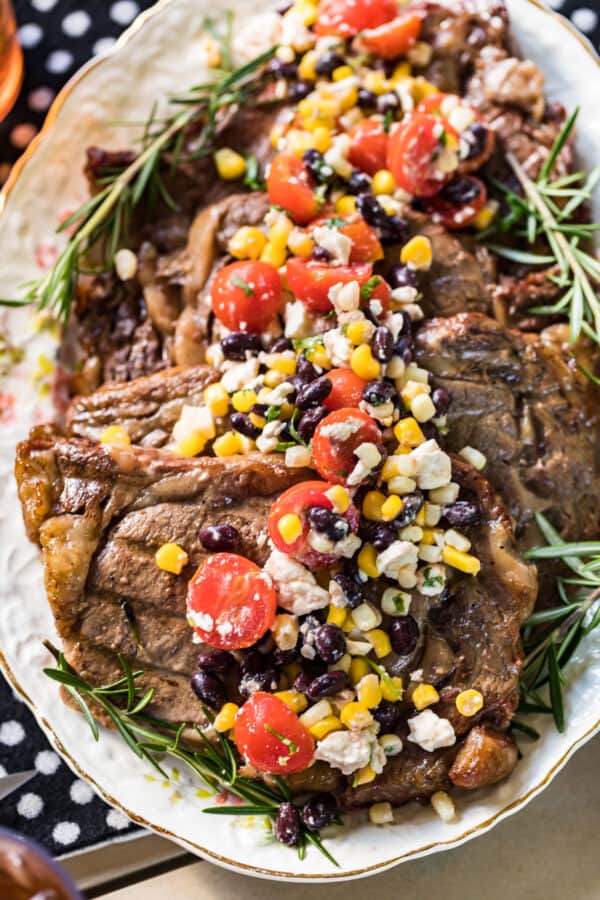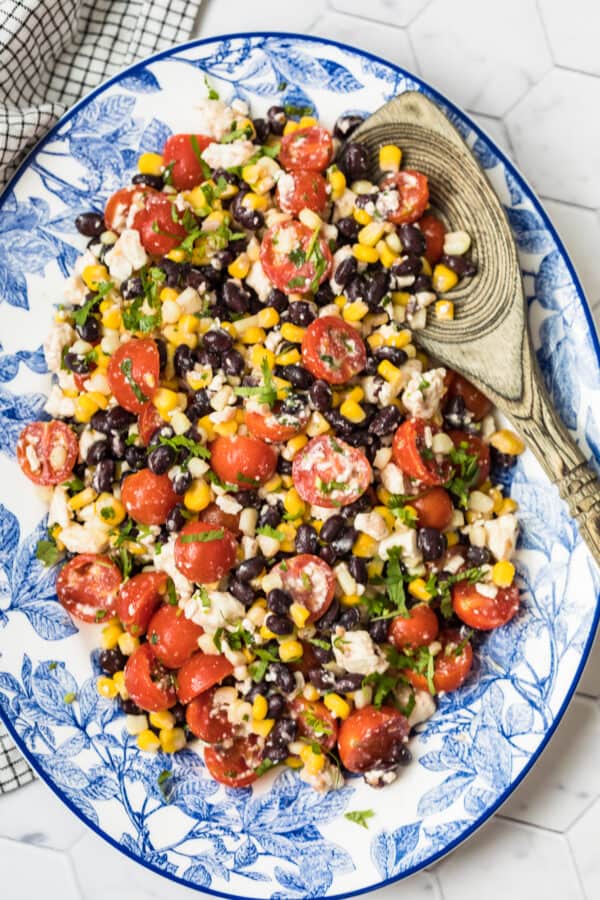 More Easy Side Dishes
Have you tried this Confetti Corn Salad? Feel free to leave a star rating and I'd love to hear from you in the comments below!
Did you make this recipe?
Use the tag #thecookierookie when posting a photo of your recipe, and make sure to follow The Cookie Rookie on Instagram!
Becky woke up on her 30th birthday and realized she didn't know how to cook, ANYTHING! She started The Cookie Rookie as a way to document her journey to learn how to cook, one recipe at a time! The Cookie Rookie is a place to find easy recipes that anyone can make, and everyone will love!