Dec
22
Cranberry Orange Mimosa Bellini
posted by Dorothy Kern
Cranberry Orange Mimosa – this easy 3 ingredient cocktail recipe is perfect for brunch or even as a bellini at a cocktail party!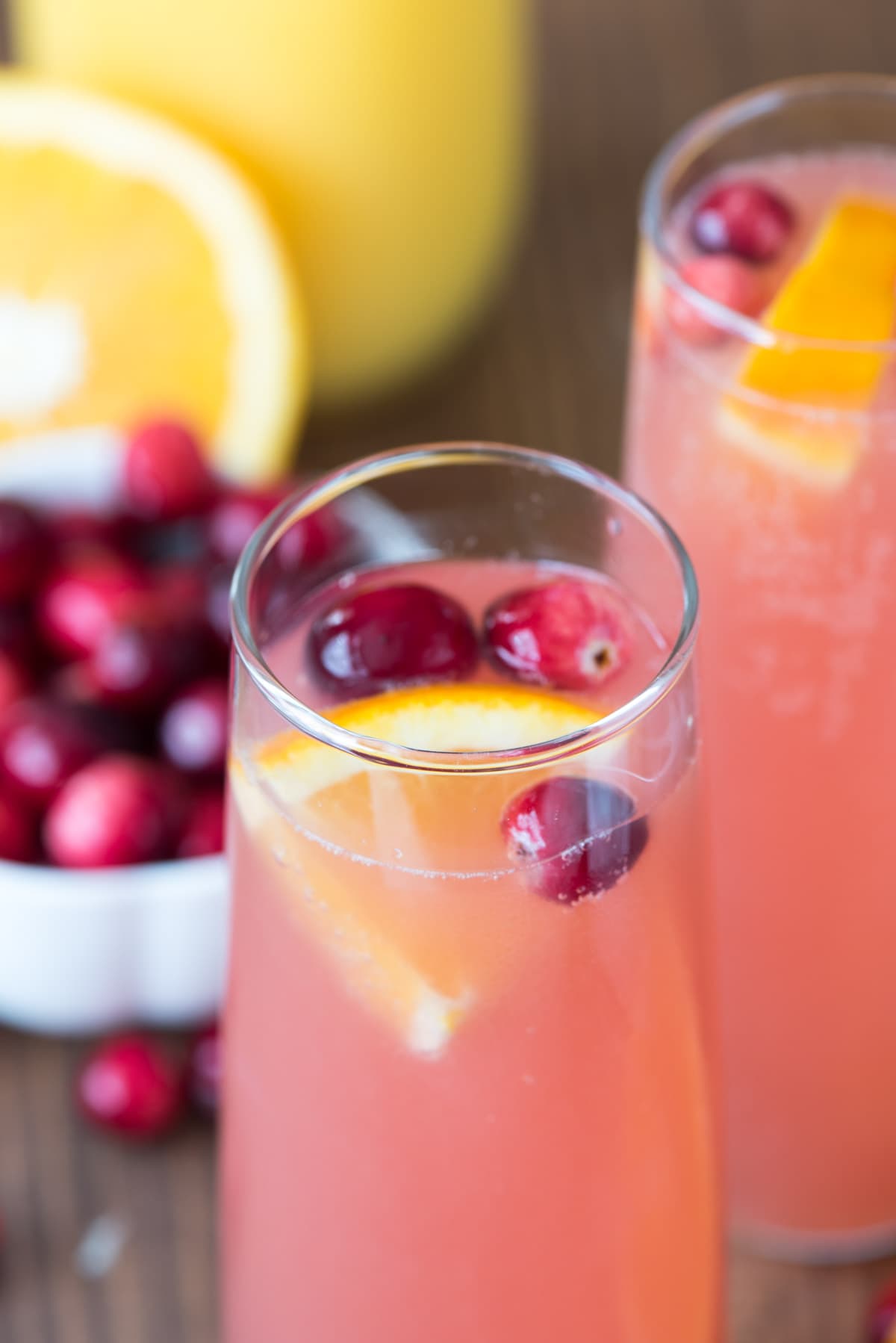 What are your holiday traditions? Do you celebrate Christmas? Or Hanukkah? Or something else? Every year I say I'm going to make latkes with Jordan at the beginning of Hanukkah, but I always forget until it's too late. Even though we celebrate Christmas, I think it's important to show Jordan the different celebrations that different religions and cultures do this time of year.
Growing up, I had a lot of Jewish friends. One of them had a Hanukkah party every year and we would all bring our cheese graters and make latkes together. I always had so much fun making and eating them, as well as the traditional cookies his mom made every year. (In fact, maybe you can help me: I am still trying to find a recipe for the chocolate ones she used to make. They were like chocolate meringues on the outside – crumbly and crisp – but the inside was gooey and fudgy, like a brownie. Any ideas?)
This year, since Hanukkah starts on Christmas Eve, I think that I'll remember and have time to make latkes sometime during the 8 nights. It'll be a fun evening for us once the hubbub of Christmas dies off. Right now, I'm running around crazy, trying to get all the last minute stuff for Christmas done. It doesn't make it any easier that Jordan's in school through December 22 this year. I know once we get to Christmas Eve I'm going to be ready for a cocktail or five. That's where this Cranberry Orange Mimosa comes in: I plan to drink them on Christmas Eve AND Christmas day. And then I'll probably call them bellinis and drink them for NYE.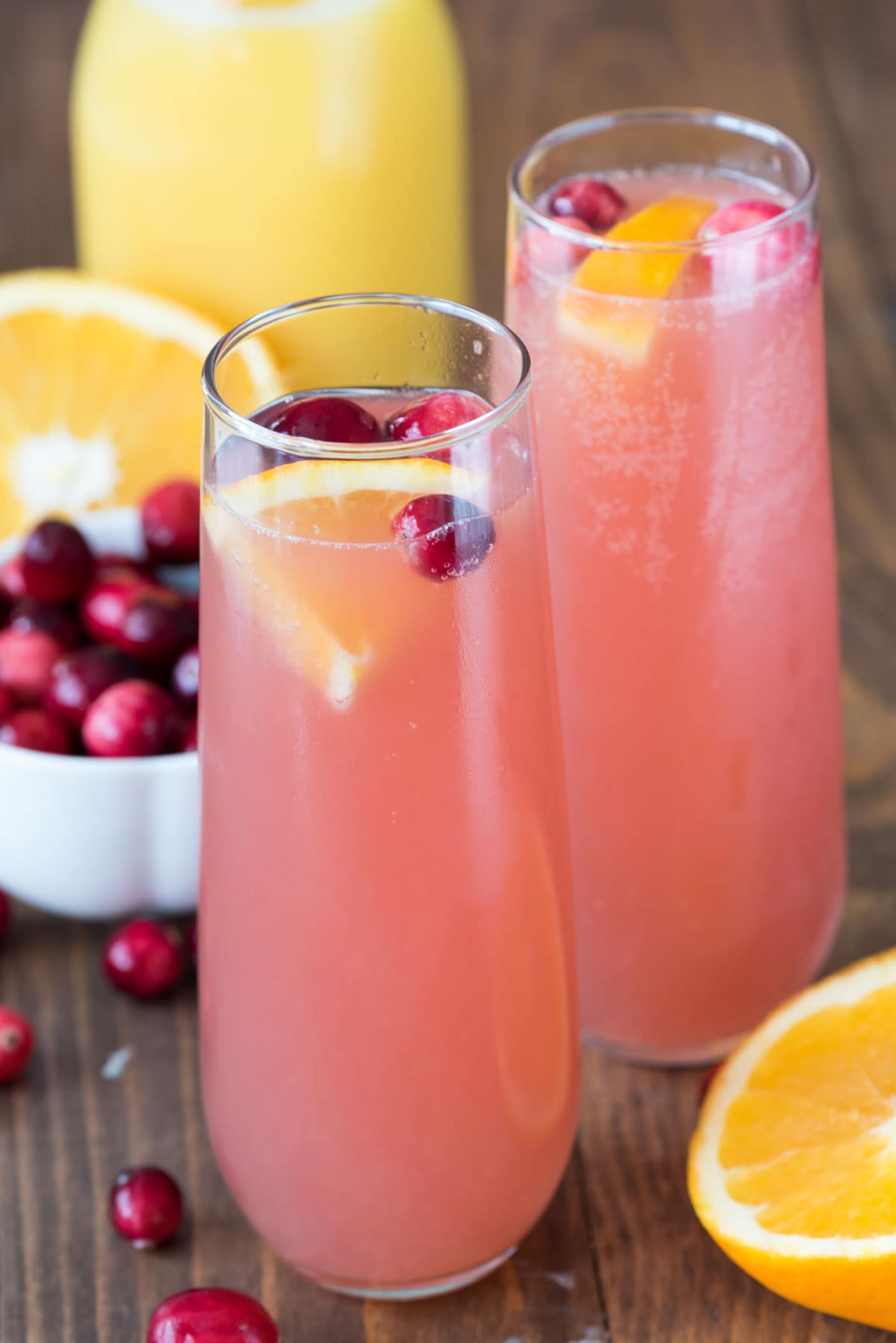 There's something so special about drinking a mimosa for breakfast on a holiday, isn't there? (Or, let's face it, any day.) I feel like it's the only day it's really acceptable to have cocktails for breakfast (even though I *may* do it more often than once a year).
This cocktail has only 3 ingredients: cranberry juice, orange juice, and sparkling wine. I love using Prosecco (La Marca is my favorite brand), but you can use champagne or any sparkling wine you love. You can make this cocktail one at a time (if, say, you're the only one who drinks mimosas at Christmas #truestory) or you can make a pitcher if you are watering a crowd.
Basically, this mimosa is just juice, which is healthy and has some good antioxidants (hello, cranberry) and vitamin C (um, OJ) so it's health food and therefore acceptable all year long at any meal. Or at least that's what I'll tell myself when I pour a second glass. ?

Three ingredients, no time at all, and delicious. This is a winner of a cocktail recipe!
Are you in love with champagne cocktails like I am? Then be sure and check out Lisa's Strawberry Bellini recipe and Cathy's Lemon Raspberry Champagne Float. You're going to love them!
Cranberry Orange Mimosa Bellini
Yield: 1 drink or 8 drinks
Cranberry Orange Mimosa – this easy 3 ingredient cocktail recipe is perfect for brunch or even as a bellini at a cocktail party!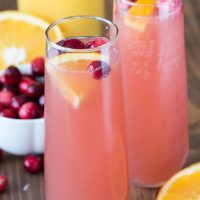 Ingredients:
For one cocktail:
2 ounces cranberry juice
1 ounce orange juice
Champagne or Prosecco, to fill the glass
For a pitcher:
2 cups cranberry juice
1 cup orange juice
1 bottle of champagne or prosecco
Directions:
To make single cocktails: add juices to champagne flute, then top off with sparkling wine. Finish with a cranberry and orange slice.
To make a pitcher: add juices to a pitcher, then add the bottle of sparkling wine. Garnish with cranberries and orange slices.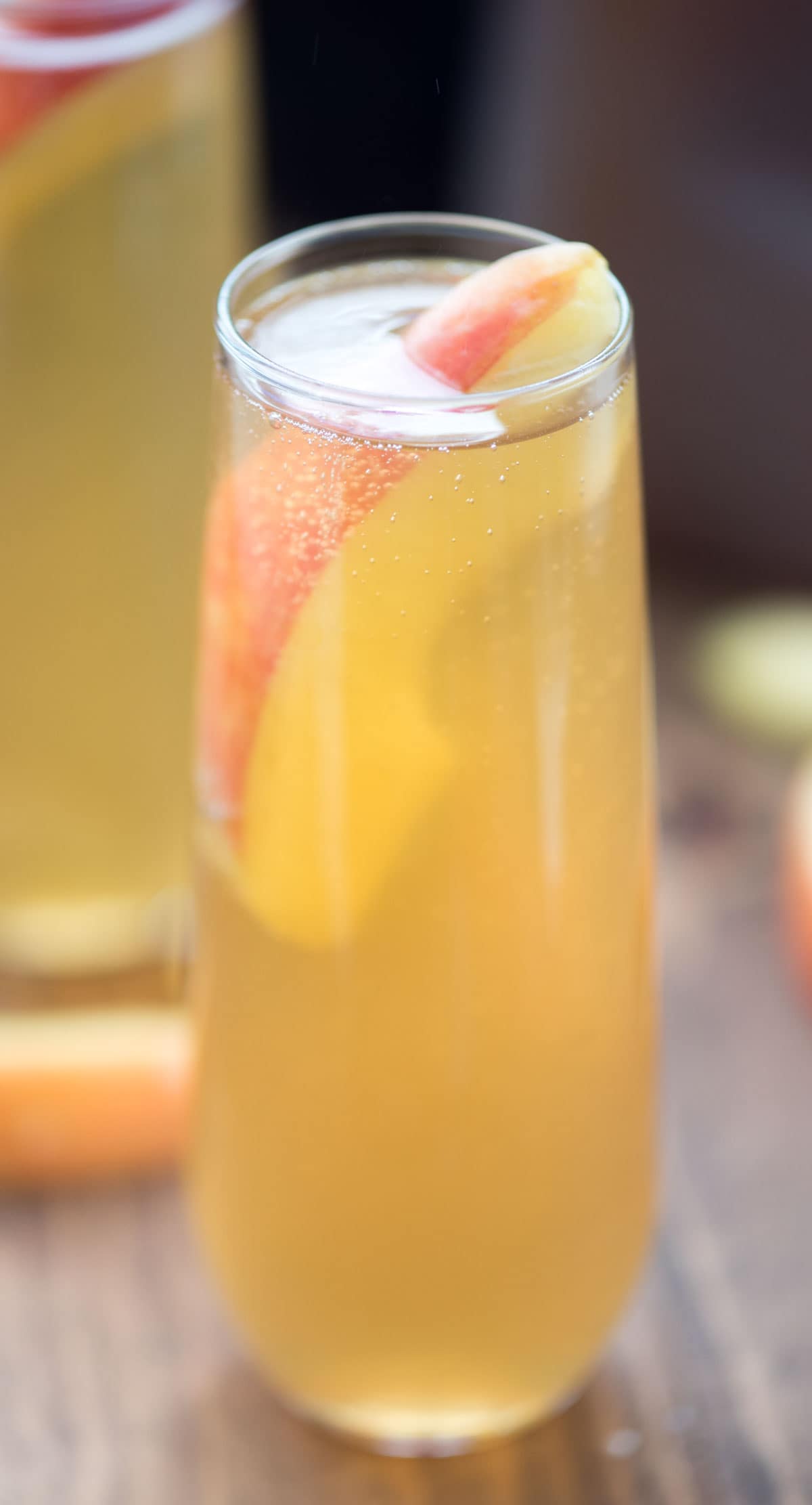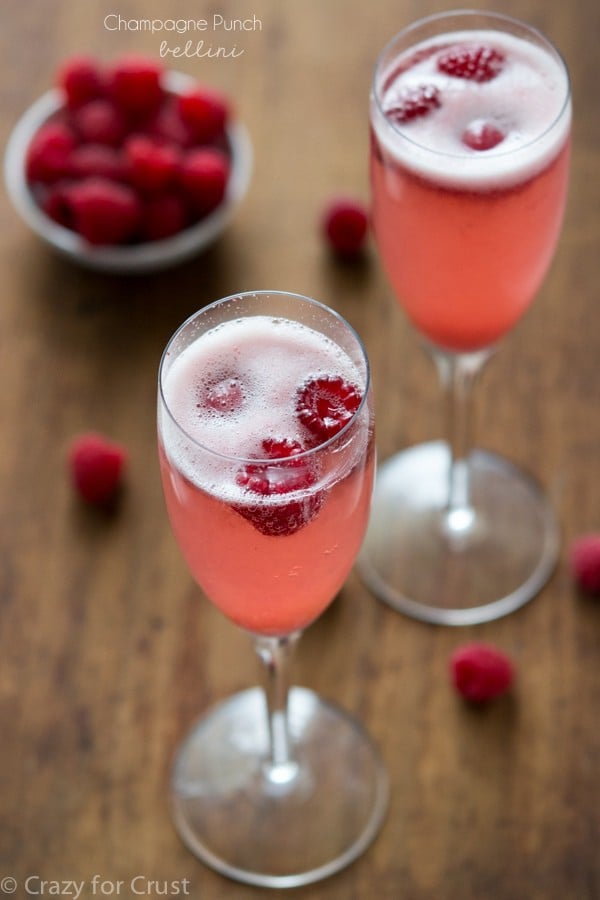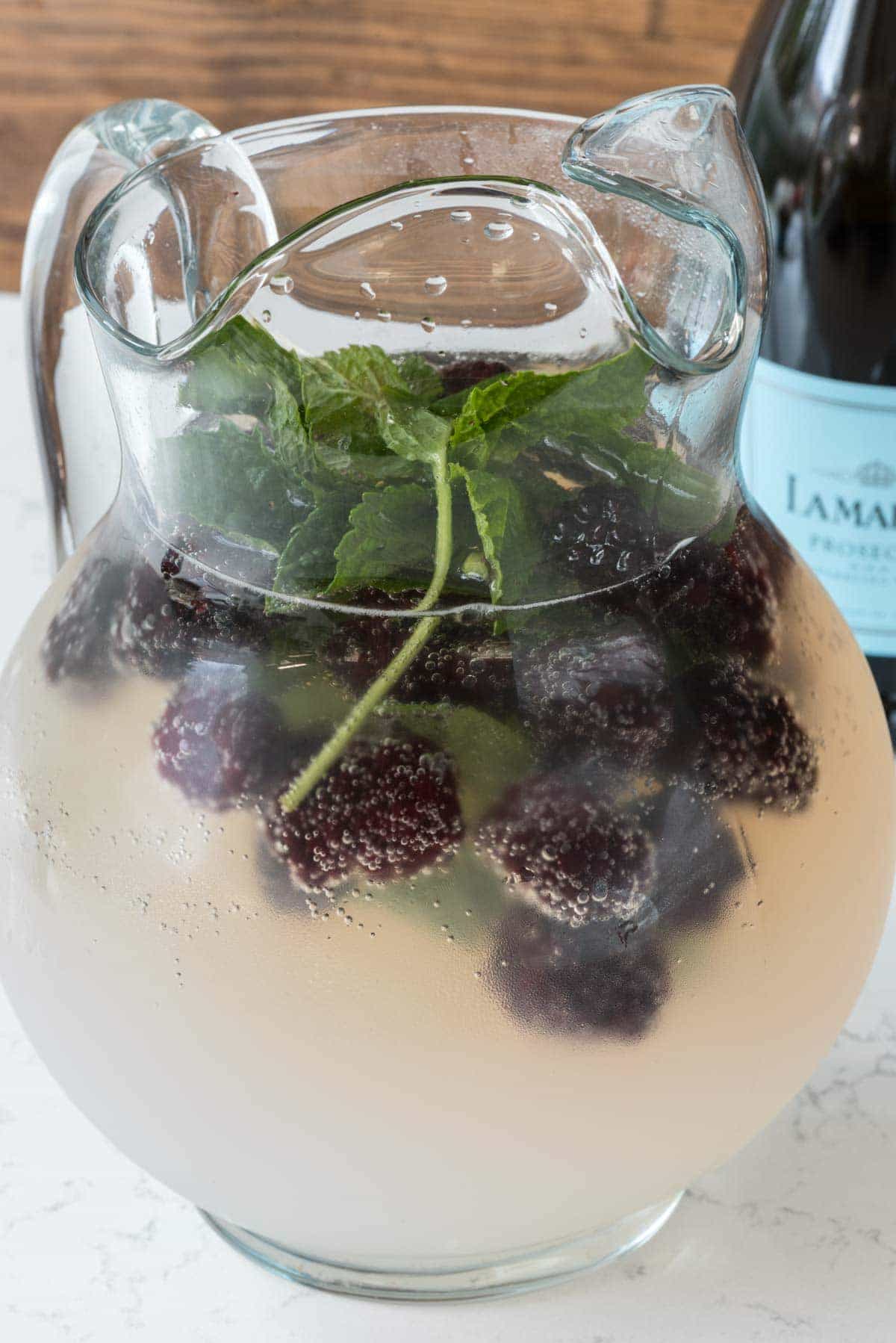 Sweets from friends:
Mimosa Margaritas by Wine & Glue
Pineapple Peach Mimosa by Big Bear's Wife
Grand Orange Mimosa by Garnish with Lemon