Pozole Rojo
Easy2 hours 15 minsGluten-Free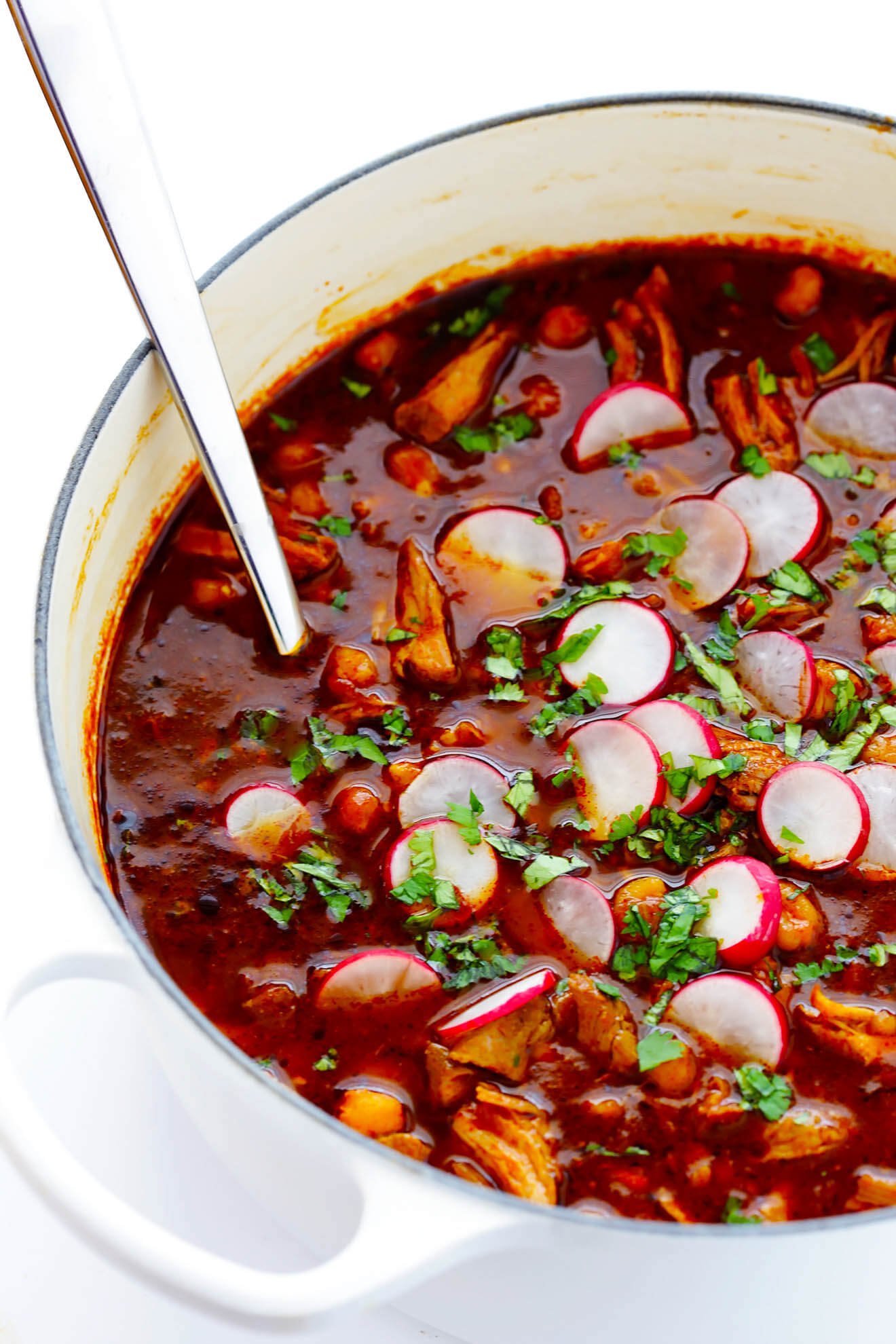 One of my random cooking goals for 2017 is to learn more about cooking with dried chile peppers. ?
I'm always passing by them at the grocery store that I frequent most in Kansas City, which is beloved for its epic selection of Latin American favorites. From soft homemade tortillas, to best selection of ultra-thick and ultra-thin tortilla chips, to homemade salsas and ceviches galore, to an enormous bin of always-ripe avocados, to every kind of fresh and dried chile peppers that you can imagine, it is absolute paradise for anyone who loves to cook Mexican food. But while I'm comfortable by now with most of the fresh produce and spices in the store, I still feel like a total novice when it comes to that enormous display of dried chile peppers…which is crazy, because I absolutely love the flavor of chiles. And know that cooking with dried chile peppers can often be the secret to making recipes taste extra delicious and authentic.
So anyway, 2017 is officially the Year Of The Chiles at mi casa! Which of course probably means it will be here on the blog too. ? I stocked my pantry with a half dozen varieties of chiles last week to get started, and look forward to cooking and experimenting with them more regularly so that I can become more familiar with their flavors (and all of the various ways they can each be cooked). And, I'm happy to say that my first attempt at making Mexican stew with three of my favorites chiles last week — ancho, guajillo, and chiles de arbol — was a smashing success.
Who wants some pozole rojo?!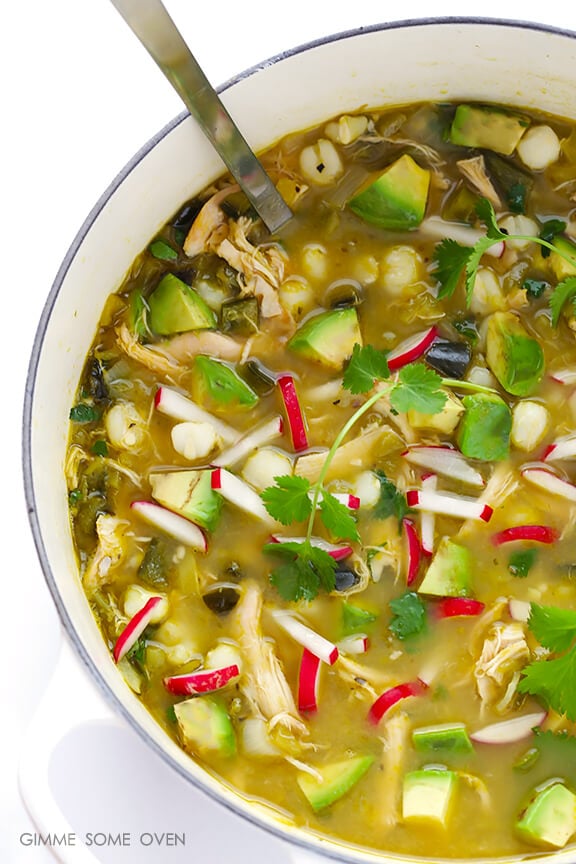 Have all of you tried pozole before? As many of you know, I already have a Pozole Verde (also sometimes spelled posole) recipe on my site — a green version of the soup, which I made with chicken instead of pork. But I've been obsessed with ordering pozole rojo — the red version of the soup — out at Mexican restaurants for years and years, and love the rich red chile broth that's the star of the show. I've tried making it a handful of times to dried chile powders, but it was never quite the same. So I figured this would be the perfect project to try attempt with my new collection of chiles.
And oh my goodness, you guys, they really did make all the difference!
To make the soup, begin by browning a bunch of pork (or you could also sub in chicken, like I did in the recipe above), then combine that with a simple soup base full of onions, garlic, hominy, and seasonings. Then while the soup is simmering on the stove, grab those ch-ch-ch-chiles!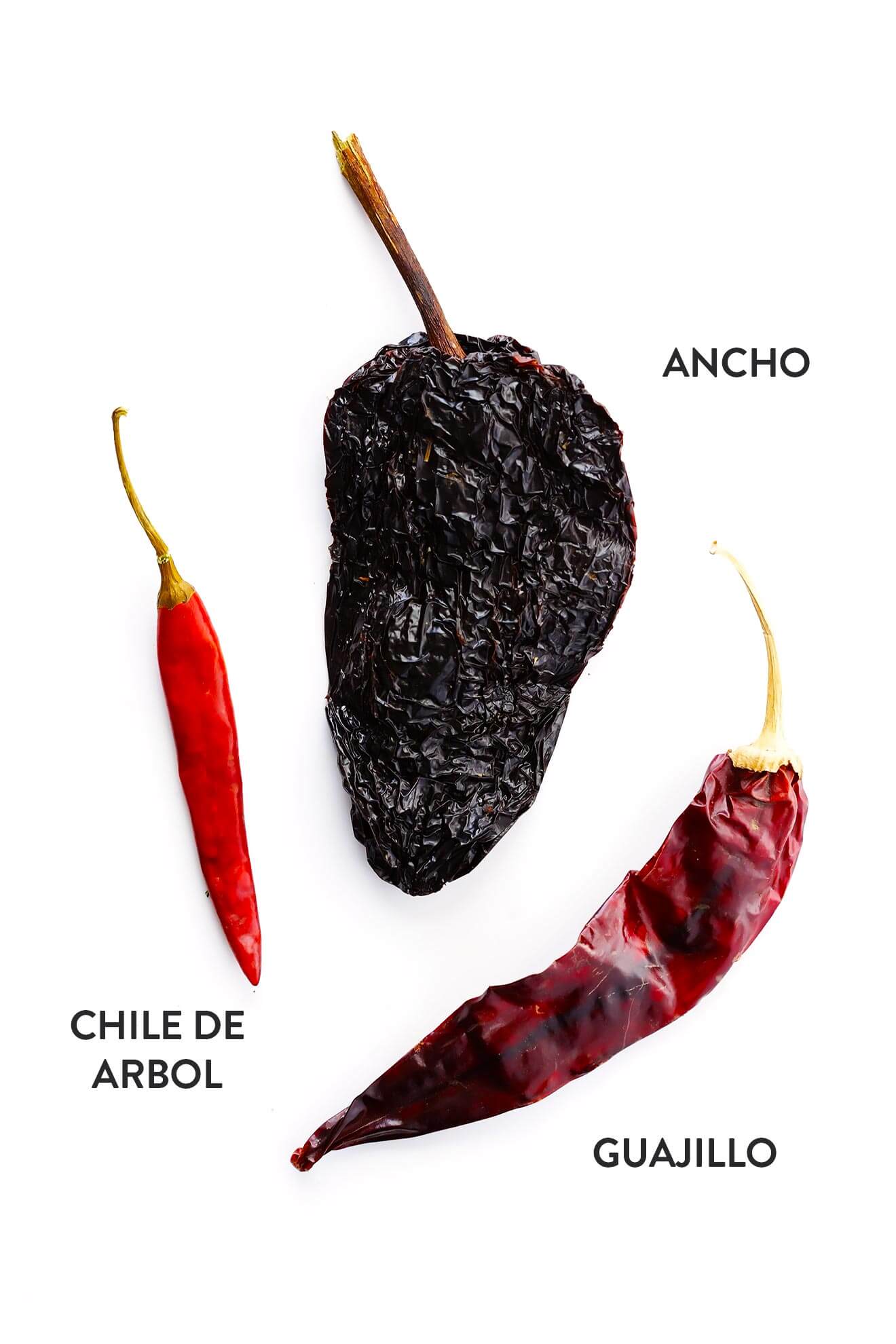 Ok, I should actually confess that I decided to play things a little safe with this recipe to begin, since I've already worked with these three types of chiles before. They're some of the most popular dried chiles in Mexican cooking, and are probably the most widely available at grocery stores across the country. (If not, you can always order them online.) But if they're new to you, I highly recommend giving them a try! They include:
Ancho Chiles: dried poblano chiles, which have a nice earthy and slightly-sweet flavor (not very spicy)
Guajillo Chiles: a little bit spicier, with great flavor
Chiles De Arbol: bright red and very spicy (also optional in this recipe, especially if you don't like much heat)
Since all of these chiles are purchased dried, they need to be soaked and reconstituted to make the chile paste for traditional pozole rojo. So just break off and discard the stems. Then give them each a shake (or slice them open) to remove and discard the seeds. Then let them soak in boiling water for about 30 minutes, or until they're nice and softened.
Then add them to a blender or food processor, along with about 2 cups of the soaking water, and puree until totally smooth. And then — voila! — your chile seasoning for the soup is ready to go! Feel free to strain the chile mixture through a fine-mesh strainer if it's not very smooth, but I just add it all straight into the soup.
Actually, if you're a sensitive to heat/spice in your food, I actually recommend adding just half or 2/3 of the chile mixture to begin. Then give it a taste and you can always add more.
Then just let the soup continue simmering until that pork is nice and tender. Then pluck out the pork with some tongs and transfer it to a cutting board, shred it into bite-sized pieces with two forks, and stir it back into the soup. Give it all a taste, and season with salt and pepper as needed. And then…

…voila! This gorgeous, rich, flavorful soup will be yours to enjoy!
Since the broth is so warm and rich and spicy, I love topping it with all things fresh and bright and creamy to balance things out, such as fresh cilantro, radishes, avocado, lime juice, and cheese. But go with whatever sounds good to you. Also, if you don't have time to make this recipe on the stove, it could be easily adapted to be made in the slow cooker. (See tips below.)
So grab some chiles and give it a try! I think you're going to love it!!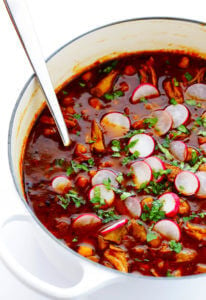 Yield: 8-10 servings
Pozole Rojo
This traditional Pozole Rojo recipe is made with tender pork and hominy, slow-simmered with the most delicious chile seasoning, and it's sure to warm you up through and through!
Ingredients:
4 ounces dried ancho chiles, dried guajillo chiles,

or

a combination of both
option to add more heat: 2-3 chiles de arbol*
2 tablespoons avocado oil or vegetable oil, divided
2 pounds boneless pork shoulder**, cut into 1.5-inch cubes
1 medium white onion, peeled and diced
8 cloves garlic, peeled and minced
8 cups chicken stock
3 (15-ounce) cans hominy, rinsed and drained
2 bay leaves
1 tablespoon ground cumin
1 tablespoon dried oregano (preferably Mexican oregano)
optional toppings: chopped fresh cilantro, crumbled cotija cheese, diced avocado, fresh lime juice, shredded cabbage, and/or thinly-sliced radishes
Directions:
Remove and discard the stems and seeds from the chiles. (You may need to give them a shake to get all of those seeds out!) Place the chiles in a medium mixing bowl, and cover them completely with boiling water. Let the chiles soak for about 30 minutes, or until softened. Once they are soft, transfer the chiles to a blender or food processor, along with 2 cups of the soaking water. Puree for 1 minute, or until completely smooth. (Always be careful when pureeing hot liquids — the hot water tends to expand, so be sure that your blender or food processor isn't too full!) Set the mixture aside for later. (You can also strain the mixture through a fine-mesh strainer to make it extra-smooth if there are some little chunks still in there, but I usually skip that step.)
Heat

1 tablespoon

oil in a large stockpot over medium-high heat. Add the pork and saute, turning occasionally, until all sides are seared and browned, about 5-7 minutes. Transfer the pork with a separate spoon to a fresh plate and set aside.
Add the remaining 1 tablespoon oil to the stockpot. Add the diced onion, and saute for 4-5 minutes until softened, stirring occasionally. Stir in the garlic, then saute for 1-2 minutes more until fragrant, stirring occasionally.
Add in the chicken stock, hominy, bay leaves, cumin, oregano, cooked pork, and the chile mixture. (I recommend stirring in 2/3 of the chile mixture to begin, then taste the soup and add the rest of the chile mixture if you'd like). Stir to combine. Continue cooking until the soup reaches a simmer. Then reduce heat to medium-low so that the soup is just barely simmering, cover partially, and cook for 1.5 to 2 hours, or until the pork is tender and shreds easily.
Once the pork is tender, use some tongs to transfer it onto a cutting board. Then shred it into bite-sized pieces using two forks. Return the pork to the soup and stir to combine.
Taste, and season generously with salt and pepper if needed. (Heads up — I used nearly a tablespoon of salt, but go with whatever tastes good to you. The brand of your chicken stock will also make a difference here.)
Serve warm with your desired toppings. Or transfer to a sealed container and refrigerate for up to 3 days.
*Chiles de arbol are definitely spicier (i.e. more heat) than the guajillo and ancho chiles. I only recommend adding them if you'd like a spicier soup.
**I recommend trimming off the noticeable sections of excess fat.
To Make This In The Slow Cooker:
Follow Step 1 above to make the chili paste in a blender or food processor. Then add the chili paste and all of the remaining ingredients (excluding toppings) to a large slow cooker. Cook for 6-8 hours on low, or 4-6 hours on high, or until the pork shreds easily with a fork. Then follow Steps 5-7 (shredding the pork, etc.) to complete the recipe.

Difficulty: Easy
Category: Gluten-Free

If you make this recipe, be sure to snap a photo and hashtag it #gimmesomeoven. I'd love to see what you cook!
This post contains affiliate links.