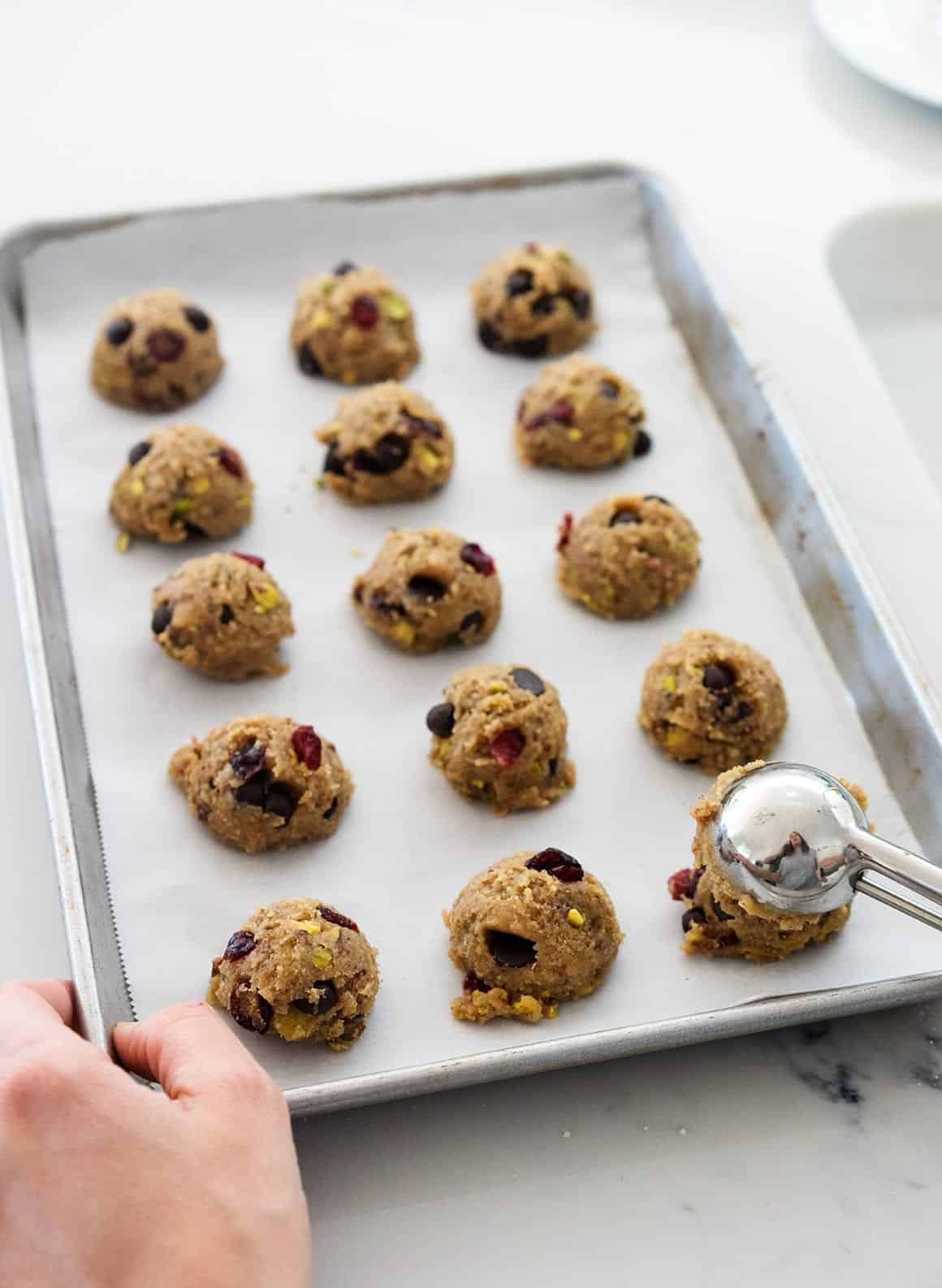 With Christmas just one week away, I thought I'd share some cookies… finally! Admittedly, I'm a little late with the holiday treats this year, but we did put up a tree (progress for us), so suffice it to say that our halls are decked! Or at least decked enough.
Since chocolate chip cookies are my favorite thing to bake, I started there and then jazzed them up with pistachios and cranberries. They're sweet, nutty, and a little tangy – basically everything I crave in a sweet treat.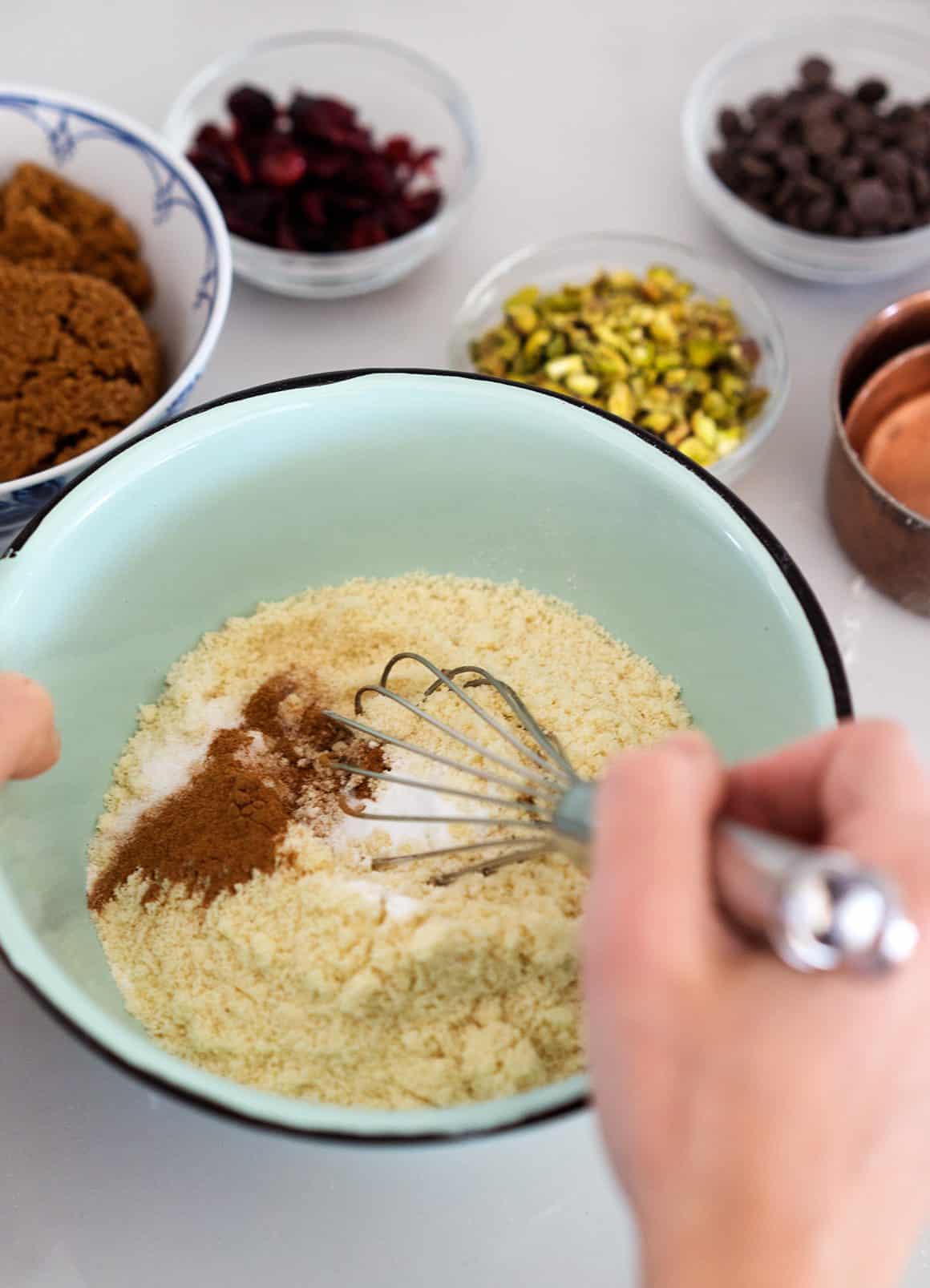 The dry mix of this batter is made with half almond flour, which makes these a tad healthier than your average holiday cookie and also a bit more filling. Sometimes I can sit down and eat 10 cookies, but these guys satisfy my cookie cravings after one or two.

Christmas came early this year and we got this new Love & Lemons-themed (Majestic Yellow) KitchenAid® Artisan® Stand Mixer. I hope you caught last week's post where I put their Spiralizer attachment to work. This week, I used the traditional mixer attachments to make my cookies. So classic.





Oh, and did I mention? These cookies are vegan, which means no raw eggs, which ALSO means – cookie dough time! Seriously, my favorite part about baking cookies is getting to that step where the mix-ins get mixed in. I'll take the bowl and a spoon and see you later ?
Ok, I did actually use the dough to bake a few because Jack really likes his cookies cooked!

Cranberry Pistachio Chip Cookies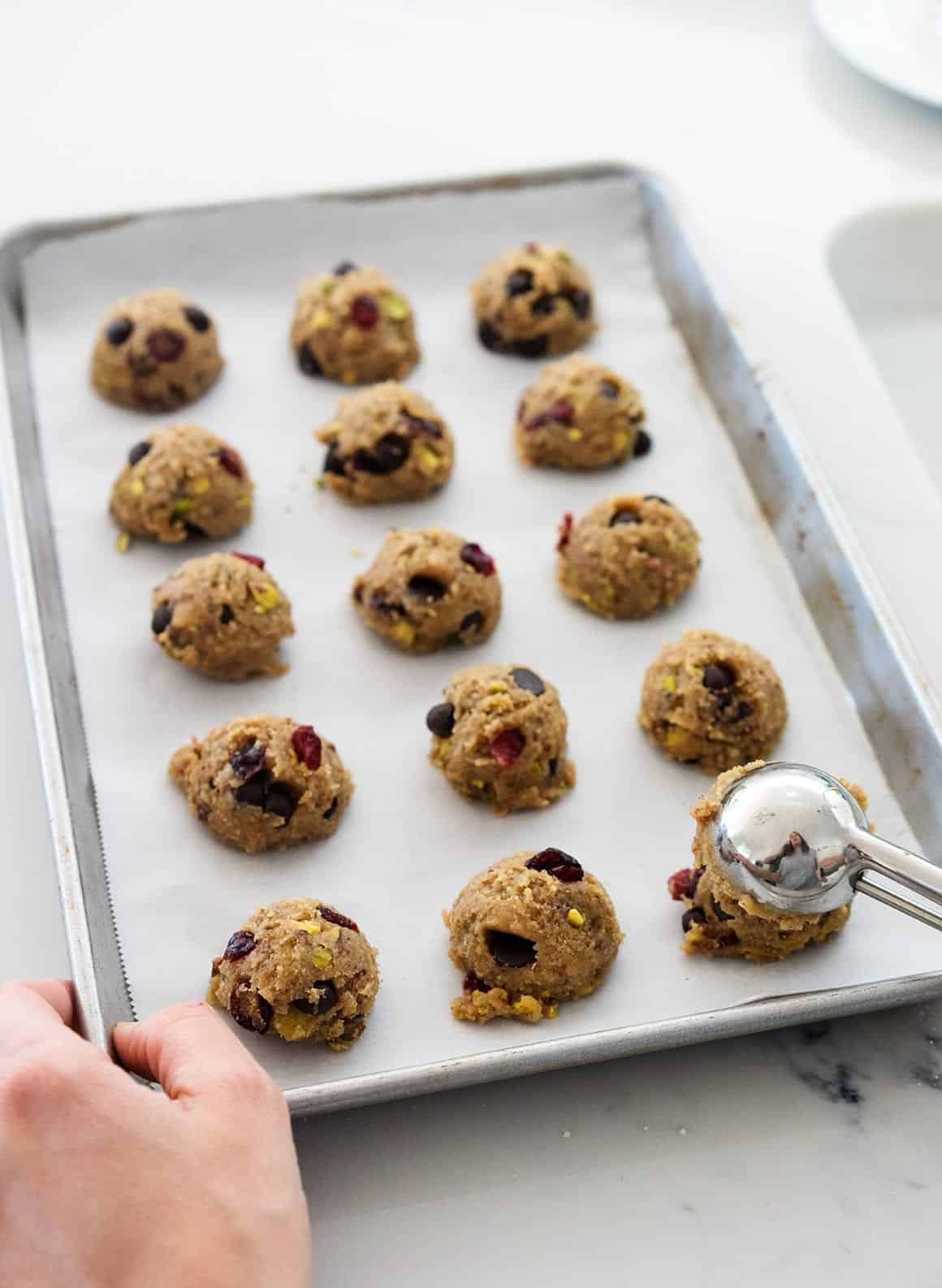 2 tablespoons ground flaxseed + 6 tablespoons warm water
1¼ cups all-purpose flour or whole wheat pastry flour
1 cup almond flour
1 teaspoon baking soda
½ teaspoon cinnamon
1 teaspoon sea salt
⅓ cup soft coconut oil
½ cup cane sugar
½ cup brown sugar
1 tablespoon almond milk
1 teaspoon vanilla extract
⅓ cup chocolate chips*
⅓ cup chopped pistachios
⅓ cup dried cranberries
Preheat the oven to 350°F and line a large baking sheet with parchment paper.
In the bottom of a stand mixer's bowl, combine the flaxseed and water. Whisk (by hand) and set aside to thicken for 5 minutes and whisk again.
In a medium bowl, combine the flours, baking soda, cinnamon and salt.
To the mixer's bowl, add the coconut oil, cane sugar, brown sugar, almond milk and vanilla. Mix on high until well combined.
Gradually add the dry ingredients to the wet ingredients, mixing on low after each addition, scraping down the sides of the bowl as needed. Stir in the chocolate chips, cranberries, pistachios.
Use a 2-inch cookie scoop to scoop the dough onto the baking sheet. Bake 12-13 minutes or until lightly golden brown. (If using a 1-inch scoop, bake 10 minutes). Let the cookies cool on the baking sheet for 20 minutes before cooling completely on a wire rack.
*If you're vegan, be sure to get vegan chocolate chips. I like the Enjoy Life brand, they're easy to find at Whole Foods in the baking aisle.
3.4.3177
This post is in partnership with KitchenAid®. Thank you for supporting the sponsors that keep us cooking!