Cream Cheese Alfredo Sauce is a quick, rich, and flavorful sauce made in under 15 minutes!

Alfredo Sauce is one of those things that literally everyone in my family will agree on. Seriously, what's not to love? Butter, cheese, cream… and it's generally served over a pasta dish, because carbs coated in creamy sauce is quite possibly the perfect food…I mean as long as you're not counting your calories/carbs/fat/macros or whatever the diet of the month is.
I make a pretty mean and super simple Fettuccine Alfredo. But if you're looking for something a little different, and extra creamy, this cream cheese alfredo sauce is a MUST try!
It's ridiculously easy, ultra creamy, and doesn't do that thing that alfredo sauce sometimes does when it separates or gets too thick.

MY OTHER RECIPES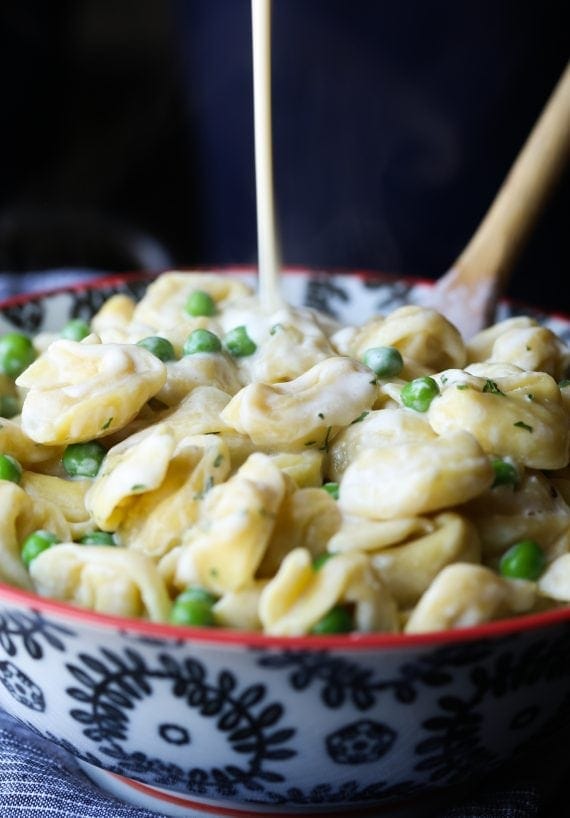 Of course, the longer it simmers or sits off the heat, the thicker it will get, but it always stays creamy and pourable, which is fantastic for serving over tortellini, which my kids love. You can add peas, mushrooms, chicken, bacon… whatever you want to make this dish your own. This sauce works perfectly with pretty much everything!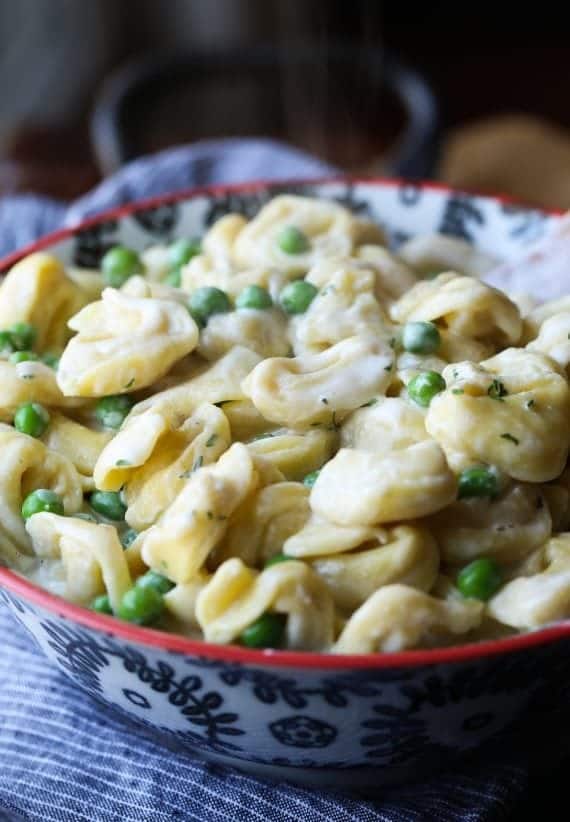 I start the sauce, when I put the water on to boil for the pasta and everything comes together at the same time. You really can't ask for an easier, more filling, or family friendly meal for a weeknight dinner!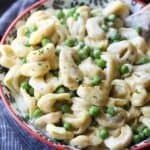 Cream Cheese Alfredo Sauce
---
Description
This is such a quick a creamy pasta sauce, that you can make in under 15 minutes!
---
Ingredients
6 tablespoons butter
1 (8- ounce) package cream cheese
2 cloves garlic, minced
1 3/4 cup milk
1 cup freshly grated Parmesan cheese
1/2 teaspoon seasoned salt
1/4 teaspoon freshly ground black pepper
---
Instructions
In a medium saucepan over medium heat melt the butter, cream cheese, and garlic together, stirring very frequently.
Add milk and whisk constantly until smooth and warm.
Add in Parmesan cheese, salt, and pepper and stir until thickened, about 5 minutes.
Serve over your favorite pasta.
---
Notes
Sauce will thicken as it cools, or if simmered too long. If this happens, just add a little more milk.
I used whole milk for this recipe, but you can also use 2%.
Related