These Extra Crispy Chicken Cutlets are so easy to make with a crispy and flavor packed coating on the outside with juicy, tender chicken on the inside! Enjoy them on their own, on a sandwich, or sliced on a salad, or pasta!
The Best Crispy Chicken Cutlets
Chicken Cutlets are a forever recipe in our house. I never really thought to share how I make mine until recently when I posted a video on TikTok and everyone seemed to love it! SO I thought why not share that recipe here too! You could make this cutlet recipe as strips if you want to serve chicken tenders to your family, or even as nuggets too (although I HIGHLY recommend you check out my Homemade Chicken Nuggets which taste like Chick Fil A)!
What are Chicken Cutlets? 
Chicken cutlets are very simply just thin sliced boneless chicken breasts. Generally a thicker breast will be cut horizontally in half and then pounded even thinner if necessary.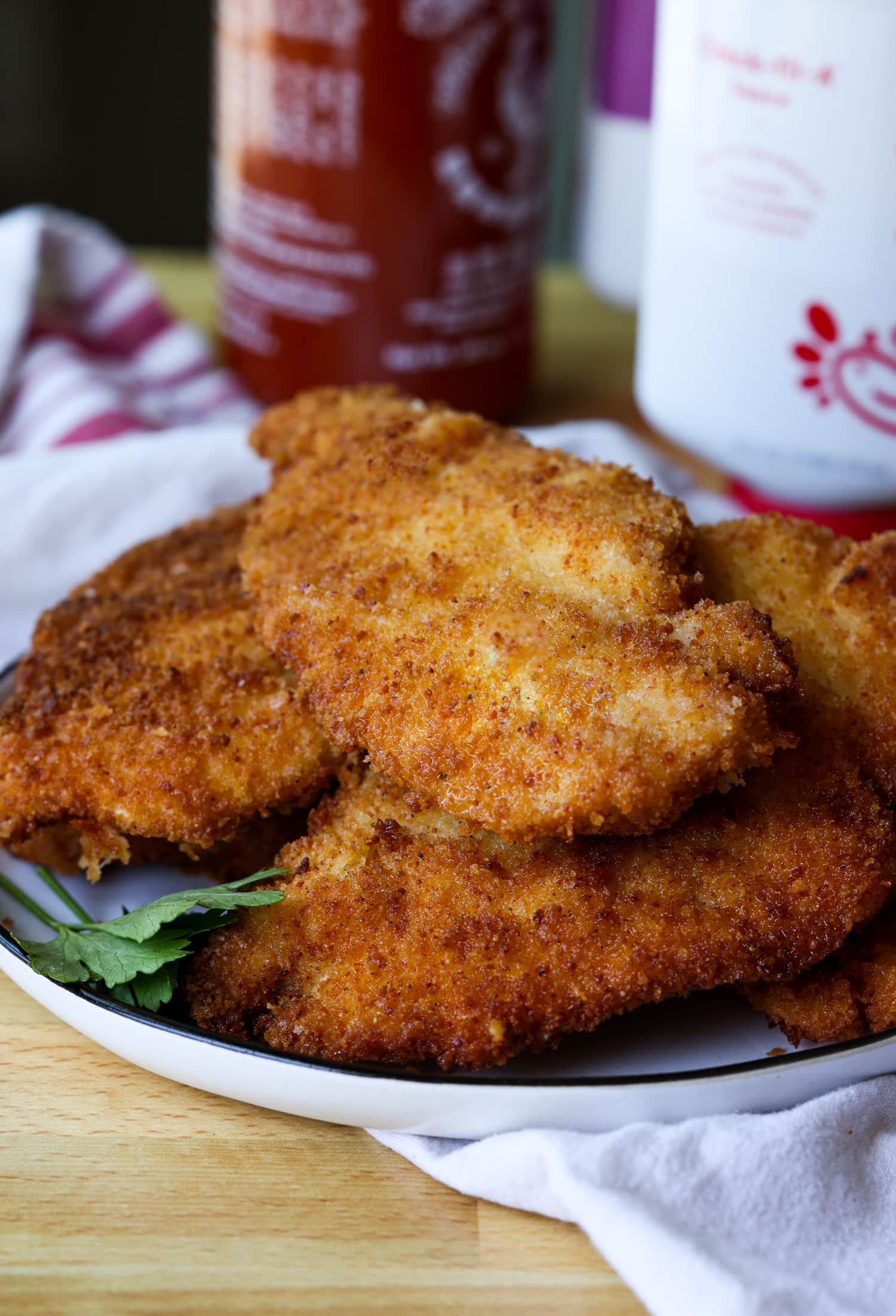 Why This Recipe Works
This is a classic chicken cutlet recipe that we have been making for years. I often will swap out the kind of breadcrumbs I use for different effect, but panko is the crispiest and we love that! Here's why this chicken cutlet recipe is no-fail:
Using thin chicken cutlets gives you uniform chicken that will fry evenly!
The crispy coating is due to the 3 step breading process, as well as using Panko bread crumbs!
Patting the chicken dry ensures you are removing extra moisture from the chicken giving you the crispiest coating possible. Note: Not all chicken is equal, and some DOES hold more water than other chicken. There are loads of factors at play here, but patting your chicken dry is an easy way to do your best at preventing a soggy coating.
Layers of flavor. You will notice that I season every layer of the coating: the flour is has seasoned salt, the egg mixture has hot sauce, and the panko has garlic powder, salt, pepper, and cheese. 
Ingredients:
Thin Sliced Chicken Breasts. You can buy them already sliced thin or you can slice thicker breasts in your own kitchen. You can also pound the chicken out between 2 pieces of parchment paper to ensure that they are all the same thickness. 
All Purpose Flour
Seasoned salt
Eggs
Water
Hot sauce. This is optional. but it's a nice way to add a little more flavor in. You aren't adding a lot, just enough to give it a little something. You can use any brand you like, I used Frank's.
Panko breadcrumbs. You could make your own breadcrumbs as well using a leftover baguette. Or you can use traditional style breadcrumbs, or Italian breadcrumbs as well, I just love the added crunch that Panko gives!
Garlic powder
Kosher salt 
Black pepper
Parmesan Cheese. You can omit the cheese here if you prefer, but note it adds some really great flavor without making the chicken "cheesy". You could also sub out the Parm for any other firm grated cheese like Pecorino Romano.
Oil to fry. Any light oil will work.