Crockpot Red Beans and Rice is a classic Creole dish that serves up savory Andouille sausage mixed with fluffy rice and a host of herbs and spices. Easy comfort food at its best!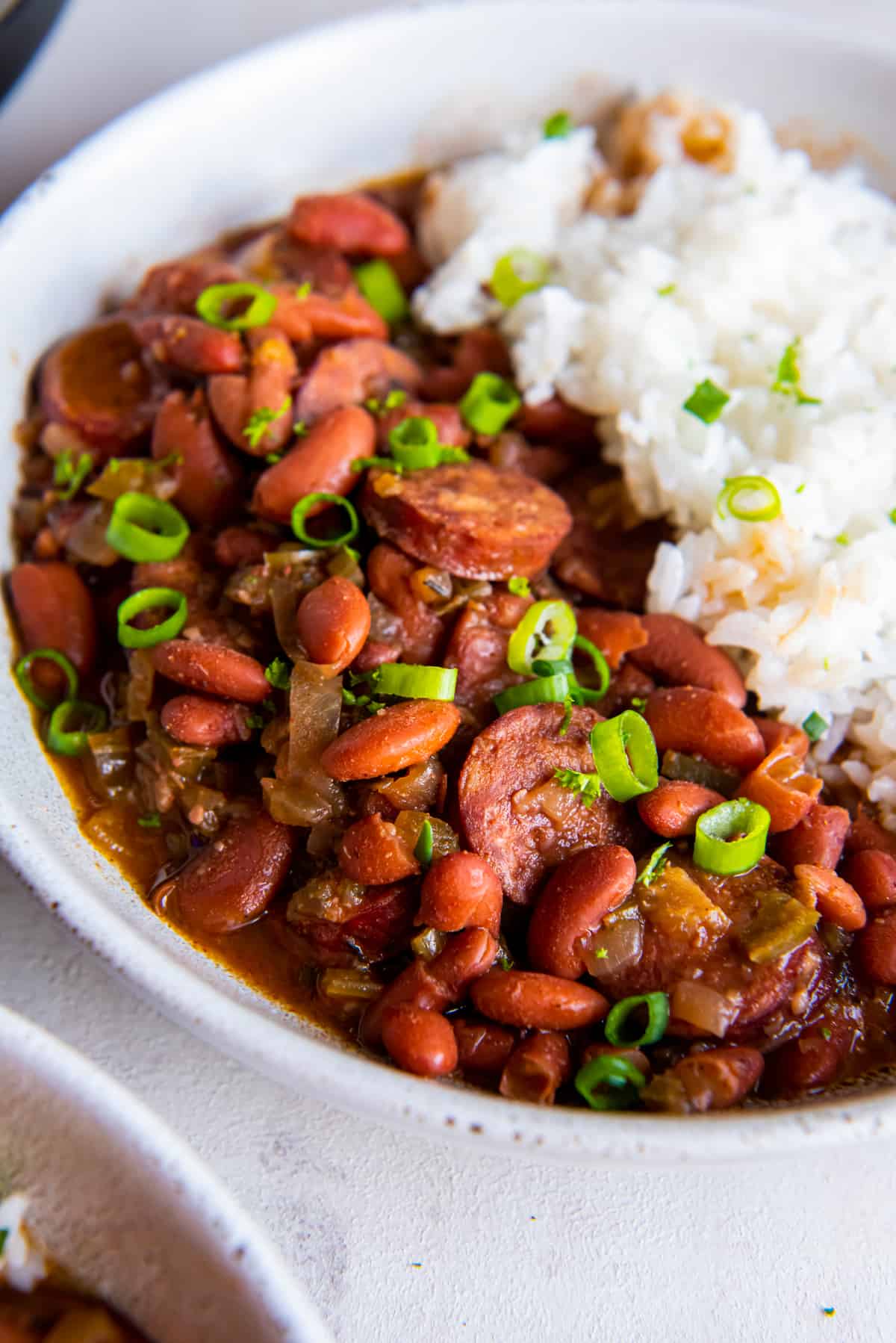 Red Beans and Rice with Sausage
This flavor-packed recipe is made for the slow cooker! Plump red beans and salty sausage in a savory chicken broth, served up with a side of rice for a super satisfying bite!
Cooking red beans and rice in the crockpot allows all the flavors to develop into a rich and delicious meal! Simple to make and it's gluten free!
Looking for other easy dinner ideas? Why not also try my Shrimp Creole and Chicken Sausage Gumbo.
Why You'll Love this Recipe for Red Beans and Rice:
SAVORY: Made with Andouille sausage and an addictive mix of spices, this dish is so satisfyingly savory!
GREAT FOR MEAL PLANNING: Perfect for meal prep, you can easily freeze a big batch and voila – easy weeknight dinner!
EASY: Made mainly with kitchen staples, just throw the ingredients into the slow cooker – then set and forget!
Filling and flavor-packed, rice and beans has never been so tasty!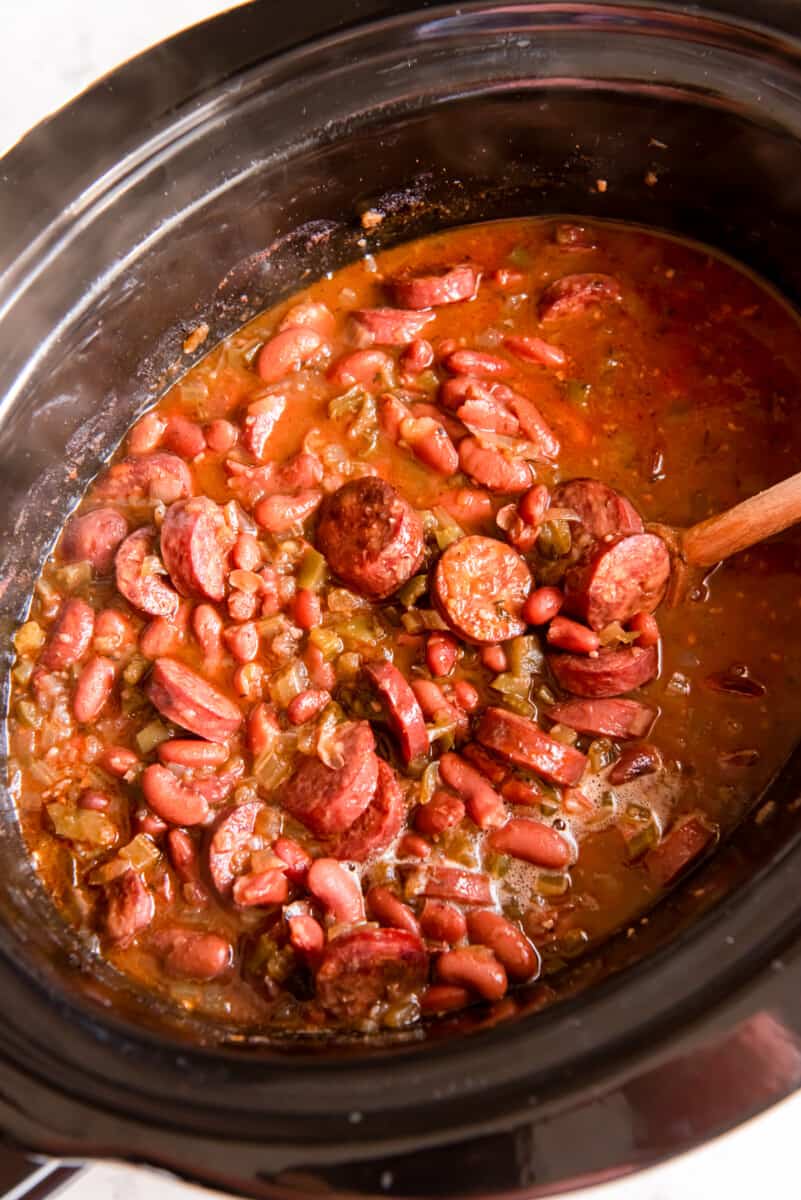 How to Make Red Beans and Rice in a Crockpot
Be sure to see the recipe card below for full ingredients & instructions!
Add all your ingredients to the slow cooker and stir until combined.
Cook on high for 6-8 hours.
Serve and enjoy!
Truly so simple to make! Prep your ingredients ahead of time, so they're ready to throw into the cooker.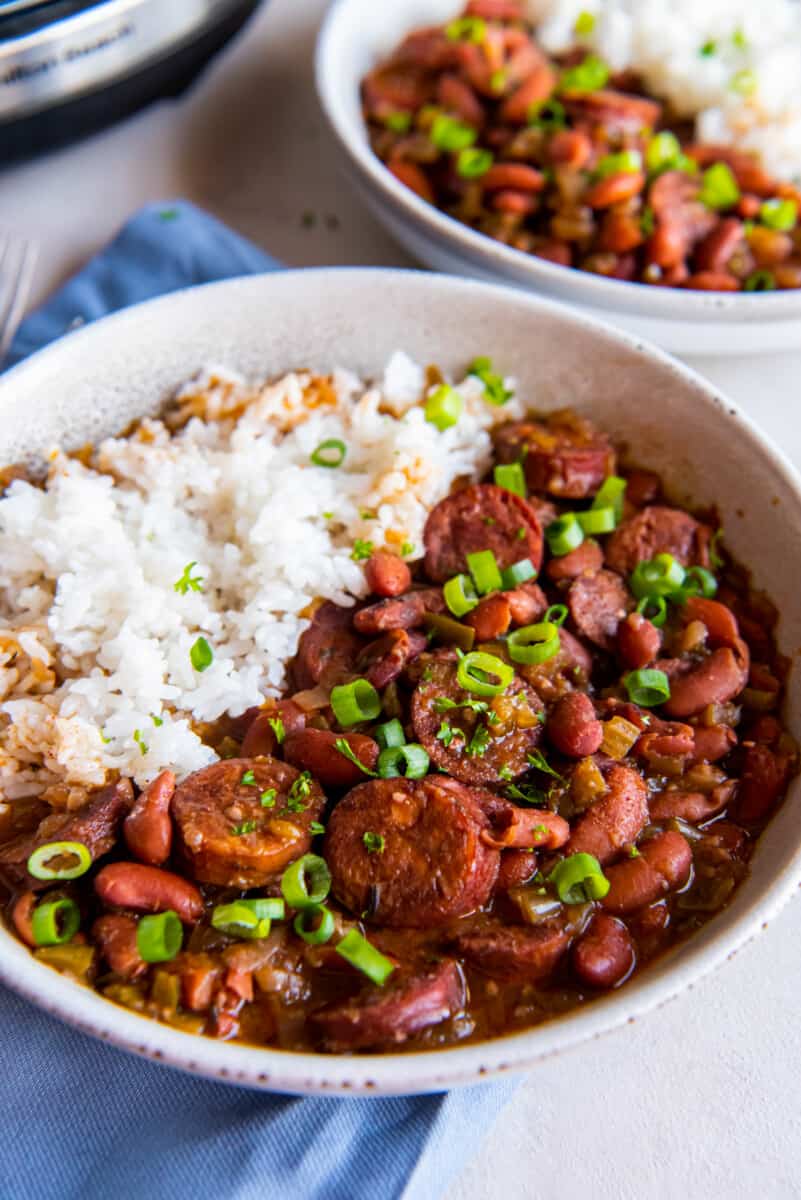 Are red beans and kidney beans the same thing?
Many people think kidney beans and red beans are the same, but they're not! Kidney beans are much larger than red beans and have darker skin. Red beans are almost pink in color and more oblong-shaped, while kidney beans are shaped like, well, kidneys. Fortunately, for this recipe, you can use either bean!
What will happen if I eat undercooked kidney beans?
Unfortunately, kidney beans are not safe to eat unless they have been fully cooked. Fully cooked kidney beans are tender and creamy, and some of them may even split open. If you accidentally eat undercooked kidney beans, you may experience gastrointestinal upset or vomiting. If these symptoms are severe or persistent, it's a good idea to visit the ER.
Can I make crockpot red beans and rice with canned beans?
Yes, you can use canned kidney beans in this recipe. Simply reduce the cooking time to 4-5 hours on low.
What kind of rice should I serve with red beans?
Long grain white rice is a great choice to serve with red beans, but you can use whatever you have on hand.
Serving Suggestions
This is a meal in its own right but you can totally amp things up with all kinds of sides. Here are some favorites:
Whether you have this on its own or with a side, it's guaranteed to satisfy!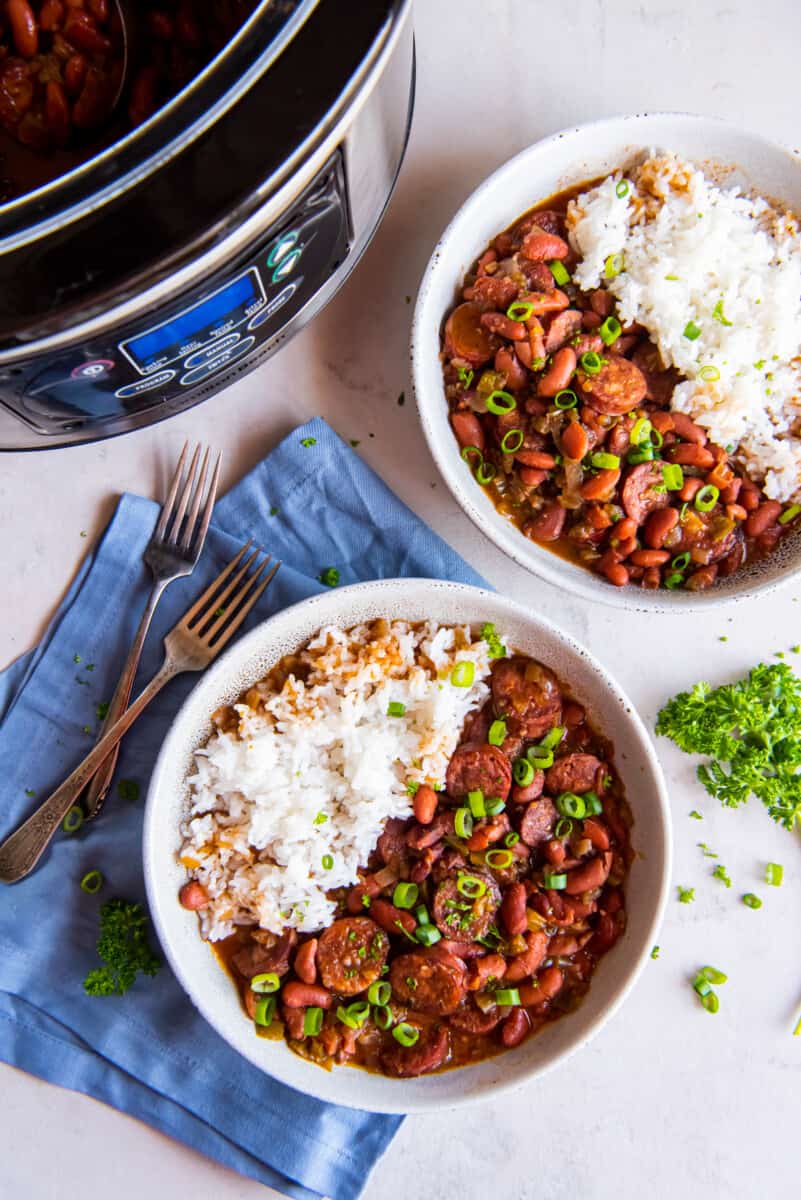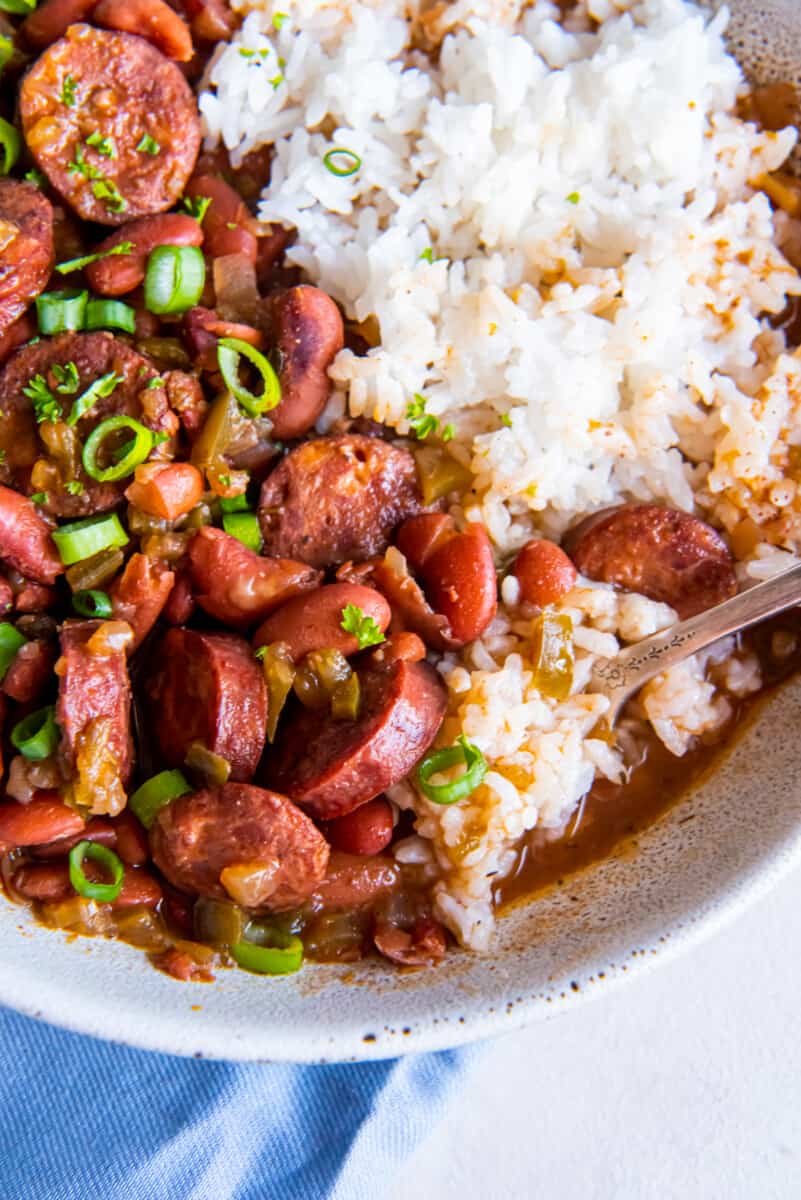 Storage Instructions
Store leftover red beans and rice in an airtight container in the refrigerator for up to 3 days.
Freezing Instructions
Freeze red beans and rice in an airtight container or Ziplock bag for up to 3 months. Allow to thaw in the refrigerator overnight before reheating.
Red Beans and Rice Tips
You DO NOT have to soak your beans ahead of time for this recipe.
If you're unable to find andouille sausage, try chorizo. You can use spicy Italian sausage, but it will lack that smoky flavor.
Make sure to cook on high to ensure the beans are fully cooked. Only cook on low if using canned beans.
Feel free to gently mash your beans before serving to create a creamier texture.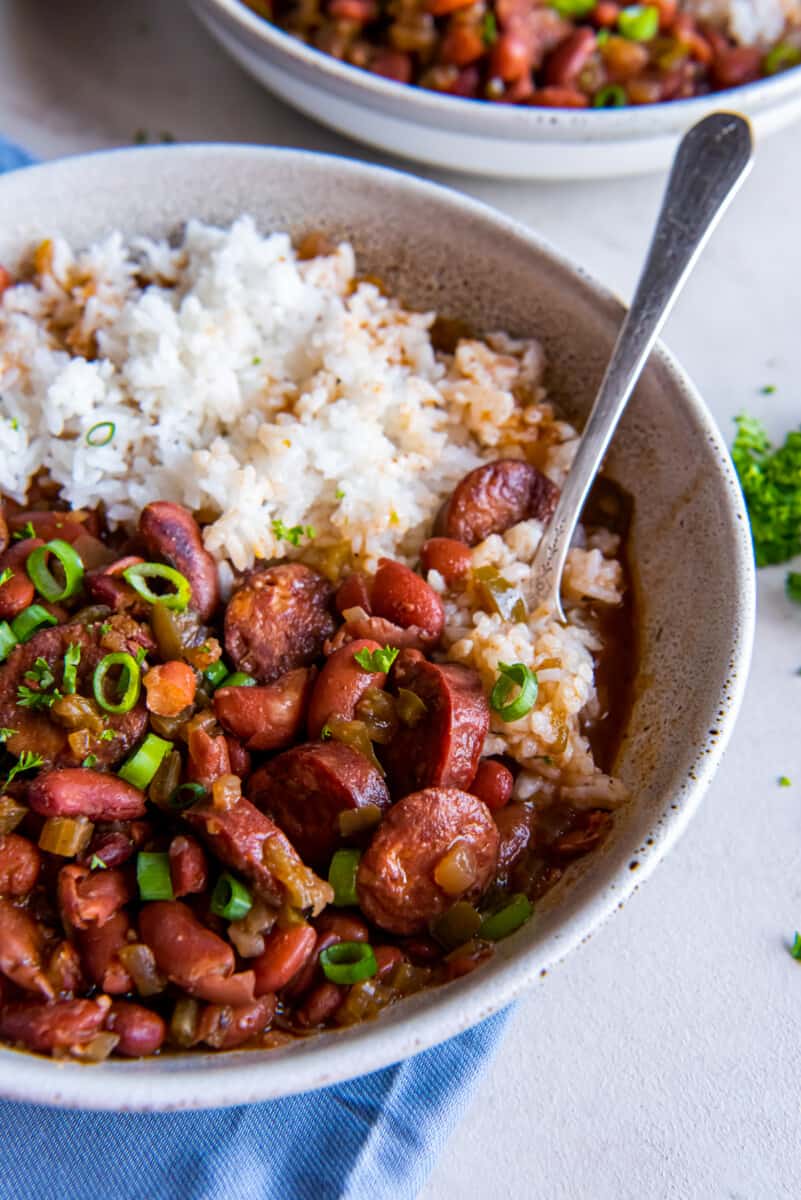 Whipped up in the slow cooker with ease, this crockpot red beans and rice recipe is pure comfort and joy! Loaded with a delicious mix of spices, the broth smothers juicy red beans and savory sausage. Perfect as a freezer meal or easily whipped up for a weeknight dinner – simple has never tasted so delicious!
If you make this recipe be sure to upload a photo in the comment section below or leave a rating. Enjoy!