Crockpot Spinach Dip is a delicious and healthy(er) way to enjoy spinach parmesan dip at your next tailgate party. This easy spinach dip is the perfect appetizer! It's so tasty AND it's a healthy spinach dip you won't feel guilty about eating!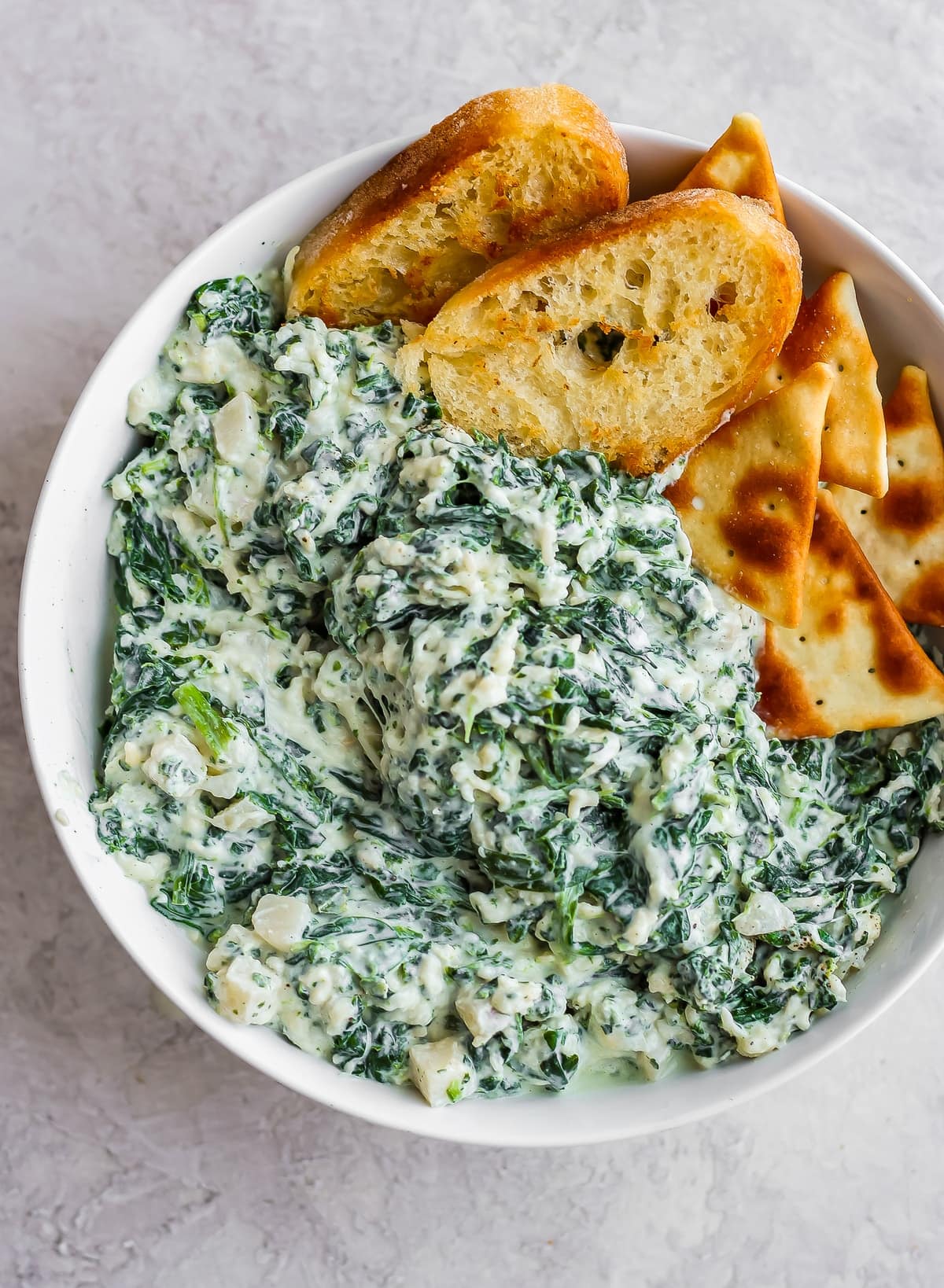 Crockpot Spinach Dip
Make a delicious Spinach Parmesan Dip with ease with this easy Crockpot Spinach Dip recipe. It's a skinny version of a classic hot dip!
There are so many things to love about a good crockpot dip recipe. Slow cooker recipes are usually super easy to make, they're perfect for a crowd, and they are always my favorite food at the party! This Skinny Spinach Parmesan Dip would DEFINITELY be my favorite appetizer in the room. Yum!
I love having delicious dips for every party, especially on game day! And it's always nice to make something with a few less calories, so I turned everybody's favorite dip into a healthy spinach dip recipe. That's right, this creamy, cheesy hot spinach dip is actually pretty low in calories, thanks to a few substitute ingredients.
Even better, this recipe is so EASY because it's made in a slow cooker. I love preparing this Crockpot Spinach Dip for parties because I hardly have to do anything at all!
Make this skinny and EASY spinach dip for your next party. You can skip the calories without missing out on taste!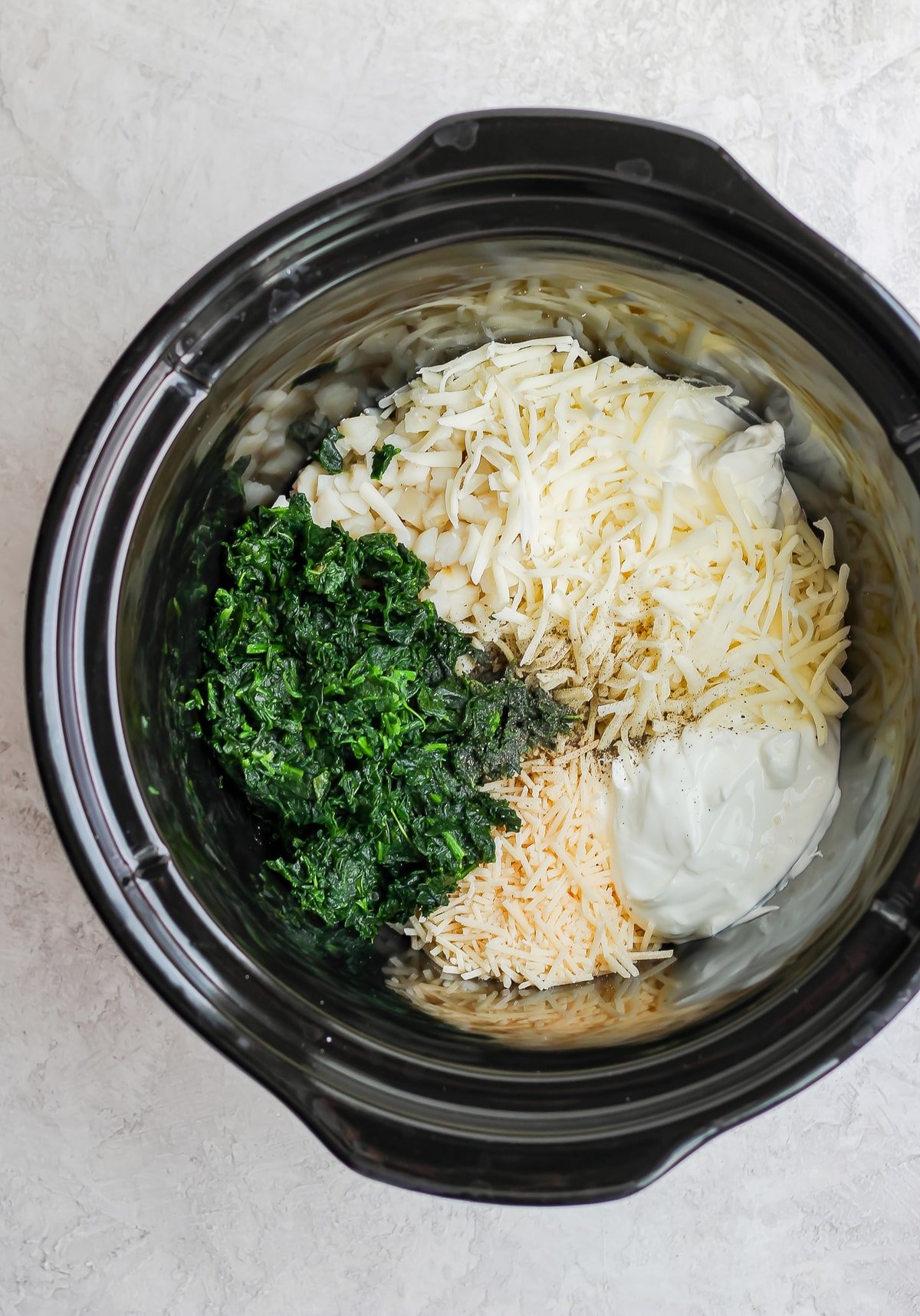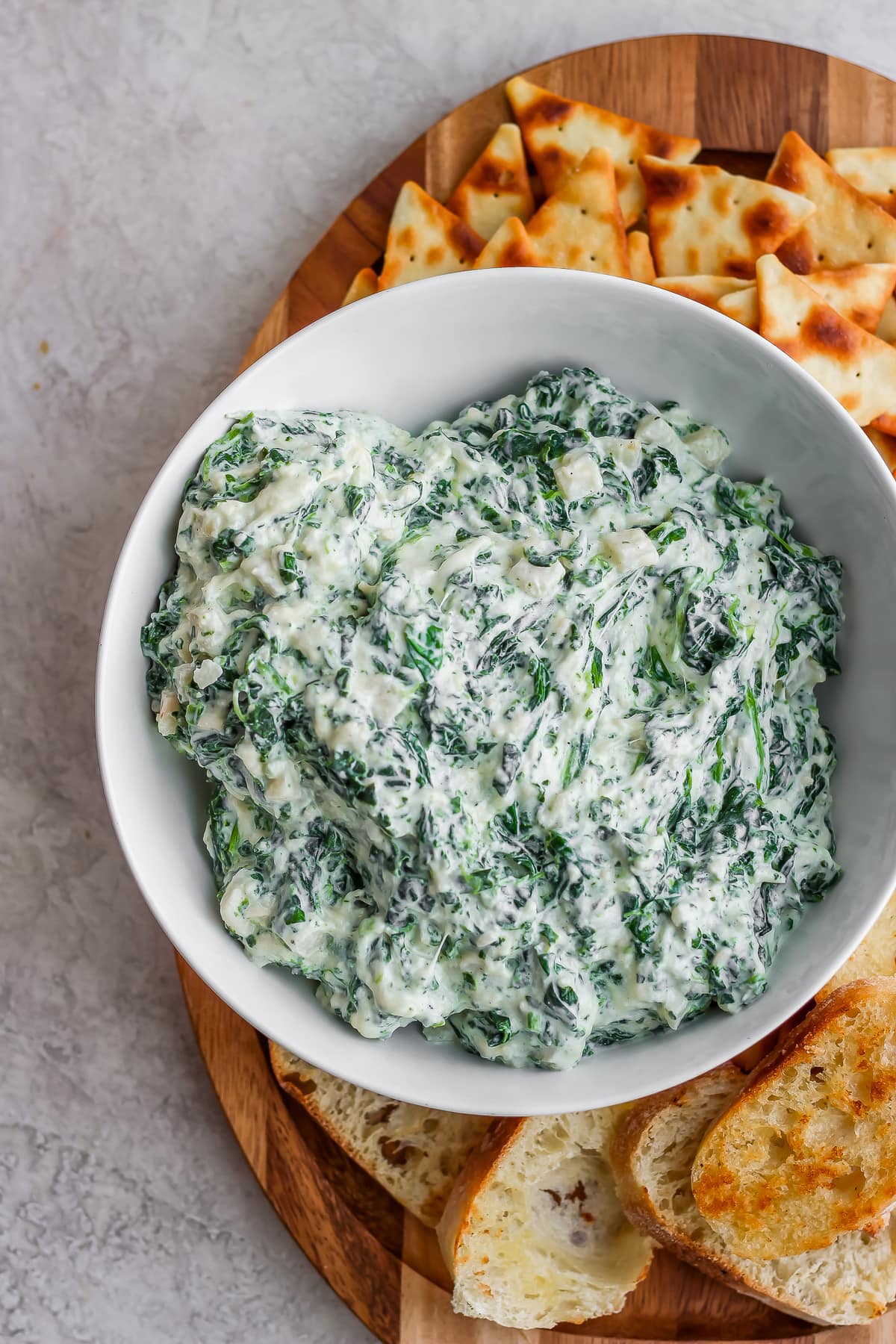 Healthy Spinach Dip
This Crockpot Spinach Dip recipe is made skinny by using a few substitute ingredients, including one of my favorites: Greek Yogurt. It's like my healthy secret weapon because it makes such a good substitute in so many recipes! It gives you a creamy texture while making favorite dishes a bit lighter. Trust me, you won't even miss the calories in this healthy spinach dip!
A couple other quick fixes to help lighten up our dip are light sour cream and low fat mozzarella cheese. It's simple replacements like these that can make all the difference!
Skinny Spinach Parmesan Dip Ingredients:
Frozen Spinach
Light Sour Cream
Greek Yogurt
Parmesan Cheese
Water Chestnuts (adds such a great texture)
Garlic
Low Fat Shredded Mozzarella
Pinch of Pepper
What goes well with spinach dip?
My favorite thing to serve with this healthy spinach dip is baked pita chips! They are a lighter and healthier alternative to other chips, plus they just taste so good with the spinach parmesan flavor. They tend to hold up well too, so they're perfect for dipping (the more dip you can fit on your chip, the better!). 
But this dip goes well with any kind of chips or crackers, so serve it with whatever you have, or set out a variety of options. It's also the perfect thing to serve with crostini! You could also try these homemade baked tortilla chips for another fun dipping option!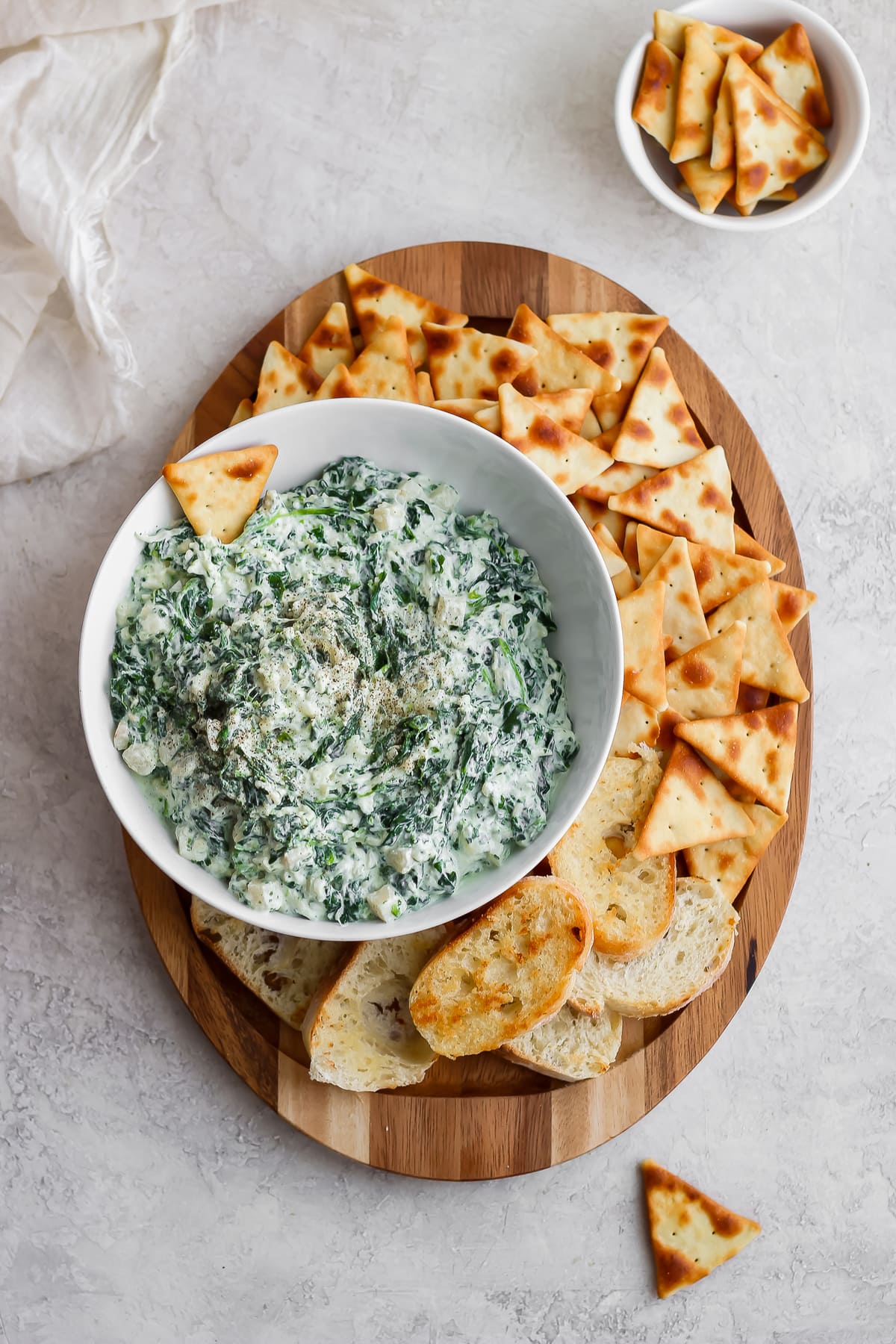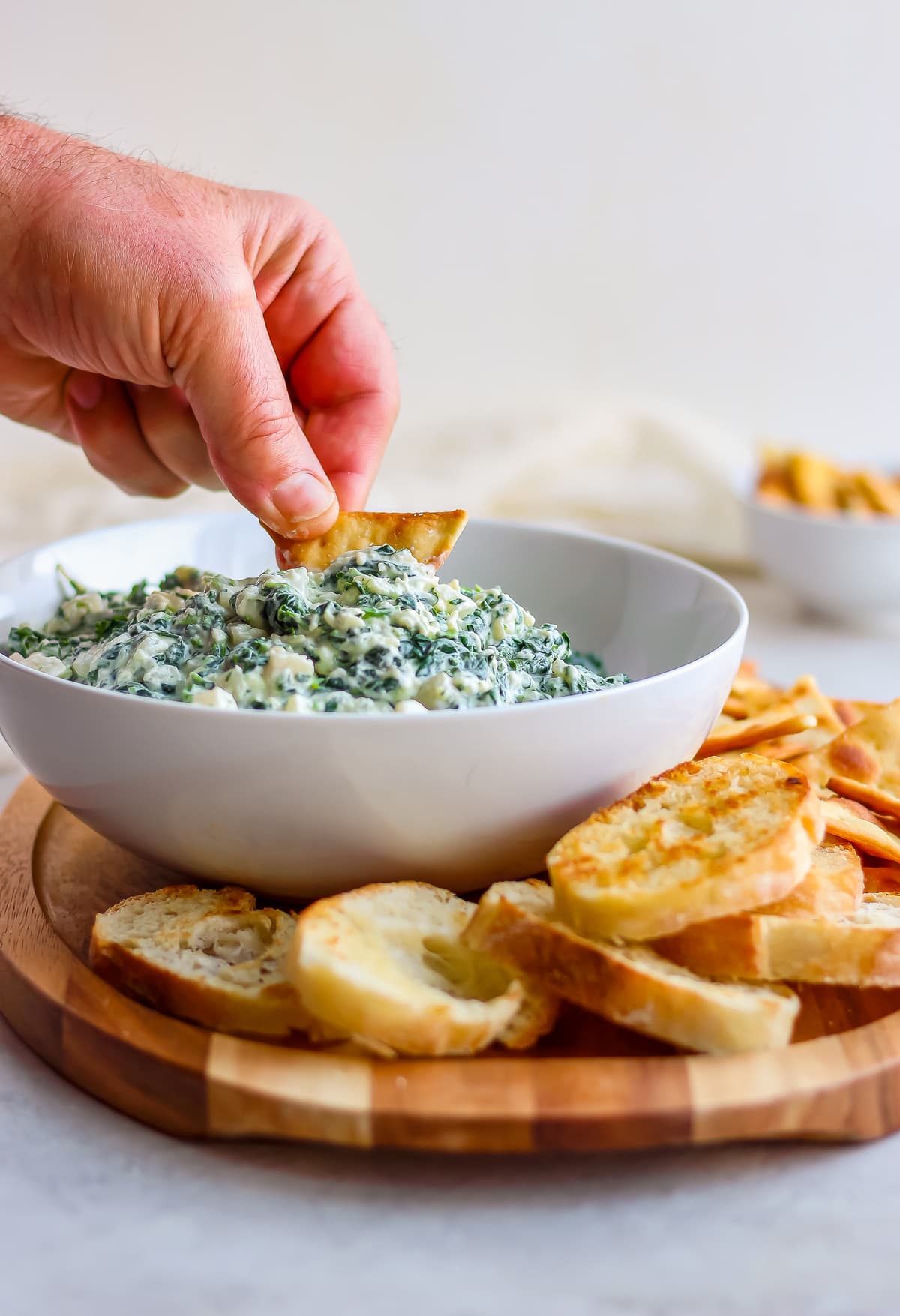 How to Make Spinach Dip in a Slow Cooker
I make a lot of hot dips around here. They're not typically the healthiest thing, so it's nice to have a guilt-free option for weekend tailgating. This healthy spinach parmesan dip is low on calories but heavy on taste. Plus it's such an easy recipe, there's almost nothing to it!
How to Make Crockpot Spinach Dip:
Combine all of your ingredients and mix them together.
Place the dip mixture into the your slow cooker.
Set it on high and let it cook until fully heated through (about 30-40 minutes). Stir occasionally so it heats evenly.
Once it's hot, switch the crockpot to warm so it stays hot and fresh throughout the party.
Make sure you serve it with plenty of pita chips, crackers, etc! This is one of my favorite crockpot dips, and one of my favorite things to serve when I need something a little lighter. It's SO delicious!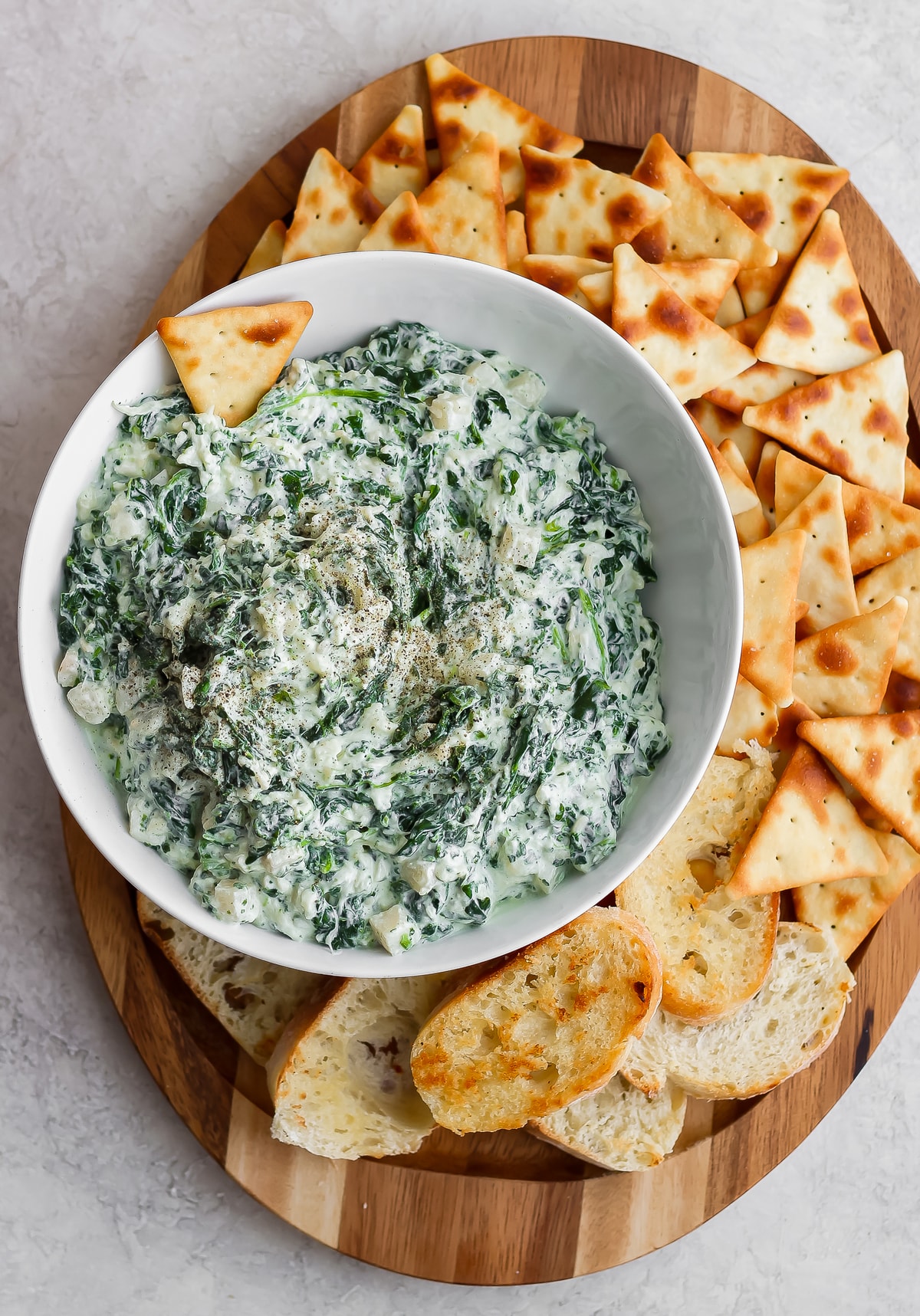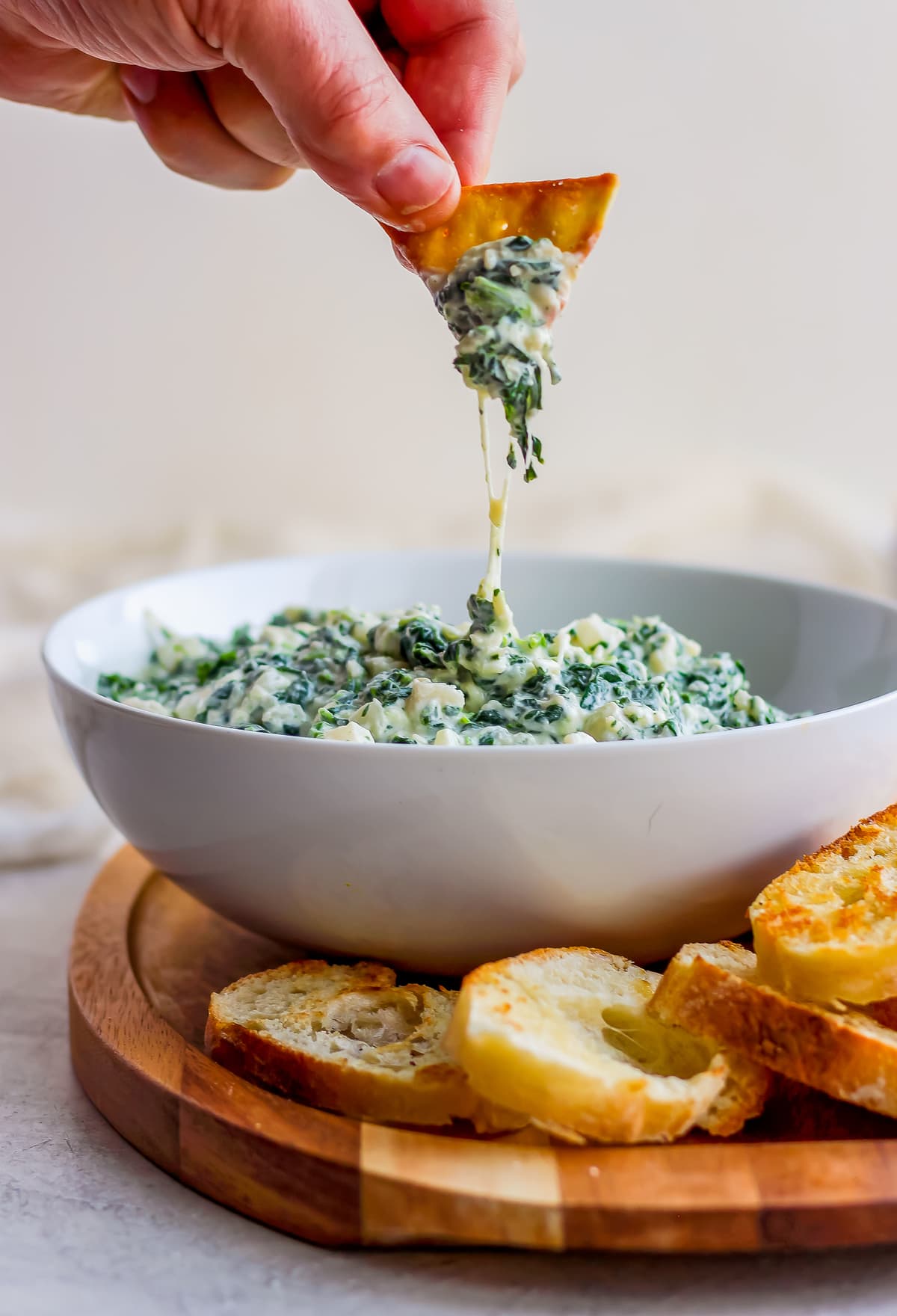 Crockpot Dips & Appetizers
This easy crockpot spinach dip comes together so well thanks to my slow cooker. I barely have to do anything at all! When you're making a bunch of dips and appetizers for parties, you definitely need some simple recipes you don't have to think about. That's what I love about crockpot dips and appetizers. 
Besides this skinny spinach parmesan dip, here are some other apps to try for your next party:
Crockpot BBQ Chicken Dip
Easy and cheesy Crockpot BBQ Chicken Dip is the perfect potluck appetizer! Quick, easy, and delicious.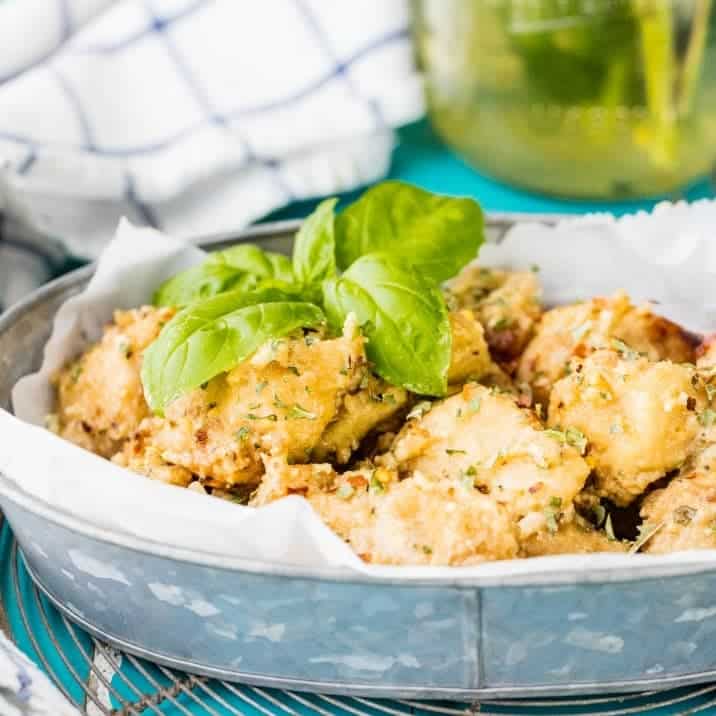 Slow Cooker Garlic Parmesan Wings Recipe (Crockpot Wings)
Garlic Parmesan Wings are one of our favorite wing flavors. We're making this slow cooker garlic parmesan chicken wings recipe by cooking them with our homemade garlic parmesan wing sauce.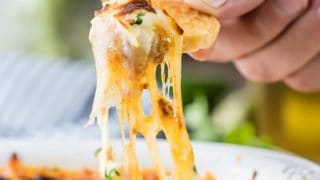 Queso Fundido with Chorizo (Crock Pot Queso Recipe)
Queso Fundido is the dreamy Crock Pot Queso Recipe of your dreams! Slow Cooker Queso Fundido with Chorizo couldn't be easier (only FOUR ingredients!), creamier, or more delicious!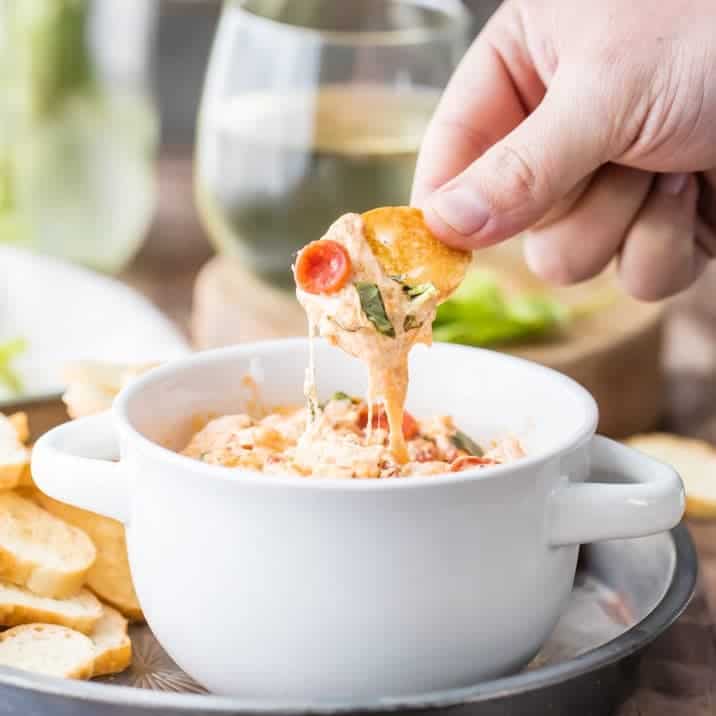 Slow Cooker Pepperoni Pizza Dip
You can't beat Slow Cooker Pepperoni Pizza Dip! Full of flavor and fun, and SO easy! I love this cheesy dip full of pepperonis, basil, and more. Make will all your favorite flavors!
I hope this Skinny Parmesan Spinach Dip can bring you a bit of happiness this tailgate season…win or lose.
See the recipe card for details on how to make Crockpot Spinach Dip. Enjoy!
If you like this spinach parmesan dip, you'll love our other favorite hot dips too: