The amazing combination of dark chocolate and pumpkin in this dreamy dark chocolate pumpkin tart gives traditional pumpkin pie a run for its title as fall's favorite dessert!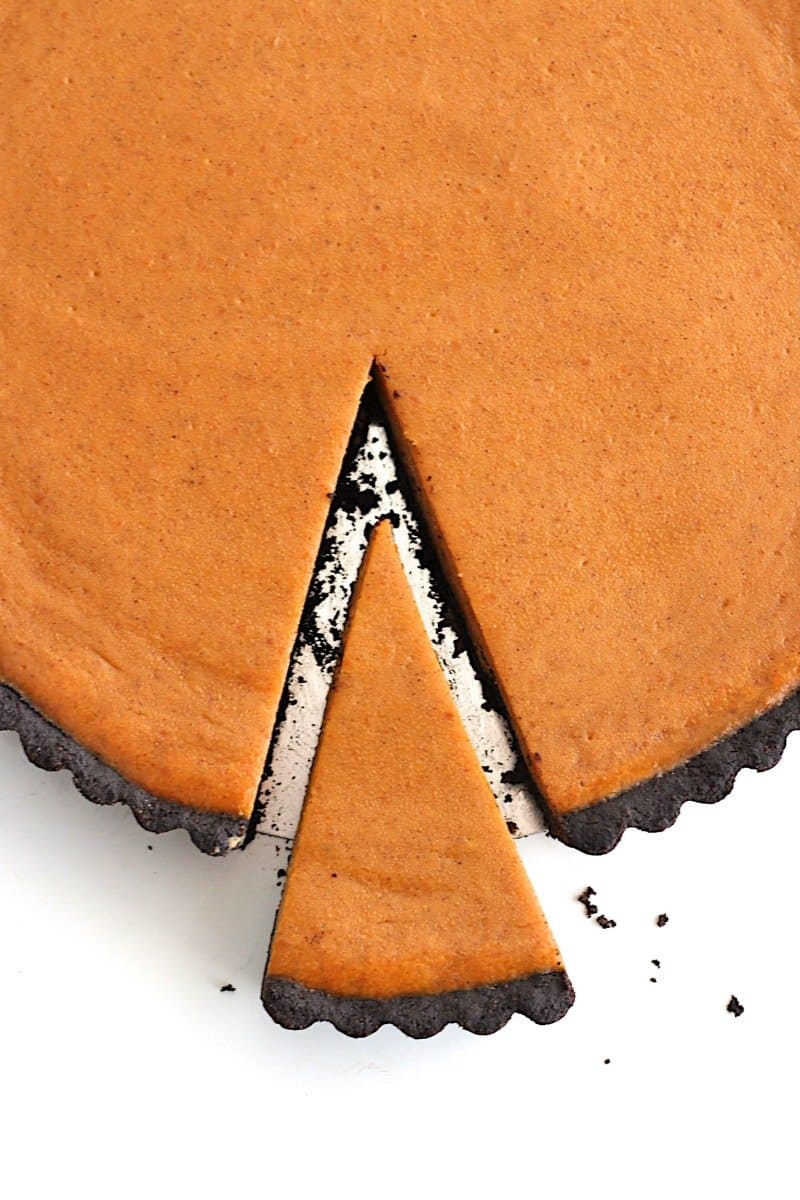 Fall needs more chocolate desserts! Am I right, or am I right?! ;))
Every year, when we start planning our Thanksgiving menu, my mom will ask us which desserts we each want to finish off the feast. Pecan pie and pumpkin pie are a given, but the majority of us will say "something with chocolate as well, please!"
So this year, we'll kill two birds with one stone and I'll make this show-stopping, scrumptious dark chocolate pumpkin tart…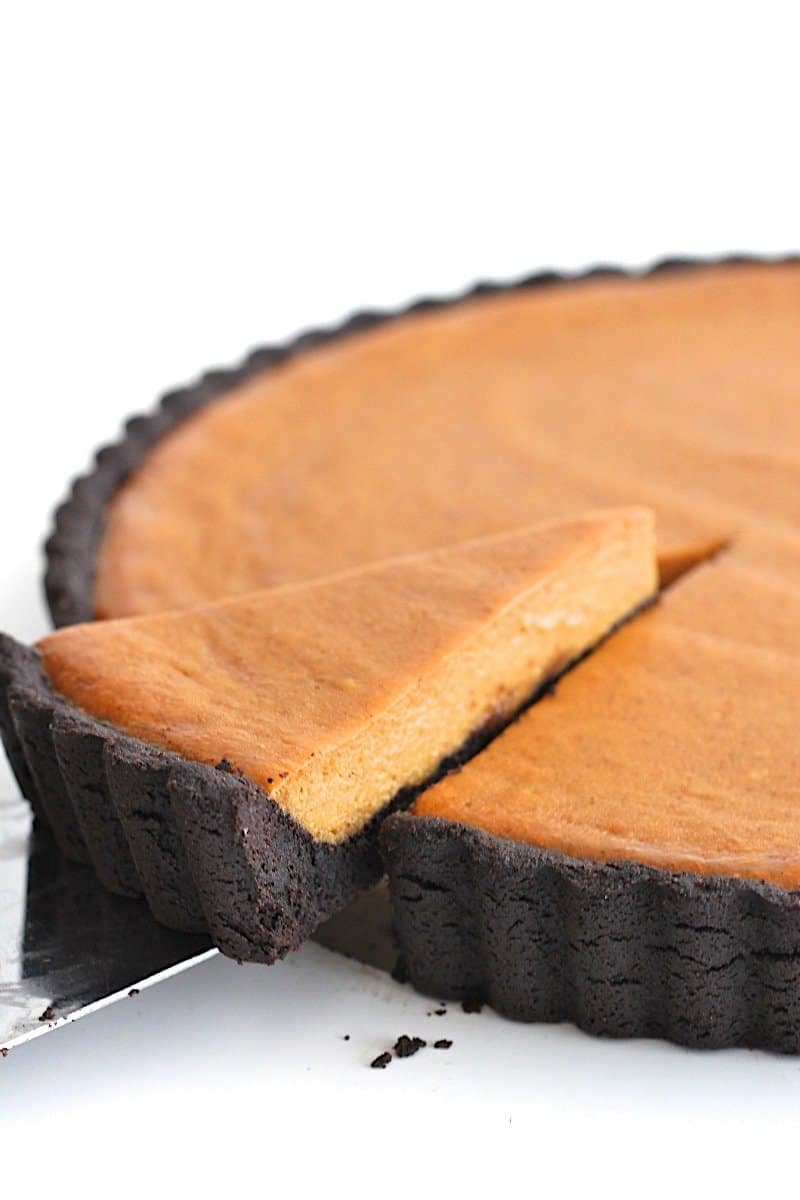 A rich dark chocolate crust holds the creamy pumpkin filling for a pumpkin-chocolate match made in heaven.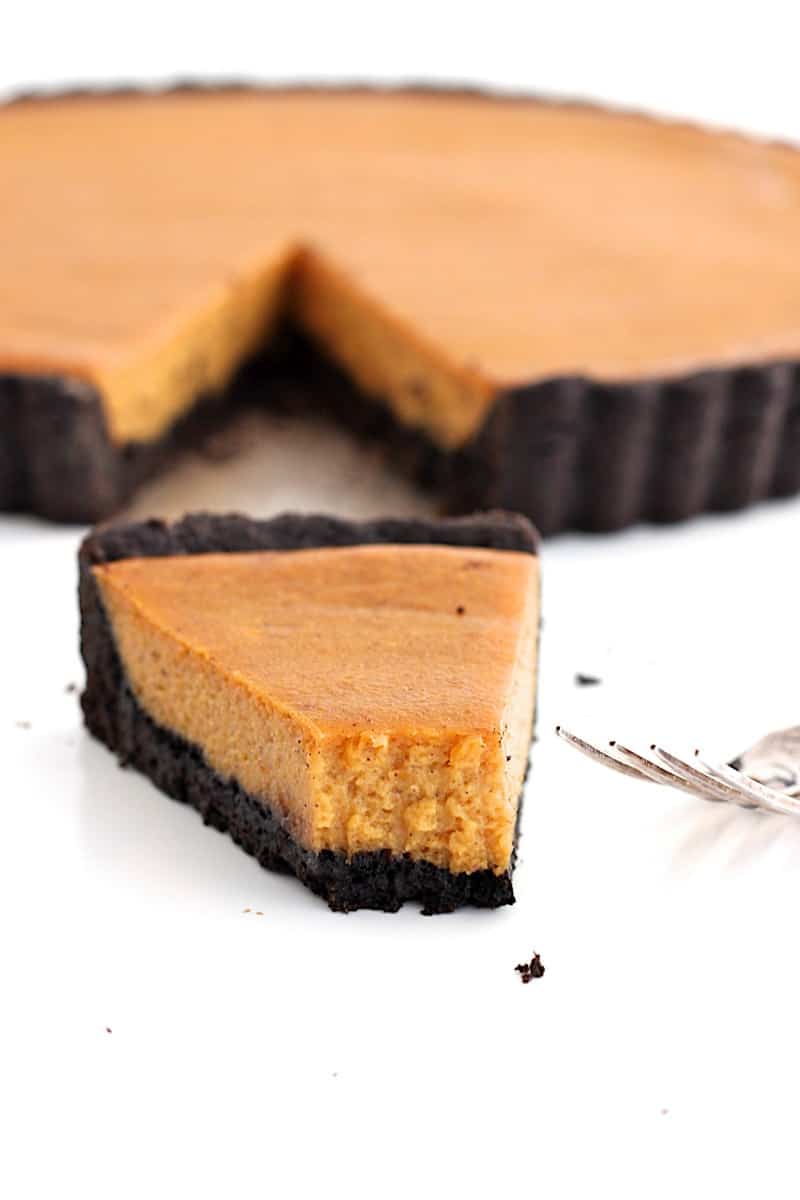 It's one of those desserts you won't be able to put your fork down once you first dig in.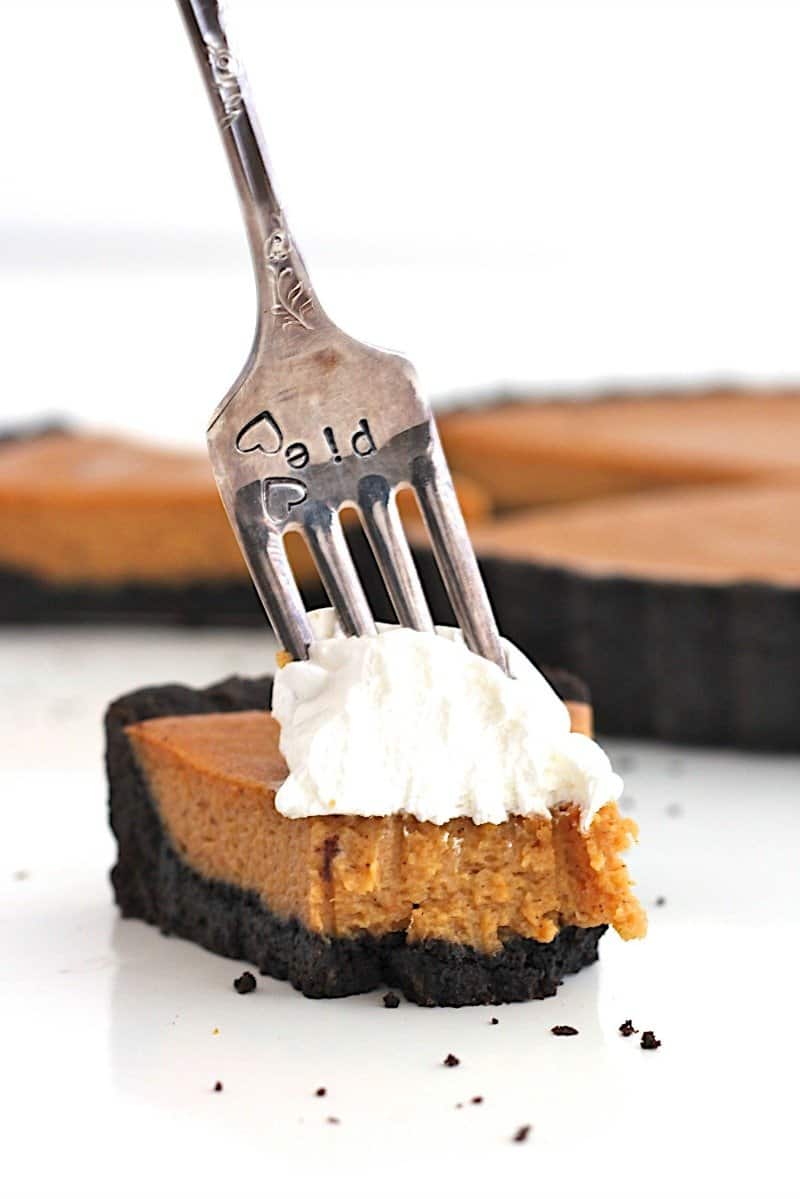 The dark chocolate crust compliments the perfectly sweet and spiced pumpkin filling so well. Topped with a dollop of whipped cream and I'm not kidding y'all, this tart is a dream!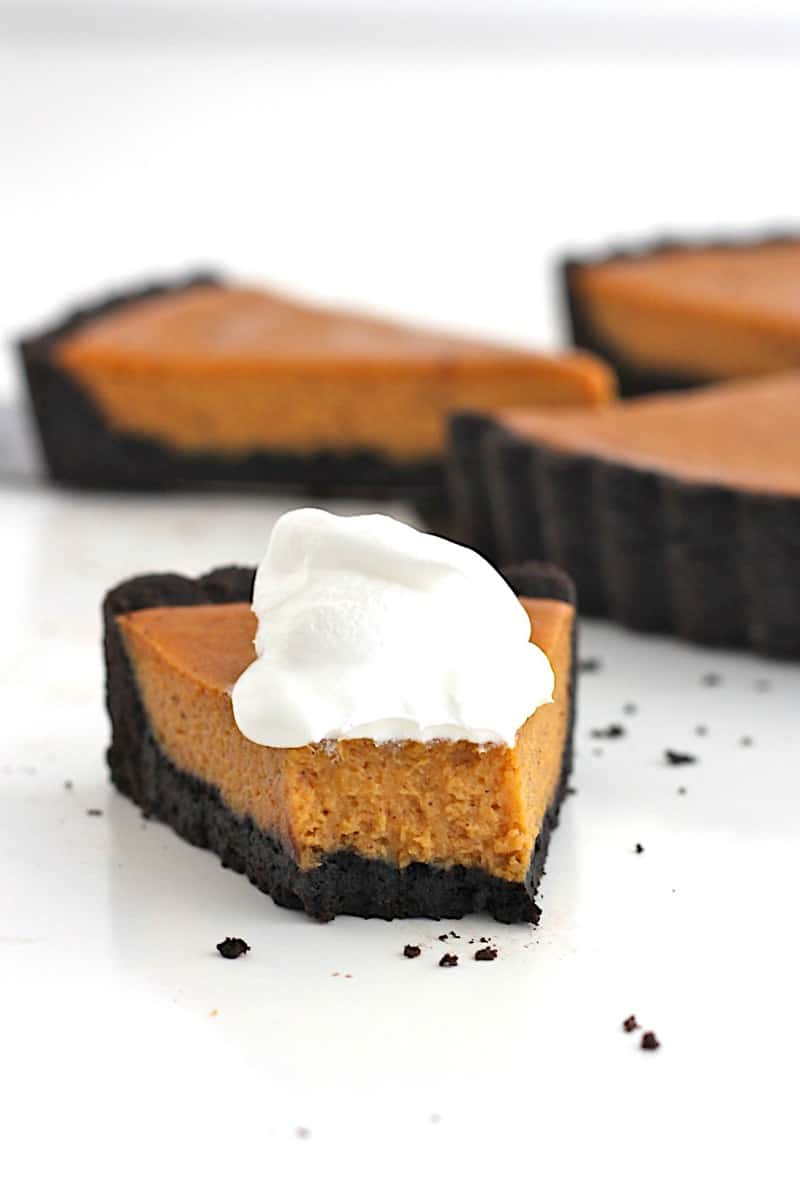 This has to be one of the easiest of the easy tarts you could bake, much easier than pie. We're talking 5 ingredients for the crust and 5 ingredients for the filling. The crust comes together in minutes, no refrigerating or rolling. Just stir the ingredients together…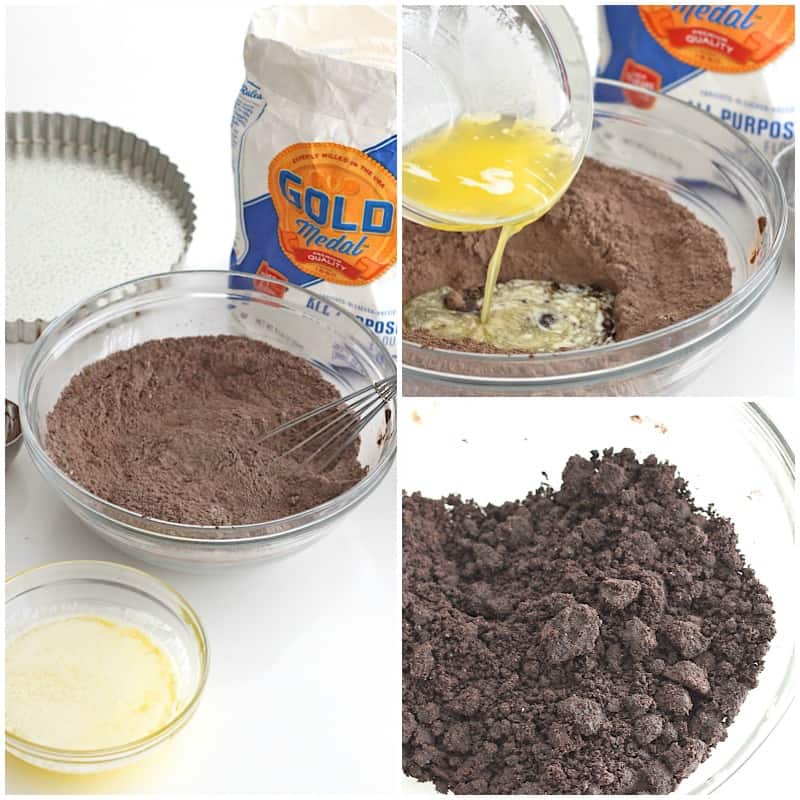 And press the dough into the pan before baking for 10 minutes…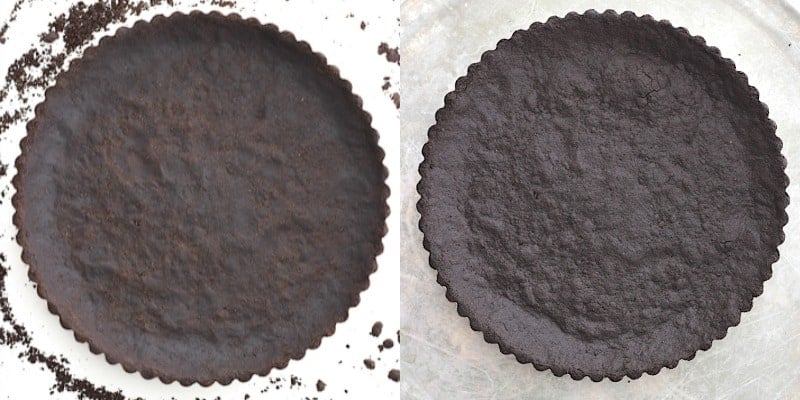 You'll let the crust cool for 10 minutes while you prepare the filling. The filling is just 5 ingredients whisked together and poured into the crust.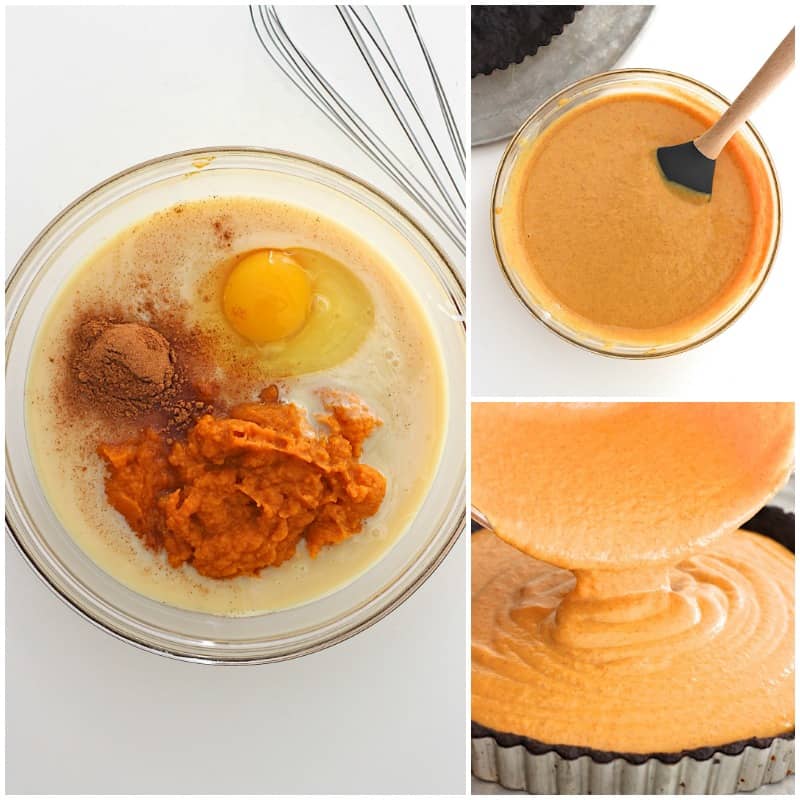 Bake the tart at 425°F for 10 minutes and then 350°F for 25-30 minutes until the filling is set. Before you know it, you'll be pulling the most impressive looking tart out of your very own oven. Just look at that ripple in the smooth pumpkin filling…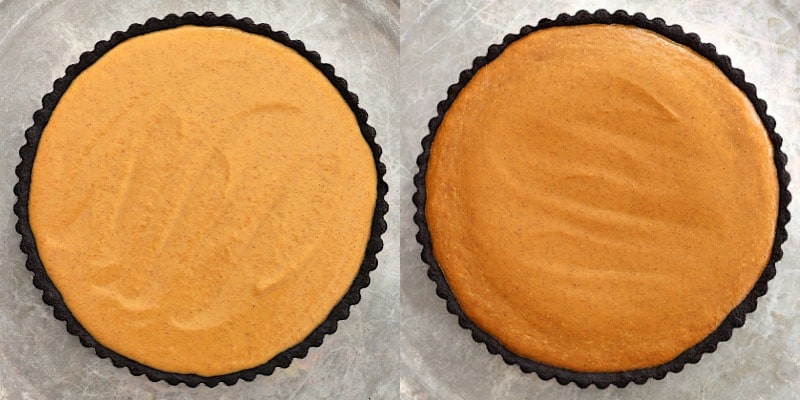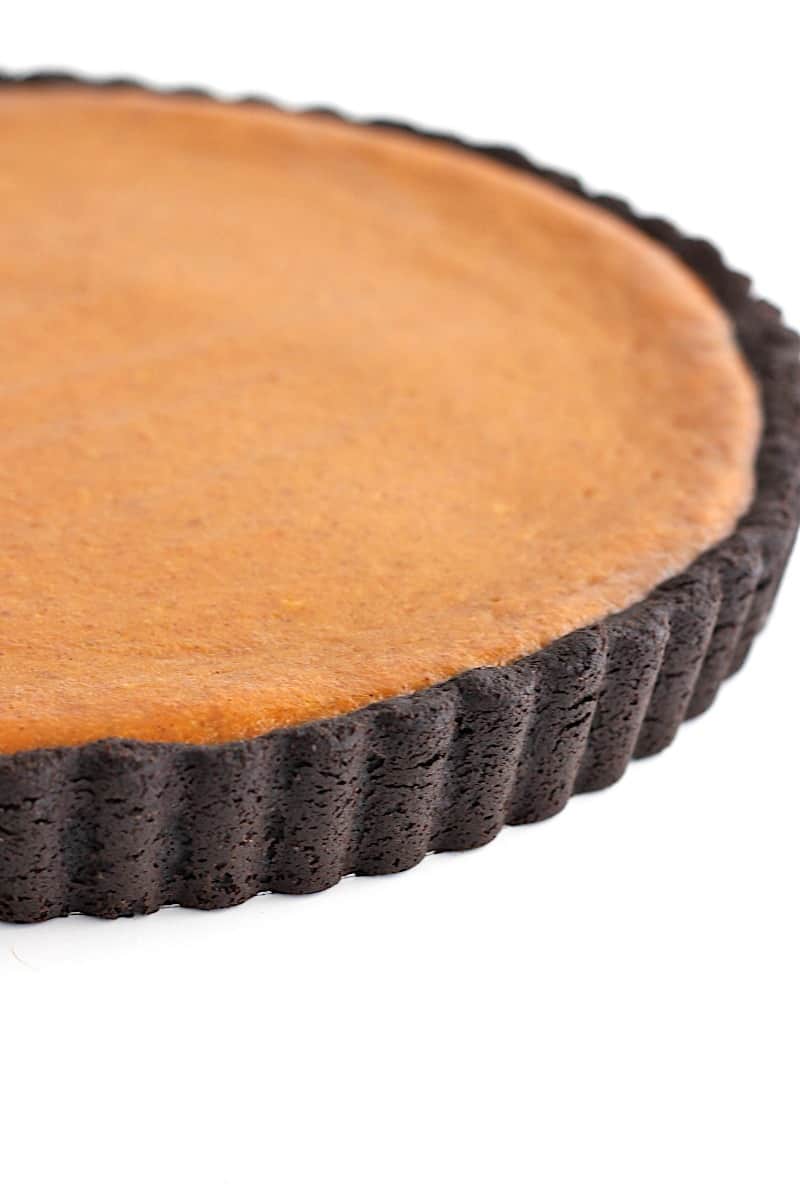 Let the tart cool for at least an hour before slicing and serving.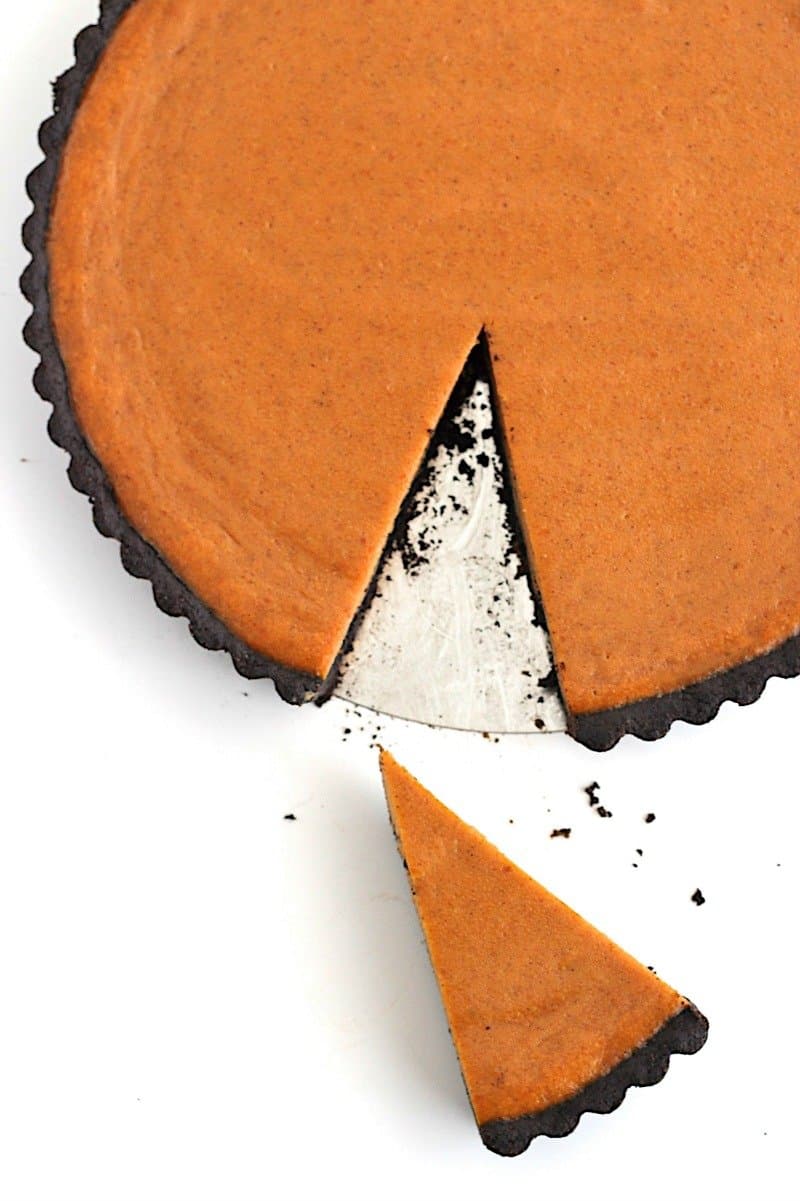 Chocolate lovers rejoice! You can have your pumpkin and your chocolate too!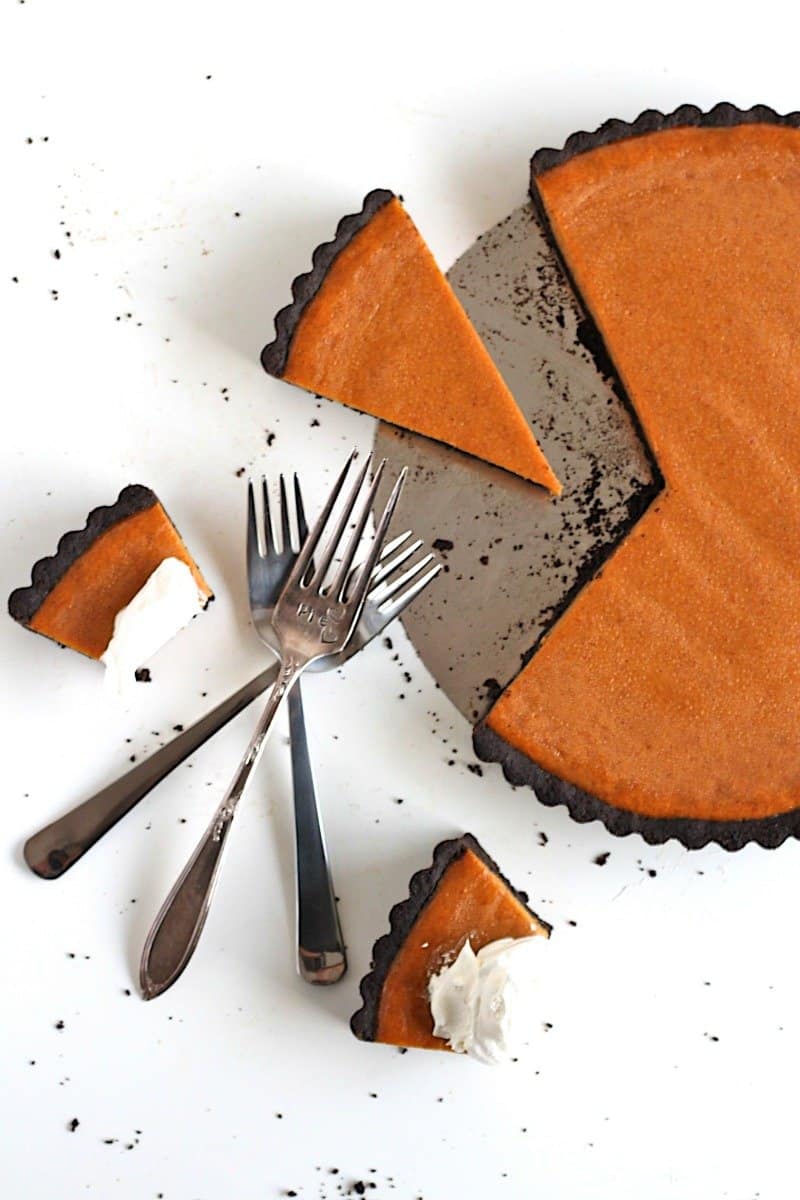 A fabulous fall dessert without a lot of fuss. Enjoy!
xoxo,
Maegan
This recipe was created as part of my partnership with Gold Medal Flour however thoughts and opinions are certainly my own!
Dark Chocolate Pumpkin Tart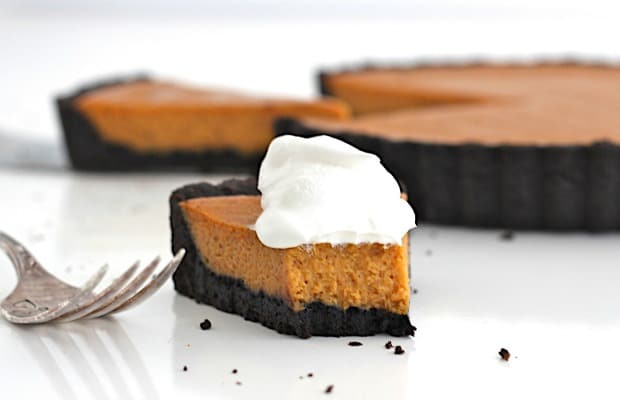 Author: Maegan – The BakerMama
Recipe type: Dessert
Crust:
1 cup Gold Medal™ all-purpose flour
½ cup dark cocoa powder
¾ cup granulated sugar
½ teaspoon kosher salt
½ cup (1 stick) unsalted butter, melted
Filling:
1 (15 ounce) can pure pumpkin
1 (14 ounce) can sweetened condensed milk
1 large egg
1 teaspoon pumpkin pie spice
¼ teaspoon kosher salt
Preheat oven to 425°F. Spray a 9-inch round tart pan with a removable bottom with non-stick cooking spray and set aside.
In a large mixing bowl, whisk together the flour, cocoa powder, sugar and salt. Make a well in the center and add the melted butter. Stir into a crumbly dough.
Press dough into the bottom and up the sides of the tart pan. Place tart pan on a baking sheet and bake crust for 10 minutes. The crust will bubble just a bit as it bakes. Remove and let cool for 10 minutes while you make the filling.
In a mixing bowl, whisk together the pumpkin, sweetened condensed milk, egg, pumpkin pie spice and salt. Pour into crust.
Bake for 10 minutes at 425°F. Reduce oven to 350°F and bake for another 25-30 minutes or until filling is set and a toothpick inserted in the center comes out clean.
Let cool at least 1 hour before serving. Serve with a dollop of whipped cream, if desired.
Store in the refrigerator.
3.5.3208