This easy Cheesy Ham and Potato Soup is the perfect recipe to use up your leftover Easter or Christmas ham. The soup is creamy, comforting, and so easy to make!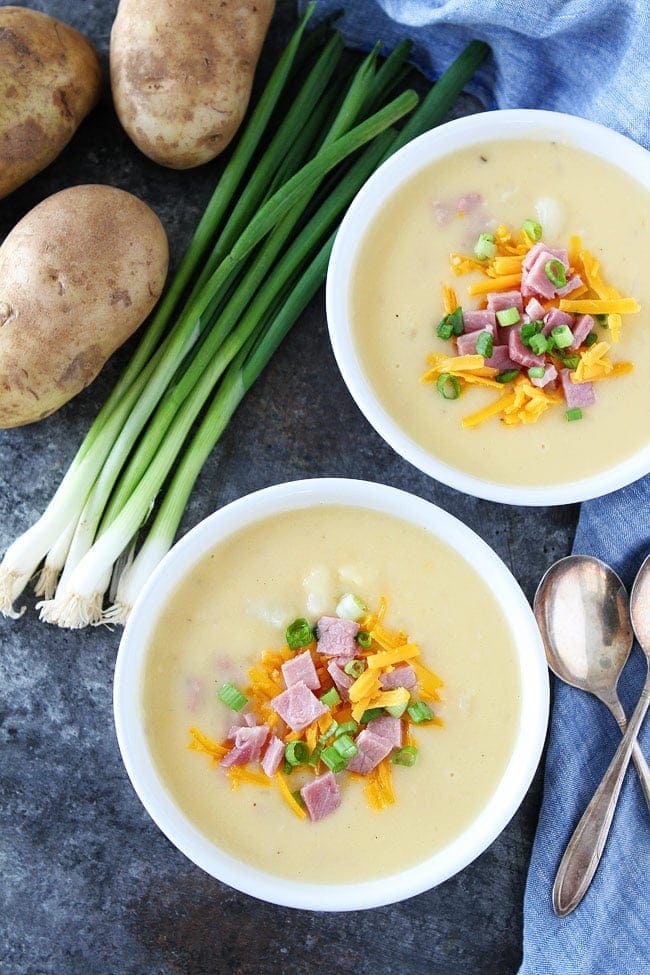 Easter is on Sunday and that means many of us will be making ham for dinner. It also means that many of us will have leftover ham on Monday. So today, I am sharing a recipe for Cheesy Ham and Potato Soup. This easy, cheesy soup is a family favorite and a great way to use up leftover ham.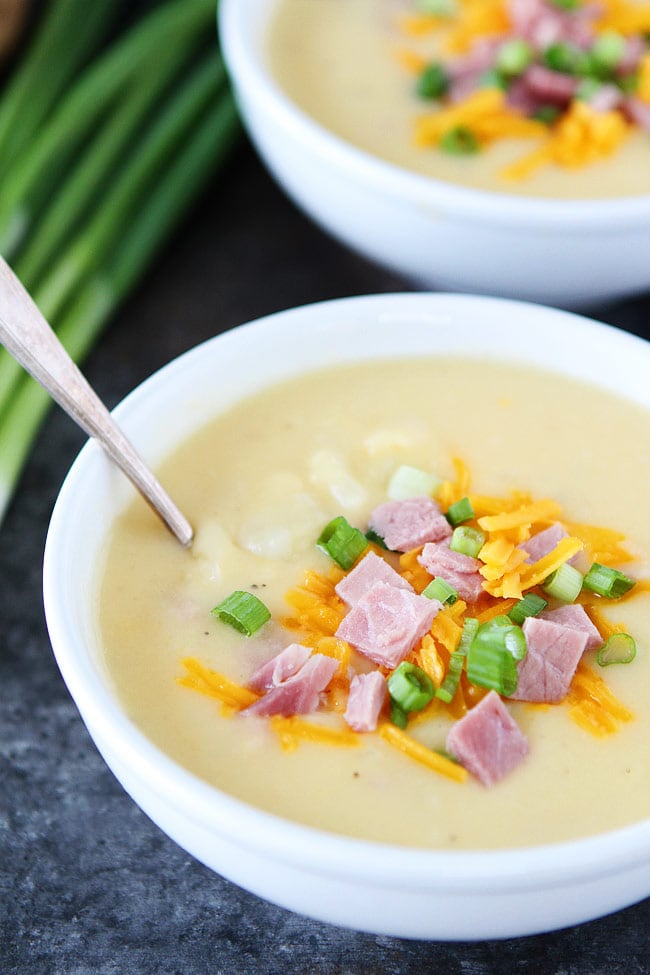 Josh makes this soup after every big holiday because we always end up with leftover ham. I think he plans it that way so he can make Cheesy Ham and Potato Soup. It is his favorite.
The soup makes a great meal, especially after a big holiday, because it is super easy to make. You deserve a break after cooking a big holiday feast! This soup can be made in about 30 minutes. Yay!
A few notes about this Cheesy Ham and Potato Soup:
We use russet potatoes, but Yukon gold potatoes work well too.
You can use chicken broth or vegetable broth for this soup. Use whatever you have in your pantry.
We like to use our hand blender to puree the soup in the pot. It makes it super easy. If you don't have a hand blender, you can transfer the soup to a blender and blend. Just be careful with hot soup! You will want to let it cool down a bit before blending.
We have made this soup with skim milk and 2% milk, both work great.
We like to use sharp Cheddar cheese for extra flavor. You can use regular Cheddar cheese if you wish. Pro tip-use pre-shredded cheese to make the recipe even easier.
If you have leftover ham, you can put it in the freezer and pull it out anytime to make this soup! It is always nice to have in the freezer.
Garnish the soup with chopped green onions, if desired.
Make sure you have some leftover holiday ham so you can make this Cheesy Ham and Potato Soup. And if you don't have any leftovers, you can always buy ham to make this soup. It is worth it! This soup is creamy, cheesy, comforting, and SO delicious!
If you like this Cheesy Ham and Potato Soup, you might also like: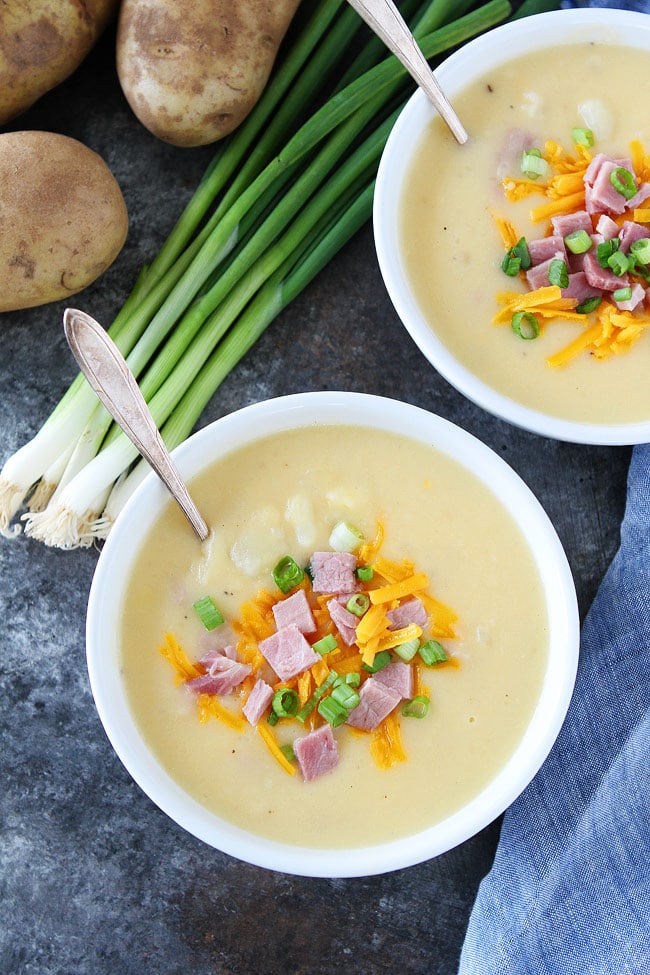 Cheesy Ham and Potato Soup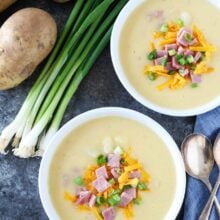 Use your leftover holiday ham to make this easy, cheesy, and comforting ham and potato soup! It is a family favorite!
Yield: Serves 6-8
Prep Time: 10 minutes
Cook Time: 20 minutes
Total Time: 30 minutes
Ingredients:
1 tablespoon olive oil
1 small yellow onion, diced
2 cloves garlic, minced
5 cups washed, peeled, and diced potatoes (we use Russet potatoes)
2 (14 ounce) cans chicken or vegetable broth
3 tablespoons unsalted butter
3 tablespoons all-purpose flour
2 cups milk
1 cup shredded sharp Cheddar cheese
2 cups diced leftover ham
Salt and black pepper, to taste
Sliced green onions, for garnish, if desired
Directions:
In a large stock pot, heat olive oil and sauté onion until tender, about 5 minutes. Add garlic and cook for 2 minutes. Add diced potatoes and broth to the pot. Bring to boil and reduce to medium heat. Let potatoes cook until tender, about 15 minutes. With a slotted spoon, remove 1 1/2 cups of the potatoes. Set aside. Puree the remaining potatoes with a hand blender until smooth.
In a medium saucepan, melt butter. Stir in flour and cook for 2 minutes. Whisk in milk, bring to a boil and simmer until thickened. Slowly stir mixture into large stock pot with the pureed potatoes. Stir the reserved potatoes back into the soup.
Stir in the shredded cheese until melted. Add in the diced ham. Season with salt and pepper, to taste. Ladle the soup into bowls and garnish with green onion, if desired. Enjoy!


All images and text ©Two Peas & Their Pod.
Follow twopeasandpod on Instagram and show us what recipes you are making from our blog! Use the hashtag #twopeasandtheirpod! We want to see what you are making in your kitchen!