These Dirty Chocolate Chip Cookies are super soft chocolate chip cookies loaded with chopped Oreos and rolled in cookie crumbs!
If you are looking for a more traditional chocolate chip cookie recipe, try my Chocolate Chip Walnut Cookies OR My Favorite Chocolate Chip Cookies!
Oreos + Chocolate Chip Cookies = Dirty Chocolate Chip Cookies!
I never get tired of a chocolate chip cookie variation. Nope, never. And I feel like since we're friends, you might feel the same way.
Also, is it even a thing to be like, "no more chocolate chip cookie please?" Yeah, I didn't think so. And really what better way to make a chocolate chip better than add Oreos?
What Makes These Cookies Dirty?
These super fun cookies are very very easy. I made them with the same idea of that old fashioned Dirt Cake in mind…you know the one with the chocolate pudding, the Oreo "dirt", and gummy worms?
Well I chopped up some Oreos and added those to the cookie dough, THEN I rolled the dough in crushed cookies…giving them a kind of "dirty" look! 
If you like this recipe you'll love my recipe for Dirty S'mores Cookies!
Ingredients:
Oreo cookies
butter
light brown sugar
granulated sugar
eggs
vanilla extract
baking soda
kosher salt
all purpose flour
chocolate chips
Instructions:
Chop 12 Oreo cookies and set aside. You will add these to your cookie dough. Reserve the remaining 12.
In your mixer beat the butter and both sugars together, and then add in the eggs, vanilla, baking soda and salt and mix for 1 more minute.
Next add the flour, and then the chocolate chips and chopped Oreos.
Chill your dough for 2 hours, or up to 2 days.
When you're ready to bake preheat your oven and line your baking sheets with parchment. Remove your cookie dough from the fridge to take the chill off, and make the dough easier to scoop out.
Separate the remaining Oreo cookies and scrape the cream filling from the cookie and discard. Place only the cookies in a food processor or blender and blend until they are a fine crumb. Place the cookie crumbs in a shallow bowl and set aside.
Using a medium cookie scoop portion the dough out and roll it into balls. Then roll each ball into the Oreo crumbs.
Place them on your baking sheet and bake for 9-ish minutes!
Tips:
Make sure to let the dough chill. This is important so the dough can be easily rolled into balls.
Deconstructing the Oreos is hard…ALL THE CREAM!! But the cookies don't really turn out as well if you don't remove it. I know they sell boxes of Oreo crumbs, so you can even buy those if throwing the cream away is too hard!
To make sure that the cookie crumbs are finely ground, I recommend using a food processor or blender. You want them to be like dust, so they easily stick to your cookie dough.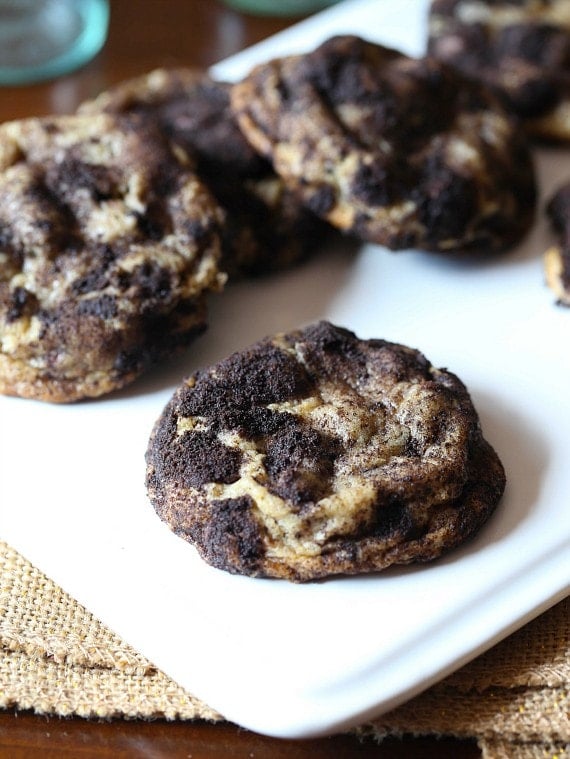 How To Store Cookies:
For best freshness store these airtight at room temperature for up to 3 days.
You can also freeze these after they're baked airtight for up to 30 days.
If you would like to freeze the dough and bake them later head over to my post on How To Freeze Cookie Dough for all the tips and tricks! This dough will freeze perfectly after you roll them into balls!
Make sure to post you pictures in the comment section below, and also make sure to tag me @cookiesandcups and #cookiesandcups if you post on Instagram!