Dutch Oven Lasagna, or Stove Top Lasagna, will blow your mind! You'll never make a fully traditional lasagna recipe again after making this easy stove-top version. We are addicted to this melty, cheesy, and SIMPLE Italian recipe! This One Pot Lasagna is one of the BEST Dutch Oven Recipes we have tried.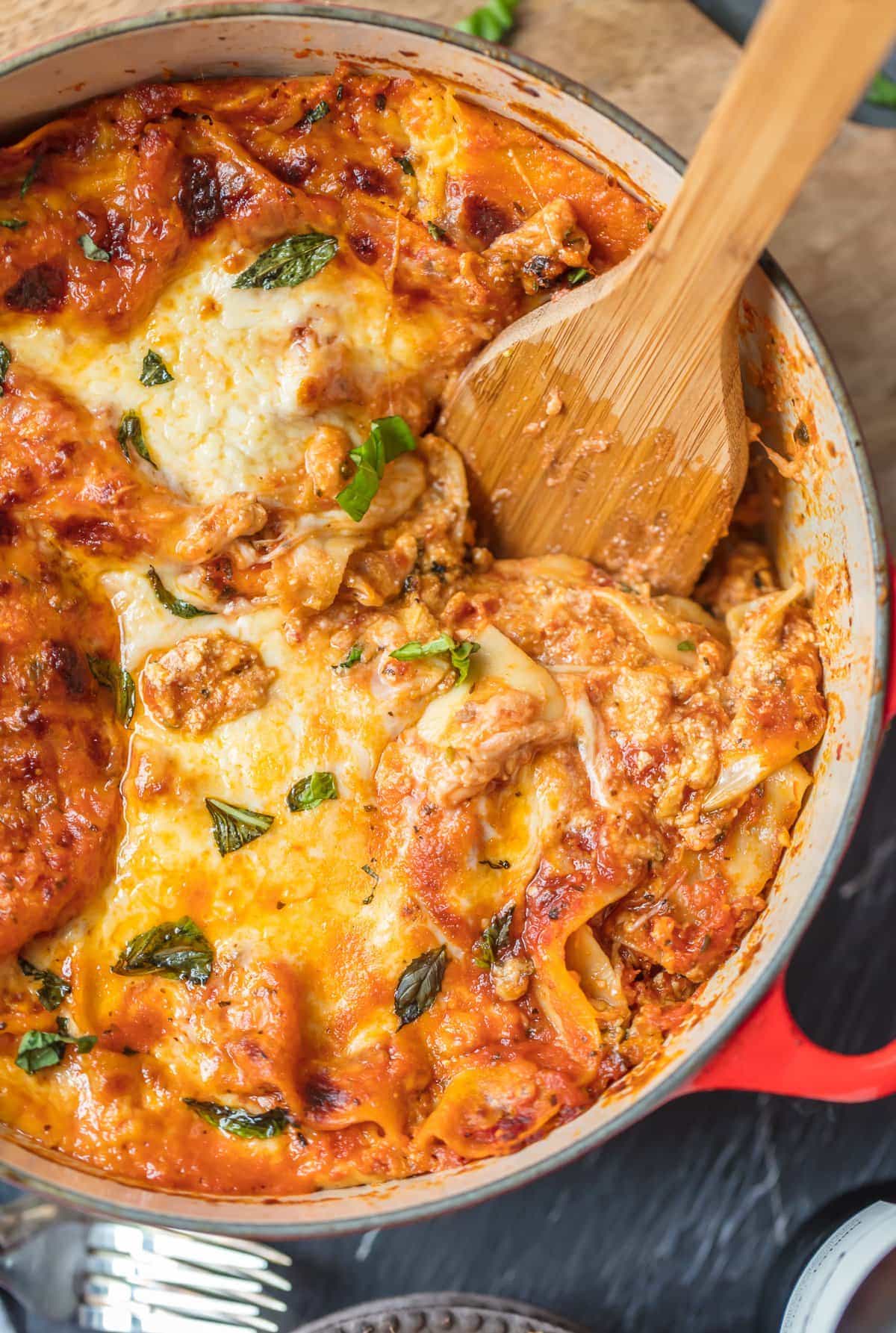 Easy Lasagna Recipe
Dutch Oven Lasagna is an easy version of the most classic comfort food recipe of all time!
This Dutch Oven Lasagna is the perfect Stove Top Lasagna Recipe! TIME FOR COMFORT FOOD! And the ultimate comfort food at that. Oh and EASY comfort food made in a DUTCH OVEN!? One pot meal…one pot cleanup…all the flavor?? Sign me up.
If you need me I'll be chowing down on this Easy Dutch Oven Lasagna all dang day with only one dish to do because that's how I roll. Or at least that's how I roll today.
This easy dutch oven recipe is so delicious and so simple. You can feel like you're eating at the best restaurant while in the comfort of your own home. I love that feeling.
This easy Dutch Oven Lasagna recipe so tasty and so easy to make on the stove!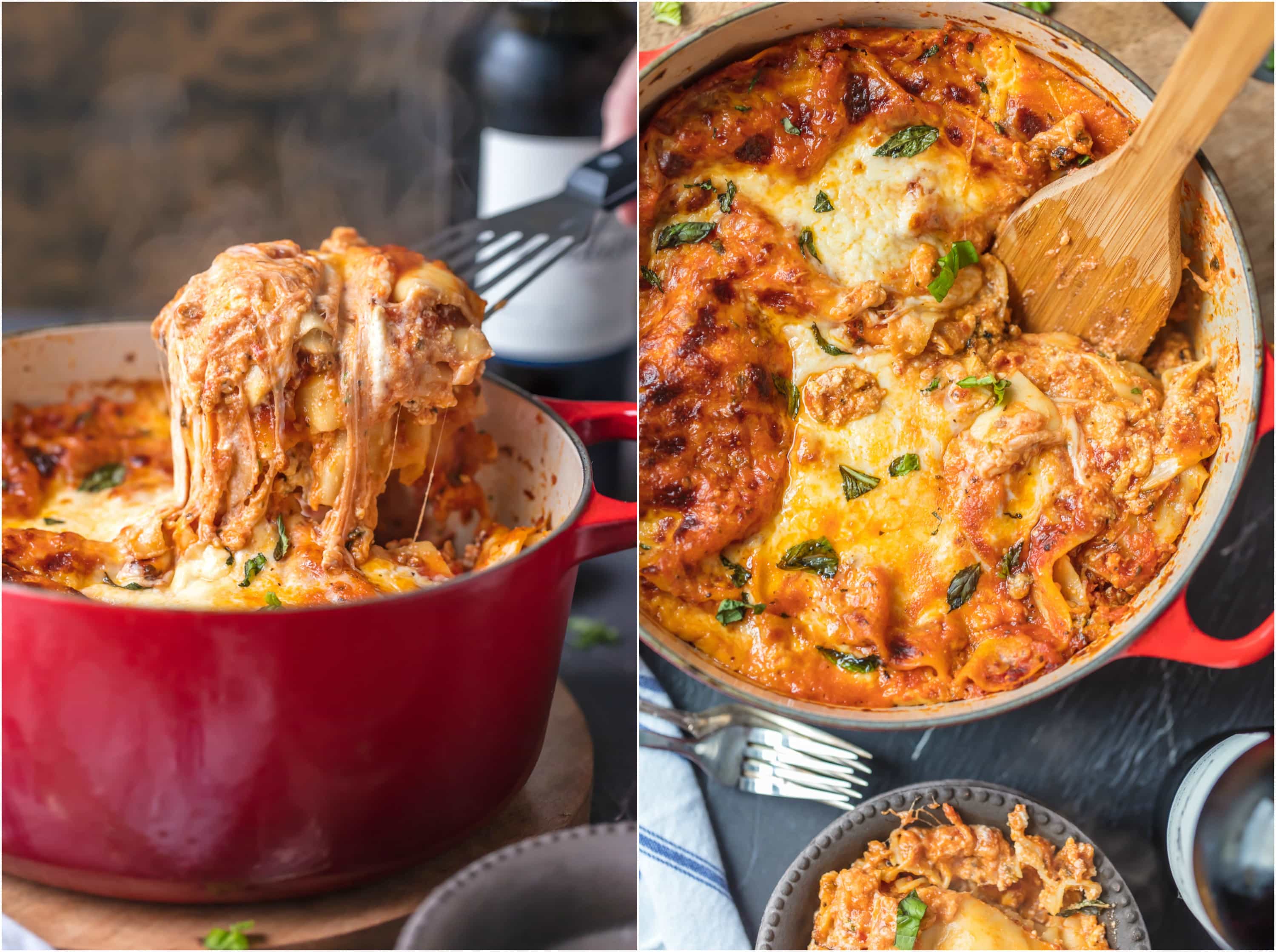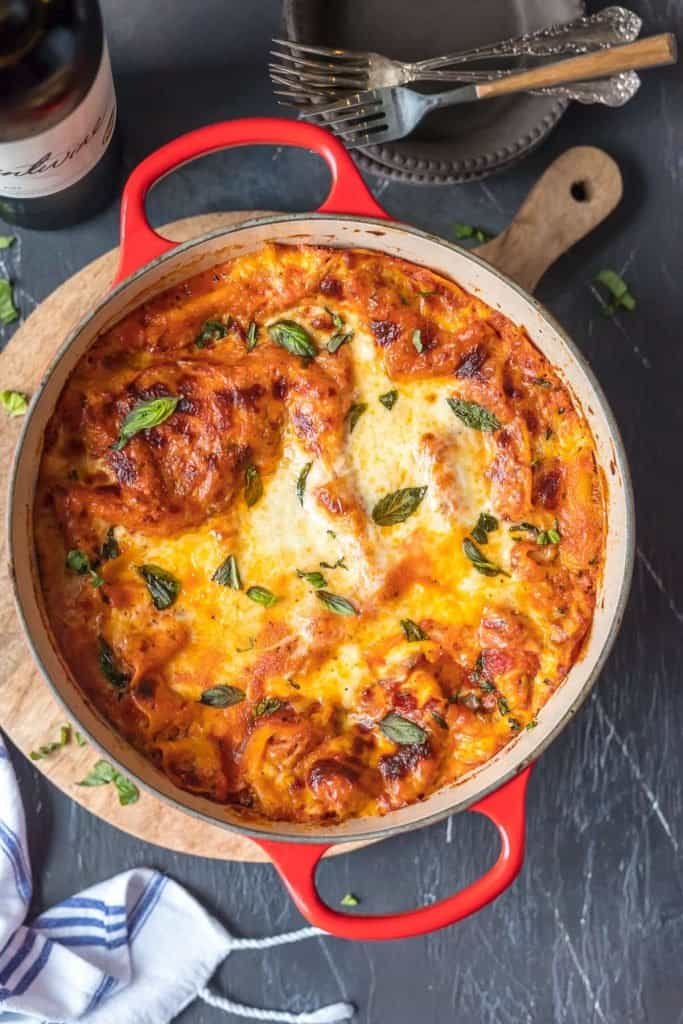 Best Dutch Oven Recipes
This is one of the best Dutch Oven Recipes we have tried, adding to our favorites like Dutch Oven Short Ribs and No Knead Dutch Oven Bread.
This Dutch Oven Lasagna has ALL THE CHEESE. I mean, do you SEE all that cheese? You guys know I have an addiction. I'm so glad I can be honest and share that with you all. I'm totally trying to be on Weight Watchers after this baby, but this lasagna is all I can think about. And I'm breastfeeding…so I mean doesn't that mean I can have some extra calories?! Let's just go with that, shall we?? I'm fine with it.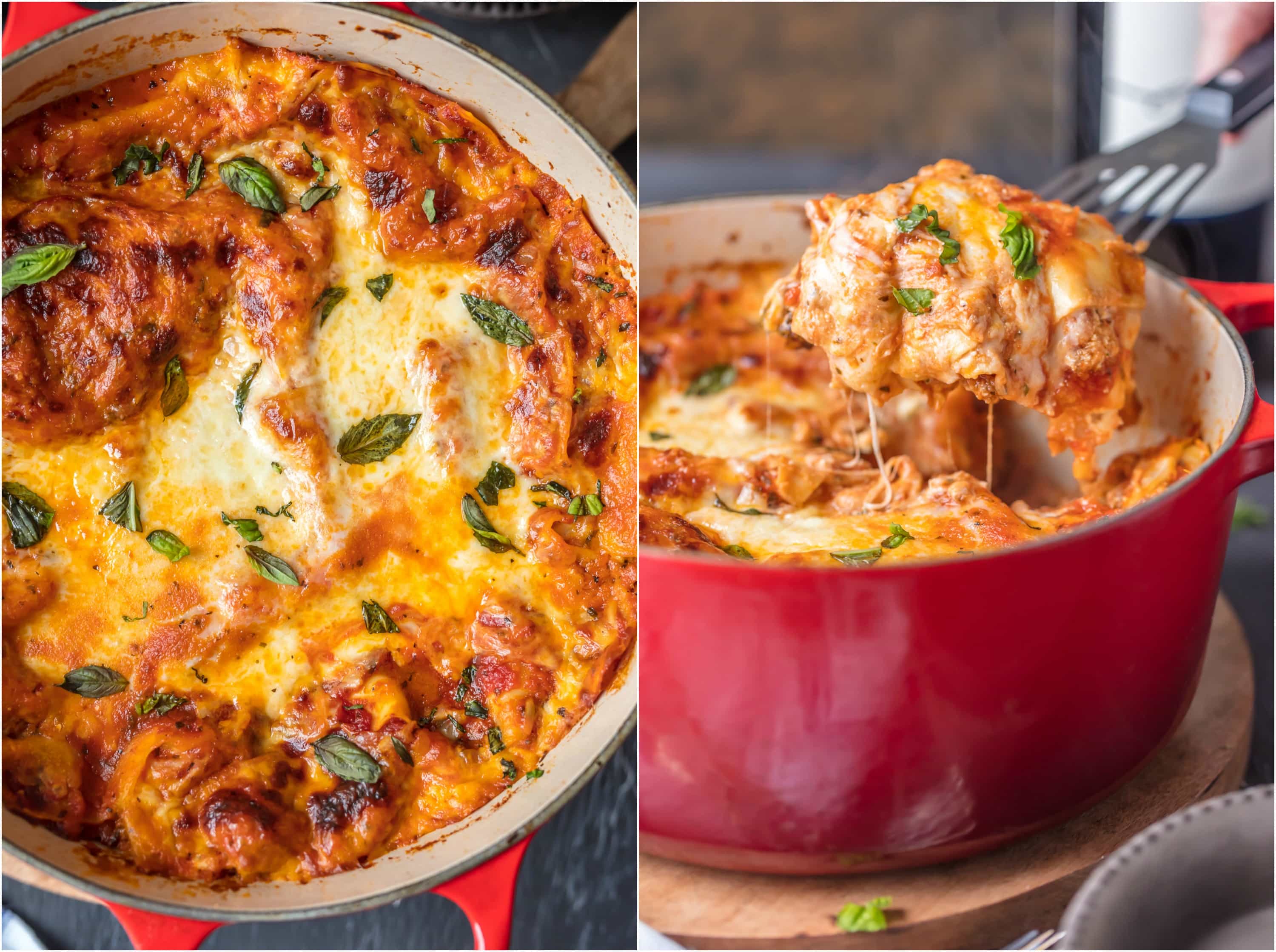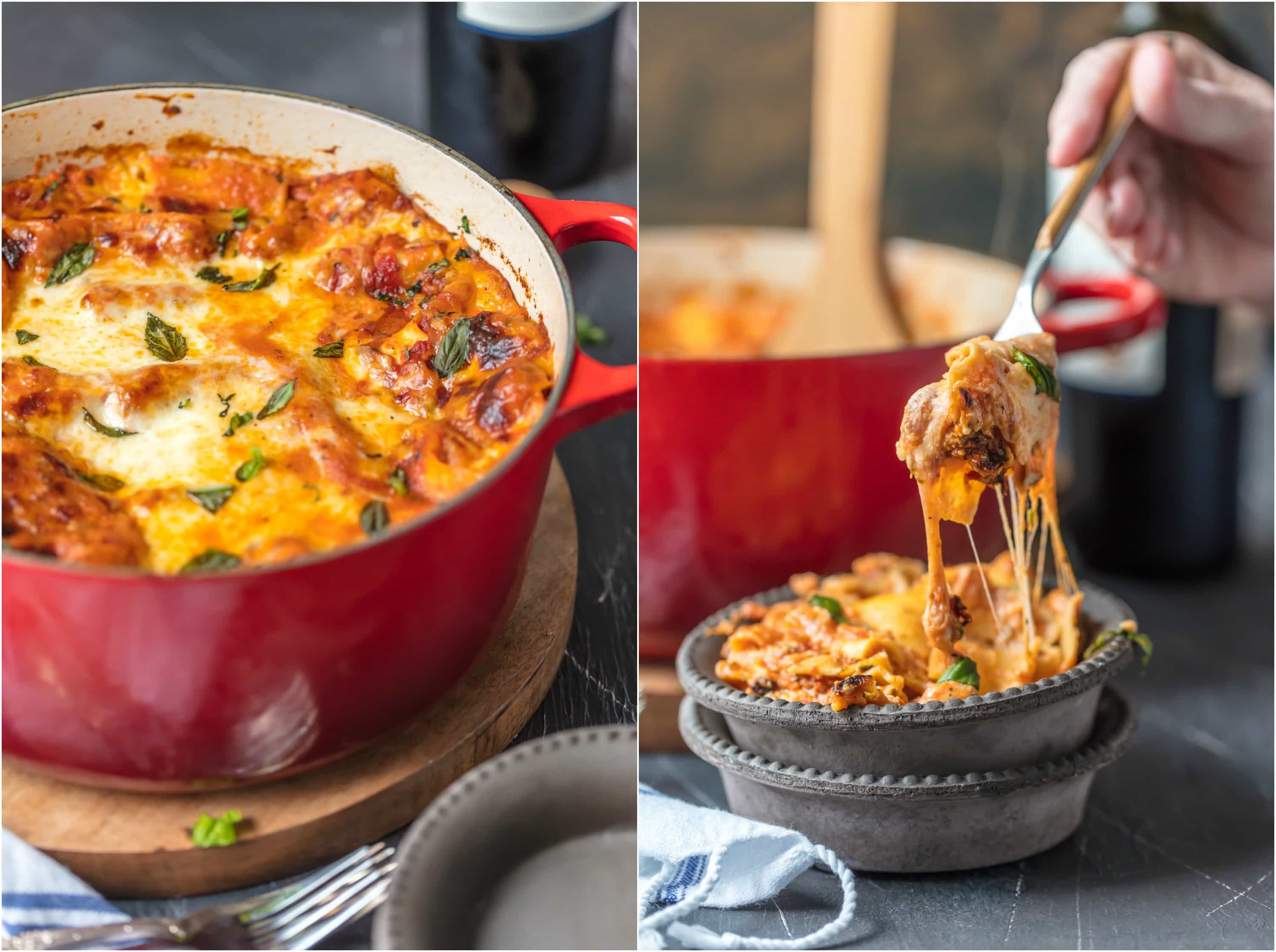 Easy Dutch Oven Lasagna Recipe
Dutch Oven Lasagna is one of those EASY Dutch Oven Recipes that you'll make again and again.
I cannot wait for you guys to try this Dutch Oven Lasagna and let me know how you like it. I have a feeling you're going to love this easy dutch oven recipe and make it part of the rotation around your table. One pot meals are always the best for the busy week nights when doing dishes is the absolute last thing you want to be stuck doing. Or on weekends when fun is calling. Nothing better than noodles, tomatoes, cheese, and basil. It's just that simple.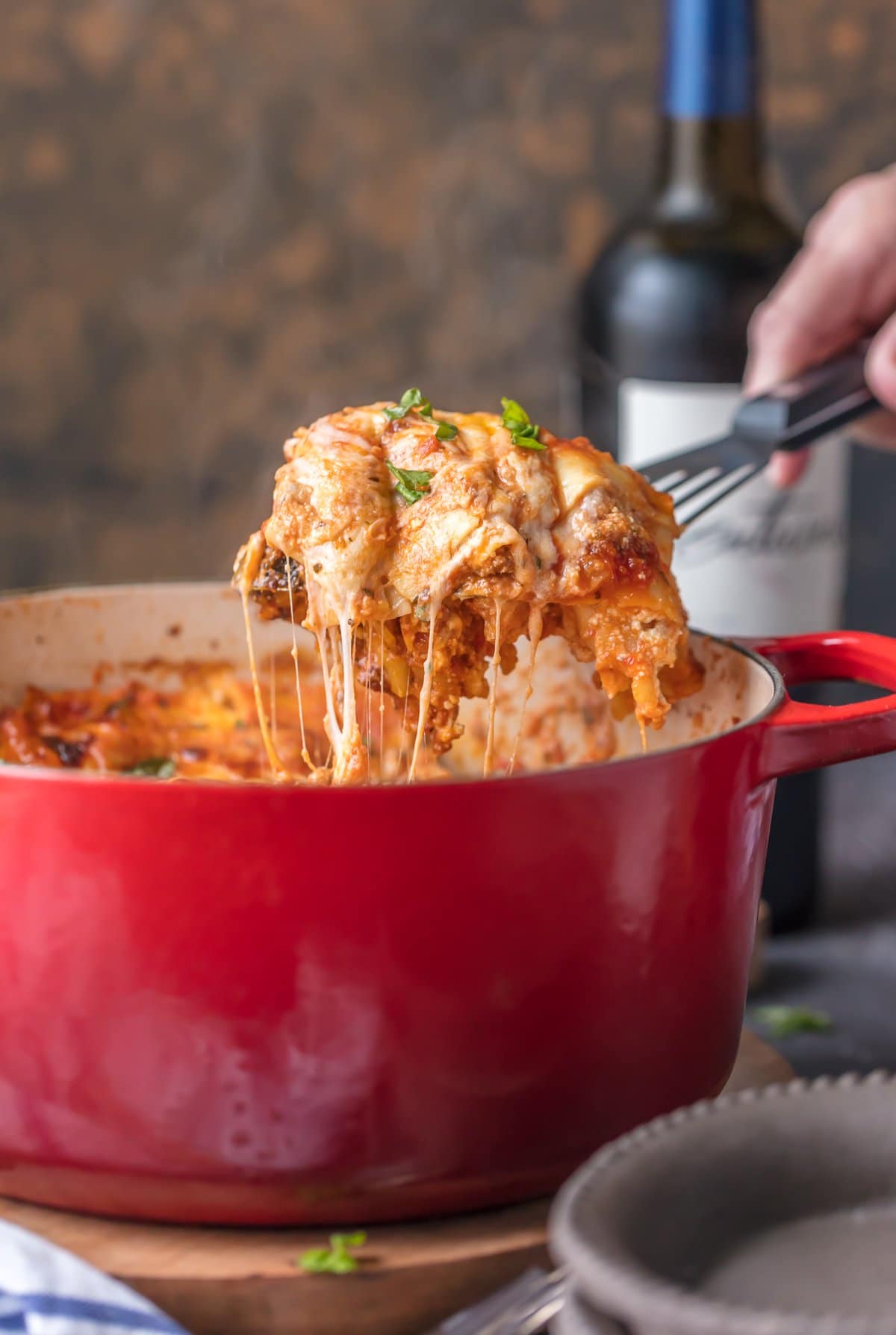 Whether you call it One Pot Lasagna, Dutch Oven Lasagna, or Stovetop Lasagna, I just know you're going to LOVE this cheesy Italian Recipe.
This may not be a traditional lasagna recipe, but that doesn't mean its not just as delicious. Don't let the fact that it's Summer deter you from making this comfort food. There's always time for lasagna, no matter the temperature. Or at least there is at our house!
If you're on the prowl for lasagna recipe but this dutch oven recipe isn't quite right, be sure to check out some of our other favorites like Seafood Lasagna, Weight Watchers Lasagna (only 8 points!), Lasagna with Meat Sauce, and White Chicken Lasagna. Something for everyone around here.
If you like this easy lasagna recipe, try these other tasty meals: