Level up your side dish game with this delicious loaded mashed potato casserole. Creamy and rich and are easy to make ahead of time, making them a great option of Thanksgiving and the holidays.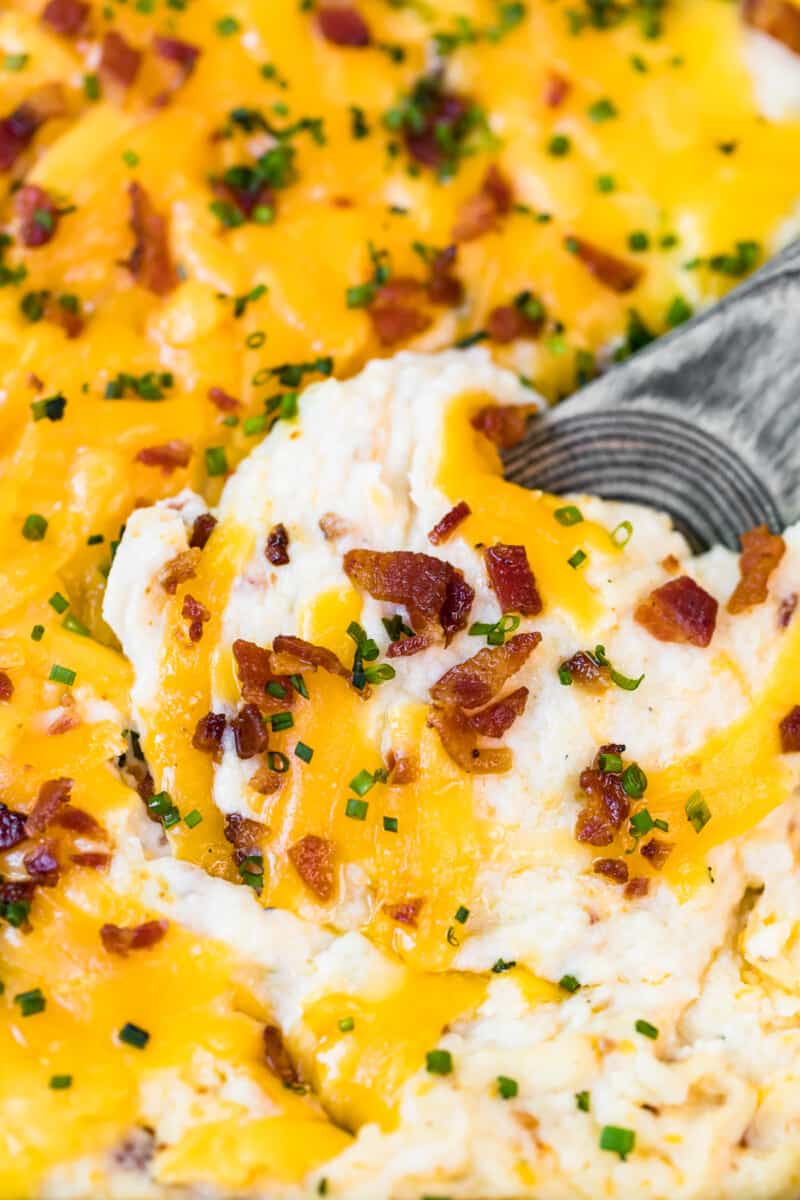 Loaded Mashed Potatoes
When it comes to deciding what to serve up for Thanksgiving and Christmas I always want to find lots of make ahead options to make the day less stressful in the kitchen. And that's where this delicious loaded mashed potato casserole comes in!
Super easy to make, this side dish is creamy and buttery, and of course, loaded with bacon and cheese. What's not to love?!
For more mashed potato side dishes, be sure to check out my Slow Cooker Mashed Potatoes with Garlic Butter and "Cheesy" Vegan Mashed Potatoes.
Why you will love this loaded mashed potato casserole!
Make ahead: This casserole can be made up to 2 days ahead of time, so it's a great option if you are planning to serve them as part of a big feast.
Perfect for a crowd: This recipe will easily feed up to 10 people and is easily halved and doubled.
Simple: Easy to make with simple ingredients, this dish is quick to prep and delicious to eat!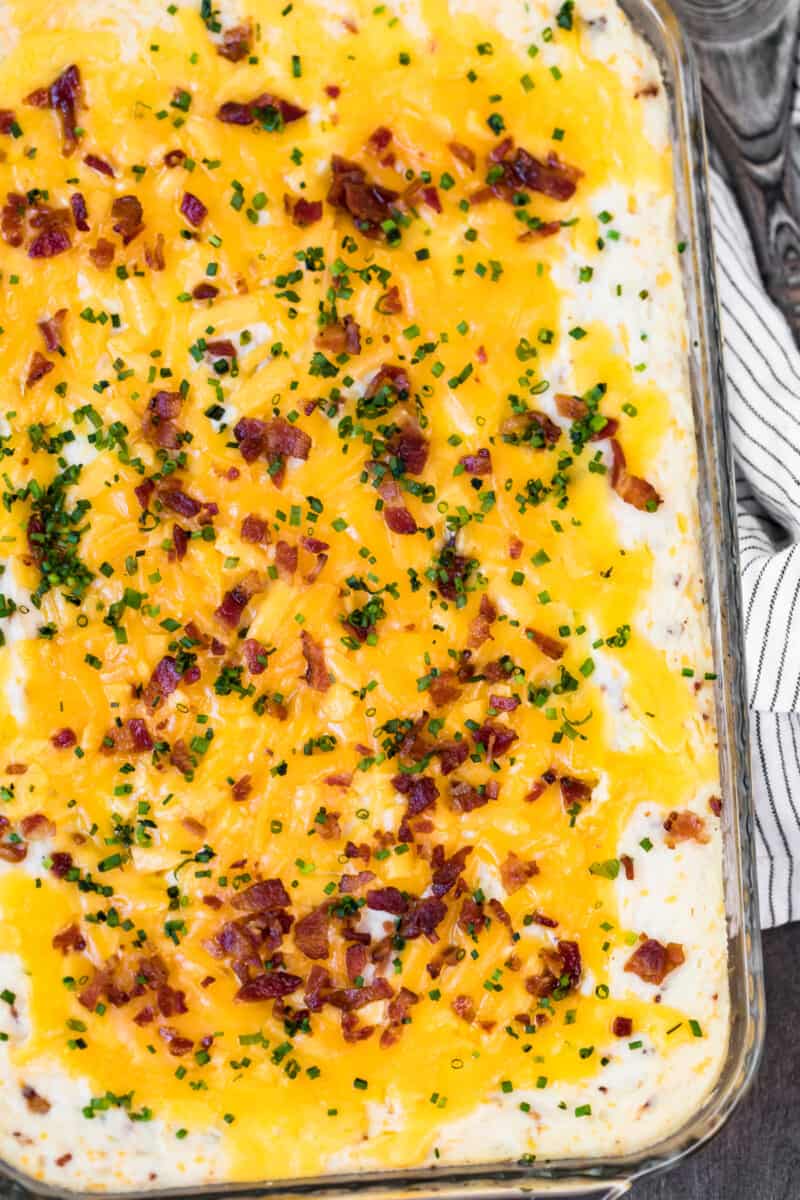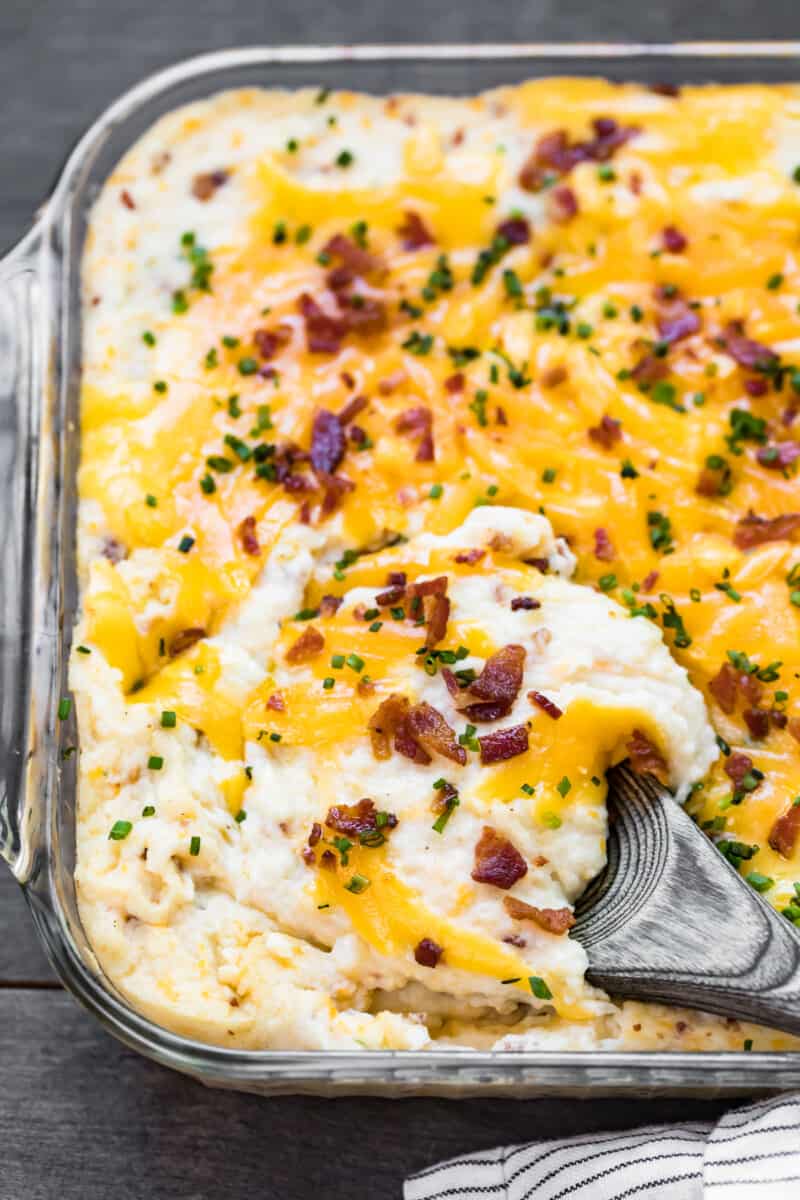 How to make mashed potato casserole
Be sure to see the recipe card below for full ingredients & instructions!
Boil the waters until fork tender and drain.
Mash the potatoes with the butter, creams and cheeses.
Add some cooked bacon and chives and combine and season.
Spread the mashed potatoes in a baking dish.
Cover with foil and cook, uncovering halfway through.
Sprinkle with cheese and bake.
Top with bacon and chives and serve.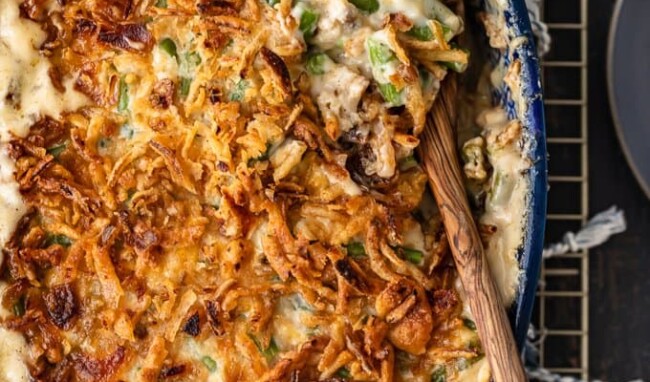 60+ Thanksgiving Sides
See Our Thanksgiving Side Dish Guide
See our Thanksgiving Sides Guide with all our fave holiday recipes.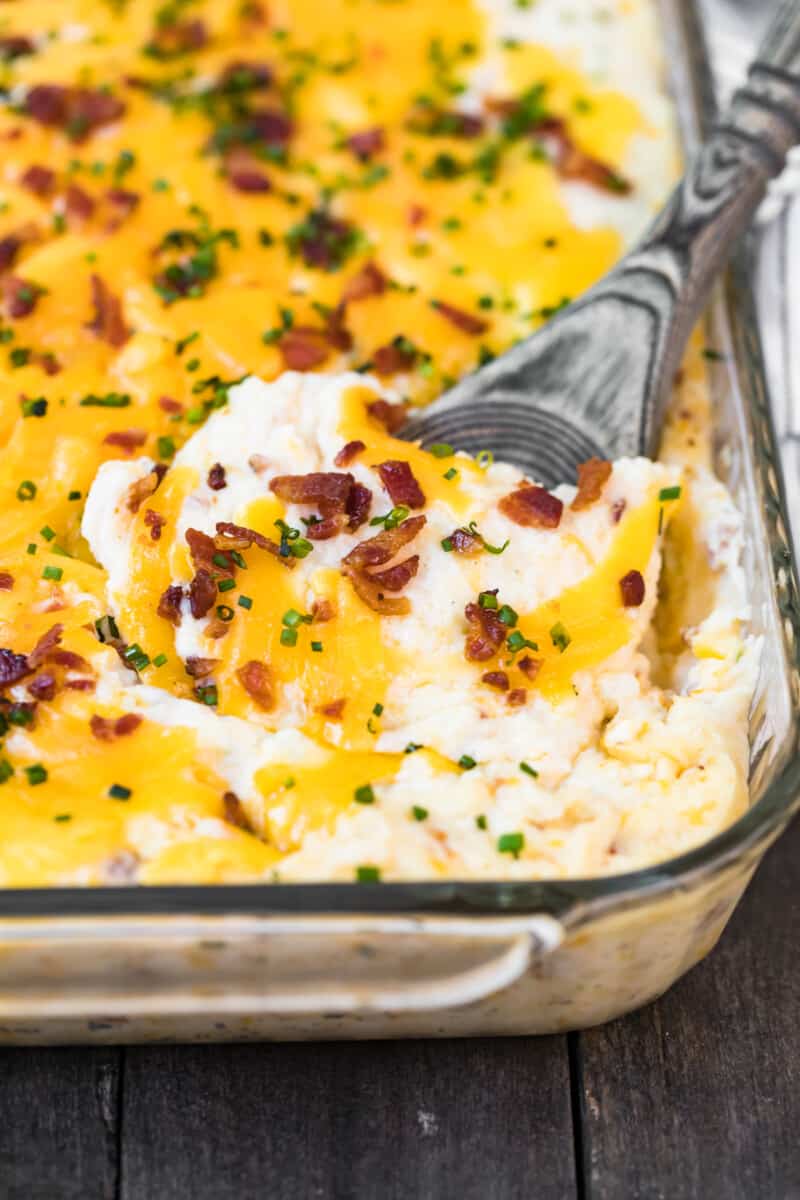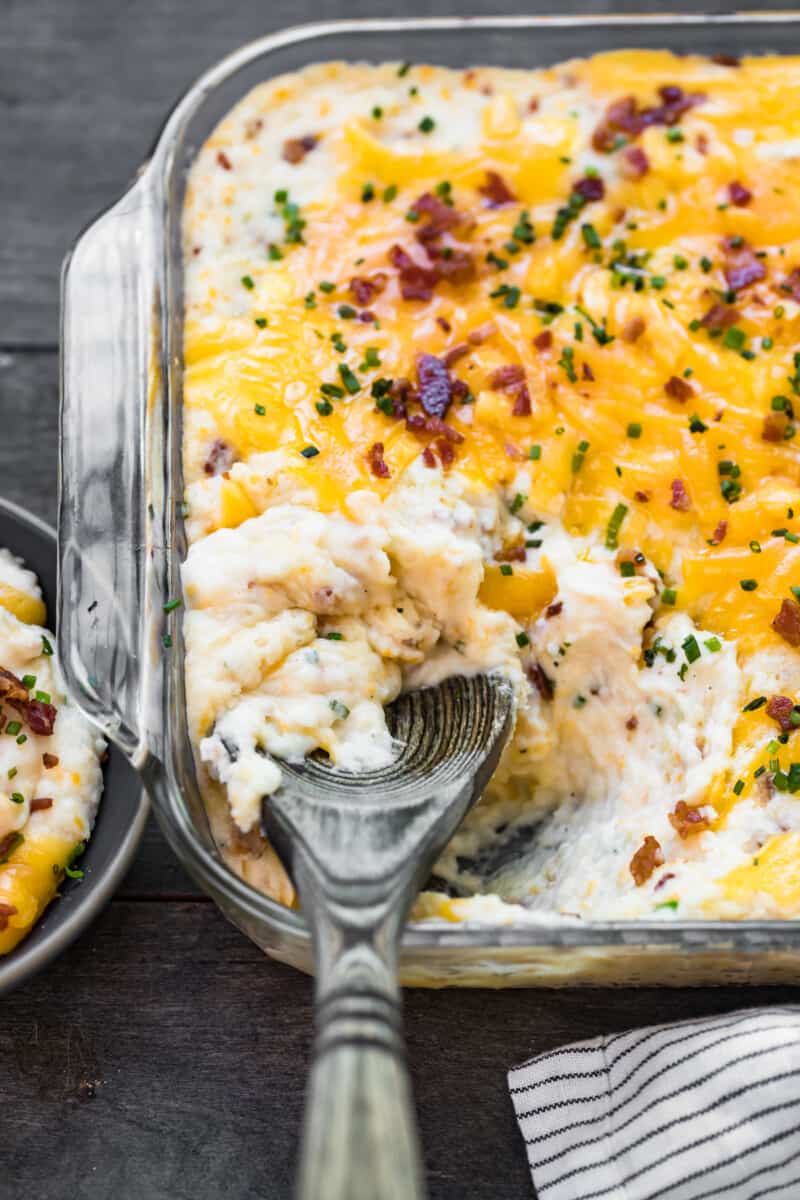 Make it ahead of time
This loaded mash potato casserole can be made two days in advance.
Make the mashed potato mixture and spread it into the baking dish.
Cover with plastic wrap and place in the fridge for up to 2 days.
Remove from the fridge 30 minutes before cooking.
Remove plastic and cover with foil.
Cook in a preheated oven for 50 minutes, removing the foil halfway through.
Add cheese and bake until melted and serve with bacon bits and chives.
What are the best potatoes to use?
My top potato when making mash is Yukon Gold. They are nice and starchy so get really fluffy. Russets are also a good choice, but stay away from waxy potatoes like red skinned or fingerlings.
What do you serve them with?
This loaded mashed potato casserole is the perfect accompaniment to your Christmas or Thanksgiving meal. Try it with: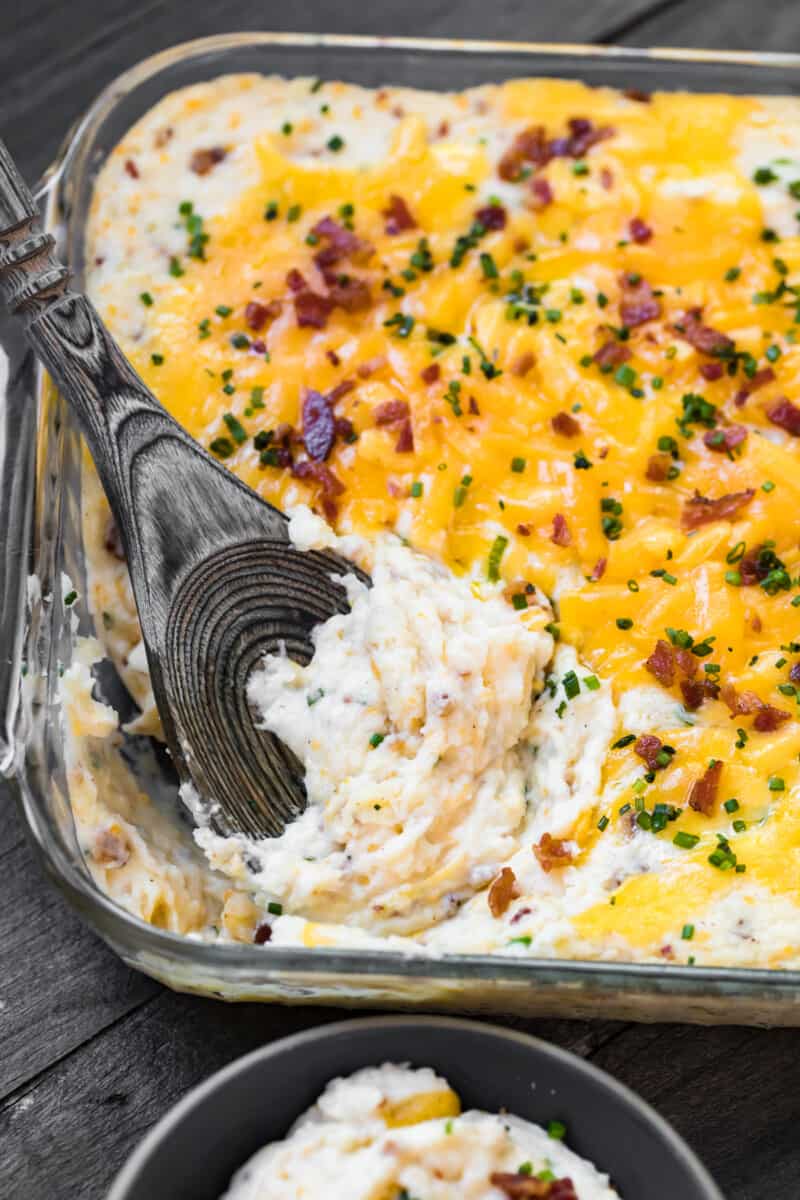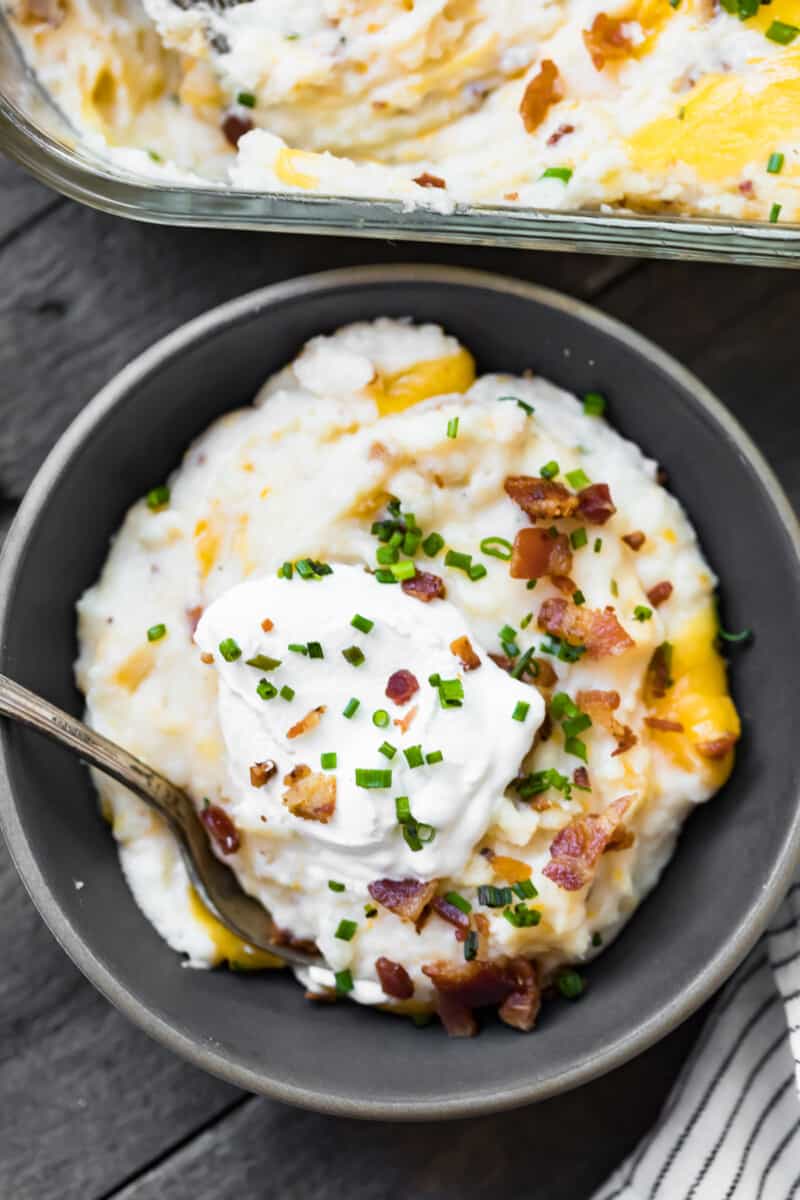 Tips!
Boil the potatoes until they are fork tender and boil off any excess moisture.
Use starchy potatoes like Yukon Gold or Russet for the best mashed potatoes.
If making ahead of time, let the potatoes cool completely before storing.
Leftovers will keep well for 3 to 4 days and can be reheated in the oven.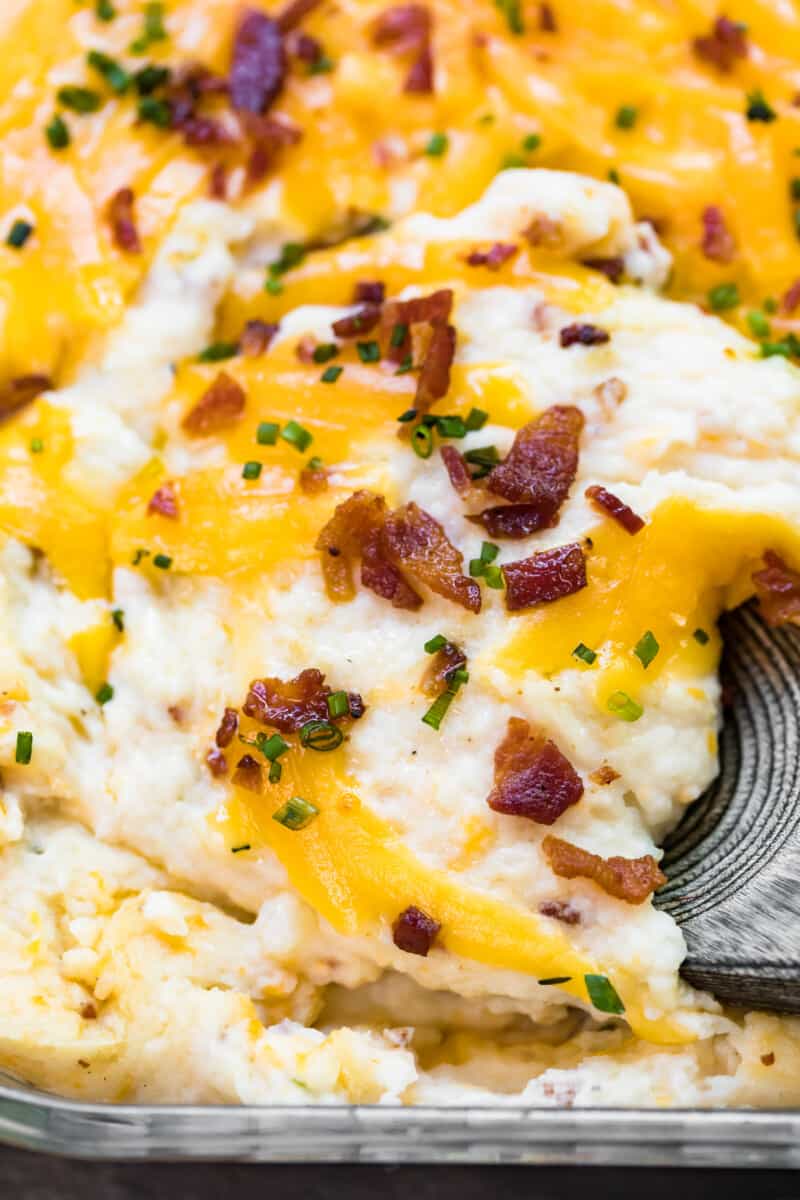 More Holiday Side Dishes
This Loaded Mashed Potato Casserole is just ONE of our favorite holiday side dishes! Be sure to try these other amazing recipes.