Learn how to make bakery-style French Bread from the comfort of your home! This soft homemade bread is SO easy and can be used in so many meals, appetizers, and snacks!
Love making bread? Try My Homemade Brioche too! It's SO good!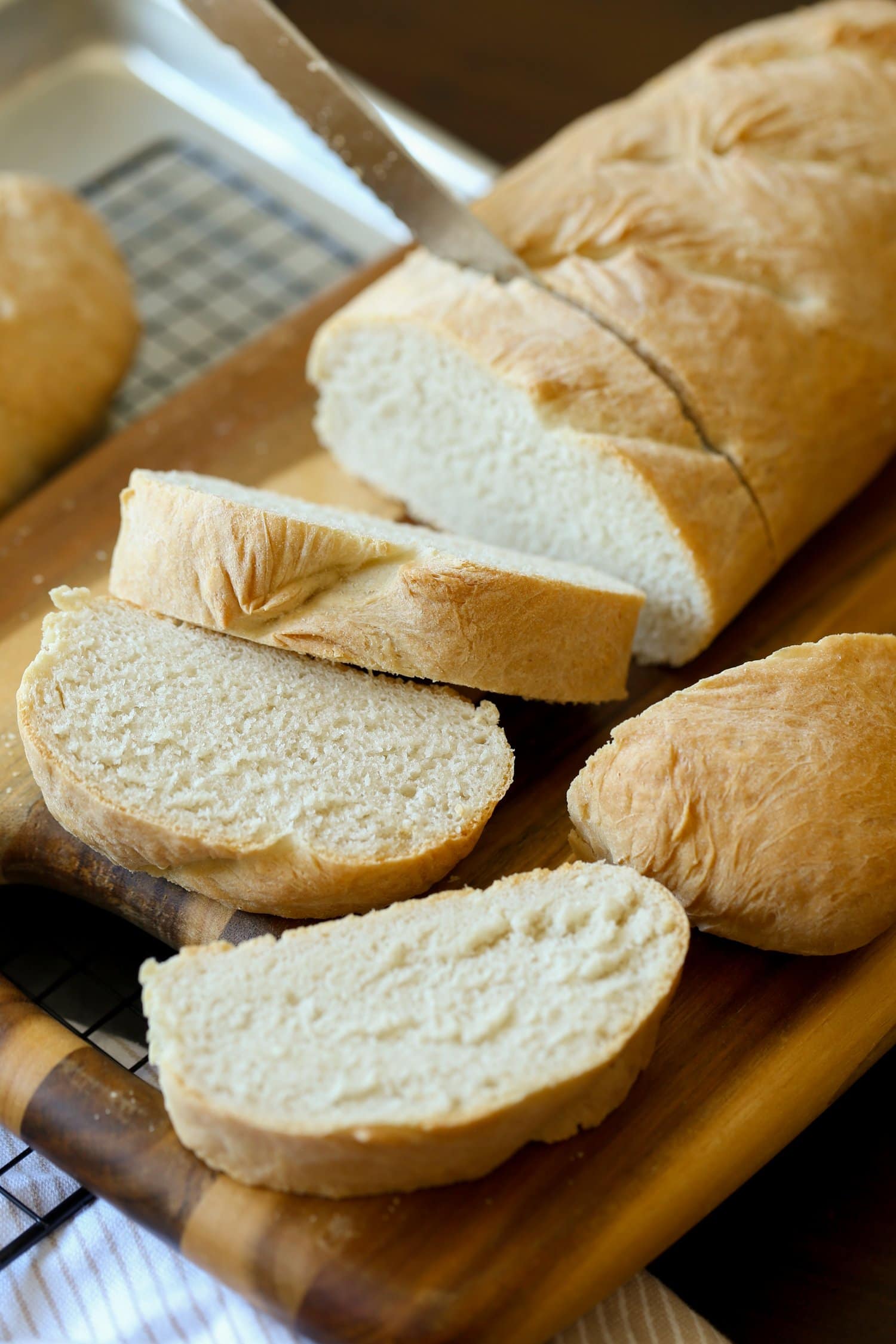 The Best French Bread
When it comes to baking bread, you don't have to be an experienced baker! Of course I most often make a quick bread, like my famous banana bread, but, recently I decided to switch it up with some Homemade French Bread, and boy am I glad that I did!
These fresh loaves of chewy French bread are completely addicting. I know the sugar content of the recipe is generally a little higher when I make statements like that, but it holds true here too. The crust/exterior of this homemade baguette is the perfect level of crispy, and the inside is pillowy-soft. Words cannot describe, my friends.
Making your own French bread sounds like a lot of work, but it's actually super easy. (And here I've been going to the store weekend after weekend!) So, if you're a first-time bread-maker, no worries. The process is really simple and totally within your grasp!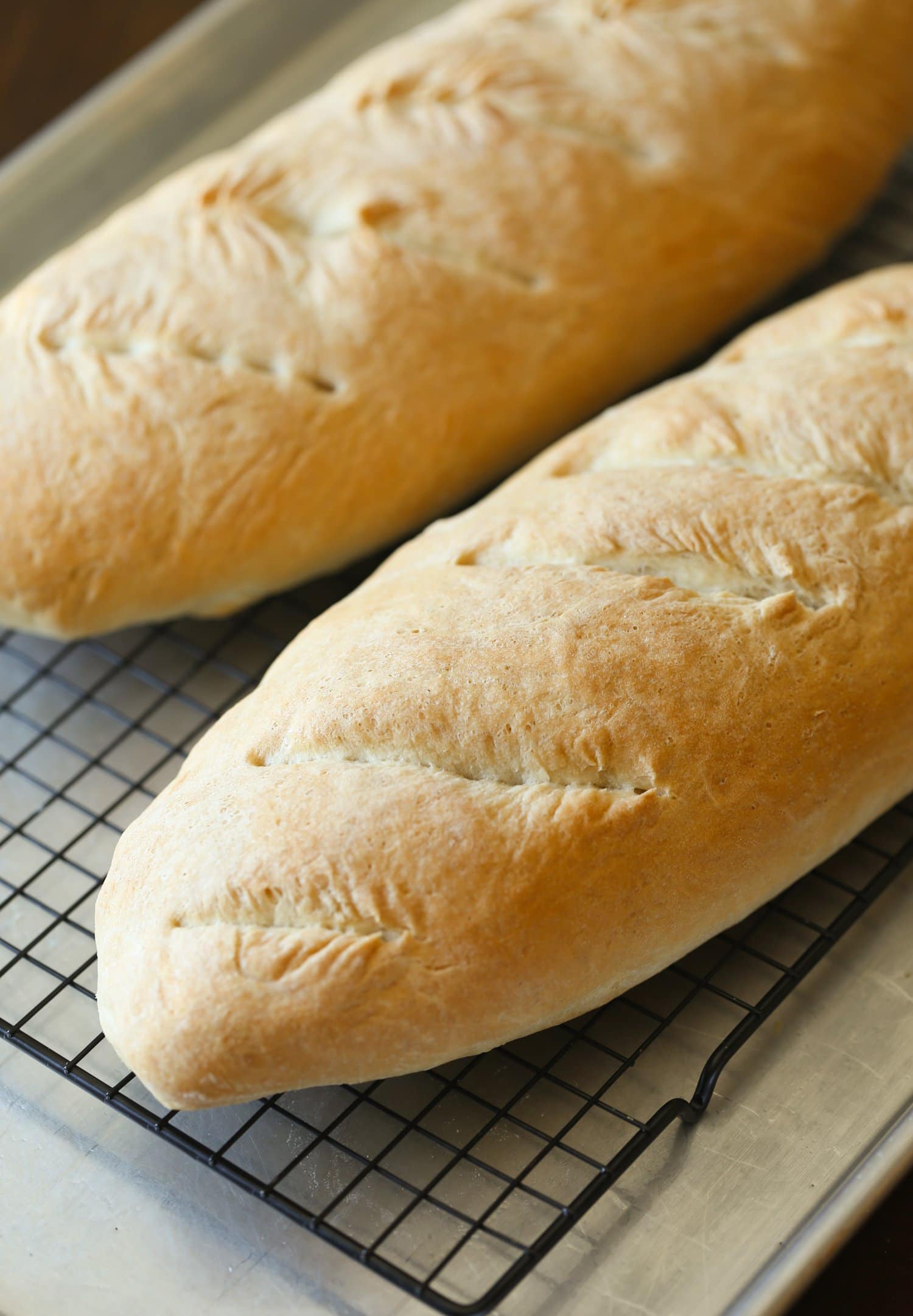 What Makes This Recipe Work
Simplicity is the key to success here. Keeping it simple means less work for you, and more time to do whatever else you need to get done today! This French bread is made with only 6 ingredients, and you can have the bread in and out of the oven and cooling on the counter within a couple of hours. What's more, you probably already have everything you need for homemade French bread in your pantry, which is always a plus.
What You'll Need
Alright, let's talk real quick about those 6 ingredients! Here's what you're going to need to round up:
Warm Water: Make sure that the temperature is somewhere between 110°F – 120°F.
Sugar: Just regular-old granulated sugar is perfect for this recipe.
Yeast: Active dry yeast will help your loaves of bread rise up nice and tall. You can also use Instant Yeast (Rapid Rise Yeast) which will only require one rise, not two!
Flour: You can use any kind of bread flour that you like for this French bread. You will use about 6 cups flour in this recipe.
Salt: I like to use kosher salt in my bread. One tablespoon of salt might seem like a lot, but it's really the only flavor addition to the bread and without it it'd be very bland.
Canola Oil: You can also use olive oil or vegetable oil as a substitution if needed.
Do You Have To Use Bread Flour?
The recipe will work with all purpose flour, but you won't get that chewy bread texture unless you use bread flour. Bread flour has a higher protein content (usually 11% – 13%). The protein in the flour is what produces lots of gluten, which is what gives you that chewy bread texture. Bread flour can be found in white and whole wheat varieties.
How to Make French Bread
Like I mentioned above, making your own French bread is no sweat. And you don't even need a bread maker to do it! The process breaks down into four basic parts: forming the dough, letting it rise, shaping it into loaves, and baking. Here's the more detailed description:
Dissolve the Yeast: Add the water, sugar, and yeast to the bowl of your stand mixer fitted with the dough hook attachment (or mixing bowl if doing by hand). Allow the yeast to dissolve and become foamy, approximately 5 minutes.