This Easy Chicken Gravy is so simple to make and requires no pan drippings! Smooth, savory, garlicky, and fabulous over mashed potatoes, chicken, turkey, and more! 
For more gravy ideas, try my Beef Broth Brown Gravy, my Instant Pot Chicken Breast and Gravy, or my Biscuits and Gravy Breakfast Casserole.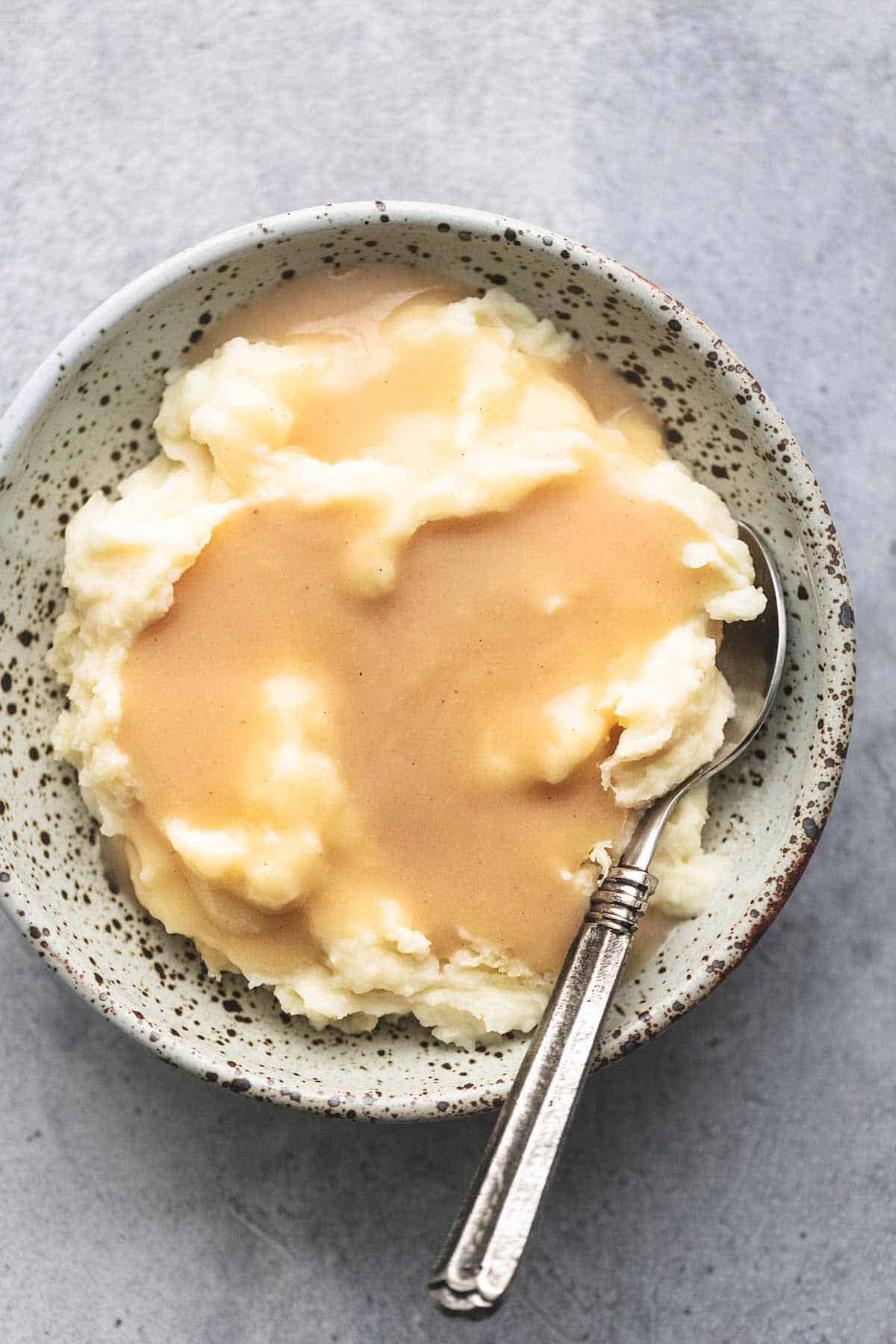 What is it about gravy? I mean, technically (usually, but not in this instance) it was just a way to use up all those pan drippings to make a sauce to layer atop meat or mashed potatoes or whatever vehicle you were using to make it seem like you weren't some kind of animal, eating a bowl of gravy soup. (Not that that hasn't crossed my mind!) 
In my opinion, when you are roasting a chicken or turkey or making a roast, you have to make gravy from those pan drippings. What else would you do? Throw them away? The horror. To pitch that is like some kind of crime against humanity. (You can't see it, but I'm shaking my head at the mere thought of it.)
But, what are you to do when the craving for easy chicken gravy hits and you haven't roasted a bird and you don't have those terrific pan drippings from which to make a delicious gravy? Well, I sure am glad you asked! 
What you should do is make a homemade chicken gravy recipe anyway — without the drippings! That's right! You can make a gravy recipe easily by using some simple pantry staples and a little bit of stirring muscle. Trust me, you won't even know you didn't make this chicken gravy without drippings, it's that good!!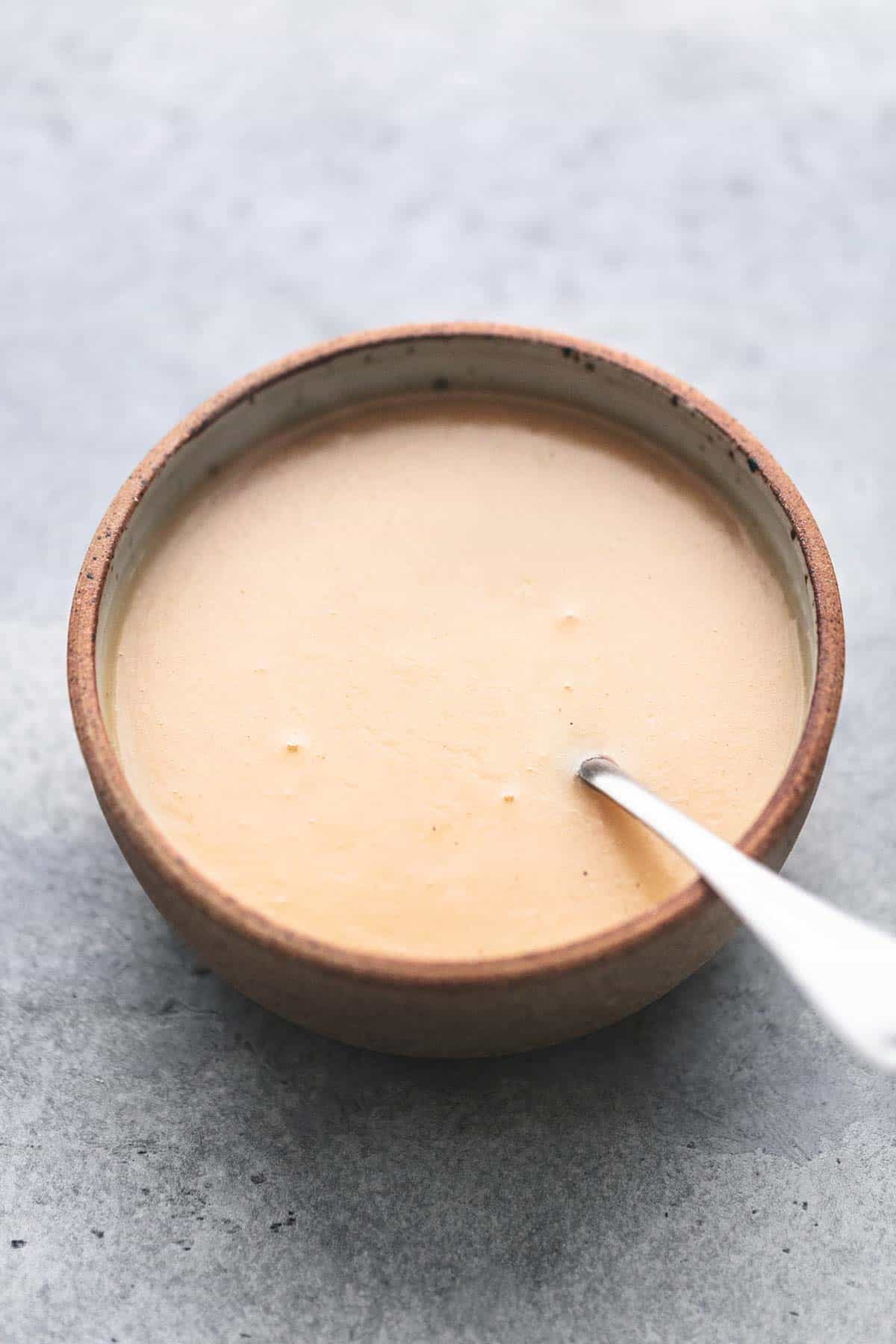 WHAT INGREDIENTS ARE IN EASY CHICKEN GRAVY? 
Toss out any notion of needing an entire chicken here! You don't! The following 6 ingredients are all you'll need — and that includes water! 
Chicken broth

Garlic powder

Onion powder

Salt and pepper

Cold water

Corn starch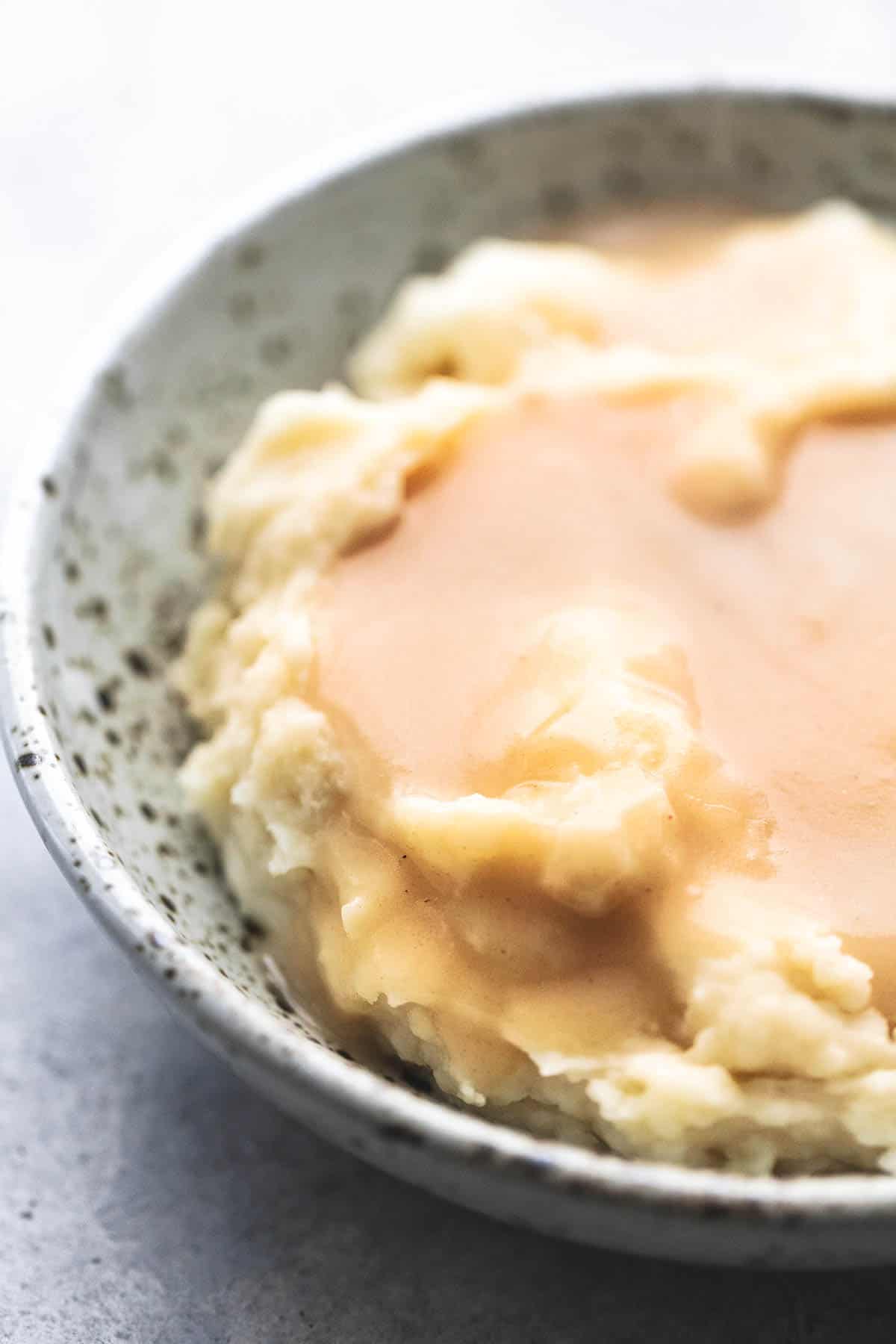 HOW DO YOU MAKE GRAVY WITHOUT DRIPPINGS? 
Although it says it right in the description, this chicken gravy recipe is made without drippings and is so easy! Plus it's done in just 10 minutes! 
Get out a large saucepan over medium-high heat and pour in the chicken broth. Bring it to a boil. Once it's boiling, stir in the garlic powder and onion powder and keep stirring for 1-2 minutes longer. 
In a small bowl, whisk together the water and the cornstarch until it's dissolved. Then, stir that slurry into the boiling broth and let the broth thicken. Add salt and pepper to taste. That's it! You're done! 
Serve this hot over chicken, meat, mashed potatoes, polenta, vegetables, whatever!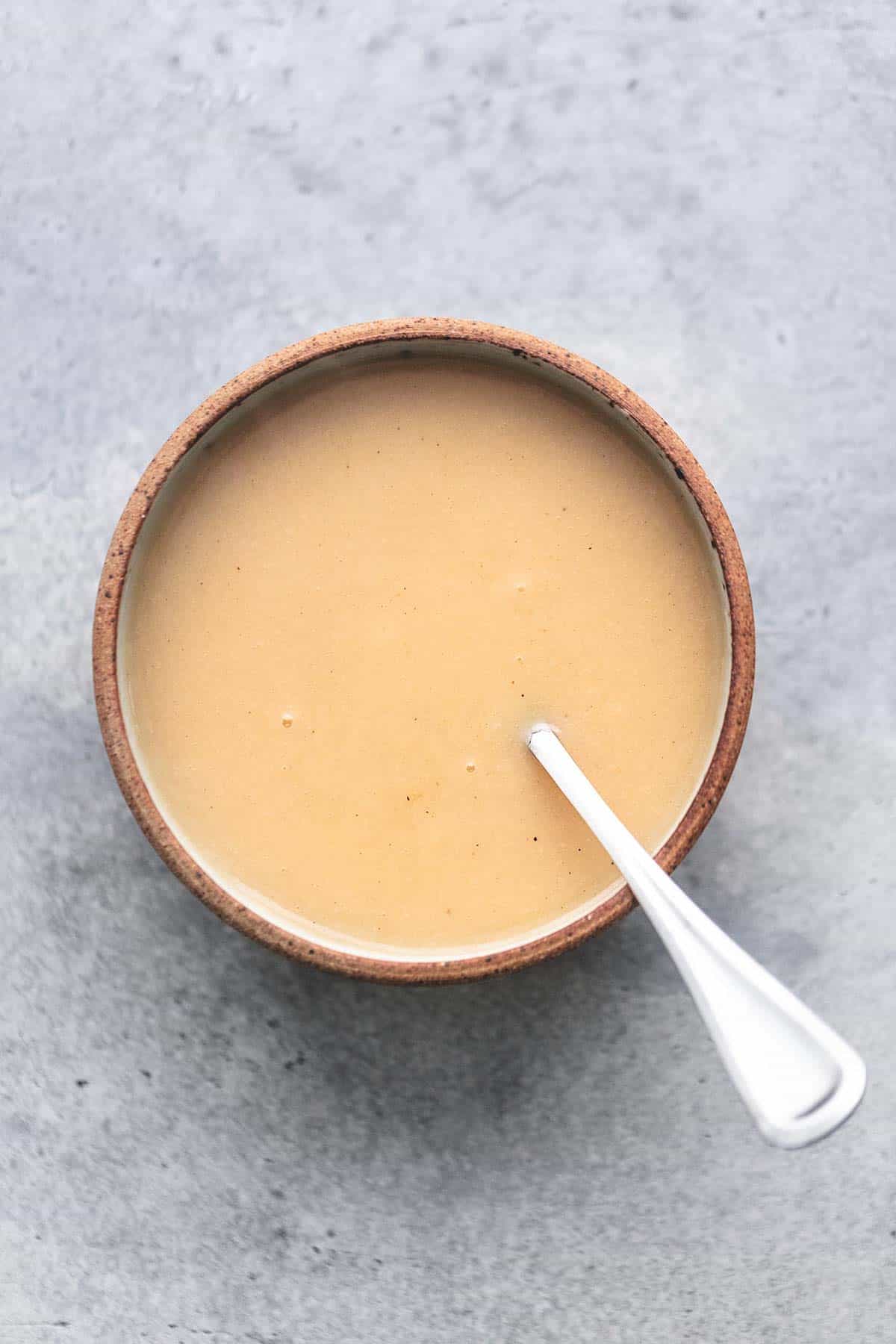 WHAT DO YOU EAT WITH GRAVY?
Good gravy! This chicken broth gravy goes so good over a number of delicious recipes! For instance: 
CAN YOU FREEZE LEFTOVER GRAVY?
The best way to ensure you get to eat gravy often is to make extra and freeze it! A flour-based gravy freezes way better than a milk-based one, so we're in the clear to freeze this homemade chicken gravy recipe. 
I like to freeze mine in portioned freezer bags. Just make sure to get all the air out and zip the top shut so the bag remains airtight. Lay the bags flat for easier storage. 
Another option is to pour the room-temperature gravy into ice cube trays and pop those into the freezer. Once they are frozen, crack the gravy out of the trays and into a freezer bag. This way, you can warm up as many cubes at a time as you need.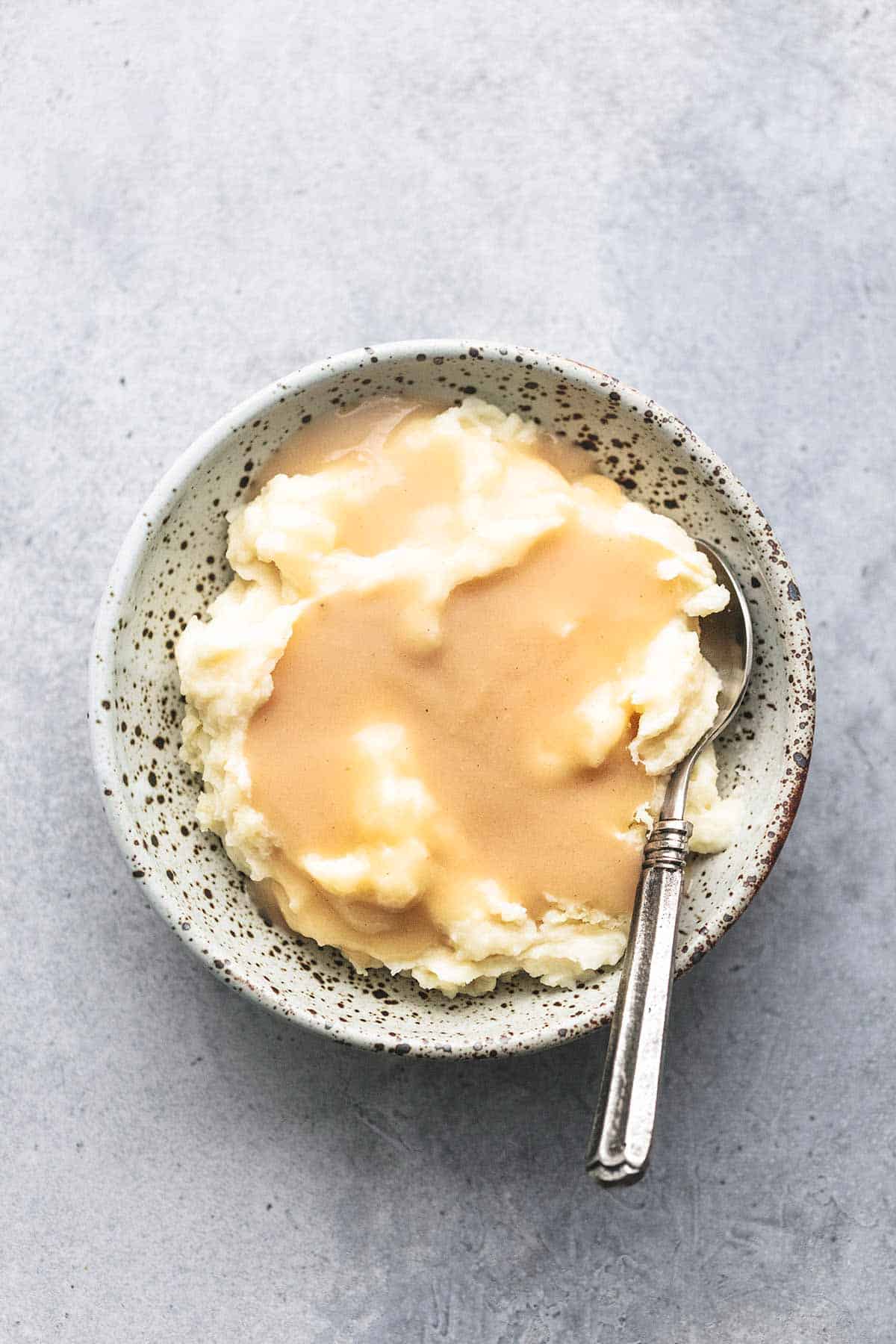 Easy Chicken Gravy (without drippings)
This Easy Chicken Gravy is so simple to make and requires no pan drippings! Smooth, savory, garlicky, and fabulous over mashed potatoes, chicken, turkey, and more! 
2

cups

chicken broth

2

teaspoons

garlic powder

1

teaspoon

onion powder

salt and pepper to taste

1/4

cup

cold water

3

tablespoons

corn starch
In a large sauce pan over medium-high heat, bring chicken broth to a boil.

Stir in garlic powder and onion powder and continue to stir 1-2 minutes longer.

In a small bowl whisk together water and corn starch until dissolved. Stir into boiling broth til thickened.

Add salt and pepper to taste. Serve immediately or store up to 2 weeks covered tightly in the fridge. Serve hot over your favorite chicken, meat, or vegetable dishes.