This Easy Crockpot Blackberry Cobbler recipe is a winner for sure! It comes together with just 10 minutes prep and cooks in the slow cooker, keeping your house cool and your oven free! Loaded with fresh blackberries and a crisp, cakey topping. Just begging for a scoop of vanilla ice cream!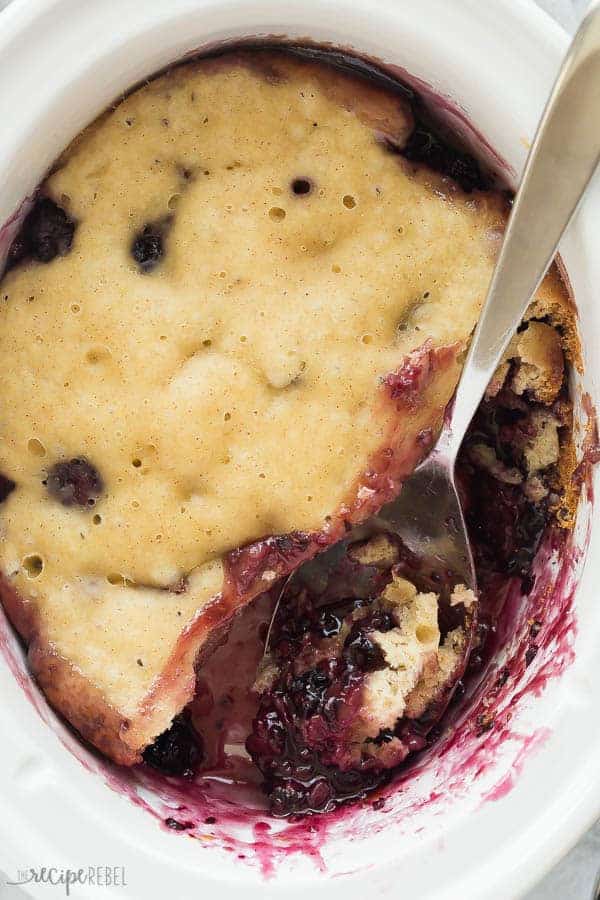 If you know me at all, you know this Blackberry Cobbler ticks a lot of my boxes for the perfect dessert.
I know there are people who don't like ooey, gooey, hot desserts, but I just can't get behind that way of thinking. For me? The gooier, the better. And with vanilla ice cream melting all over the top?
Somebody hold me back.
I might just dive face first into that pan.
I thought about making this cobbler in a pan, in the oven, like most people would do. But turning the oven on in the summer? When it's already about 1 million degrees?
Why? When we really don't have to.
This Slow Cooker Berry Cobbler is getting a sister (a brother?) today — this Easy Crockpot Blackberry Cobbler.
Last fall, I also added this Slow Cooker Cranberry Apple Cobbler to the family, and it's a perfect way to use up those extra bags of frozen cranberries you have in the freezer because Thanksgiving is over!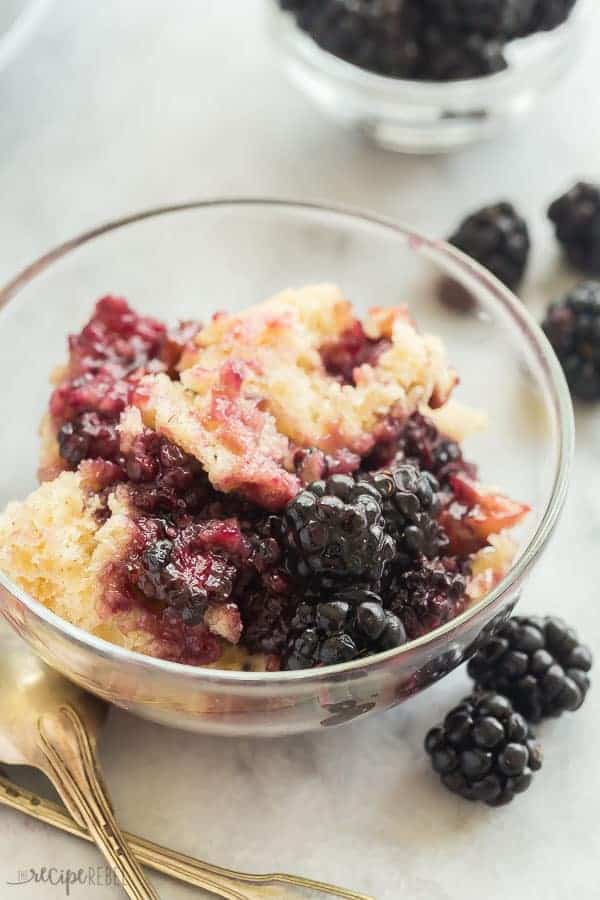 Blackberries are one of my favorite berries. I think they usually take a back seat to strawberries, raspberries and blueberries but I don't think that needs to be the case.
They are rich, dark and sweet and they make the most luscious sauce in this crockpot cobbler. They're not tangy like raspberries, and there's no chopping or hulling like with strawberries. They make this slow cooker dessert incredibly easy, and super, ridiculously delicious.
The older I get, the more I enjoy lighter flavours, and less indulgent desserts. Often, I'll pass on the chocolate and caramel and peanut butter in favor of a warm, fruit dessert or something bright and citrusy. I can't resist!
How to make Blackberry Cobbler:
Choose the best blackberries. If you can't find ripe, sweet, fresh berries, choose frozen instead as they were picked and frozen at their peak and will often have better flavor than off season fresh berries.
Stir up the batter. No need for any fancy tools! A bowl and a sturdy mixing spoon is enough to make your batter.
Don't overcook! This recipe cooks pretty quickly in the slow cooker, only about 2-2.5 hours on high. You don't really want to let it go much longer than that because the top will become dry and hard around the edges.
Don't forget the ice cream. This is not optional! I mean, it is, in reality, but you're not going to want to. The way a scoop of vanilla ice cream melts over this easy blackberry cobbler when it's warm? UN-REAL.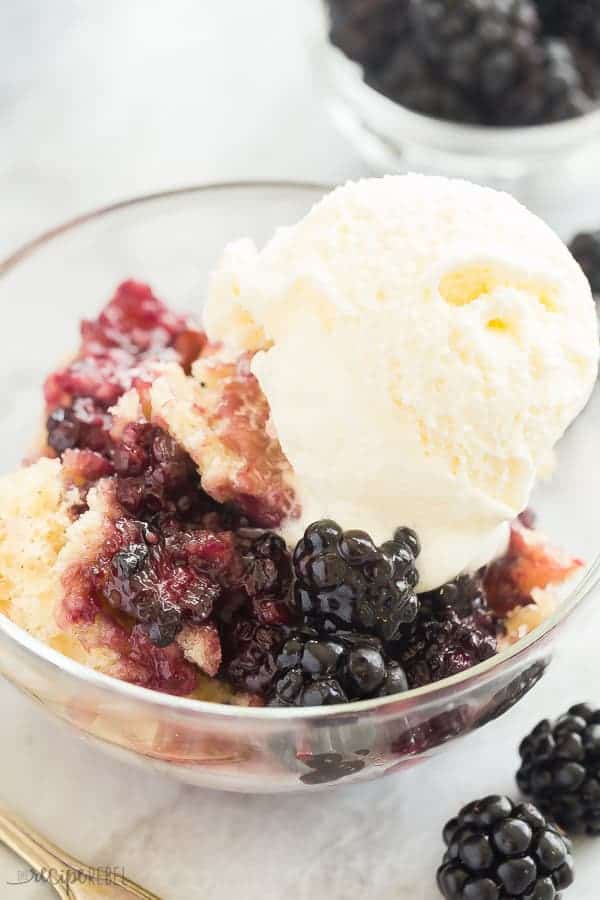 What makes a cobbler a cobbler?
A cobbler is all about two things: the fruit filling and the topping.
The Kitchen says that unlike a crisp, the cobbler topping is more like a biscuit and not a streusel.
However, there are several different regional variations of cobbler topping that we've already mentioned above — some use a cream biscuit and drop it over top, some use pie crust, and some recipes — like this one — use a batter that bakes up into an almost cakey topping.
How to make this Blackberry Cobbler in the oven:
You can definitely make this crockpot cobbler in the oven if you want (or if you're impatient and don't mind turning on your oven!).
You will mix your batter and your berries just the same way. Lightly grease a 2-3 quart baking dish, spread the fruit into the bottom of the pan, then drop spoonfuls of batter all over the top, covering as much as possible (but it won't cover all!).
Bake at 350 degrees for about 45-55 minutes, until the top is dry and completely cooked through and the fruit sauce is thickened and bubbly.