This easy Lemon Meringue Pie is cool, creamy and tangy — the perfect dessert for any occasion! Go totally homemade or take some shortcuts if you're out of time 😉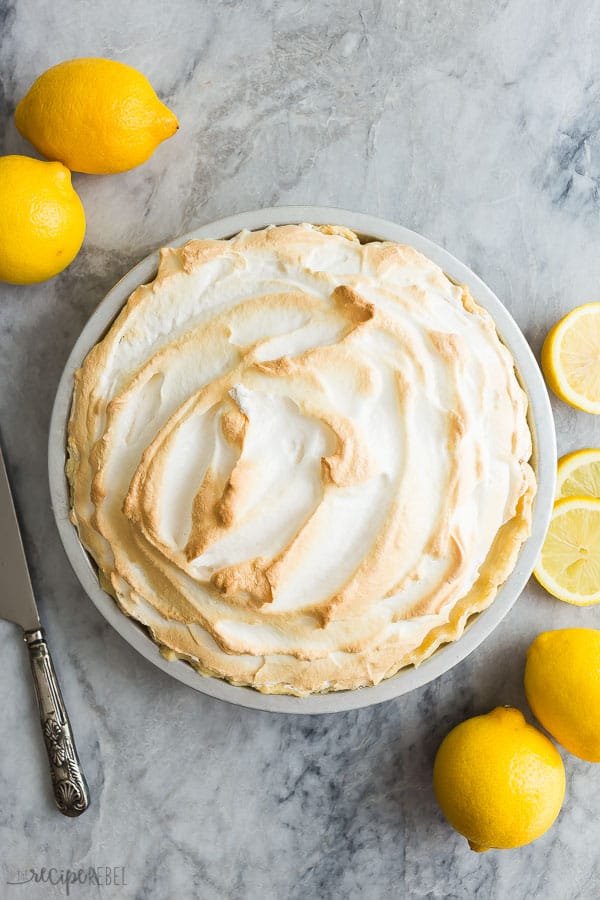 Maybe I've said it 1 million times before, but let me say it again: I love lemon.
I love lemon in just about everything: sweet, savory, healthy baked goods or extravagant desserts.
It just goes. With everything.
Blueberry lemon bread, lemon monkey bread, lemon sour cream cookies, honey lemon chicken – you name it, we love it.
It's no surprise that this easy Lemon Meringue Pie showed up here today, joining the family.
It's the perfect dessert for spring and Easter — light and fresh and citrusy — but it's also the perfect dessert for the dead of winter, when citrus is in season.
In fact, I think one of the best things about this Lemon Meringue Pie is how easy it is to enjoy throughout the year, without sacrificing flavor due to out of season, cardboard-tasting fruit.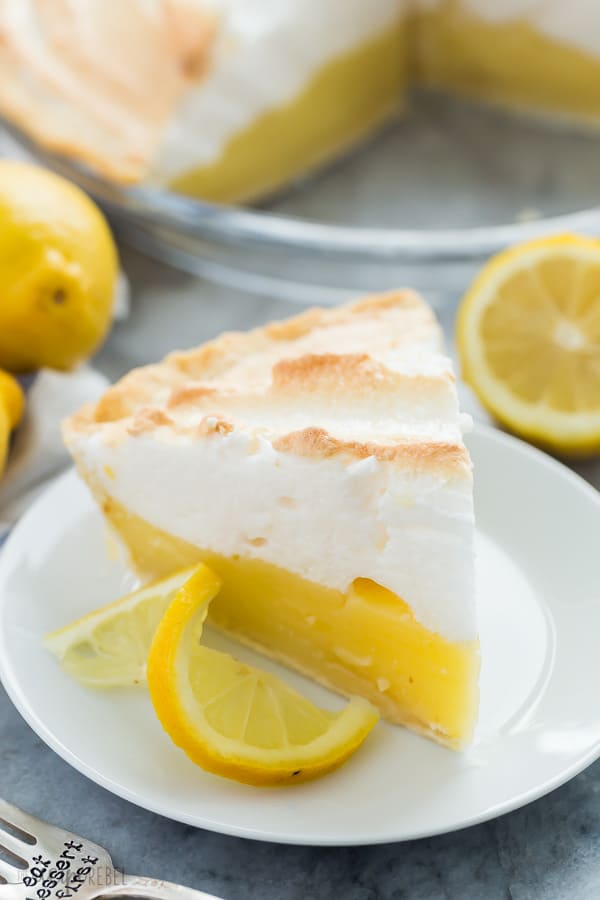 The lemons in January are just as juicy as they are inJuly!
 How to make Lemon Meringue Pie:
Start with the crust –you can do it homemade or purchase a store bought, refrigerated or frozen pie crust. If you need to take a shortcut but want it to still appear homemade, opt for the refrigerated, rolled crust and you can roll it right into your own pan 😉
Next is the filling: I like to keep mine as simple as possible, which means whisking everything together before cooking, rather than having to temper the eggs later. The only risk with doing this is a lumpy filling, but that is easily avoided if you whisk consistently during the cooking time.
If you like you can put it through a strainer to ensure it's super smooth, but I've never had any issues with it.
Finish with the meringue: Make sure that there is no drop of egg yolk or other grease in your egg whites — this will prevent them from whipping.
Also be sure that you whip it until the sugar is completely dissolved, as undissolved sugar can lead to a weeping meringue.
After that, you're nearly done! Just toss it in the oven for a few minutes to toast it up.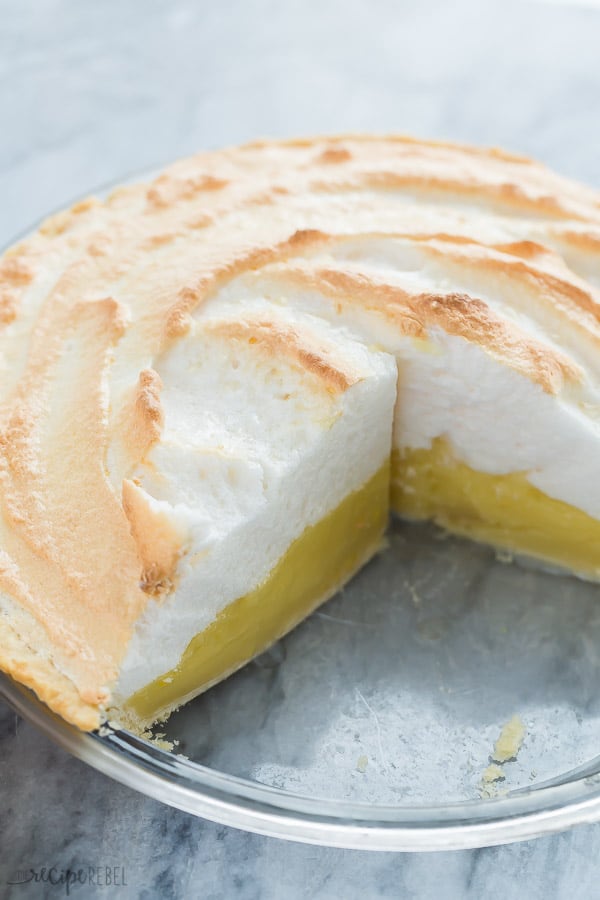 Tips for making this easy Lemon Meringue Pie recipe even easier:
Opt for a refrigerated carton of egg whites instead of separating them yourself if you're unsure about getting perfectly clean whites separated from your eggs (you'll still need the yolks though, so this might not be the best time saver)
You can use a refrigerated pie crust to make life simpler.
Choose a store bought lemon meringue pie filling, then top with homemade meringue and you can fool anyone into thinking it's totally homemade 😉
Choose store bought frozen mini tart shells for a fun, easy, bite sized treat (that isn't nearly as fussy!)
How to store Lemon Meringue Pie:
Lemon Meringue Pie is best eaten shortly after making, as the meringue tends to weep and get runny if refrigerated for a long period of time.
I like to make mine the night before, then refrigerate uncovered overnight. It will set perfectly, but still be fresh and not watery.
Any leftovers should be refrigerated after a few hours, and the crust may get a little soft but it will still be delicious.
More lemon recipes you might enjoy: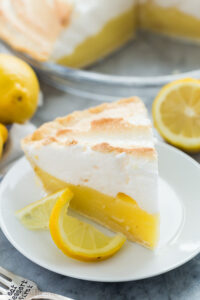 Easy Lemon Meringue Pie
This easy Lemon Meringue Pie is cool, creamy and tangy — the perfect dessert for any occasion! Go totally homemade or take some shortcuts if you're out of time 😉 
Prep Time 30 minutes
Cook Time 30 minutes
Total Time 1 hour
Servings 8 servings
Calories 467kcal
Author Ashley Fehr
Ingredients
Pie crust:
1 1/4

cups

all purpose flour

156g

1

teaspoon

sugar

1/2

teaspoon

salt

1/2

cup

cold butter

cut into cubes

3-4

tablespoons

cold water
Filling:
1 1/2

cups

sugar

300g

1/2

cup

corn starch

60g

1 1/2

cups

water

4

egg yolks

1/4

cup

lemon juice

zest from 2 lemons

2

tablespoons

butter
Meringue:
1/2

cup

water

1

tablespoon

corn starch

8g

4

egg whites

1

teaspoon

vanilla

pinch

of salt

1/2

cup

sugar

100g
Instructions
Pie crust:
In a medium bowl, stir together the flour, sugar and salt.

Cut in butter with a pastry cutter or fork until you see pea-sized chunks of butter remaining.

Gradually add in cold water, stirring each time until you can press it together.

Form it into a disk, wrap in plastic wrap and refrigerate for at least 2 hours, or freeze for 30 minutes until chilled.

Preheat oven to 425 degrees F.

Roll out to fit a 9″ pie plate.

Press into the pie plate and over the sides. Trim the edges and crimp or leave as desired. Poke the bottom and the sides with a fork all over to help prevent puffing (or use pie weights if you have them).

Bake for 10-12 minutes until light golden brown. Set aside while you make the filling.
Filling:
In a medium saucepan, whisk together the sugar, water, corn starch, egg yolks, lemon juice and lemon zest.

Cook over medium – medium-high high, whisking constantly, until thickened — it will be thick, slightly thicker than pudding when warm. This can take 10-15 minutes, but don't rush it.

Pour hot filling into the pie crust and make the meringue.
Meringue:
Preheat oven to 375 degrees F.

In a small saucepan, whisk together the water and corn starch. Cook over medium heat until thickened and clear. Set aside but keep warm.

In a clean bowl with clean beaters, beat egg whites, vanilla and salt until soft peaks form.

Gradually add in the sugar, beating until stiff glossy peaks form.

Gradually add in the warm corn starch mixture, beating constantly, until completely incorporated and meringue is light and fluffy and holds stiff peaks.

Spread meringue onto hot pie filling (it's important that the filling is still hot!) and spread right to the edge of the pie crust. The meringue must touch the edges all the way around.

Bake at 375 F just until the tops of the meringue are light golden brown — don't overbake.

Let rest on the counter on a wire rack for 1-2 hours, then refrigerate for 5-6 hours until chilled, or overnight.

Slice and serve.
Nutrition (this is an estimate)
Nutrition Facts
Easy Lemon Meringue Pie
Amount Per Serving
Calories 467 Calories from Fat 144
% Daily Value*
Total Fat 16g 25%
Saturated Fat 9g 45%
Cholesterol 135mg 45%
Sodium 306mg 13%
Potassium 63mg 2%
Total Carbohydrates 74g 25%
Sugars 50g
Protein 5g 10%
Vitamin A 11.4%
Vitamin C 3.6%
Calcium 1.9%
Iron 6.6%
* Percent Daily Values are based on a 2000 calorie diet.