These Easy Mint Chocolate Truffles are an easy no bake Christmas dessert perfect for gift giving! They have a smooth creamy mint center and are covered in dark chocolate. Includes step by step recipe video.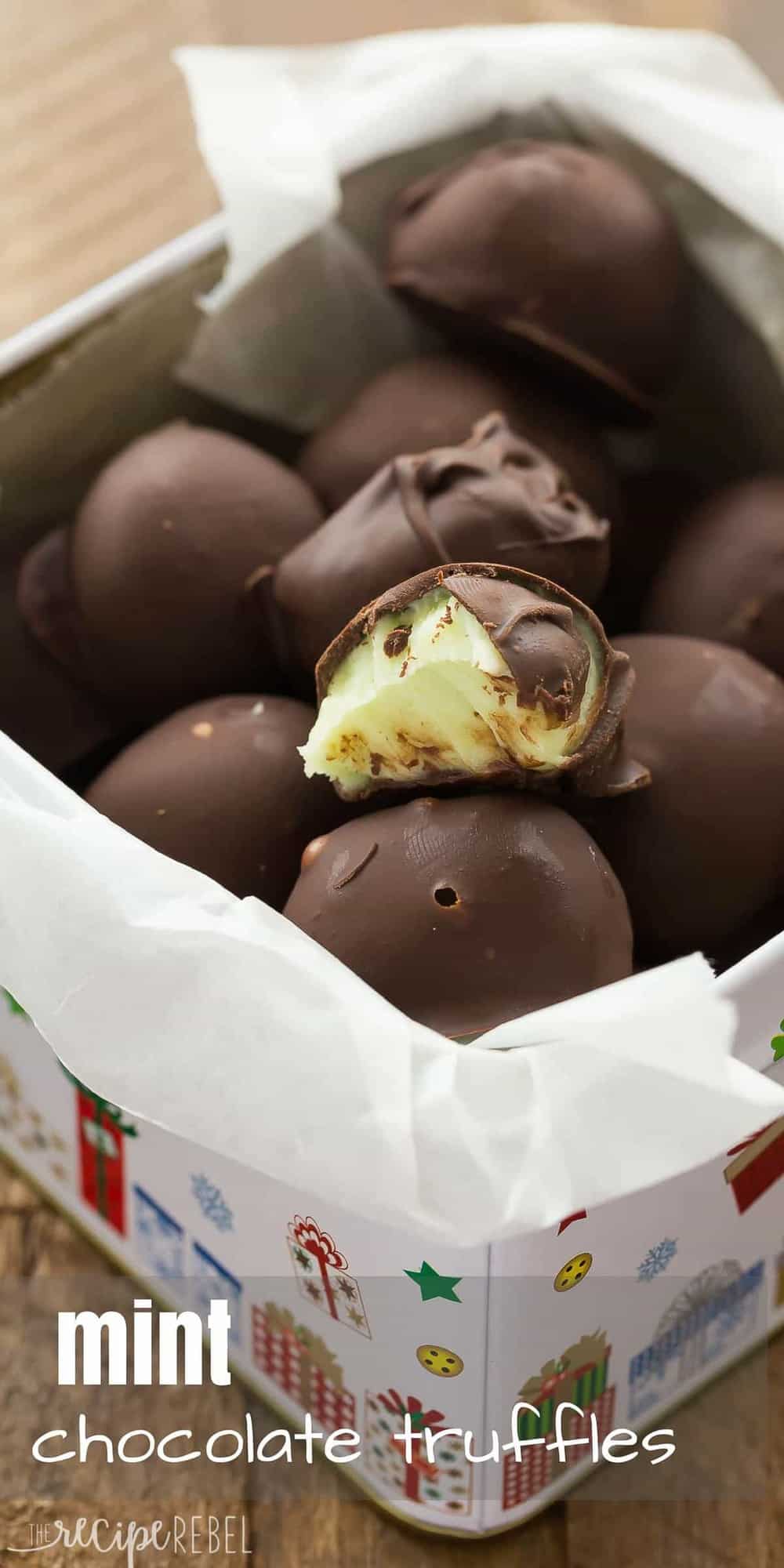 One of my all time favorite Christmas combos, friends — mint chocolate!
I actually don't usually let myself maybe a bunch of Christmas candy because, well — I will usually eat all the Christmas candy. But this year I let myself go a little crazy. I love having treats to gift and these truffles are perfect because I can hide them from myself in the bottom of the freezer, and just take them out when I need a quick present for a neighbor or teacher or family friend. Provided the husband doesn't get to them before I do…. ?
This recipe is inspired by the Lindt chocolate mint truffles — do you know the ones?? You guys. My love for Lindt truffles is pretty big (I'm not paid to say that, I'm just actually kind of obsessed.).
I recently discovered the strawberries 'n' cream truffles, and between those and the mint chocolate and the little white chocolate ones with the chocolate cookie bits (they are like a cookies and cream but with a fancier name) — I couldn't really say which I love more.
And so, this is why I don't usually get to make truffles. I have a bit of a thing for chocolates.
But since it's the holidays and we're all splurging a bit anyways, here we are! I would love to hear what your favorite flavors of chocolate truffles are — there may be a few more batches in my future ?
Tips and Tricks for Making these Mint Chocolate Truffles:
I had a vision for the centers of these truffles being super smooth and creamy, so I added just a bit of cream cheese. For this reason, the chilling and freezing is really important! You will want to follow the directions closely so you don't have lumpy truffles.
Resist the urge to add anything to the chocolate to help it melt easier — your coating will not be firm if it's not 100% chocolate.
Feel free to mix up the extracts to make a truffle totally your own! Orange extract would also be wonderful.
Watch the recipe video and see how easy they are to make!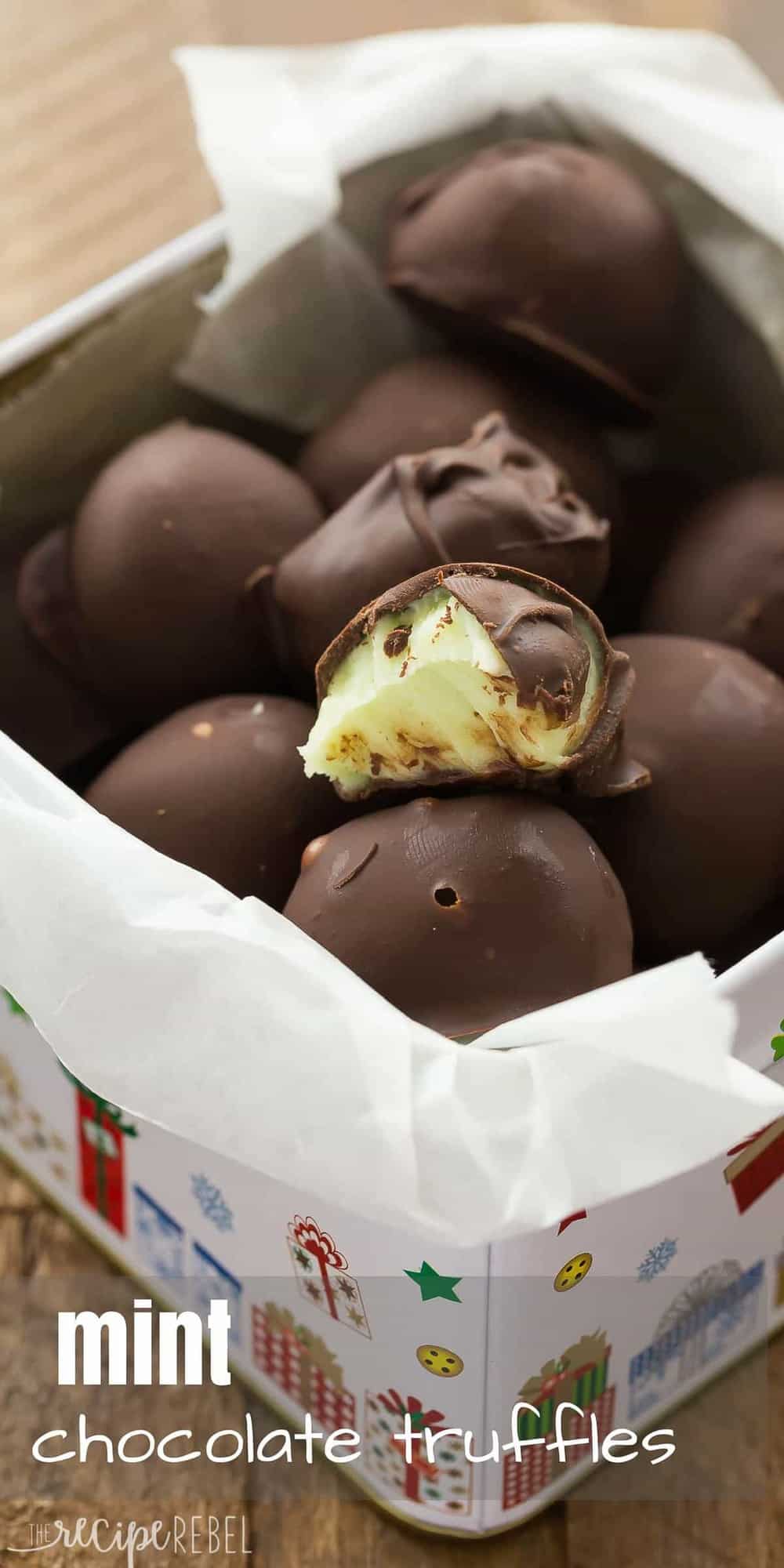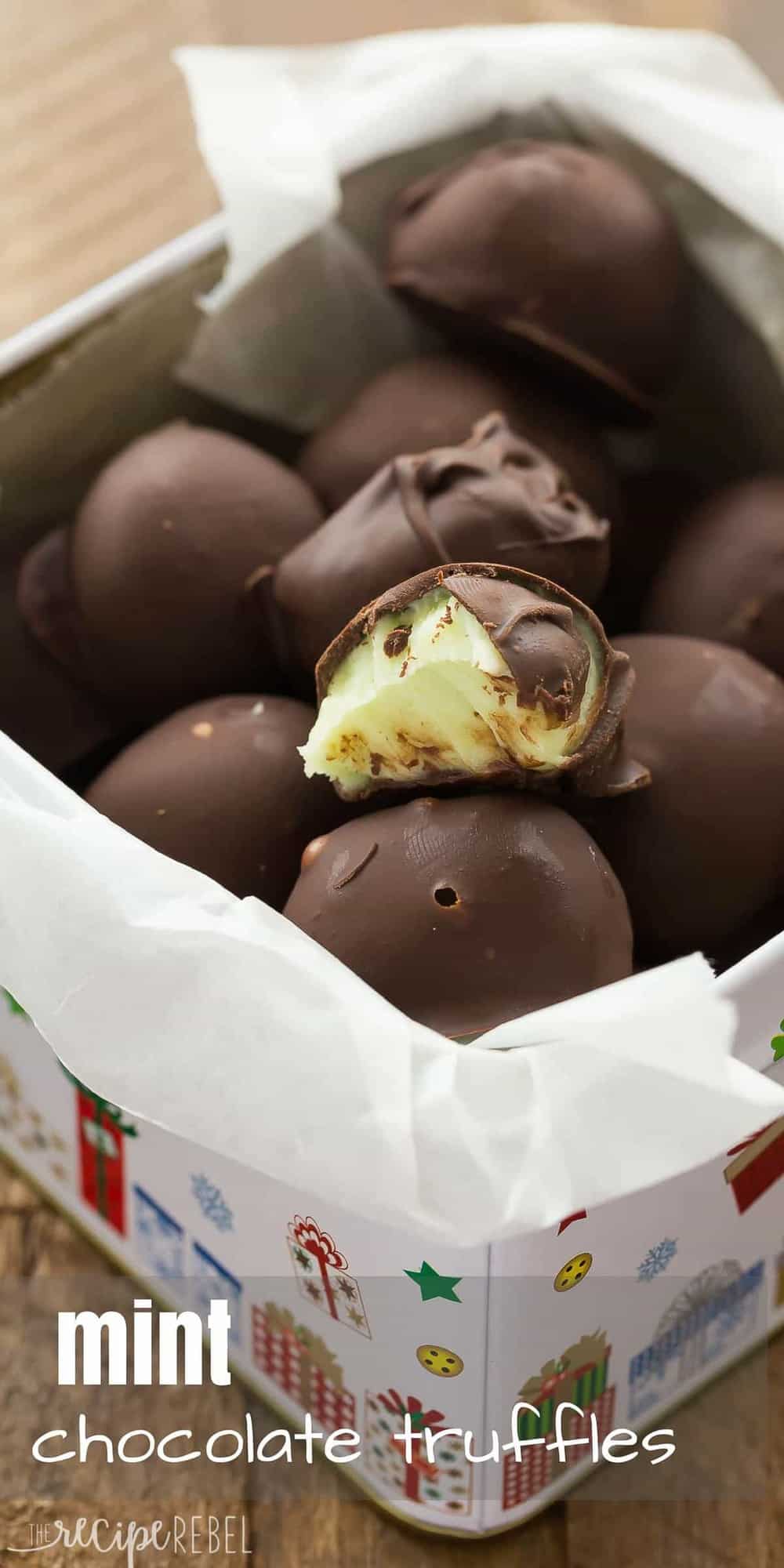 Ingredients

225g/8oz

(about 1 1/2 cups chopped) white chocolate

3

tablespoons heavy cream

1

teaspoon mint extract



green food coloring

2

oz (1/4 pkg) cream cheese, room temperature

1 1/2

cups (about 225g) chopped dark or semisweet chocolate
Instructions
In a medium bowl, combine white chocolate, cream, extract and food coloring if desired. Melt in a microwave in 15-20 second intervals, stirring well each time, just until melted.
Meanwhile, beat cream cheese with an electric mixer until smooth.
Add melted white chocolate and whisk or beat on low, just until combined (do not overmix!). Cover and place in the fridge to set, at least 6-8 hours or overnight.
Scoop out 1″ balls using a teaspoon, roll until smooth and place on a plate (I get about 20). Place in the freezer for 1 hour.
In a very small pot, bring 1″ of water to a boil. Reduce heat to low and place a glass bowl over top, so that it is resting on the pot and not touching the water. Add the dark chocolate and melt, stirring frequently.
When melted, dip each truffle and place on a plate or baking sheet to set in the refrigerator. Store in the refrigerator for up to 1 week or the freezer for up to 4 months.