This Easy Pasta Salad is one of our favorite summer recipes. It is a great salad to serve at bbq's, picnics, and pool parties. It is also great to have in the fridge for easy summer lunches and dinners. You can't go wrong with this pasta salad recipe!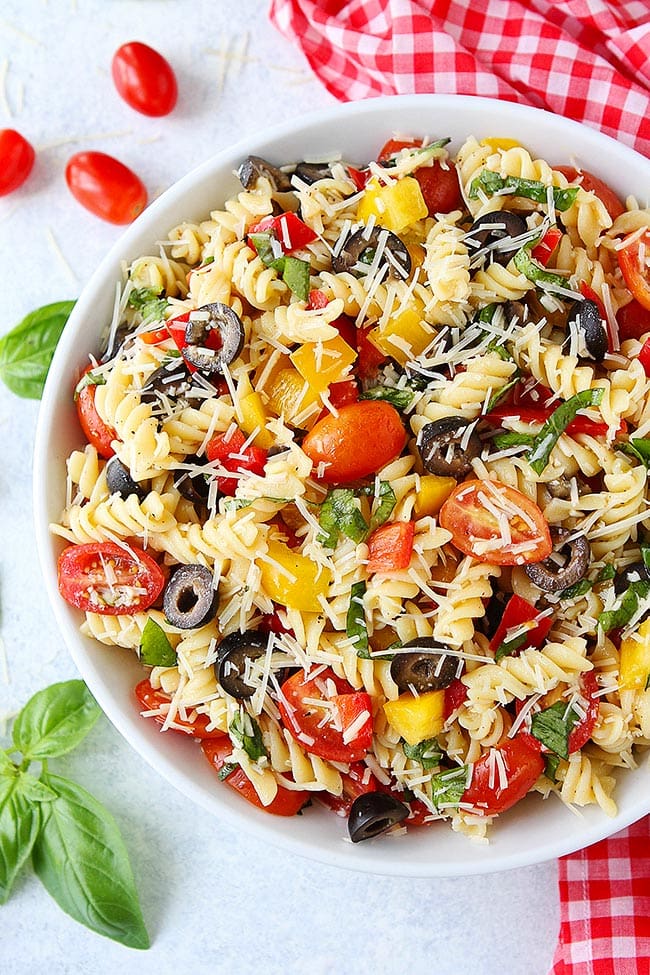 Easy Pasta Salad: A Summertime Must-Have
During the hot summer months, we like to eat salads for lunch and dinner. Sometimes Josh gets tired of green salads, so I mix things up with pasta salads. Cold pasta salads are a summer lifesaver!
This easy pasta salad is one of our favorites. I actually grew up on this pasta salad. This was a staple at our house every single summer. We would come in from playing outside or from swimming and eat this pasta salad. It is SO easy and that is why I love it…well, and the fact that it is delicious too!

LATEST VIDEOS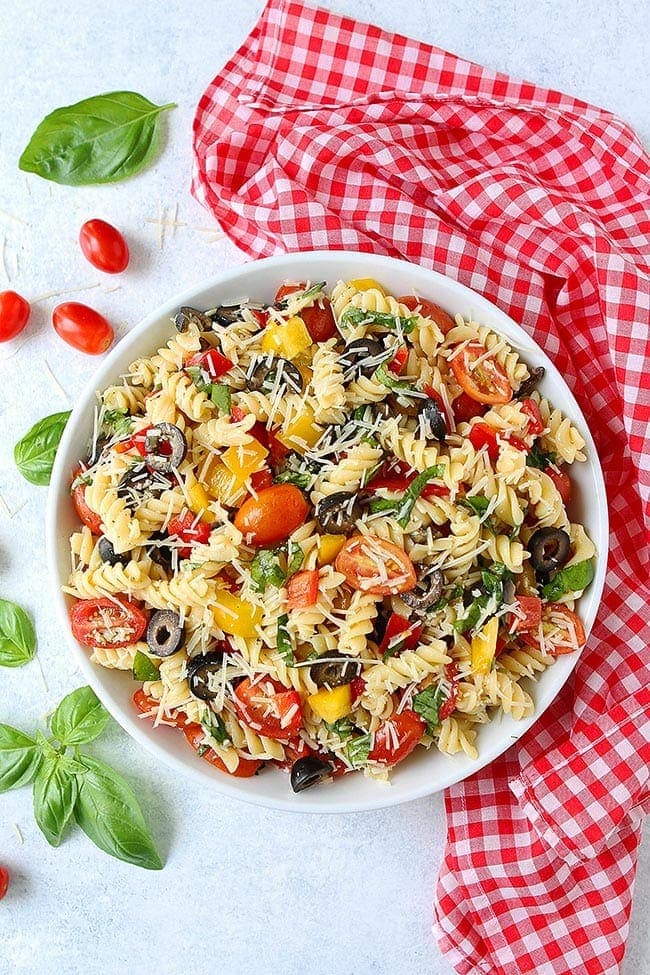 How to Make Pasta Salad
There is nothing fancy or fussy about this Easy Pasta Salad and that is a very good thing. We are all about easy during the hot summer months! This is a classic pasta salad that everyone loves! It is the BEST pasta salad!
Tips for making this cold pasta salad recipe:
You can use any pasta, but I like to use fusilli, penne, or rotini. The shapes are fun and bite size, making them easy to eat for kids and adults. You can even use the tri-color rotini noodles, the kids always love those.
Cook the pasta until al dente.
When the pasta is done cooking, drain and rinse it well with cold water. Drain again to avoid soggy pasta.
In a large bowl, combine the pasta with the other ingredients. For this recipe, I like to use bell pepper, tomatoes, and black olives. Pro tip, buy sliced black olives so you don't have to cut them. A great time saving tip!
Dress the salad with your favorite store bought Italian dressing. We like to use this one. See, I told you this salad was easy! Sometimes it is ok to cheat and use a store bought dressing. Summer is all about EASY!
Finish the salad with fresh basil and freshly grated parmesan cheese – it really enhances the flavor.
This salad is great served at room temperature or cold. It can be made in advance and will keep in the refrigerator for up to 3 days.
What to Put in Pasta Salad
Like I mentioned, this salad has bell peppers, tomatoes, black olives, basil, and Parmesan cheese, but feel free to mix things up. That is the beauty of a pasta salad, it is easy to mix things up. Use what you have on hand. We are all about cleaning out the fridge in the summer and using what we have in our garden or what we pick up at the farmers market.
Some ingredients that would also work well in this salad include:
cucumbers
artichoke hearts
green onion
mini mozzarella cheese balls
cheese cubes (cheddar, white cheddar, provolone, or havarti)
salami
ham
chicken
chickpeas
white beans
parsley
The options are endless! You really can throw in just about anything. Use your favorite ingredients and don't be afraid to play around.
Make sure the pasta salad is well coated with dressing so the noodles don't stick together and you want the pasta salad to have plenty of flavor. If you want to make a simple homemade olive oil herb dressing instead of using store bought dressing you certainly can!
We will be serving this easy pasta salad at all of our summer parties and bbq's. Plus, it is a great salad to have in the fridge for easy lunches and dinners. We hope you like this pasta salad recipe as much as we do!
If you like this Easy Pasta Salad Recipe, you might also like: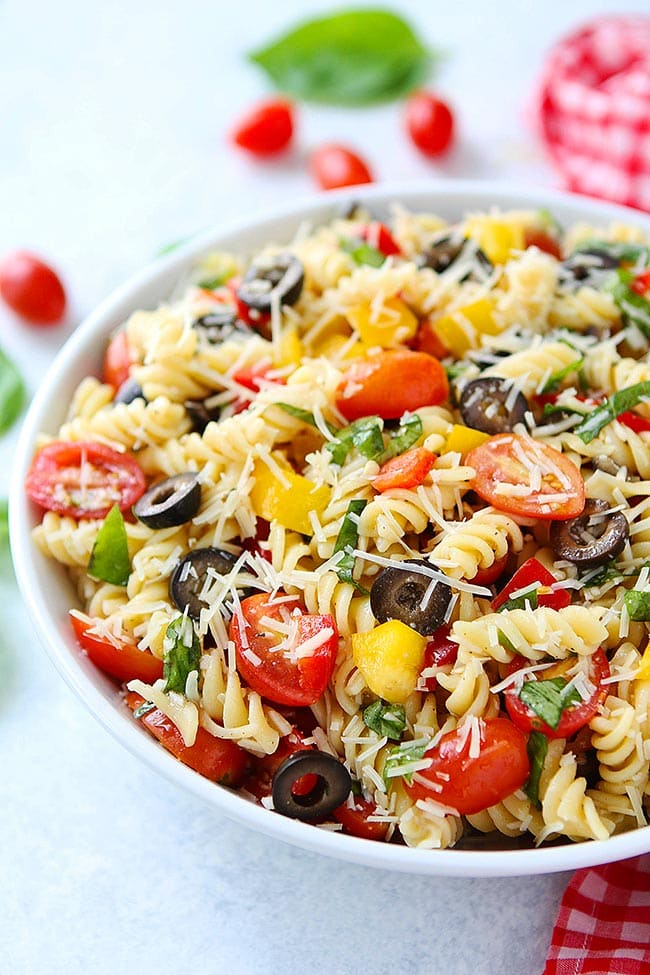 Easy Pasta Salad
This easy pasta salad recipe is a summer favorite! Take it to a potluck, picnic, or enjoy it for lunch or dinner!
Yield: Serves 10
Prep Time: 15 minutes
Cook Time: 10 minutes
Total Time: 25 minutes
Ingredients:
1 lb pasta (fusilli, penne, rotini)
1 red bell pepper, chopped
1 yellow pepper, chopped
2 cups halved grape tomatoes
1 cup sliced black olives
1 cup Italian dressing (use your favorite store bought dressing)
1/2 cup chopped basil
1 cup freshly grated parmesan cheese
Kosher salt and pepper, to taste
Directions:
In a large pot of salted boiling water, add the pasta. Cook according to package instructions. Drain and rinse the pasta with cold water. Drain the pasta well after rinsing.
In a large bowl, combine the pasta, bell peppers, tomatoes, and olives. Add the dressing and stir until pasta noodles and vegetables are well coated.
Stir in the basil and Parmesan cheese. Season with salt and black pepper, to taste. Serve at room temperature or cold.


All images and text ©Two Peas & Their Pod.




Follow twopeasandpod on Instagram and show us what recipes you are making from our blog! Use the hashtag #twopeasandtheirpod! We want to see what you are making in your kitchen!