To make life a little easier during these uncertain times at home, I've rounded-up several simple and delicious recipes you can make with pantry, refrigerator and freezer staples.
I hope you and your loved ones are staying well during this very difficult time. It's certainly effecting everyone in such similar yet very different ways. For us, one thing that brings our family comfort, familiarity and joy is preparing and eating delicious food together. We are so incredibly thankful for the food in our pantry, fridge and freezer and try to never take a meal or snack or treat for granted, especially now!
Over the past several weeks, we have sure enjoyed making some of our favorite recipes every day with the foods we have on hand. Almost all of these recipes are here on thebakermama.com or it's an idea that I've shared on my Instagram feed. From quick breakfasts to snack board lunches to comforting dinners and, of course, all the snacks and sweet treats! I hope you find this round-up resourceful as you make the best of this situation and feed yourself and your people the best you can.
I've broken the recipes into the following categories: Breakfast, Lunch, Dinner, Snacks and Desserts. Browse and enjoy making them with what you have on hand or can easily get. And if you have any questions about substitutions for any of these recipes or need some inspiration with ingredients you have on hand, comment below or on the specific recipe you have a question about and I'll get back to you right away.
Breakfast
First things first! Let's start the day right with some quick and easy breakfast recipes. Several of these recipes can be made in advance or made in batches and frozen for easy access from the freezer to your plate in the mornings.
 
Healthy Pumpkin Oatmeal Blender Pancakes
5-Ingredient Flourless Protein Pancakes
Chocolate Peanut Butter Banana Protein Overnight Oats
5-Ingredient Flourless Banana Bread
Flourless Chocolate Banana Bread
Nutella Swirled Banana Muffins
2 Ingredient Baked Cake Donuts
Breakfast Boards for the mornings when you have more time to sit and really enjoy breakfast:
Lunch
When the day is in full swing with work and schooling from home, lunch can sneak up on everyone. Taking a quick break and re-fueling with a good lunch is so important. Here are some simple lunch ideas that are sure to please everyone.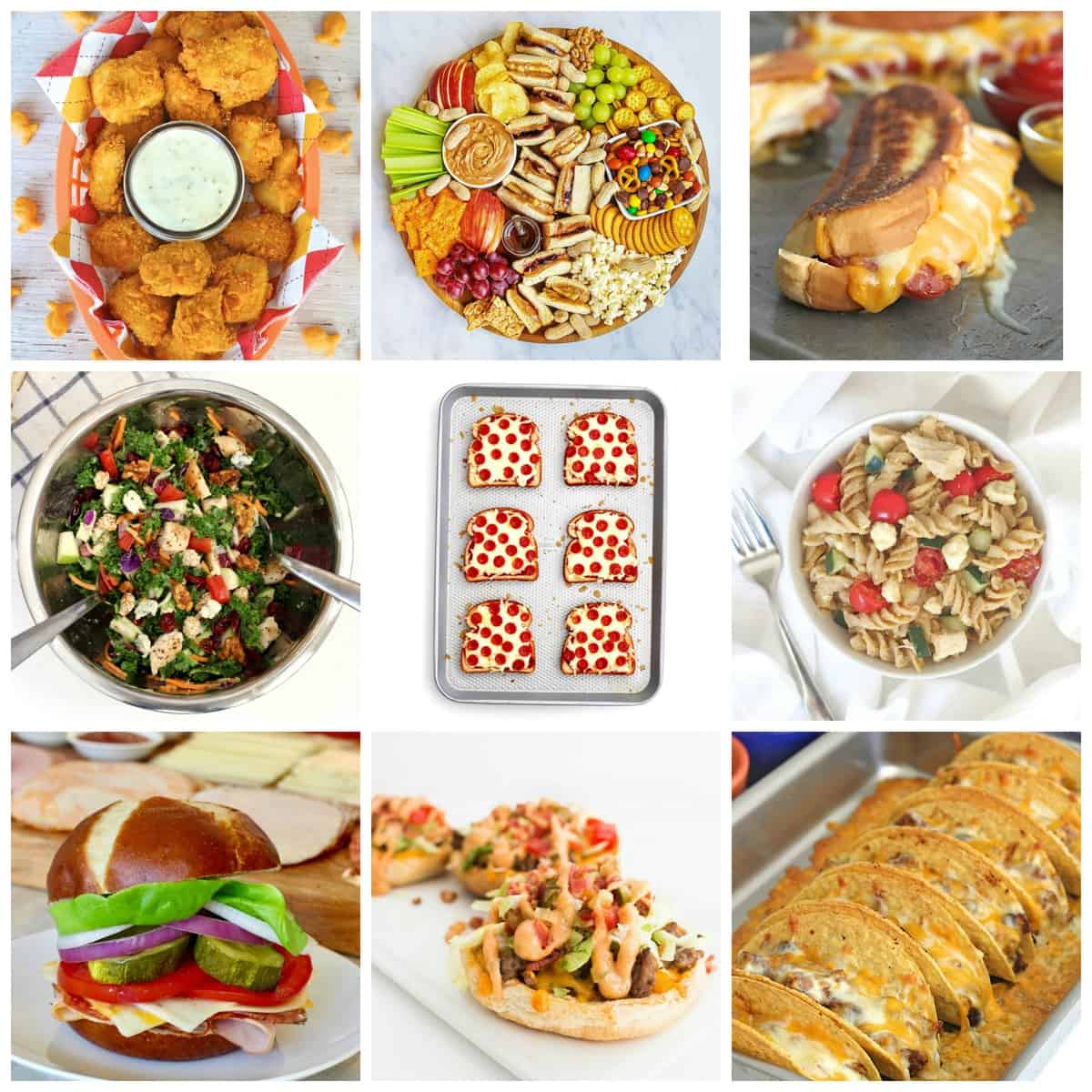 Homemade Chick-fil-A Soup Chicken Tortilla Soup
The Ultimate Build-Your-Own Sandwich
Turkey and Black Bean Baked Tacos
6 Great Kids Lunch Ideas – these 6 school lunchbox ideas could be super helpful in keeping some sort of normalcy and consistency for the kids as they spend what could be months out of routine while schooling from home. You could even prep these lunches the night before or in the morning so lunchtime is a breeze.
Everyday Snack Board – a snack board lunch is such an easy way to serve lunch while using what you have on hand. I let the kids help gather foods from the refrigerator and pantry to put on the board. It gives them an activity and gets them even more excited about snacking on it for lunch.
Dinner
After a loooong day, nothing sounds better than an easy yet comforting dinner. These recipes are easy and family-friendly. Several of them can be portioned out and frozen so you have meals ready to go when you're not in the mood to cook.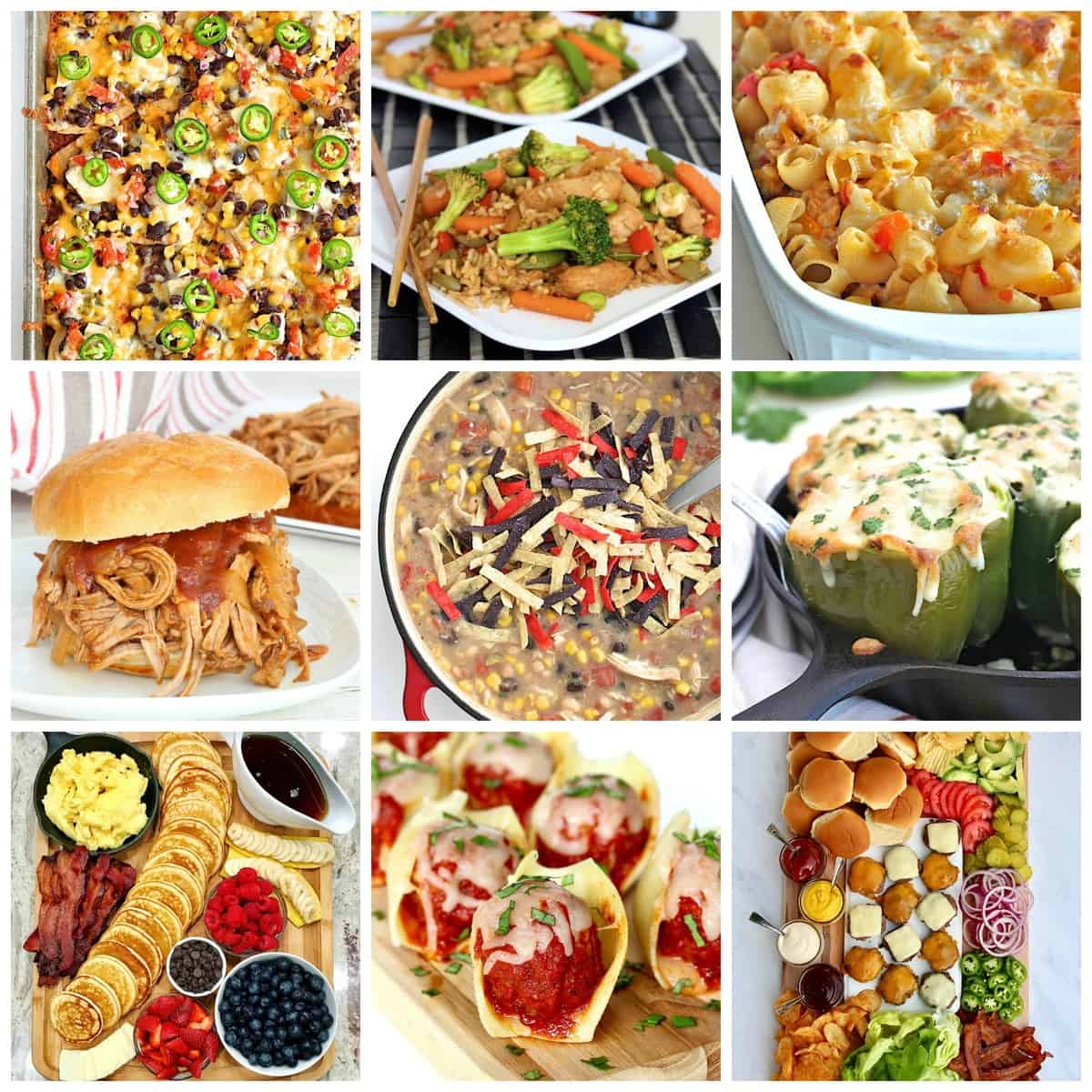 3 Ingredient Slow Cooked Pulled Pork
Easy Cheesy White Chicken Chili Stuffed Peppers
Homemade Chick-fil-A Chicken Tortilla Soup
Turkey and Black Bean Baked Tacos
Cheesy Chicken Broccoli Pot Pie
Sheet Pan Chicken & Black Bean Nachos
Brinner Boards: One of our family's favorites is breakfast for dinner, BRINNER!, as we call it. A Brinner Board is such an enjoyable way for us to end the day with lots of smiles and happiness.
Snacks
Having good snacks on hand is a must for us right now. These are simple snacks that are sure to satisfy everyone.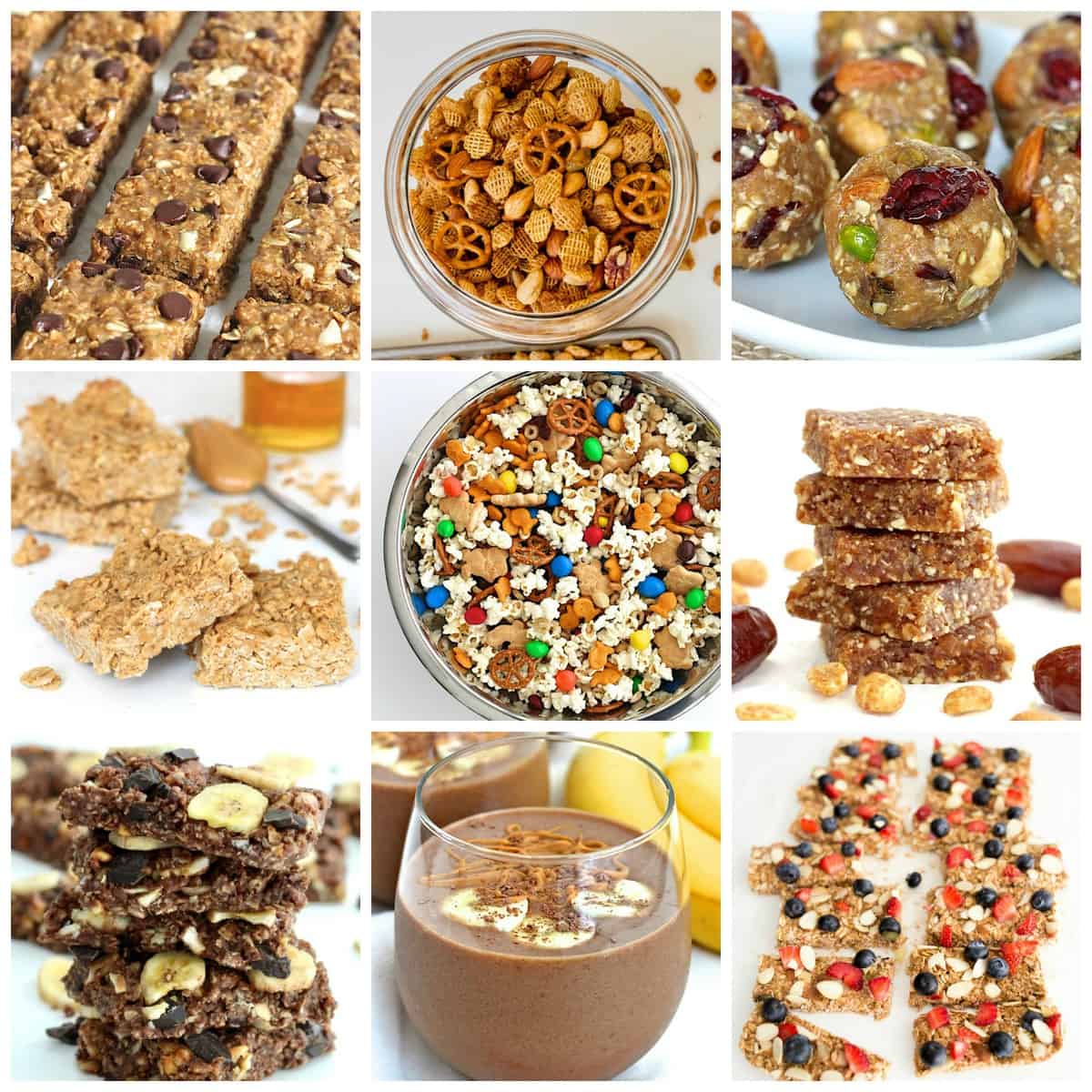 No-Bake Chunky Monkey Granola Bars
3 Ingredient Peanut Butter Honey Oat Bars
5-Ingredient Flourless Banana Chocolate Chunk Mini Muffins
Peanut Butter and Jelly Muffins
Chocolate Peanut Butter Smoothie
Snack Boards – These snack boards are sure to be great for an afternoon snack or like we often do, great for a snack lunch. If we've had a later breakfast/brunch, a snack board replaces lunch. It varies each time based on what we have on hand in the fridge and pantry. Such a great way to satisfy everyone!
Making a snack board with what we have on hand rather than letting the kids raid our pantry for snacks at their own free will is how we are getting through the days right now. I just leave this out on the island and let them run by and grab a snack as they're chasing each other around. Fun times! Yum times!
Desserts
Treats, treats and more treats! Give me all of the sweet treats right now. Some healthy, some indulgent, all enjoyed!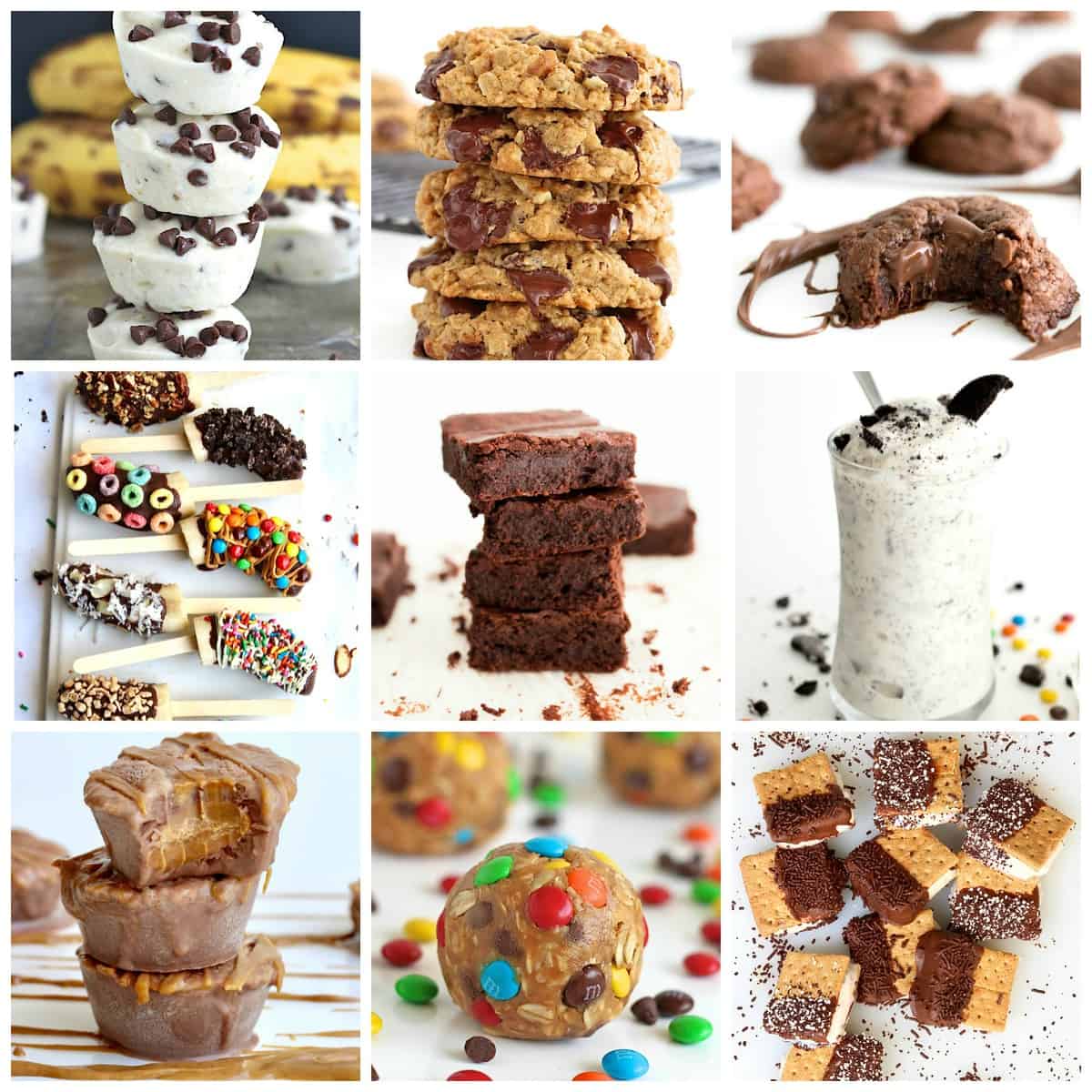 2 Ingredient Banana Chocolate Chip Ice Cream Bites
Flourless Oatmeal Chocolate Chip Cookies
4-Ingredient Flourless Nutella Cookies
5-Ingredient Flourless Brownies
Chocolate Covered Frozen Banana Pops
Chocolate-Dipped Graham Cracker Ice Cream Sandwiches
Peanut Butter Cup Ice Cream Bites
Dark Chocolate Covered Peanut Butter Stuffed Date with Sea Salt
I hope these delcious recipes and board ideas are helpful for getting you through these unpredictable days. Enjoy and stay well!
When you make one of my recipes, be sure to snap a picture and share it with me on Instagram @thebakermama so I can see and others can be inspired.
 I sure love seeing you make and enjoy my recipes.
xoxo,