Sesame Meatballs are a fun Asian-style twist on a classic meatball recipe! An easy sweet and tangy sauce coats these flavor-packed meatballs. This is a great weeknight dinner idea, and a delicious family favorite!
Make sure to try my Swedish Meatball Recipe too!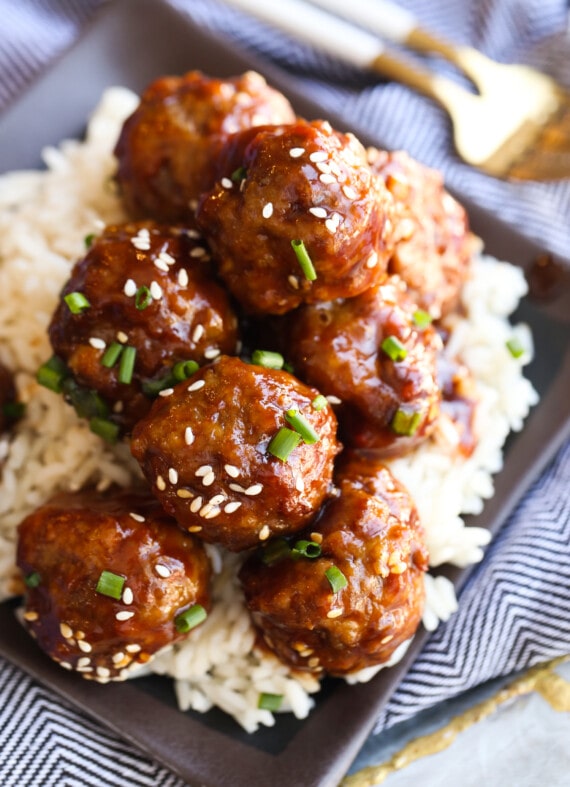 These Easy Homemade Sesame Meatballs Are A Fun Twist On A Classic!
Aren't recipes that double as a dinner and an appetizer just the best? (Hint: Um, yes!) These Sesame Meatballs can be served individually with fun little toothpicks as a snack, or you can just leave them in a big bowl and have everybody make themselves a plate for dinner – whatever you're in the mood for!
No matter when/how you choose to serve them, you will inevitably fall in love with these tangy, homemade meatballs. Made with both pork and beef, seasoned with fresh ginger, and slathered in a spicy-sweet sauce, how could you not?
Here Are Some More Easy Meatball Recipes You Might Like: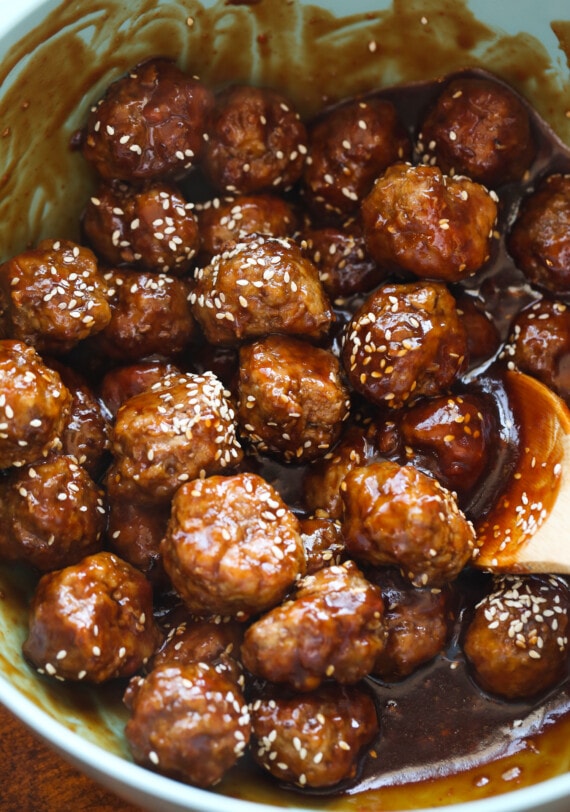 What You'll Need
So, what goes into these homemade sesame meatballs? There are quite a few ingredients, but don't let that scare you. This recipe is super easy!
For the Meatballs
Meat: This recipe uses 1 pound each of ground beef and ground pork.
Sesame Oil: Adds sesame flavor to the meatballs.
Breadcrumbs: I like to use Panko, but use whatever style of breadcrumbs that you like.
Seasoning: This recipe uses kosher salt and ground ginger.
Eggs: To bind the ingredients together.
Garlic: Minced.
Onion: I used 1/2 a cup of grated yellow onion.
For the Sauce
Hoisin Sauce: Adds a sweet and spicy element to the sauce.
Soy Sauce: I used low sodium soy sauce for these meatballs.
Ketchup: Adds tanginess to the sauce.
Light Brown Sugar: To add a little sweetness to the sauce.
Peanut Butter: Use a creamy peanut butter rather than a crunchy one.
Sesame Oil
Spice: Toss in some minced fresh ginger.
Sriracha Sauce: For another spicy-sweet kick!
Garlic
Optional Garnishes: Toasted sesame seeds and/or sliced scallions work well.
How to Make Sesame Meatballs
These sesame meatballs come together in a snap. First, you'll mold the meatball mixture into 1-inch balls and bake them. After that, all you have to do is mix the sauce over the stovetop and then pour it over the cooked meatballs!
Preheat Oven to 450°F: Line a large baking sheet with sides with foil and coat with nonstick spray. Set aside.
Mix Meatball Ingredients: In a large bowl combine the beef, pork, sesame oil, breadcrumbs, salt, ginger, eggs, garlic, and onion. Mix with hands until combined, but not over-mixed. Form into 1- inch meatballs and place on the prepared baking sheet. Bake for 12 minutes, or until cooked through.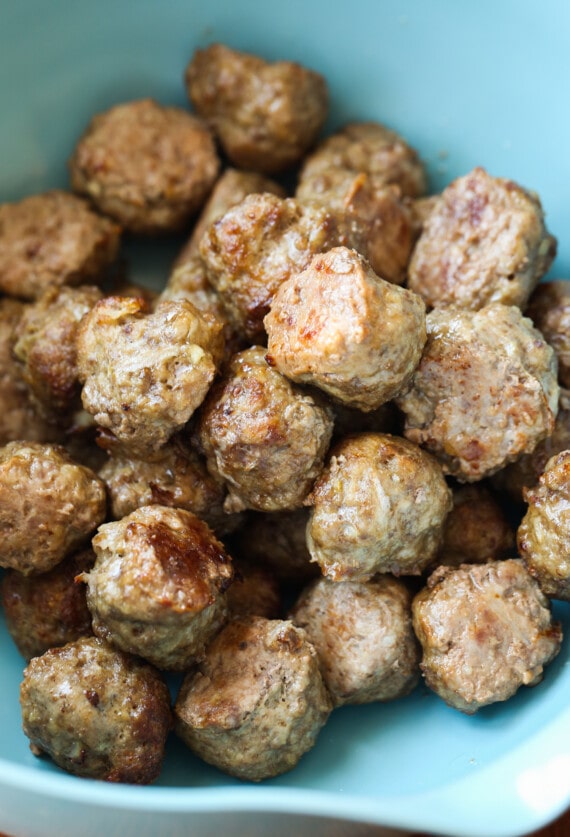 Start the Sauce: While the meatballs are cooking comobine the hoisin sauce, soy sauce, ketchup, brown sugar, ginger, sriracha, and garlic in a medium saucepan. Stir to combine and heat over medium until warmed through.
Serve and Enjoy: When the meatballs are done, place in a large bowl and toss with the sauce.