The ultimate sweet roll! Hawaiian Rolls are fluffy, sweet, and tropical fun – perfect for sliders. You'd never guess pineapple juice is the key ingredient!
Don't have pineapple juice? Try My Sweet Dinner Rolls Recipe instead!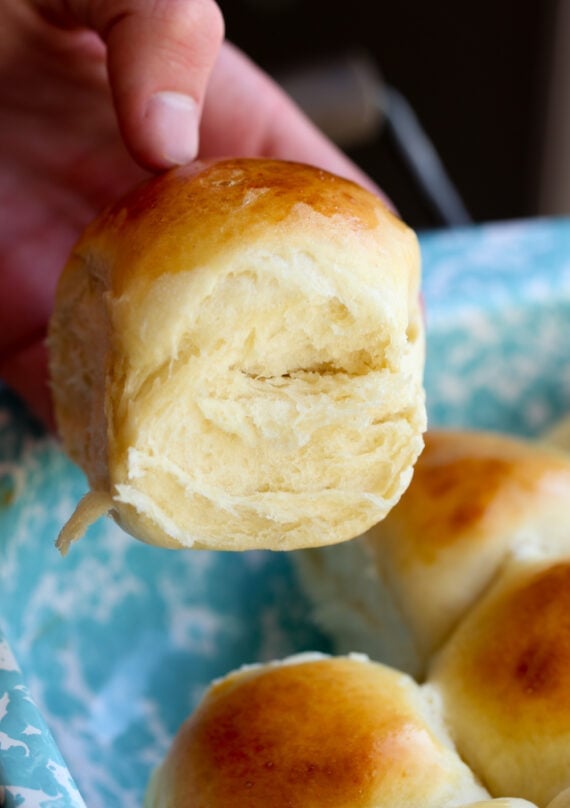 Sweet & Fluffy Hawaiian Rolls
Have you ever had a sweet and fluffy Hawaiian Rolls? Possibly you've have the kind sold at the supermarket, you know the ones that are super famous for their slider making prowess? They're pretty great, I agree. But if you've never had a homemade Hawaiian Roll, you're missing out!
These rolls do require yeast but I use quick yeast, which is great for beginners, or if you are short on time. I use quick yeast (aka Rapid Rise) pretty more often than not. It's fairly foolproof!
What Are Hawaiian Rolls?
Hawaiian rolls are sweet, chewy, small round rolls that are infused with a little sugar and pineapple juice. They have a very subtle sweet flavor that makes these rolls unique. And topping a warm Hawaiian roll with butter and honey…well, there just isn't much better1
Hawaiian rolls first came to popularity in Hawaii in the 1950's, but the roots of these rolls can be traced back to Portugal by way of the Philippines. 
Recipe Ingredients
Hawaiian rolls are both sweet and fluffy, thanks to these fabulous ingredients. 
This is what you'll need:
buttermilk
butter
pineapple juice
granulated sugar
kosher salt
eggs
instant yeast 
all purpose flour
Why is there Pineapple Juice in Hawaiian Rolls?
I know, you weren't expecting pineapple juice in a bread recipe, and typically it's not a common ingredients…but we're making Hawaiian Rolls! The pineapple juice adds a sweetness with a bit of bite. It also makes these rolls extra fluffy and moist!
Don't worry that the pineapple flavor will be overpowering. It's actually quite subtle. I am actually not a huge pineapple fan, but the flavor isn't strong, I promise.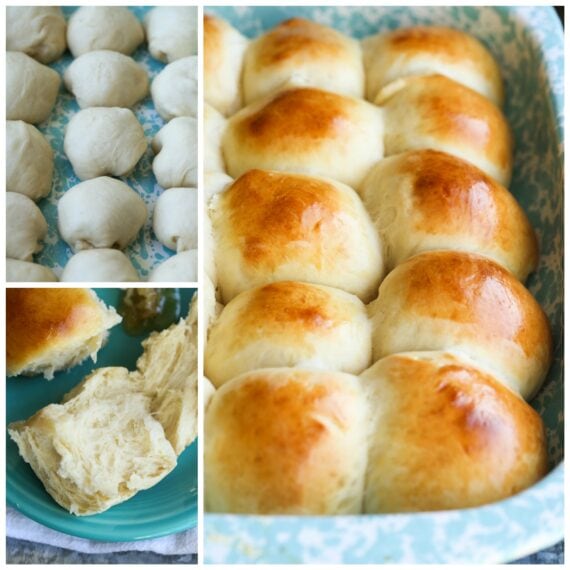 How to Make Hawaiian Rolls
Prep: In a microwave safe bowl combine the buttermilk and butter. Microwave in 25 second increments until the mixture is warmed (110°F – 120°F) and the butter is almost melted.
Combine: In the bowl of your stand mixer fitted with the paddle attachment add in the buttermilk mixture, pineapple juice, sugar, salt, eggs, and yeast. Stir on low until combined. 
Mix: Add in 2 cups of flour and mix on medium speed for 1 minute. Gradually add in 2 1/2  more cups of flour, until a soft dough forms. Add more flour if necessary. 
Knead: Replace the paddle attachment with a dough hook and knead on medium speed until the dough forms a soft, smooth ball. 
Rise: Spray a clean bowl lightly with nonstick spray. Place the dough into the prepared bowl and cover with a clean towel. Place in a warm spot in your kitchen for 1 hour until the dough has risen and doubled in size.
Spray: Coat a 9×13 baking pan with nonstick spray. Set aside. 
Divide and Rise: Remove the dough from the bowl and divide into 15 equal portions. Form the dough into balls and place in the prepared pan. Cover again with the towel and allow the dough to rise for 30 minutes.
Preheat oven to 375°F.
Egg Wash: Whisk together the reserved egg and 1 teaspoon water. Lightly brush the tops of the rolls with the egg wash.
Bake: Bake for 20 minutes, or until golden brown.
Serve: Serve warm or at room temperature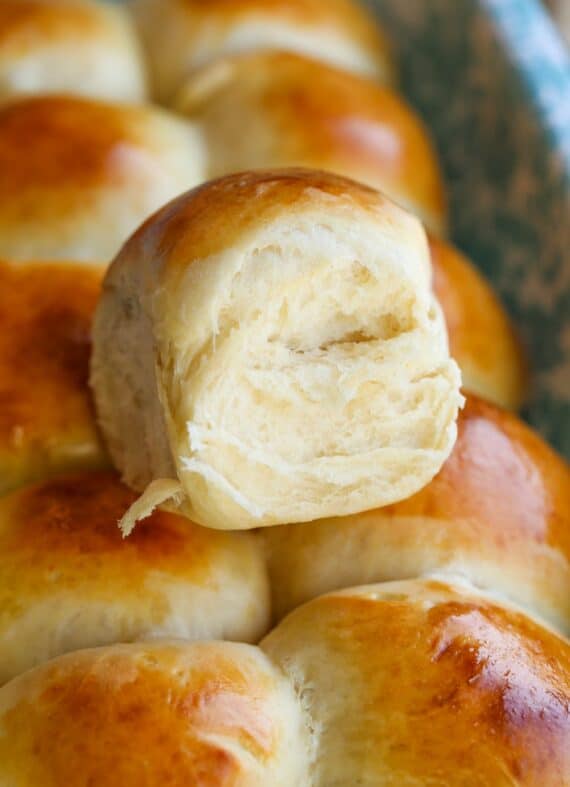 Ideas for Using These Homemade Rolls
My absolute favorite use of Hawaiian rolls is for a BBQ pulled pork sandwich. Top it with your favorite slaw and serve with a pickle on the side and I am satisfied. Hawaiian rolls are great for any sandwich, really but I especially love how the sweetness and fluffiness pairs with anything BBQ. Brisket or ham would be great!
Hawaiian rolls make the perfect bun for sliders, too! These Chicken Parm Sliders would be fantastic with homemade rolls. Or even my Cheeseburger Sliders!
You can also just serve them up in a bread basket on the serving table at your next BBQ
They are also great on the side of any roasted meat or fresh salad.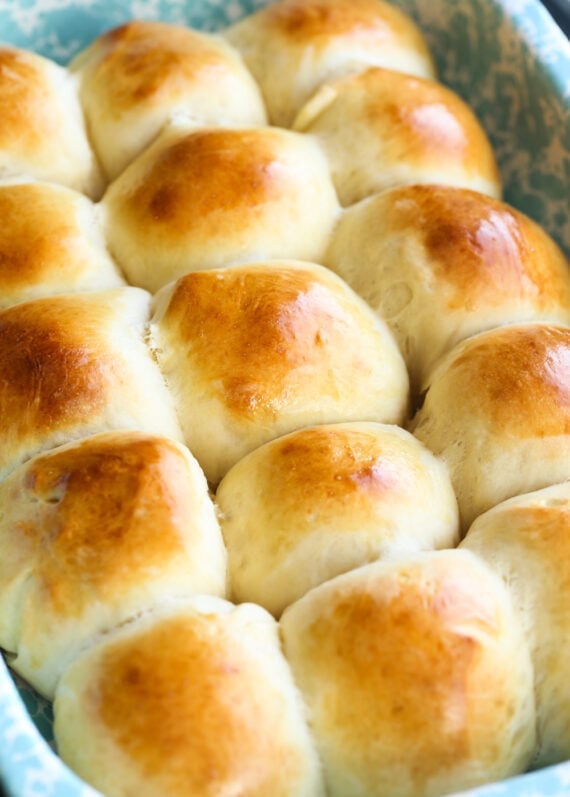 How to Store These Rolls
Store your leftover Hawaiian rolls in an airtight container for up to 3 days. It's best to leave them at room temperature and not to refrigerate them. Refrigerating them will increase the chance of them becoming stale more quickly. 
You could also freeze your leftover (or a whole batch for later use) Hawaiian rolls for up to 3 months. When you're ready to have at 'em -allow them to thaw to room temp and then reheat them for about 10mins in a 300 degree oven.
Looking For More Easy Yeast Recipes? Try These: